Abstract
Mentorship is critical to develop research scholars. Current literature provides mentorship guidance for biomedical research; however, mentorship for educational research is scarce. We explored literature to offer evidence-based guidance for medical education research mentors. A librarian searched peer-reviewed literature from 2001 to 2021 to identify guidelines for research mentors. Thirty-five articles were included in this narrative review. Our results identified attributes of mentors, overlapping roles, and barriers and benefits of mentoring. The structures and processes related to mentoring are reviewed and applicability to medical education research mentorship is summarized.
Access options
Buy single article
Instant access to the full article PDF.
USD 39.95
Price excludes VAT (USA)
Tax calculation will be finalised during checkout.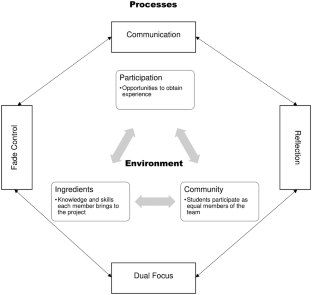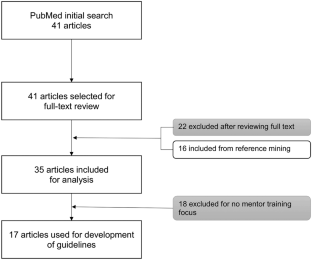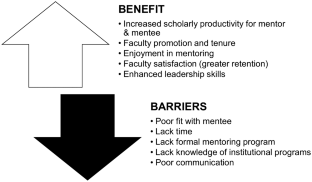 Data Availability
No data is associated with this submission.
References
Ben-David K, Lin JJ, Ferrara LM. Tisch Cancer Institute Scholars Program: mentored cancer research training pipeline for medical students. J Cancer Educ. 2021;1–6.

Horn L, Koehler E, Gilbert J, Johnson DH. Factors associated with the career choices of hematology and medical oncology fellows trained at academic institutions in the United States. J Clin Oncol. 2011;29(29):3932–8.

Lev EL, Kolassa J, Bakken LL. Faculty mentors' and students' perceptions of students' research self-efficacy. Nurse Educ Today. 2010;30(2):169.

Sorkness CA, Pfund C, Ofili EO, Okuyemi KS, Vishwanatha JK, on behalf of the NRMN team, Zavala ME, Pesavento T, Fernandez M, Tissera A, et al. A new approach to mentoring for research careers: the National Research Mentoring Network. BMC Proc. 2017;11(Suppl 12):22.

Steiner JF, Curtis P, Lanphear BP, Vu KO, Main DS. Assessing the role of influential mentors in the research development of primary care fellows. Acad Med. 2004;79(9):865–72.

Kosik RO, Tran DT, Fan AP-C, Mandell GA, Tarng DC, Hsu HS, Chen YS, Su TP, Wang SJ, Chiu AW, et al. Physician scientist training in the United States: a survey of the current literature. Eval Health Prof. 2016;39(1):3–20.

National Institutes of Health. Physician-scientist workforce working group report 2014. https://acd.od.nih.gov/documents/reports/PSW_Report_ACD_06042014.pdf. Accessed 22 Sept 2021.

Robbins L, Bostrom M, Marx R, Roberts T, Sculco TP. Restructuring the orthopedic resident research curriculum to increase scholarly activity. J Grad Med Educ. 2013;5(4):646–51.

Som A, Lang M, Di Capua J, Chonde DB, Cochran RL. Resident-led medical student radiology research interest group: an engine for recruitment, research, and mentoring. Radiology. 2021;300(1):E290–2.

Ward B, Schultz JJ, Halsey JN, Hoppe IC, Lee ES, Granick MS. Mentorship through research: a novel approach to increasing resident and medical student research competency through an institutional database. J Surg Educ. 2020;77(6):1331–3.

Williams CS, Iness AN, Baron RM, Ajijola OA, Hu PJ, Vyas JM, Baiocchi R, Adami AJ, Lever JM, Klein PS, et al. Training the physician-scientist: views from program directors and aspiring young investigators. JCI Insight. 2018;3(23):e125651.

Sambunjak D, Straus SE, Marusic A. A systematic review of qualitative research on the meaning and characteristics of mentoring in academic medicine. J Gen Intern Med. 2010;25(1):72–8.

Hoffman LA, Lufler RS, Brown KM, DeVeau K, DeVaul N, Fatica LM, Mussell J, Byram JN, Dunham SM, Wilson AB. A review of U.S. Medical schools' promotion standards for educational excellence. Teach Learn Med. 2020;32(2):184–93. https://doi.org/10.1080/10401334.2019.1686983.

Cook DA. Getting started in medical education scholarship. Keio J Med. 2010;59(3):96–103. https://doi.org/10.2302/kjm.59.96 (PMID: 20881450).

Corcoran K, Weintraub MR, Silvestre I, Varghese R, Liang J, Zaritsky E. An evaluation of the SCORE program: a novel research and mentoring program for medical students in obstetrics/gynecology and otolaryngology. Perm J. 2020;24:19.153.

Gildehaus L, Cotter P, Buck S, Sousa M, Hueffer K, Reynolds A. The research, advising, and mentoring professional: a unique approach to supporting underrepresented students in biomedical research. Innov High Educ. 2019;44(2):119–31.

Monarrez A, Morales D, Echegoyen LE, Seira D, Wagler AE. The moderating effect of faculty mentorship on undergraduates students' summer research outcomes. CBE Life Sci Educ. 2020;19:ar56.

Öcek Z, Bati H, Sezer ED, Köroğlu ÖA, Yilmaz Ö, Yilmaz ND, Mandiracioğlu A. Research training program in a Turkish medical school: challenges, barriers and opportunities from the perspectives of the students and faculty members. BMC Med Educ. 2021;21:2.

Wayne PM, Buring JE, Davis RB, Andrews SM, St. John M, Conboy L, Kerr CE, Kaptchuk TJ, Schachter SC. Increasing research capacity at the New England School of Acupuncture through faculty and student research training initiatives. Altern Ther Health Med. 2008;14(2):52–8.

Dyck MJ, Novotny NL, Blakeman J, Bricker C, Farrow A, LoVerde J, Nielsen SD, Johnson B. Collaborative student-faculty research to support PhD research education. J Prof Nurs. 2020;36:106–10.

Hayes SM. Engaging early-career students in research using a tiered mentoring model. ACS Symp Ser Am Chem Soc. 2018;1275:273–89.

Morrison-Beedy D, Araonowitz T, Dyne J, Mkandawire L. Mentoring students and junior faculty in faculty research: a win-win scenario. J Prof Nurs. 2001;17(6):291–6.

Allen TD, Eby LT, Lentz E. Mentorship behaviors and mentorship quality associated with formal mentoring programs: closing the gap between research and practice. J Applied Psychol. 2006;91(3):567–78.

Morales DX, Grineski SE, Collins TW. Faculty motivation to mentor students through undergraduate research programs: a study of enabling and constraining factors. Res High Educ. 2017;58(5):520–44.

Morales DX, Grineski SE, Collins TW. Increasing research productivity in undergraduate research experiences: exploring predictors of collaborative faculty-student publications. CBE Life Sci Educ. 2017;16(3):ar42.

Hickey JE, Adam M, Elwadia I, Nasser S, Topping AE. A process-environment model of mentoring undergraduate research students. J Prof Nurs. 2019;35:320–4.

Cohen L, Manion L, Morrison K. Research methods in education. 8th ed. London: Routledge; 2018.

Cutshaw D, O'Gorman T, Beck Dallaghan GL, Swiman A, Joyner BL, Gilliland K, Shea P. Clinical skills simulation complementing core content: development of the Simulation Lab Integrated Curriculum Experience (SLICE). Med Sci Educ. 2019;29(3):643–6.

Snadden D, Bates J, Burns P, Casiro O, Hays R, Hunt D, Towle A. Developing a medical school: expansion of medical student capacity in new locations: AMEE Guide No. 55. Med Teach. 2011;33(7):518–29.

Ferrari R. Writing narrative style literature reviews. Med Writing. 2015;24(4):230–5.

Allen TD, Eby LT, Poteet ML, Lentz E, Lima L. Career benefits associated with mentoring for protégé: a meta-analysis. J Appl Psychol. 2004;89(1):127–36.

Bower DJ, Diehr S, Morzinski JA, Simpson DE. Support–challenge–vision: a model for faculty mentoring. Med Teach. 1998;20:595–7.

Coe CL, Piggott C, Davis A, Hall MN, Goodell K, Joo P, South-Paul JE. Leadership pathways in academic family medicine: focus on underrepresented minorities and women. Fam Med. 2020;52(2):104–11.

Koehler A, Smith LR, Davies S, Mangan-Danckwart D. Partners in research: developing a model for undergraduate faculty-student collaboration. Int J Nurs Educ Scholarsh. 2015;12(1):131–42.

McSweeney JC, Hudson TJ, Prince L, Beneš H, Tackett AJ, Miller Robinson C, Koeppe R, Cornett LE. Impact of the INBRE summer student mentored research program on undergraduate students in Arkansas. Am Phsyiol Educ. 2018;42:123–9.

O'Brien T, Hathaway D. Students and faculty perceptions of an undergraduate nursing research internship program. Nurse Educ. 2018;43(2):E1-4.

Ramani S, Gruppen L, Kachur EK. Twelve tips for developing effective mentors. Med Teach. 2006;28(5):404–8.

Sng JH, Pei Y, Toh YP, Peh TY, Neo SH, Krishna LKR. Mentoring relationships between senior physicians and junior doctors and/or medical students: a thematic review. Med Teach. 2017;39(8):866–75.

Ssemata AS, Gladding S, John CC, Kiguli S. Developing mentorship in a resource limited context: a qualitative research study of the experiences and perceptions of the Makerere University student and faculty mentorship programme. BMC Med Educ. 2017;17:123.

Straus SE, Chatur F, Taylor M. Issues in the mentor-mentee relationship in academic medicine: a qualitative study. Acad Med. 2009;84:135–9.

Straus SE, Johnson MO, Marquez C, Feldman MD. Characteristics of successful and failed mentoring relationships: a qualitative study across two academic health centers. Acad Med. 2013;88:82–9.

Crites GE, Gaines JK, Cottrell S, Kalishman S, Gusic M, Mavis B, Durning SJ. Medical education scholarship: an introductory guide: AMEE Guide No. 89. Med Teach. 2014;36:657–74.

Sambunjak D, Straus SE, Marusic A. Mentoring in academic medicine: a systematic review. JAMA. 2006;296(9):1103–15.

Hamby T, Bowman WP, Wilson DP, Basha R. Mentors' experiences in an osteopathic medical student research program. J Osteopath Med. 2021;121(4):385–90.
Ethics declarations
Conflict of Interest
The authors declare no competing interests.
Additional information
Publisher's Note
Springer Nature remains neutral with regard to jurisdictional claims in published maps and institutional affiliations.
Supplementary Information
Below is the link to the electronic supplementary material.
About this article
Cite this article
Beck Dallaghan, G.L., Coe, C.L., Wright, S. et al. Mentoring Medical Education Research: Guidelines from a Narrative Review. Med.Sci.Educ. 32, 723–731 (2022). https://doi.org/10.1007/s40670-022-01565-2
Accepted:

Published:

Issue Date:

DOI: https://doi.org/10.1007/s40670-022-01565-2
Keywords