Abstract
Given barriers to vertical integration during clinical rotations, many struggle with employing effective virtual strategies to revisit foundational sciences during clerkship. To address this, we developed virtual geriatric pharmacology self-learning modules (SLMs) for a fourth-year geriatric elective using cases, interactive exercises, resources, feedback, and quizzes. To evaluate effectiveness, learners were administered a pre- and post-elective quiz with survey. Learners improved performance after using SLMs, valued pharmacology clerkship integration and reinforcement, and agreed SLMs improved understanding, confidence, and attitudes. Thus, SLMs were an effective virtual method for integrating pharmacology that could be modified to teach other foundational sciences during clerkships.
Access options
Buy single article
Instant access to the full article PDF.
USD 39.95
Price includes VAT (USA)
Tax calculation will be finalised during checkout.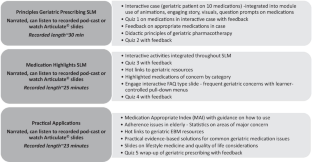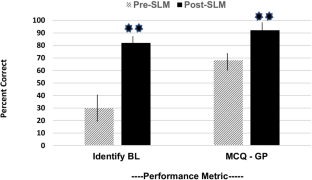 References
1.

De Bruin AB, Schmidt HG, Rikers, Remy MJ. The role of basic science knowledge and clinical knowledge in diagnostic reasoning: a structural equation modeling approach. Acad Med. 2005;80(8):765–73. https://doi.org/10.1097/00001888-200508000-00014.

2.

Spencer AL, Brosenitsch T, Levine AS, Kanter SL. Back to the basic sciences: an innovative approach to teaching senior medical students how best to integrate basic science and clinical medicine. Acad Med. 2008;3:662–9.

3.

Bandiera G, Kuper A, Mylopoulos M, Whitehead C, Ruetalo M, Kulasegaram K, Woods NN. Back from basics: integration of science and practice in medical education. Med Educ. 2018;52(1):78–85. https://doi.org/10.1111/medu.13386.

4.

Karpicke JD, Roediger HL. The critical importance of retrieval for learning. Science. 2008;319(5865):966–8.

5.

Wilkins KM, Moore D, Rohrbaugh RM, Briscoe GW. Integration of basic and clinical science in the psychiatry clerkship. Acad Psychiatry. 2017;41:369–72. https://doi.org/10.1007/s40596-016-0640-x.

6.

Gwee CE. Teaching of medical pharmacology: The need to nurture the early development of desired attitudes for safe and rational drug prescribing. Med Teach. 2009;31(9):847–54. https://doi.org/10.1080/01421590903168119.

7.

Aronson JK. A prescription for safe prescribing. B J Clin Pharmacol. 2006;61(5):487–91. https://doi.org/10.1111/j.1365-2125.2006.02649.x.

8.

Baum S, Harder S. Appropriate dosing in patients with impaired renal function on medical wards before and after an educational intervention. Int J Clin Pharmacol Ther. 2010;48:29–35.

9.

Ross S, Loke YK. Do educational interventions improve prescribing by medical students and junior doctors? A systematic review. Br J Clin Pharmacol. 2009;67:662–70.

10.

Smith A, Tasioulas T, Cockayne N, Misan G, Walker G, Quick G. Construction and evaluation of a web-based interactive prescribing curriculum for senior medical students. Br J Clin Pharmacol. 2006;62:653–9.

11.

Leipzig RM, Granville L, Simpson D, Anderson MB, Sauvigne K, Soriano RP. Keeping granny safe on July 1: a consensus on minimum geriatrics competencies for graduating medical students. Acad Med. 2009;84(5):604–10.

12.

Anderson MB. A thematic summary of the geriatrics curricula at 40 US medical schools. Acad Med. 2004;79(7):S213–22.

13.

Keller I, Makipaa A, Kalenscher T, Kalache A. Global survey on geriatrics in the medical curriculum. World Health Organization Online. 2002. https://www.who.int/ageing/projects/en/alc_global_survey_tegeme.pdf.

14.

Keijsers CJPW, Van Hensbergen L, Jacobs L, Brouwers JRBJ, De Wildt DJ, Cate OT, Jansen PAF. Geriatric pharmacology and pharmacotherapy education for health professionals and students: a systematic review. British J Clin Pharmacol. 2012;74(5):762–73. https://doi.org/10.1111/j.1365-2125.2012.04268.x.

15.

Dominguez I, Zumwalt AC. Integrating the basic sciences in medical curricula: focus on the basic scientists. Adv Physiol Educ. 2020;44(2):119–23. https://doi.org/10.1152/advan.00172.2019.

16.

Chen BY, Kern DE, Kearns RM, Thomas PA, Hughes MT, Tackett S. From modules to MOOCs: application of the six-step approach to online curriculum development for medical education. Acad Med. 2019;94(5):678–85. https://doi.org/10.1097/acm.0000000000002580.

17.

Khalil M, Nelson L, Kibble J. The use of self-learning modules to facilitate learning of basic science concepts in an integrated medical curriculum. Anat Sci Educ. 2010;3(5):219–26. https://doi.org/10.1002/ase.177.

18.

American Geriatrics Society Beers Criteria® 2019 Update Expert Panel. American Geriatrics Society 2019 updated AGS Beers Criteria® for potentially inappropriate medication use in older adults. J Am Geriatr Soc. 2019;67(4):674–94.

19.

O'Mahony D, Gallagher P, Ryan C, Byrne S, Hamilton H, Barry P, O'Connor M, Kennedy J. STOPP & START criteria: a new approach to detecting potentially inappropriate prescribing in old age. Eur Geriat Med. 2010;1(1):45–51.

20.

Duque G, Demontiero, O, Whereat S, Gunawardene P, Leung O, Webster P, Sardinha L. Boersma D, Sharma A. Evaluation of a blended learning model in geriatric medicine: a successful learning experience for medical students. Australas J Aging. 2012;32(20):103–9.

21.

Berman N, Fall LH, Smith S, Levine DA, Maloney CG, Potts M, Siegel B, Foster-Johnson L. Integration strategies for using virtual patients in clinical clerkships. Acad Med. 2009;84(7):942–9. https://doi.org/10.1097/acm.0b013e3181a8c668.

22.

Naritoku DK, Faingold CL. Development of a therapeutics curriculum to enhance knowledge of fourth-year medical students about clinical uses and adverse effects of drugs. Teach Learn Med. 2009;21:148–52.

23.

Daunt L, Umeonusulu P, Gladman, J, Blundell A, Conroy S, Gordon A. Undergraduate teaching in geriatric medicine using computer-aided learning improves student performance in examinations. Age Ageing. 2013;42(4):541–4. https://doi.org/10.1093/ageing/aft061.

24.

Ruiz JG, Mintzer MJ, Leipzig RM. The impact of E-learning in medical education. Acad Med. 2006;81(3):207–12. https://doi.org/10.1097/00001888-200603000-00002.
Acknowledgements
The authors thank Melisa Cowan from the Educational Technology office for her help in publishing and distributing the interactive tools.
Funding
This study was funded by a UCF COM medical educational innovations grant.
Ethics declarations
Ethical Approval
The study was approved by the UCF Institutional Review Board (IRB) as a non-human retrospective analysis quality control study.
Informed Consent
N/A as this was a de-identified retrospective analysis of course data.
Conflict of Interest
The authors declare no competing interests.
Additional information
Publisher's Note
Springer Nature remains neutral with regard to jurisdictional claims in published maps and institutional affiliations.
About this article
Cite this article
Gorman, L., Berry, A. & Dangiolo, M. Virtual Self-learning Modules Integrating Pharmacology Concepts into a Geriatric Elective. Med.Sci.Educ. (2021). https://doi.org/10.1007/s40670-021-01438-0
Keywords
E-learning

Blended learning

Pharmacology education

Geriatrics

Vertical integration

Basic science-clerkship integration