Abstract
Efficient and effective instructional materials designed for asynchronous learning are increasingly important in health professions curricula. Video microlectures are an effective instructional method, but many faculty lack training in applying best-practice multimedia principles to development of their own recorded microlectures. Here we report a rubric designed for use in a peer-review process to evaluate and improve microlectures. The one-page rubric provides a framework for application of multimedia principles and cognitive load theory to microlecture design. Quality improvement of microlectures following redesign according to rubric elements is supported by increased student viewership, which coincided with higher rubric peer review scores.
Access options
Buy single article
Instant access to the full article PDF.
USD 39.95
Price includes VAT (USA)
Tax calculation will be finalised during checkout.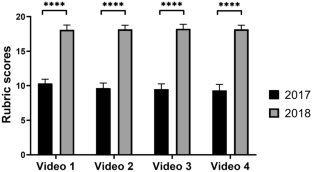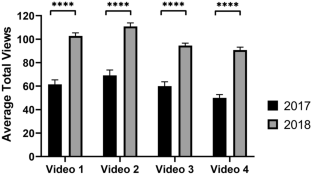 References
1.

Overland S. New research finds YouTube, video drives Generation Z learning preference. 2018. https://www.pearson.com/news-and-research/announcements/2018/08/new-research-finds-youtube--video-drives-generation-z-learning-p.html.

2.

The P3 Collaboratory, Teaching tuesdays: lights, camera, action: you and the microlecture. 2020. https://www.p3.rutgers.edu/post/teaching-tuesdays-lights-camera-action-you-and-the-microlecture (accessed 20 Jul 2020).

3.

Spickard A, Alrajeh N, Cordray D, Gigante J. Learning about screening using an online or live lecture. J Gen Intern Med. 2002;17(7):540–5.

4.

Franklin DS, Gibson JW, Samuel JC, Teeter WA, Clarkson CW. Use of lecture recordings in medical education. Med Sci Educ. 2011;21(1):21–8. https://doi.org/10.1007/BF03341590.

5.

Danielson J, Preast V, Bender H, Hassall L. Is the effectiveness of lecture capture related to teaching approach or content type? Comput Educ. 2014;72:121–31. https://doi.org/10.1016/j.compedu.2013.10.016.

6.

Pickering JD, Swinnerton BJ. Exploring the dimensions of medical student engagement with technology-enhanced learning resources and assessing the impact on assessment outcomes. Anat Sci Educ. 2019;12(2):117–28. https://doi.org/10.1002/ase.1810.

7.

Bridge PD, Jackson M, Robinson L. The effectiveness of streaming video on medical student learning: a case study. Med Educ Online. 2009;14(1):4506. https://doi.org/10.3402/meo.v14i.4506.

8.

Bacro TRH, Gebregziabher M, Fitzharris TP. Evaluation of a lecture recording system in a medical curriculum. Anat Sci Educ. 2010;3(6):300–8. https://doi.org/10.1002/ase.183.

9.

Mayer RE. Applying the science of learning to medical education. Med Educ. 2010;44(6):543–9. https://doi.org/10.1111/j.1365-2923.2010.03624.x.

10.

Mayer RE. Using multimedia for e-learning. J Comput Assist Learn. 2017;33(5):403–23. https://doi.org/10.1111/jcal.12197.

11.

Guo PJ, Kim J, Rubin R. How video production affects student engagement: an empirical study of MOOC videos. In: Proceedings of the first ACM conference on Learning @ scale conference. 2014. p. 41–50. https://doi.org/10.1145/2556325.2566239.

12.

Brame CJ. Effective educational videos: Principles and guidelines for maximizing student learning from video content. CBE Life Sci Educ. 2016;15(4):es6. https://doi.org/10.1187/cbe.16-03-0125.

13.

Karic B, Moino V, Nolin A, Andrews A, Brisson P. Evaluation of surgical educational videos available for third year medical students. Med Educ Online. 2020;25(1):1714197. https://doi.org/10.1080/10872981.2020.1714197.

14.

Seam N, et al. Design and implementation of a peer-reviewed medical education video competition: the best of American Thoracic Society Video Lecture Series. J Grad Med Educ. 2019;11(5):592–6. https://doi.org/10.4300/JGME-D-19-00071.1.

15.

Beaudin BP, Quick D. Instructional video evaluation instrument. J Ext. 1996;34(3):9–17.

16.

Sweller J. Cognitive load theory and educational technology. Educ Technol Res Dev. 2020;68(1):1–16. https://doi.org/10.1007/s11423-019-09701-3.

17.

Davis FD. Perceived usefulness, perceived ease of use, and user acceptance of information technology. MIS Q. 1989;13:319–40.

18.

Smith P, Blooma MJ, Kurian J. A conceptual framework to assess the effectiveness of rubric tool. Australasian Conference on Information Systems. 2016. https://arxiv.org/abs/1606.01348v1.

19.

Garber AM. Flipping out! Utilizing an online micro-lecture for asynchronous learning within the acting internship. Med Sci Educ. 2020;30(1):91–6. https://doi.org/10.1007/s40670-019-00887-y.

20.

Binks AP, et al. Changing medical education, overnight: the curricular response to COVID-19 of nine medical schools. Teach Learn Med. 2021;33(3):334–42. https://doi.org/10.1080/10401334.2021.1891543.
Ethics declarations
Ethics Approval
This study was part of a quality improvement project approved by the University of Illinois College of Medicine Peoria Institutional Review Board (IRB#1148244–1).
Conflict of Interest
The authors declare no competing interests.
Additional information
Publisher's Note
Springer Nature remains neutral with regard to jurisdictional claims in published maps and institutional affiliations.
About this article
Cite this article
Berrocal, Y., Regan, J., Fisher, J. et al. Implementing Rubric-Based Peer Review for Video Microlecture Design in Health Professions Education. Med.Sci.Educ. (2021). https://doi.org/10.1007/s40670-021-01437-1
Keywords
Microlecture

Rubric

Peer review

Video

Asynchronous