Abstract
A teaching workshop was delivered for faculty members of East African colleges of veterinary medicine to foster teaching development and reflection. The goal was for participants to use knowledge gained to improve teaching skills. The approach was to "train the trainer" so attendees could transfer new knowledge to colleagues at their institutions. Techniques were used to increase the likelihood that participants would apply the training. A culturally responsive survey was developed to assess training transfer 1 year later. Pilot survey results suggest that participants applied what they learned and shared with colleagues largely due to peer and supervisor support.
Access options
Buy single article
Instant access to the full article PDF.
USD 39.95
Price includes VAT (USA)
Tax calculation will be finalised during checkout.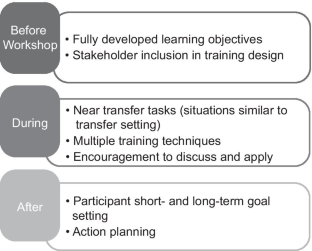 Data Availability
The datasets generated and analyzed during the current study are not publicly available due to Institutional Review Board research restrictions but are available (stripped of identifying information) from the corresponding author on reasonable request.
References
1.

Swan GE, Kriek NPJ. Veterinary education in Africa: Current and future perspectives. Onderstepoort J Vet Res. 2009;76:105–14.

2.

Baldwin TT, Ford JK. Transfer of training: A review and directions for future research. Pers Psychol. 1988;41:63–105.

3.

Lane IF, Sims M, Howell NE, Bailey M. Sustaining a collegewide teaching academy as a community: 10 years of experience with the master teacher program at the University of Tennessee College of Veterinary Medicine. J Vet Med Ed. 2020;47:384–94.

4.

Orfaly RA, Frances JC, Campbell P, Whittemore B, Jolly B, Koh H. Train-the-trainer as an educational model in public health preparedness [Supplemental material]. J Public Health Manag Pract. 2005;Nov:S123–S127.

5.

Velada R, Caetano A, Michel JW, Lyons BD, Kavanah MJ. The effects of training design, individual characteristics and work environment on transfer of training. Int J Train Dev. 2007;11:282–94.

6.

Blume BD, Ford JK, Baldwin TT, Huang JL. Transfer of training: A meta-analytic review. J Manag. 2010;36:1065–105.

7.

Czaja R, Blair J. Designing surveys. Thousand Oaks, CA: Pine Forge Press; 2011.

8.

Fink A. How to conduct surveys. 6th ed. Thousand Oaks, CA: Sage Publications; 2017.

9.

Griffin R. A practitioner friendly and scientifically robust training evaluation approach. J Workplace Learn. 2012;24:393–402.

10.

U. S. Office of Personnel Management. Training evaluation field guide: Demonstrating the value of training at every level. 2011. https://www.opm.gov/policy-data-oversight/training-and-development/reference-materials/training_evaluation.pdf. Accessed 16 Feb 2021.

11.

Kirkpatrick DL, Kirkpatrick JD, Kirkpatrick WK. The Kirkpatrick model. Kirkpatrick Partners. https://www.kirkpatrickpartners.com/Our-Philosophy/The-Kirkpatrick-Model. Accessed 16 Feb 2021.

12.

Hill I, Palmer A, Klein A, Howell E, Pelletier J. Assessing the train-the-trainer model: An evaluation of the Data & Democracy II project. Urban Inst. 2010. https://www.urban.org/sites/default/files/publication/28971/412174-assessing-the-train-the-trainer-model-an-evaluation-of-the-data-amp-democracy-ii-project.pdf. Accessed 16 Feb 2021.

13.

Holton EF, Bates RA, Ruona WEA. Development of a generalized learning transfer system inventory. Human Resourc Dev Q. 2000;11:333–60.

14.

LTSInventory: Learning transfer system. LTSI pricing. LTSInventory. 2019. http://www.ltsinventory.com/#pricing. Accessed 16 Feb 2021.

15.

Robinson SB, Leonard KF. Designing quality survey questions. Thousand Oaks, CA: Sage Publications; 2019.

16.

Harkness J, Bilgen I, Córdova Cazar A, Hu M, Huang L, Lee S, Yan T. Questionnaire design. In: Guidelines for best practice in cross-cultural surveys. 4th ed. Institute for Social Research. 2016. http://www.ccsg.isr.umich.edu/. Accessed 16 Feb 2021.

17.

Moswete NN, Darley WK. Tourism survey research in sub-Saharan Africa: Problems and challenges. Curr Issues Method Pract. 2012;15:369–83.

18.

African Studies Center. East Africa living encyclopedia. University of Pennsylvania. https://www.africa.upenn.edu/NEH/uhome.htm. Accessed 16 Feb 2021.

19.

Microsoft. Get your document's readability and level statistics. Microsoft support. https://support.office.com/en-us/article/get-your-document-s-readability-and-level-statistics-85b4969e-e80a-4777-8dd3-f7fc3c8b3fd2. Accessed 16 Feb 2021.

20.

Beversluis D, Schoeller-Diaz D, Anderson M, Anderson N, Slaughter A, Patel RB. Developing and validating the refugee integration scale in Nairobi. Kenya J Refug Stud. 2016;30:106–32.

21.

Migunde Q, Agak J, Odiwuor W. Gender differences, career aspirations, and career development barriers of secondary school students in Kisumu Municipality. Gend Behav. 2012;10:4987–97.

22.

Saupe LB, Göβmann K, Catani C, Neuner F. Adolescent life perspectives after war: Evaluation and adaption of the future expectation scale in Uganda. Frontiers Psychol. 2019;10:1527.

23.

Freedom House. Freedom on the net 2017: manipulating social media to undermine democracy. Freedom House. 2017. https://freedomhouse.org/article/new-report-freedom-net-2017-manipulating-social-media-undermine-democracy. Accessed 16 Feb 2021.

24.

Woodhams S. Ethiopia's leader promised to protect freedom of expression. But he keeps flicking the internet kill switch. CNN. 2019. https://www.cnn.com/2019/07/15/africa/ethiopia-internet-shutdowns-old-regime/index.html. Accessed 16 Feb 2021.

25.

Huck SW. Reading statistics and research. 5th ed. Boston, MA: Allyn and Bacon; 2008.

26.

Morrow JA, Skolits G. Twelve steps of quantitative data cleaning: strategies for dealing with dirty evaluation data. Washington, DC: Session presented at the meeting of the American Evaluation Association; 2017.

27.

Rajapakse BN, Neeman T, Dawson AH. The effectiveness of a train the trainer model of resuscitation education for rural peripheral hospital doctors in Sri Lanka. PLoS One. 2013;8(11):e79491.

28.

Burke LA, Hutchins HM. Training transfer: An integrative literature review. Hum Resour Dev Rev. 2007;6:263–96.

29.

Silva-Fletcher A. Teaching the teacher. In: Hodgson JL, Pelzer JM, editors. Veterinary medical education: a practical guide. Hoboken, NJ: Wiley Blackwell; 2017. p. 572–88.

30.

Yamnill S, McLean GN. Theories supporting transfer of training. Human Resourc Dev Q. 2001;12:195–208.
Funding
This project was funded by a seed grant from the Smith International Center, Institute of Agriculture, University of Tennessee, Knoxville, TN.
Ethics declarations
Ethics Approval
The project was approved under the expedited review category by the Institutional Review Board at the University of Tennessee (UTK IRB-20–05775-XP).
Consent to Participate
Consent to participate was collected from survey participants with an informed consent form e-mailed to participants. Participants consented by signing and dating the form, scanning the signed form, and e-mailing it to the investigators.
Consent for Publication
The informed consent form used for consent to participate included consent for publication.
Conflict of Interest
The authors declare no competing interests.
Additional information
Publisher's Note
Springer Nature remains neutral with regard to jurisdictional claims in published maps and institutional affiliations.
Supplementary Information
Below is the link to the electronic supplementary material.
About this article
Cite this article
Bailey, M.R., Lane, I.F. & Souza, M.J. Measuring Post-training Activities Following a Veterinary Teaching Workshop in East Africa. Med.Sci.Educ. (2021). https://doi.org/10.1007/s40670-021-01428-2
Keywords
Veterinary medical education

Survey development

Training transfer

Faculty development

International collaboration