Abstract
Introduction
As medical schools condense the basic science phase of undergraduate medical education, it has become increasingly important to identify methods and tools that facilitate learning, mastery, and application of medical knowledge. One increasingly popular tool that promotes engagement with content is Anki, a web-based flash card system. Using Anki, medical students can access pre-made flash cards specifically tailored to prepare students for the United States Medical Licensing Exam (USMLE) Step 1 exam. The objective of this study was to identify Anki use and its association to USMLE Step 1 performance.
Methods
In March 2020, medical students in years 2, 3, and 4 who had completed USMLE Step 1 were administered a survey to measure Anki usage. The survey was locally developed and was reviewed by survey experts on campus. Survey responses were paired with USMLE Step 1 results for analyses. Descriptive and inferential statistics were used for analysis.
Results
Anki usage was associated with higher USMLE Step 1 scores. Additionally, amongst those who used Anki, those with more consistent use had higher USMLE Step 1 scores and higher perceived levels of knowledge retention.
Conclusions
This research suggests that Anki is an effective educational tool that should be recommended to medical students alongside other evidenced-based study tools, such as the popular question bank USMLE World. Future research should attempt to identify a relationship between Anki usage and future clinical performance to demonstrate the implications that Anki has on clinical skills.
Access options
Buy single article
Instant access to the full article PDF.
USD 39.95
Price includes VAT (USA)
Tax calculation will be finalised during checkout.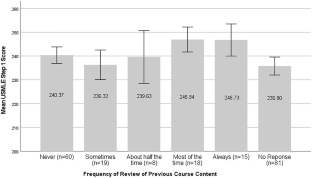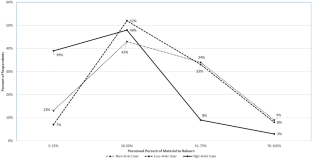 Availability of Data and Material (Data Transparency)
Data is available upon request from the corresponding author.
Code Availability (Software Application or Custom Code)
References
1.

Schneid SD, Pashler H, Armour C. How much basic science content do second-year medical students remember from their first year? Med Teach. 2019;41(2):231–3.

2.

Custers EJFM. Long-term retention of basic science knowledge: a review study. Adv Health Sci Educ. 2010;15:109–28.

3.

Roediger HL III, Karpicke JD. The power of testing memory: basic research and implications for educational practice. Perspect Psychol Sci. 2006;1(3):181–210.

4.

McSparron JI, Vanka A, Smith CC. Cognitive learning theory for clinical teaching. Clin Teach. 2019;16:96–100.

5.

Racsmány M, Szõllõsi Á, Bencze D. Retrieval practice makes procedure from remembering: an automatization account of the testing effect. J Exp Psychol Learn Mem Cog. 2018;44(1):157–66.

6.

Lee HS, Ahn D. Testing prepares students to learn better: the forward effect of testing in category learning. J Educ Psychol. 2018;110(2):203–17.

7.

Greene RL. Repetition and spacing effects. In Roediger III HL (Ed.). Learning and memory: a comprehensive reference (Vol. 2): cognitive psychology of memory. Oxford: Elsevier; 2008. pp. 65–78.

8.

Karpicke JD, Roediger HL III. Is expanding retrieval a superior method for learning text materials? Mem Cogn. 2010;38(1):116–24.

9.

Gardiner JM, Craik FIM, Bleasdale FA. Retrieval difficulty and subsequent recall. Mem Cognit. 1973;1(3):213–6.

10.

Pyc MA, Rawson KA. Examining the efficiency of schedules of distributed retrieval practice. Mem Cognit. 2007;35(8):1917–27.

11.

Karpicke JD, Bauernschmidt A. Spaced retrieval: absolute spacing enhances learning regardless of relative spacing. J Exp Psychol Learn Mem Cogn. 2011;37(5):1250–7.

12.

Parry S, Pachunka J, Beck Dallaghan GL. Factors predictive of performance on USMLE Step 1: do commercial study aids improve scores? Med Sci Educ. 2019;29(3):667–72. https://doi.org/10.1007/s40670-019-00722-4.

13.

Deng F, Gluckstein JA, Larsen DP. Student-directed retrieval practice is a predictor of medical licensing examination performance. Perspect Med Educ. 2015;4:308–13.

14.

Senzaki S, Hackathorn J, Appleby DC, Gurung RAR. Reinventing flashcards to increase student learning. Psychol Learn Teach. 2017;16(3):353–68.

15.

Schmidmaier R, Ebersbach R, Schiller M, Hege I, Holzer M, Fischer MR. Using electronic flashcards to promote learning in medical students: retesting versus restudying. Med Educ. 2011;45(11):1101–10. https://doi.org/10.1111/j.1365-2923.2011.04043.x. PMID: 21988625.

16.

Rana T, Laoteppitaks C, Zhang G, Troutman G, Chandra S. An investigation of Anki flashcards as a study tool among first year medical students learning anatomy. FASEB J. 2020;34(S1):1. https://doi.org/10.1096/fasdbj.2020.34.s1.09736.

17.

Sun M, Tsai S, Engle DL, Holmer S. Spaced repetition flashcards for teaching medical students psychiatry. Med Sci Educ. 2021;31:1125–31.

18.

Wu W, Garcia K, Chandrahas S, Siddiqui A, Baronia R, Ibrahim Y. Predictors of performance on USMLE Step 1. Southwest Respir Crit Care Chron. 2021;9(39):63–72. Available from: https://pulmonarychronicles.com/index.php/pulmonarychronicles/article/view/813. Accessed 25 Aug 2021.

19.

Cohen J. Statistical power analysis for the behavioral sciences. 2nd ed. Hillsdale, NJ: Lawrence Erlbaum Associates, Publishers; 1988.

20.

Versteeg M, Hendriks RA, Thomas A, Ommering BWC, Steendijk P. Conceptualising spaced learning in health professions education: a scoping review. Med Educ. 2020;54:205–16.

21.

Kerfoot BP, DeWolf WC, Masser BA, Church PA, Federman DD. Spaced education improves the retention of clinical knowledge by medical students: a randomised controlled trial. Med Educ. 2007;41:23–31.

22.

Dobson JL. Effect of selected "desirable difficulty" learning strategies on the retention of physiology information. Adv Physiol Educ. 2011;35:378–83.

23.

Kerfoot BP. Learning benefits of on-line spaced education persist for 2 years. J Urol. 2009;181:2671–3.

24.

Boespflug A, Guerra J, Dalle S, Thomas L. Enhancement of customary dermoscopy education with spaced education e-learning: a prospective controlled trial. JAMA Dermatol. 2015;151:847–53.

25.

Kerfoot BP. Adaptive spaced education improves learning efficiency: a randomized controlled trial. J Urol. 2010;183:678–81.

26.

Kerfoot BP, Fu Y, Baker H, Connelly D, Ritchey ML, Genega EM. Online spaced education generates transfer and improves long-term retention of diagnostic skills: a randomized controlled trial. J Am Coll Surg. 2010;211:331–7.

27.

Gauer JL, Jackson JB. The association between United States Medical Licensing Examination scores and clinical performance in medical students. Adv Med Educ Pract. 2019;26(10):209–16.

28.

Kenny S, McInnes M, Singh V. Associations between residency selection strategies and doctor performance: a meta-analysis. Med Educ. 2013;47(8):790–800.

29.

Guiot HM, Franqui-Rivera H. Predicting performance on the United States Medical Licensing Examination Step 1 and Step 2 Clinical Knowledge using results from previous examinations. Adv Med Educ Pract. 2018;14(9):943–9.

30.

Tsai S, Sun M, Asbury ML, Weber JM, Truong T, Deans E. Novel spaced repetition flashcard system for the in-training examination for obstetrics and gynecology. Med Sci Educ. 2021; ePub ahead of print. https://doi.org/10.1007/s40670-021-01344-5.
Acknowledgements
The authors would like to thank Dr. Neva Howard for providing input on the content of the survey instrument.
Ethics declarations
Ethics Approval
This study was reviewed and approved by the institutional review board.
Consent to Participate
Participants provided consent when they agreed to complete the survey instrument.
Conflict of Interest
The authors declare no competing interests.
Additional information
Publisher's Note
Springer Nature remains neutral with regard to jurisdictional claims in published maps and institutional affiliations.
Supplementary Information
Below is the link to the electronic supplementary material.
About this article
Cite this article
Lu, M., Farhat, J.H. & Beck Dallaghan, G.L. Enhanced Learning and Retention of Medical Knowledge Using the Mobile Flash card Application Anki. Med.Sci.Educ. 31, 1975–1981 (2021). https://doi.org/10.1007/s40670-021-01386-9
Accepted:

Published:

Issue Date:
Keywords
Anki

USMLE Step 1

Spaced retrieval

Medical students

Flash cards