Abstract
Introduction
The Dundee Ready Educational Environment Measure (DREEM) is a valid instrument to evaluate the educational environment of institutions. This quantitative study aimed to discover if applying interactive educational approaches to a component of a traditionally taught medical curriculum improved the educational environment, as measured by the DREEM.
Methods
The bilingual Arabic-English DREEM questionnaire was distributed twice to all third-year medical students (273 students) at the Hashemite University in Jordan. The first data collection occurred at the completion of a traditionally taught component of the Neurology module and the second data collection at the end of an interactively taught component of the same module. A paired t-test was used to compare the results.
Results
The total DREEM score for the innovative interactive course was 120.04/200 (from 183 questionnaires) and for the traditionally taught course was 114.69/200 (from 198 questionnaires). Of the five DREEM sub-scales, the interactive course scored statistically significantly higher than the traditionally taught course for "perceptions of learning" and "perceptions of atmosphere" (p-value 0.013 and 0.011, respectively). The interactively taught course was particularly valued by students for being participative, student-centered, and developing their professional competence. The lowest scoring item for both courses was "there is a good support system for students who get stressed."
Discussion
This study demonstrated that students value interactive learning environments and that there is benefit in introducing these components to a traditionally taught medical curriculum, when it may not be feasible to bring innovation to the entire medical curriculum due to resource constraints.
Access options
Buy single article
Instant access to the full article PDF.
US$ 39.95
Tax calculation will be finalised during checkout.
Subscribe to journal
Immediate online access to all issues from 2019. Subscription will auto renew annually.
US$ 79
Tax calculation will be finalised during checkout.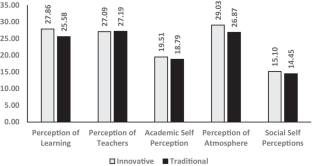 Availability of Data and Material
The datasets generated and analyzed during the current study are available in the Mendeley Data Repository.
References
1.

Genn J. AMEE Medical Education Guide No. 23 (Part 1): Curriculum, environment, climate, quality and change in medical education-a unifying perspective. Med Teach. 2001;23:337–44.

2.

Roff S, McAleer S. What is educational climate? Med Teach. 2001;23(4):333–4.

3.

Abraham R, Ramnarayan K, Vindo P, Torke S. Students' perceptions of learning environment in an Indian medical school. BMC Med Educ. 2008;8:20.

4.

Roff S. The Dundee Ready Educational Environment Measure (DREEM)— a generic instrument for measuring students' perceptions of undergraduate health professions curricula. Med Teach. 2005;27(4):322–5.

5.

Roff S, McAleer S, Harden R, Al-Qahtani M, Uddin A, Deza H, et al. Development and validation of the Dundee Ready Education Environment Measure (DREEM). Med Teach. 1997;19(4):295–9.

6.

Ojuka D, Aseta F, Githambo B, Wambua B. The Medical Education Environment at the University of Nairobi, Kenya: an assessment with the DREEM tool. Ann Afr Surg. 2021;18(2):96–102.

7.

Schubiger M, Lechthaler F, Khamidova M, Parfitt B, Prytherch H, van Twillert E, Wyss K. Informing the medical education reform in Tajikistan: evidence on the learning environment at two nursing colleges. BMC Med Ed. 2019;19(1):1–9.

8.

Akdeniz M, Kavukcu E, Ilhanlı N. DREEM in primary care: students' perspectives on educational environment of family medicine internship in primary care centres: experiences at Akdeniz University Faculty of Medicine in Turkey. Postgrad Med. 2019;131(6):397–404.

9.

Ahn Y, Hu W. Evaluation of the educational environment at a graduate medical school in South Korea using the DREEM Questionnaire. Med Ed Publish. 2019;8.

10.

Al-Hazimi A, Al-Hyiani A, Roff S. Perceptions of the educational environment of the medical school in King Abdul Aziz University. Saudi Arabia Med Teach. 2004;26(6):570–3.

11.

Roff S, McAleer S, Ifere OS, Bhattacharge S. A global diagnostic tool for measuring educational environment: Comparing Nigeria and Nepal. Med Teach. 2001;23(4):378–82.

12.

Rukban M, Khalil M, Al-Zalabani A. Learning environment in medical schools adopting different educational strategies. Educ Research Reviews. 2010;5(3):126–9.

13.

Varma R, Tiyagi E, Gupta J. Determining the quality of educational climate across multiple undergraduate teaching sites using the DREEM inventory. BMC Med Educ. 2005;5(1):8.

14.

Zawawi A, Elzubeir M. Using DREEM to compare graduating students' perceptions of learning environments at medical schools adopting contrasting educational strategies. Med Teach. 2017;34(Suppl 1):25–31.

15.

Dennick R, Exley K. Tomorrow's doctors today: innovations in medical teaching and learning – responding to the challenge of tomorrow's doctors. Biochem Educ. 1997;25(1):6–11.

16.

Barrows H. Problem-based learning in medicine and beyond: a brief overview. New Direc Teach Learn. 1996;68:3–12.

17.

Barakat H. The Arab World: Society, Culture and State. Berkeley: University of California Press; 1993.

18.

Alazzi K. Teachers' perceptions of critical thinking: a study of Jordanian secondary school social studies teachers. Social Studies. 2008;99(6):243–8.

19.

Al-Ayed I, Sheik S. Assessment of the educational environment at the College of Medicine of King Saud University. Riyadh Eastern Mediterr Health J. 2008;14(4):953–9.

20.

Swift L, Miles S, Leinster S. The analysis and reporting of the Dundee Ready Education Environment Measure (DREEM): some informed guidelines for evaluators. Creat Educ. 2013;4(5):340–7.

21.

Vaughan B, Carter A, Macfarlane C, Morrison T. The DREEM, part 1: measurement of the educational environment in an osteopathy teaching program. BMC Med Ed. 2014;14:99.

22.

Fidelma D, McAleer S, Roff S. Assessment of the undergraduate medical education environment in a large UK medical school. Health Educ J. 2006;65(2):149–58.

23.

Edgren G, Haffling A, Jakobsson U, Mcaleer S, Danielsen N. Comparing the educational environment (as measured by DREEM) at two different stages of curriculum reform. Med Teach. 2010;32(6):e233–8. https://doi.org/10.3109/01421591003706282.

24.

Miles S, Leinster S. Medical students' perceptions of their educational environment: Expected versus actual perceptions. Med Educ. 2007;41(3):265–72.

25.

Al-Hazimi A, Zaini R, Al-Hyiani A, Hassan N, Gunaid A, Ponnamperuma G, et al. Educational environment in traditional and innovative medical schools: a study in four undergraduate medical schools. Educ Health. 2004;17(2):192–203.

26.

Shehnaz S, Sreedharan J, Gomathi K. Faculty and students' perceptions of student experiences in a medical school undergoing curricular transition in the United Arab Emirates. Sultan Qaboos Univ Med J. 2012;12(1):77–85.

27.

dos Santos Fernandes D, Taquette S, Rodrigues N. The educational environment of a traditional public school of medicine in Brazil with the DREEM questionnaire. Med  Ed Publish. 2019;8.

28.

Abbas M, Salih K, Elhassan K, Ishag M, Alfaifi J, Eledum H. Measurement of the educational environment of an innovative, undergraduate medical program in the Kingdom of Saudi Arabia using DREEM. Int Jour Med Dev Coun. 2020;4(11):1734–7.

29.

Hasan T, Gupta P. Assessing the learning environment at Jazan medical school of Saudi Arabia. Med Teach. 2013;35(Suppl 1):90–6.

30.

Atwa H, Alkhadragy R, Abdelaziz A. Medical students' perception of the educational environment in a gender-segregated undergraduate program. J Med Edu. 2020;19(3):e104934.

31.

Karim J, Al-Halabi B, Marwan Y, Sadeq H, Dawas A, Al-Abdulrazzaq D. The educational environment of the undergraduate medical curriculum at Kuwait University. Adv Med Educ Pract. 2015;6:297–303.

32.

Helal R, El-Masry R, El-Gilany A. Quality of educational environment among Egyptian medical students using DREEM questionnaire. World J Med Educ Res. 2013;3(1):6–14.

33.

Van De Ridder J, Stokking K, McGaghie W, Ten Cate O. What is feedback in clinical education? Med Ed. 2008;42(2):189–97.

34.

Bonwell C, Eison J. Active learning: creating excitement in the classroom AEHE-ERIC Higher Education Report No. 1. Washington D.C.: Jossey-Bass; 1991.

35.

Ausubel DP. The acquisition and retention of knowledge: a cognitive view. Dordrecht: Kluwer Academic Publishers; 2000.

36.

Yoo D, Kim D. The relationship between students' perception of the educational environment and their subjective happiness. BMC Med Ed. 2019;19(1):1–10.
Acknowledgements
The authors wish to acknowledge Professor Ibrahim AlAyed, College of Medicine, King Saud University, Saudi Arabia, for providing the Arabic-English DREEM questionnaire.
Ethics declarations
Ethics Approval and Consent to Participate
The study proposal was submitted to the Hashemite University Ethics Committee which concluded that the study could be conducted without formal approval since the study did not include interventions on human subjects and consent to participate was obtained by participants signing a consent form.
Conflicts of Interests
The authors declare no competing interests.
Additional information
Publisher's Note
Springer Nature remains neutral with regard to jurisdictional claims in published maps and institutional affiliations.
Research was conducted at the Faculty of Medicine, The Hashemite University, Zarqa, Jordan.
Supplementary Information
Below is the link to the electronic supplementary material.
About this article
Cite this article
Miles, K., Al-Shudifat, AE. & Yousuf, M.S. The Educational Environment Is Warming Up: Response to Changes in a Component of a Medical Curriculum. Med.Sci.Educ. 31, 1677–1684 (2021). https://doi.org/10.1007/s40670-021-01359-y
Accepted:

Published:

Issue Date:
Keywords
DREEM questionnaire

Medical education

Student perceptions

Educational environment