Abstract
Introduction
In a prior qualitative study of the impact of a new (ACE) medical school curriculum, students and faculty reported decreased participation in the student-run free clinic (SRFC) attributed to more intensive scheduling and more frequent testing compared to the previous (Legacy) curriculum.
Materials and Methods
To verify and understand this perception formed during curriculum reform, we conducted a mixed method study to measure student participation in the SRFC before and after curricular change and assessed student beliefs and motivations about SRFC participation using focus groups.
Results
Overall SRFC participation did not decrease among students in the ACE cohort following curriculum change. Additionally, both Legacy and ACE groups showed lower participation during test weeks, but the decrease was not significantly different between the ACE and Legacy cohorts. Focus groups confirmed the pervasive misbelief that SRFC participation was indeed lower among ACE students and attributed to reduced student discretionary time plus increased preparation time for frequent testing. Focus groups also revealed several "values" about volunteering at the SRFC which should be endorsed and promoted by schools considering curricular change. Participants valued the SRFC for educational items that were most effectively taught in the SRFC, notably social determinants of health, interprofessional practice, and interviewing with medical interpreters. They also valued the SRFC for professional validation, opportunities to apply course content, practice clinical skills, form important professional relationships, and provide community service.
Conclusions
Our findings validate the value of SRFC experience as reported by students and demonstrate that, contrary to misbeliefs, participation was not negatively impacted by curricular reform.
Access options
Buy single article
Instant access to the full article PDF.
US$ 39.95
Tax calculation will be finalised during checkout.
Subscribe to journal
Immediate online access to all issues from 2019. Subscription will auto renew annually.
US$ 79
Tax calculation will be finalised during checkout.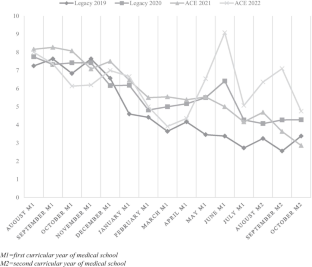 References  
1.

Cooke M, Irby DM, O'Brien BC, with a foreword by Lee S. Shulman. Educating physicians: a call for reform of medical school and residency, San Francisco: Jossey-Bass, 2010.

2.

Pock AR, Durning SJ, Gilliland WR, Pangaro LN. Post-Carnegie II curricular reform: a north American survey of emerging trends & challenges. BMC Med Educ. 2019;19(1):260.

3.

McOwen KS, Whelan AJ, Farmakidis AL. Medical education in the United States and Canada. Acad Med. 2020;95(9S):S2–4

4.

Loeser H, O'Sullivan P, Irby DM. Leadership lessons from curricular change at the University of California, San Francisco. School of Medicine Acad Med. 2007;82:324–30.

5.

Bernier GM Jr, Adler S, Kanter S, Meyer WJ 3rd. On changing curricula: lessons learned at two dissimilar medical schools. Acad Med. 2000;75:595–601.

6.

Fischel JE, Olvet DM, Iuli RJ, Lu WH, Chandran L. Curriculum reform and evolution: innovative content and processes at one US medical school. Med Teach. 2019;41(1):99-106.

7.

Brown DR, Warren JB, Hyderi A, Drusin RE, Moeller J, Rosenfeld M, Wagner DP. Finding a path to entrustment in undergraduate medical education: a progress report from the AAMC Core Entrustable Professional Activities for Entering Residency Entrustment Concept Group. Acad Med. 2017;92(6):201.

8.

Yengo-Kahn A, Baker C, Lomis KD. Medical students' perspectives on implementing curriculum change at one institution. Acad Med. 2017;92(4):455–61.

9.

Smith KL, Meah Y, Reininger B, Farr M, Zeidman J, Thomas DC. Integrating service learning into the curriculum: lessons from the field. Med Teach. 2013;35(5):e1139–48.

10.

Stewart T, Wubbena ZC. A systematic review of service-learning in medical education: 1998–2012. Teach Learn Med. 2015;27(2):115–22.

11.

Stewart T, Wubbena Z. An overview of infusing service-learning in medical education. Int J Med Educ. 2014;4(5):147–56.

12.

Seifer SD. Service-learning: community-campus partnerships for health professions education. Acad Med. 1998;73(3):273–7.

13.

Walling A, Bonaminio G, Meyer M, Griebling T, Paolo T, Nilsen K. Unintended consequences of curricular change: lessons from Legacy students. Med Sci Ed. 2019;29:919–22.

14.

Novak DA, Hallowell R, Ben-Ari R, Elliott D. A continuum of innovation: curricular renewal strategies in undergraduate medical education, 2010–2018. Acad Med. 2019;94(11S):S79-85.

15.

Bonaminio GA, Fontes J, Doolittle G, Shaw P, Moser S, Robinson M. The University of Kansas School of Medicine. Acad Med. 2020;95(9S):S184–7.

16.

Smith S, Thomas R III, Cruz M, Griggs R, Moscato B, Ferrara A. Presence and characteristics of student-run free clinics in medical schools. JAMA. 2014;312(22):2407–10.

17.

Association of American Medical Colleges Medical School Graduation Questionnaire: 2020 All Schools Summary Report, accessed August 2020.

18.

Schutte T, Tichelaar J, Dekker RS, van Agtmael MA, de Vries TP, Richir MC. Learning in student-run clinics: a systematic review. Med Educ. 2015;49(3):249–63.

19.

Schutte T, Tichelaar J, Dekker RS, Thijs A, de Vries TP, Kusurkar RA, van Agtmael MA. Motivation and competence of participants in a learner-centered student-run clinic: an exploratory pilot study. BMC Med Educ. 2017;17(1):23.

20.

Schutte T, Tichelaar J, Donker E, Richir MC, Westerman M, van Agtmael MA. Clarifying learning experiences in student-run clinics: a qualitative study. BMC Med Educ. 2018;18(1):244.

21.

Hu T, Cox KA, Nyhof-Young J. Investigating student perceptions at an interprofessional student-run free clinic serving marginalized populations. J Interprof Care. 2018;32(1):75–9. https://doi.org/10.1080/13561820.2017.1363724.

22.

Lie DA, Forest CP, Walsh A, Banzali Y, Lohenry K. What and how do students learn in an interprofessional student-run clinic? An educational framework for team-based care. Med Educ Online. 2016;21:31900.

23.

Seif G, Coker-Bolt P, Kraft S, Gonsalves W, Simpson K, Johnson E. The development of clinical reasoning and interprofessional behaviors: service-learning at a student-run free clinic. J Interprof Care. 2014;28(6):559–64.

24.

Kruger JS, Kruger DJ, Suzuki R. Assessing the effectiveness of experiential learning in a student-run free clinic. Pedagogy Health Promot. 2015;1(2):91–4.

25.

Stoddard HA, Risma JM. Relationship of participation in an optional student-run clinic to medical school grades. Teach Learn Med. 2011;23(1):42–5.

26.

Subedi D. Explanatory sequential mixed method design as the third research community of knowledge claim. Am J Ed Research. 2016;4(7):570–7.
Ethics declarations
Ethics Approval
The study was approved by the Institutional Review Board of the hosting University (IRB#: STUDY00143880).
Consent to Participate
Quantitative study: N/A (numerical data retrieval: no identifiable individuals). Qualitative study: written and verbal consent obtained from participants.
Conflict of Interest
The authors declare no competing interests.
Additional information
Publisher's Note
Springer Nature remains neutral with regard to jurisdictional claims in published maps and institutional affiliations.
Appendices
Appendix
Focus Group Guide
1.

Why do you volunteer at the JayDoc clinic?

2.

Any gains/benefits to volunteering?

3.

Any avoided losses?

4.

Any actual losses?

5.

What barriers do you experience to volunteering?

6.

How does testing affect how you volunteer?

7.

How does volunteering affect academic performance?

8.

Were you involved in leadership positions?

(a)

If no, why not?

(b)

If yes, why?

9.

We've noticed from our volunteer data that every year volunteer numbers steadily decline through the year (fewer volunteers in March than August, for example). Why do you think that is?

10.

How do you think Jaydoc functions with fewer volunteers?

11.

Specific to class of 2019 (?): what explains the lower volunteer rates later in the year (relative to other years)?

12.

Specific to class of 2020 (?): volunteer numbers were very high in June. Why do you think that is?

13.

Specific to class of 2021 (?): volunteer numbers were lower throughout your M2 year but experienced a sharp decline as M2 went on (much steeper decline than that of other years). Why do you think that is?
About this article
Cite this article
Witt, L., Nilsen, K.M., Kohman, M. et al. Unintended Consequences? Assessing the Impact of Curricular Change on Medical Student Participation in a Student-Run Free Clinic. Med.Sci.Educ. 31, 1653–1662 (2021). https://doi.org/10.1007/s40670-021-01356-1
Accepted:

Published:

Issue Date:
Keywords
Student-run free clinics

Curricular change

Curricular reform

Service-learning activities