Abstract
Medical schools are moving away from traditional lectures in favor of small-group learning. Here we present a game-based activity designed to improve student engagement while serving as a course review. The activity incorporated 32 questions submitted by eleven discipline directors. The 133 student participants reviewed the session positively, rating it highest of the 11 course sessions with an overall quality of a 4.68 (± 0.84) out of a 6-point Likert scale. The students remarked that the activity was fun and engaging, yet long. It reviewed a breadth of content over several specialties in a format that encouraged active, team-based learning.
Access options
Buy single article
Instant access to the full article PDF.
USD 39.95
Price excludes VAT (USA)
Tax calculation will be finalised during checkout.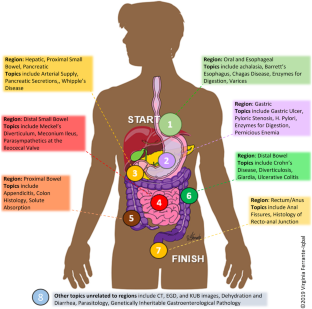 References
Krupat E, Richards JB, Sullivan AM, Fleenor TJ, Shwartzstein RM. Assessing the effectiveness of case-based collaborative learning via randomized controlled trial. Acad Med. 2016;91:723–9.

Michaelsen LK, Sweet M. The essential elements of team-based learning. New Directions Teach Learn. 2008;116:7–27.

Taylor D, Miflin B. Problem-based learning: where are we now? Med Teach. 2008;30:742–63.

Thistlethwaite JE, Davies D, Ekeocha S, et al. The effectiveness of case-based learning in health professional education. A BEME systematic review: BEME guide no. 23. Med Teach. 2012;34:e421–444

Fares J, Al Tabosh H, Saadeddin Z, El Mouhayyar C, Aridi H. Stress, burnout, and coping strategies in preclinical medical students. N Am J Med Sci. 2016;8:75–81.

Bochennek K, Wittekindt B, Zimmerman S, Klingebiel T. More than mere games: a review of card and board games for medical education. Med Teach. 2007;29:941–8.

Hill RV, Nassrallah Z. A game-based approach to teaching and learning anatomy of the liver and portal venous system. MedEdPORTAL. 2018;14:10696.

Cusick J. A Jeopardy-style review game using team clickers. MedEdPORTAL. 2016;12:10485.

Klatt EC, Klatt CA. How much is too much reading for medical students? Assigned reading and reading rates at one medical school. Acad Med. 2011;86:1079–83.
Acknowledgements
The authors would like to thank Virginia Ferrante-Iqbal for her illustration. We would also like to thank Anne Carroll for her assistance in reviewing session evaluations.
Ethics declarations
Conflicts of Interest
The authors declare no competing interests
Additional information
Publisher's Note
Springer Nature remains neutral with regard to jurisdictional claims in published maps and institutional affiliations.
About this article
Cite this article
Katrikh, A.Z., Richards, M.H. & Ferrigno, C. Gut Games: a Board Game to Integrate Basic and Clinical Sciences for the Classroom. Med.Sci.Educ. 31, 1025–1028 (2021). https://doi.org/10.1007/s40670-021-01288-w
Accepted:

Published:

Issue Date:

DOI: https://doi.org/10.1007/s40670-021-01288-w
Keywords
Flipped classroom

Small group

Game-based activity

Medical education