Abstract
Objective
To address the need for increased and more effective medical education regarding chronic pain and pain management, an inter-professional (IP) training program in the form of a supervised student IP pain clinic was implemented in 2016. In the current study, we evaluated its feasibility and effectiveness in improving health care professional students' skills in (1) managing chronic pain and (2) working in an IP team.
Methods
From January 2016 to December 2018, we assembled 12 IP teams that included students from the following six professions at the University of New England: nursing, osteopathic medicine (OM), occupational therapy (OT), pharmacy, physical therapy (PT), and social work (SW). During this 12-week training program, each team conducted the initial evaluation, generated treatment plans, and performed follow-up examinations for its assigned patient under the supervision of a pain specialist at the Mercy Pain Center. Surveys were conducted with all participating students and patients.
Results
Overall, students showed significant improvement in knowledge regarding pain physiology and chronic pain management as well as attitude and perception regarding IP practice and perceived team skills. Specifically, prior to the program, nursing students showed the greatest pain-related knowledge and perceived team skills, while OT students scored the highest in attitude and perception regarding IP practice. Following the program, improvement in various measures was observed in all professions with PT students showing the most significant improvement in all areas. Surveys also indicated patients' satisfaction with their IP pain clinic experience.
Conclusions
These results demonstrated the feasibility and the effectiveness of this IP training program for all participating professions.
Access options
Buy single article
Instant access to the full article PDF.
USD 39.95
Price excludes VAT (USA)
Tax calculation will be finalised during checkout.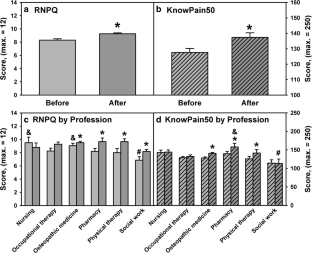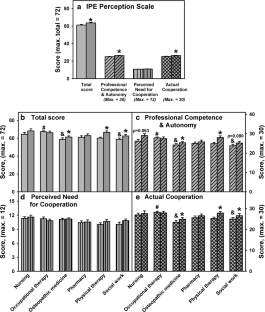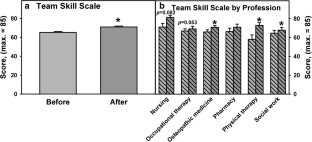 References
Gaskin DJ, Richard P. The economic costs of pain in the United States. J Pain. 2012;13(8):715–24.

Fishman SM, Young HM, Lucas Arwood E, Chou R, Herr K, Murinson BB, et al. Core competencies for pain management: results of an interprofessional consensus summit. Pain Med. 2013;14(7):971–81.

Murinson BB, Gordin V, Flynn S, Driver LC, Gallagher RM, Grabois M, et al. Recommendations for a new curriculum in pain medicine for medical students: toward a career distinguished by competence and compassion. Pain Med. 2013;14(3):345–50.

Tauben DJ, Loeser JD. Pain education at the University of Washington School of Medicine. J Pain. 2013;14(5):431–7.

Tousignant-Laflamme Y, Tousignant M, Lussier D, Lebel P, Savoie M, Lalonde L, et al. Educational needs of health care providers working in long-term care facilities with regard to pain management. Pain Res Manag. 2012;17(5):341–6.

Malon J, Shah P, Koh WY, Cattabriga G, Li E, Cao L. Characterizing the demographics of chronic pain patients in the state of Maine using the Maine all payer claims database. BMC Public Health. 2018;18(1):810.

O'Connell MT, et al. A curriculum in systems-based care: experiential learning changes in student knowledge and attitudes. Fam Med. 2004;36(Suppl):S99–104.

Rivo ML, et al. Practicing effectively in today's health system: teaching systems-based care. Fam Med. 2004;36(Suppl):S63–7.

Hunter JP, Stinson J, Campbell F, Stevens B, Wagner SJ, Simmons B, et al. A novel pain interprofessional education strategy for trainees: assessing impact on interprofessional competencies and pediatric pain knowledge. Pain Res Manag. 2015;20(1):e12–20.

Oeseburg B, Hilberts R, Luten TA, van Etten AVM, Slaets JPJ, Roodbol PF. Interprofessional education in primary care for the elderly: a pilot study. BMC Med Educ. 2013;13:161.

Catley MJ, O'Connell NE, Moseley GL. How good is the neurophysiology of pain questionnaire? A Rasch analysis of psychometric properties. J Pain. 2013;14(8):818–27.

Harris JM Jr, Fulginiti JV, Gordon PR, Elliott TE, Davis BE, Chabal C, et al. KnowPain-50: a tool for assessing physician pain management education. Pain Med. 2008;9(5):542–54.

Harris JM Jr, Elliott TE, Davis BE, Chabal C, Fulginiti JV, Fine PG. Educating generalist physicians about chronic pain: live experts and online education can provide durable benefits. Pain Med. 2008;9(5):555–63.

McFadyen AK, Maclaren WM, Webster VS. The Interdisciplinary Education Perception Scale (IEPS): an alternative remodelled sub-scale structure and its reliability. Journal of Interprofessional Care. 2007;21(4):433–43.

Hepburn K, Tsukuda R, Fasser C. Team skills scale. In: Zeiss A, Heinemann GD, editors. Team performance in health care: assessment and development. New York: Kluwer Academic/Plenum Publishers; 1996.

Gilbert JH, Yan J, Hoffman SJ. A WHO report: framework for action on interprofessional education and collaborative practice. J Allied Health. 2010;39(Suppl 1):196–7.

Lash DB, Barnett MJ, Parekh N, Shieh A, Louie MC, Tang TTL. Perceived benefits and challenges of interprofessional education based on a multidisciplinary faculty member survey. Am J Pharm Educ. 2014;78(10):180.

Lumague M, Morgan A, Mak D, Hanna M, Kwong J, Cameron C, et al. Interprofessional education: the student perspective. Journal of Interprofessional Care. 2006;20(3):246–53.
Acknowledgments
We are grateful for all the support from the UNE Interprofessional Education Collaborative, the UNE Center for Excellence in Health Innovation, the UNE Center for Excellence in Neurosciences, and the Biomedical Science Department of the UNE College of Osteopathic Medicine for helping with student recruitment and providing lunches at student presentations. Special thanks are owed to the following faculty volunteers whose continued assistance made the program possible: Jessica J. Bolduc, DrOT, MSOTR/L; Kelli S. Fox, LCSW, CCS, LADC; Christopher Frothingham, DO; Matthew Lacroix, PharmD, MS, BCPS; Kin Ly, PharmD, EdD; Wallace Marsh MBA, MSE, PhD, RPh; Regi Robnett, PhD, OTR/L; Nancy Jo Ross PhD RN; Katy Rudolph, PT, PhD; Victoria Thieme, DO; Kris Winston, Ph.D., O.T.R./L. Special thanks are also owed to Dr. Woon Yuen Koh, PhD, Department of Mathematics, College of Arts and Science, UNE, for providing assistance in statistical analysis.
Funding
This work received funding from the University of New England (UNE) Center for the Enrichment of Teaching and Learning faculty mini-grant to initiate the program.
Ethics declarations
This study was approved by the Institutional Review Boards of both the University of New England (Protocol Number: 112515-014) and Mercy Hospital (Protocol Number: 135).
Conflict of Interest
The authors declare that they have no conflict of interest.
Additional information
Publisher's Note
Springer Nature remains neutral with regard to jurisdictional claims in published maps and institutional affiliations.
About this article
Cite this article
Cao, L., Hull, S.Z. Effectiveness of Educating Health Care Professionals in Managing Chronic Pain Patients Through a Supervised Student Inter-professional Pain Clinic. Med.Sci.Educ. 31, 479–488 (2021). https://doi.org/10.1007/s40670-020-01189-4
Accepted:

Published:

Issue Date:

DOI: https://doi.org/10.1007/s40670-020-01189-4
Keywords