Abstract
Background
The learning environment in obstetrics and gynecology (OB/GYN) may have intrinsic differences that require modifying existing resident as teacher models for high-quality teaching.
Objective
To explore medical students' views of resident teaching on the OB/GYN clerkship in order to develop more effective educators.
Methods
Between October 2017 and June 2018, we performed medical student focus groups at the end of the 2-month OB/GYN clerkship. Topics discussed included positive and negative teaching interactions with residents, barriers specific to the OB/GYN clerkship, and best methods for resident teaching. Qualitative analysis utilizing 3 reviewers and N-Vivo software were used to identify themes.
Results
A total of 37 students participated in five focus groups. The most common barriers were a learning environment that was less predictable than on other rotations and lack of autonomy due to patient advocacy concerns. The three main contributors to positive learning experiences were team inclusion, clear expectations, and feedback. Negative interactions were passive learning experiences and inconsistent expectations. The best methods for resident teaching were verbalization of cognitive processes, preparation to use common patient encounters as teaching moments, and modeling skills needed for proficient patient care.
Discussion
The learning environment on OB/GYN is unpredictable and influenced by four Ps: patient autonomy, passive experiences, procedures, and preconceived notions. The strategy of a resident teacher should focus on medical student inclusion and preparation for teaching role. We thus suggest a TEAM (Thinking Aloud, Expectations, Advanced Preparation, Modeling) approach to improve resident teaching on the OB/GYN clerkship.
Access options
Buy single article
Instant access to the full article PDF.
USD 39.95
Price includes VAT (USA)
Tax calculation will be finalised during checkout.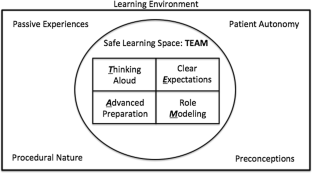 References
1.

Bing-You RG, Sproul MS. Medical students' perceptions of themselves and residents as teachers. Med Teach. 1992;14(2-3):133–8.

2.

Karani R, Fromme HB, Cayea D, Muller D, Schwartz A, Harris IB. How medical students learn from residents in the workplace: a qualitative study. Acad Med. 2014;89(3):490–6.

3.

Liaison Committee on Medical Education. Functions and structure of a medical school: standards for accreditation of medical education programs leading to the MD degree. March 2018. Available at: http://lcme.org/publications/. Accessed December 18, 2018.

4.

Accreditation Council for Graduate Medical Education. Common program requirements. February 2017. Available at: http://www.acgme.org/What-We-Do/Accreditation/Common-Program-Requirements. Accessed December 8, 2018.

5.

Ogburn JAT, Espey EL, Dorin MH, Ming C, Rayburn WF. Obstetrics and gynecology residents as teachers of medical students: predictors of excellence. Am J Obstet Gynecol. 2005;193(5):1831–4.

6.

Rayburn WF. The Obstetrician/Gynecologist Workforce in the United States: facts, figures, and implications. Washington, DC: The American Congress of Obstetricians and Gynecologists; 2017.

7.

Chang JC, Odrobina MR, McIntyre-Seltman K. Residents as role models: the effect of the obstetrics and gynecology clerkship on medical students' career interest. J Grad Med Educ. 2010;2(3):341–5.

8.

Cullimore AJ, Dalrymple JL, Dugoff L, Hueppchen NA, Casey PM, Chuang AW, et al. The obstetrics and gynaecology resident as teacher. J Obstet Gynaecol Can. 2010;32(12):1176–85.

9.

Association of American Medical Colleges. Medical school graduation questionnaire: 2018 All Schools Summary Report. July 2018. Available at: https://www.aamc.org/data/gq/. Accessed December 7, 2018.

10.

Chen X, Johnson N. Perceived Stress on Labor and Delivery (L&D) During OB/GYN clerkship from students, residents, and faculty's perspectives. Obstet Gynecol. 2016;128:49S.

11.

Van den Einden LCG, Te Kolste MGJ, Lagro-Janssen ALM, Dukel L. Medical students' perceptions of the physician's role in not allowing them to perform gynecological examinations. Acad Med. 2014;89(1):77–83.

12.

Pradhan A, Page-Ramsey S, Buery-Joyner SD, Craig LB, Dalrymple JL, Forstein DA, et al. Undergraduate obstetrics and gynecology medical education: why are we underrated and underappreciated? Am J Obstet Gynecol. 2016;214(3):345–7.

13.

Stalmeijer RE, McNaughton N, Mook WNKAV. Using focus groups in medical education research: AMEE Guide No. 91. Medical Teacher. 2014;36(11):923–39.

14.

Castillo-Angeles M, Watkins AA, Acosta D, Frydman JL, Flier L, Garces-Descovich A, et al. Mistreatment and the learning environment for medical students on general surgery clerkship rotations: What do key stakeholders think? Am J Surg. 2016;213(2):307–12.

15.

Smith DT, Kohlwes RJ. Teaching strategies used by internal medicine residents on the wards. Medical Teacher. 2011;33(12):e697–703.

16.

Wolpaw TM, Wolpaw DR, Papp KK. Snapps: A learner-centered model for outpatient education. Acad Med. 2003;78(9):893–8.

17.

Neher JO, Gordon KC, Meyer B, Stevens N. A five-step "microskills" model of clinical teaching. J Am Board Fam Pract. 1992;5(4):419–24.

18.

Melvin L, Kassam Z, Burke A, Wasi P, Neary J. What makes a great resident teacher? A multicenter survey of medical students attending an internal medicine Conference. J Grad Med Educ. 2014;6(4):694–7.

19.

Butani L, Paterniti DA, Tancredi DJ, Li S-TT. Attributes of residents as teachers and role models - a mixed methods study of stakeholders. Medical Teacher. 2013;35(4):e1052–9.

20.

Khoo HSM, Teo W. Transformative learning approach to teaching management skills in medical education. Acad Med. 2018;93(4):516–7.

21.

Shochet RB, Colbert-Getz JM, Levine RB, Wright SM. Gauging events that influence students' perceptions of the medical school learning environment: findings from one institution. Acad Med. 2013;88(2):246–52.
Ethics declarations
This study was approved by Baylor College of Medicine IRB.
Conflict of Interest
The authors declare that they have no conflict of interest.
Additional information
Publisher's Note
Springer Nature remains neutral with regard to jurisdictional claims in published maps and institutional affiliations.
About this article
Cite this article
Ratan, B.M., Greely, J.T., Jensen, M.D. et al. A Conceptual Model for Residents as Teachers in Obstetrics and Gynecology. Med.Sci.Educ. 30, 1169–1176 (2020). https://doi.org/10.1007/s40670-020-00985-2
Keywords
Residents as teachers

Clinical learning environment

Obstetrics & gynecology