Abstract
Purpose
As the amount of curricular material required of medical students increases, less time is available for anatomy; thus, methods to teach anatomy more efficiently and effectively are necessary. In this randomized controlled trial, we looked at the effectiveness of a mixed reality (MR) device to teach musculoskeletal anatomy to medical students compared with traditional cadaveric dissection.
Method
Participating students were divided into three cohorts. Cohort 1 first studied upper limb anatomy in MR followed by lower limb anatomy through cadaveric dissection. Cohort 2 studied upper limb anatomy with cadaveric dissection followed by lower limb anatomy in MR. After the six sessions, a third cohort of 33 students who never received any teaching in MR was recruited to participate in the final practical exams as a control group. All 64 students completed two practical exams with equivalent content, one in the cadaver lab and one using MR.
Results
The average scores were 73.8% + 12.3 on the cadaver exam and 74.2% + 13.0 in MR. There is no statistical difference between these scores (p > 0.05). A correlation was found between the MR practical exam and cadaver practical exam scores (r = 0.74, p < 0.01) across all students.
Conclusions
To our knowledge, this study marks the first time that MR was compared with traditional anatomy learning modalities in a multi-session, group course. Our results clearly indicate that medical students, regardless of the study modality, performed similarly on the MR and the cadaver practical exams.
Access options
Buy single article
Instant access to the full article PDF.
US$ 39.95
Tax calculation will be finalised during checkout.
Subscribe to journal
Immediate online access to all issues from 2019. Subscription will auto renew annually.
US$ 79
Tax calculation will be finalised during checkout.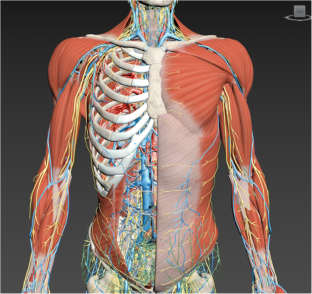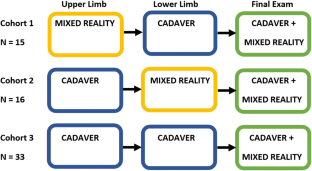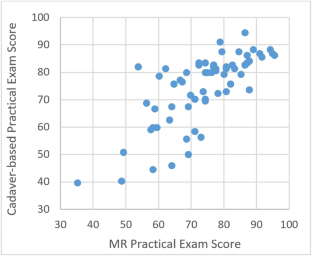 References
1.

Azer S, Eizenberg N. Do we need dissection in an integrated problem-based learning medical course? Perceptions of first- and second-year students. Surg Radiol Anat. 2007;29(2):173–80.

2.

Arráez-Aybar L, Sánchez-Montesinos I, Mirapeix R, Mompeo-Corredera B, Sañudo-Tejero J. Relevance of human anatomy in daily clinical practice. Ann Anat Anatomischer Anzeiger. 2010;192(6):341–8.

3.

Grignon B, Oldrini G, Walter F. Teaching medical anatomy: what is the role of imaging today? Surg Radiol Anat. 2015;38(2):253–60.

4.

Singh V, Kharb P. A paradigm shift from teaching to learning gross anatomy: meta-analysis of implications for instructional methods. J Anatom Soc India. 2013;62(1):84–9.

5.

Pelargos P, Nagasawa D, Lagman C, Tenn S, Demos J, Lee S, et al. Utilizing virtual and augmented reality for educational and clinical enhancements in neurosurgery. J Clin Neurosci. 2017;35:1–4.

6.

McLachlan J, Patten D. Anatomy teaching: ghosts of the past, present and future. Med Educ. 2006;40(3):243–53.

7.

Papa V, Vaccarezza M. Teaching anatomy in the XXI century: new aspects and pitfalls. Sci World J. 2013:1–5.

8.

Nnodim J. Learning human anatomy: by dissection or from prosections? Med Educ. 1990;24(4):389–95.

9.

Zill, S., Duke, E., Keller, B., Holliday, C. and Rhoten, W. Teaching medical gross anatomy with prosections and digital images: advantages and disadvantages. 2007. [online] Fasebj.org. Available at: https://doi.org/10.1096/fasebj.21.6.LB1-a

10.

Goldman E. Building a low-cost gross anatomy laboratory: A big step for a small university. Anat Sci Educ. 2010;3(4):195–201.

11.

Lakchayapakom K, Watchalayarn P. Formaldehyde exposure of medical students and instructors and clinical symptoms during anatomy laboratory in Thammasat University. J Med Assoc Thail. 2010;93(Suppl 7):S92–8.

12.

Coskey A, Gest TR. Effectiveness of various methods of Formaldehyde Neutralization using Monoethanoalmine. Clin Anat. 2015;28:449–54.
Additional information
Publisher's Note
Springer Nature remains neutral with regard to jurisdictional claims in published maps and institutional affiliations.
About this article
Cite this article
Stojanovska, M., Tingle, G., Tan, L. et al. Mixed Reality Anatomy Using Microsoft HoloLens and Cadaveric Dissection: A Comparative Effectiveness Study. Med.Sci.Educ. 30, 173–178 (2020). https://doi.org/10.1007/s40670-019-00834-x
Keywords
Medical education

Anatomy

Mixed reality

Virtual reality

HoloLens