Abstract
Background
The United States Medical Licensing Examination (USMLE) Step 1 was the most cited factor in granting medical student applicants' residency interviews in a 2016 NRMP survey. Medical students utilize numerous commercial resources to achieve the highest score possible. This study sought to examine preparatory resources and their association with USMLE Step 1 performance.
Methods
In 2016 and 2017, 170 medical students from a public, Midwestern medical school completed a voluntary survey after completing USMLE Step 1. The survey asked about study aids, anticipated performance, test preparation time, and practice exam performance. Actual scores and academic performance (overall percent for years 1 and 2 of medical school) were matched to survey responses. Data was analyzed using descriptive and inferential statistical analyses.
Results
USMLE Step 1 performance was associated with academic performance (r = 0.719, p < 0.01). Post hoc tests indicated a positive difference with the UWorld Qbank and exam performance (F4,134 = 10.29, p < 0.05). Amount of days dedicated to test preparation was negatively correlated with performance in the 2017 student cohort (r = − 0.304, p < 0.01). The use of other commercially available products and the number of practice tests completed were not correlated with performance.
Discussion
Cumulative pre-clinical grades had the strongest association with performance on the USMLE Step 1. Completing UWorld Qbank at least once was positively related with Step 1 scores. However, the use of other study aids, completing multiple practice exams, and delaying exam dates were not statistically significant. This study indicates performance in the pre-clinical curriculum and increased usage of UWorld are strongly associated with USMLE Step 1 performance.
Access options
Buy single article
Instant access to the full article PDF.
USD 39.95
Price excludes VAT (USA)
Tax calculation will be finalised during checkout.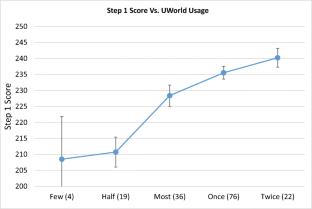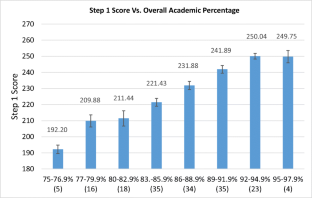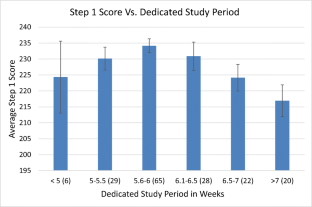 References
National Resident Matching Program, Data Release and Research Committee: Results of the 2016 NRMP program director survey. 2016. National Resident Matching Program: Washington, DC.

National Resident Matching Program, Results and Data: 2017 Main residency match®. 2017. National Resident Matching Program: Washington, DC.

Gauer JL, Jackson JB. The association of USMLE Step 1 and Step 2 CK scores with residency match specialty and location. Med Educ Online. 2017;22(1):1358579.

Loh AR, Joseph D, Keenan JD, Lietman TM, Naseri A. Predictors of matching in an ophthalmology residency program. Ophthalmology. 2013;120(4):865–70.

Baños JH, Pepin ME, Van Wagoner N. Class-wide access to a commercial Step 1 question bank during preclinical organ-based modules: a pilot project. Acad Med. 2018;93(3):486–90.

Bonasso P, Lucke-Wold B III, Reed Z, Bozek J, Cottrell S. Investigating the impact of preparation strategies on USMLE Step 1 performance. MedEdPublish. 2015;4(1):5.

Giordano C, Hutchinson D, Peppler R. A predictive model for USMLE Step 1 scores. Cureus. 2016;8(9):e769.

Zhang C, Rauchwarger A, Toth C, O'Connell M. Student USMLE step 1 preparation and performance. Adv Health Sci Educ Theory Pract. 2004;9(4):291–7.

Burk-Rafel J, Santen SA, Purkiss J. Study behaviors and USMLE Step 1 performance: implications of a student self-directed parallel curriculum. Acad Med. 2017;92(11S):S67–74.

Kumar AD, Shah MK, Maley JH, Evron J, Gyftopoulos A, Miller C. Preparing to take the USMLE Step 1: a survey on medical students' self-reported study habits. Postgrad Med J. 2015;91(1075):257–61.

Schwartz LF, Lineberry M, Park YS, Kamin CS, Hyderi AA. Development and evaluation of a student-initiated test preparation program for the USMLE Step 1 examination. Teach Learn Med. 2018;30(2):193–201.

Strowd RE, Lambros A. Impacting student anxiety for the USMLE Step 1 through process-oriented preparation. Med Educ Online. 2010;15.

Lee MW, Johnson TR, Kibble J. Development of statistical models to predict medical student performance on the USMLE Step 1 as a catalyst for deployment of student services. Med Sci Educ. 2017;27:663–71.

Lee HS, Ahn D. Testing prepares students to learn better: the forward effect of testing in category learning. J Educ Psychol. 2018;110(2):203–17.

Grabovsky I, Johnson GR, Schmader KE, Levin MJ, Zhang JH, Loooney DJ, et al. The relationship between performance on the Infectious Diseases In-Training and Certification Examinations. Clin Infect Dis. 2015;60(5):677–83.

Guffey RC, Rusin K, Chidiac EJ, Marsh M. The utility of pre-residency standardized tests for anesthesiology resident selection: the place of United States Medical Licensing Examination scores. Anesth Analg. 2011;112(1):201–6.

Harmouche E, Goyal N, Pinawin A, Nagarwala J, Bhat R. USMLE scores predict success in ABEM initial certification: a multicenter study. West J Emerg Med. 2017;18(3):544–9.

McCaskill QE, Kirk JJ, Barata DM, Wludyka PS, Zenni EA, Chiu TT. USMLE step 1 scores as a significant predictor of future board passage in pediatrics. Ambul Pediatr. 2007;7(2):192–5.

Miller BJ, Sexson S, Shevitz S, Peeples D, Van Sant S, McCall WV. US Medical Licensing Exam scores and performance on the Psychiatry Resident In-Training Examination. Acad Psychiatry. 2014;38(5):627–31.

Puscas L, Chang CWD, Lee HJ, Diaz R, Miller R. USMLE and otolaryngology: predicting board performance. Otolaryngol Head Neck Surg. 2017;156(6):1130–5.

Spellacy WN, Downes KL. United States Medical Licensing Examination scores as a predictor of performance on the annual council of resident education in obstetrics and gynecology examinations. J Reprod Med. 2014;59(1–2):17–9.

Sutton E, Richardson JD, Ziegler C, Bond J, Burke-Poole M, McMasters KM. Is USMLE Step 1 score a valid predictor of success in surgical residency? Am J Surg. 2014;208(6):1029–34 discussion 1034.

Welch TR, Olson BG, Nelsen E, Beck Dallaghan GL, Kennedy GA, Botash A. United States Medical Licensing Examination and American Board of Pediatrics Certification Examination results: does the residency program contribute to trainee achievement. J Pediatr. 2017;188:270–274 e3.

Prober CG, Kolars JC, First LR, Melnick DE. A plea to reassess the role of United States Medical Licensing Examination Step 1 Scores in residency selection. Acad Med. 2016;91(1):12–5.

Alterman DM, Jones TM, Heidel RE, Daley BJ, Goldman MH. The predictive value of general surgery application data for future resident performance. J Surg Educ. 2011;68(6):513–8.

Yousem IJ, Liu L, Aygun N, Yousem DM. United States Medical Licensing Examination Step 1 and 2 scores predict neuroradiology fellowship success. J Am Coll Radiol. 2016;13(4):438–444 e2.

Lee M, Vermillion M. Comparative values of medical school assessments in the prediction of internship performance. Med Teach. 2018;1:1–6.
Acknowledgments
Drs. Pachunka and Parry completed this work as medical students and were co-leads on this project.
Ethics declarations
Conflict of Interest
The authors declare that they have no conflicts of interest.
Ethical Approval
Ethical approval was deemed unnecessary because the study was designed for quality improvement.
Informed Consent
This was a quality improvement project that did not require informed consent according to the institutional review board.
Additional information
Publisher's Note
Springer Nature remains neutral with regard to jurisdictional claims in published maps and institutional affiliations.
Previous Presentations
An oral presentation was made at the AAMC Central Group on Educational Affairs Annual Meeting on March 22, 2018, in Rochester, MN.
Appendix 1. USMLE Step I Follow Up Survey
Appendix 1. USMLE Step I Follow Up Survey
This survey was created in SurveyMonkey. Scaled items or text box notations indicate how data was collected.
Your responses to the following questions will be provided to future students as they prepare for USMLE Step I. Your responses will be helpful in identifying which resources you found useful and which may not be worth the investment.
1.

When did you start reviewing specifically for Step I?

After the last core of the M2 year ended

During or after spring break (before the last core ended)

During the holiday break or piro to spring break M2 year

During the first semester of M2 year

2.

Please indicate which item(s) you used that were most helpful and which were least useful: (Scale: Most Useful; Lease Useful; Did not use)

[List of commercial products available to medical students.]

3.

How did you decided on a date range to take the exam? Text box

4.

Did you have difficulty getting your preferred examination date? Yes No

If Yes, when did you submit your request?

5.

Please estimate the amount of time (in hours/week) that you studied:

Individually: Text box

Small groups: Text box

6.

What advice would you give students to best prepare for the exam? Text box

7.

What was the range of scores you expected?

< 192

192–200

201–210

211–220

221–230

231–240

241–250

> 250

No expectation

8.

What was your target score?

9.

What was your raw percentage on UWorld?

10.

What was your UWorld percentile listed based on questions you answered?

11.

How many times did you go through UWorld?

Completed a few questions

Completed about half the questions

Completed almost all of the questions

Completed all of the questions one time

Completed most/all of the questions twice

12.

How many times did you go through First Aid?

Some

Half

Most Once

More than once

13.

How many times did you go through Pathoma?

Some

Half

Most

Once More than once
14.

Please indicate the number of practice exams you took:

NBME: Text box

UWorld: Text box

Other: Text box
For each practice exam you have taken, please answer the questions:
15.

NBME Practice Exam

Form Number: Text box

Estimated Step I score for this test: Text box

Number of weeks taken before actual exam: Text box

UWorld Practice Exam.

Form Number: Text box.

Estimated Step I score for this test: Text box.

Number of weeks taken before actual exam: Text box.

Other Practice Exam

Practice test name: Text box

Form Number: Text box

Estimated Step I score for this test: Text box

Number of weeks taken before actual exam: Text box
About this article
Cite this article
Parry, S., Pachunka, J. & Beck Dallaghan, G.L. Factors Predictive of Performance on USMLE Step 1: Do Commercial Study Aids Improve Scores?. Med.Sci.Educ. 29, 667–672 (2019). https://doi.org/10.1007/s40670-019-00722-4
Published:

Issue Date:

DOI: https://doi.org/10.1007/s40670-019-00722-4
Keywords
Medical Students

USMLE Step 1

practice examinations