Abstract
Despite the growing number of patients worldwide with metabolism-related chronic diseases, medical biochemistry education is commonly perceived as focusing on recall of facts irrelevant for patient care. The authors suggest that this focus on rote memorization of pathways creates excessive cognitive load that may interfere with learners' development of an integrated understanding of metabolic regulation and dysregulation. This cognitive load can be minimized by providing appropriate references during learning and assessment. Biochemistry educators collaborated to develop a medically relevant pathways of human metabolism map (MetMap) that is now being used at many medical schools as a nationally standardized resource during learning and assessments. To assess impact, students from three medical schools were surveyed about its benefits and disadvantages. Responses were obtained from 481 students (84%) and were examined using thematic analysis. Five main themes emerged as perceived benefits of using the MetMap: (1) aids visual and mental organization, (2) promotes deep learning and applied understanding, (3) decreases emphasis on memorization, (4) reduces anxiety on exams, and (5) aids recall. Perceived disadvantages were (1) fear of underpreparation for licensing exams, (2) overwhelming nature of the map, and (3) reduced motivation for and time spent studying. Results affirm that students' perceive use of the MetMap promotes focus on broader metabolic concepts and deep versus surface learning, supporting a shift in cognitive load toward desired goals. Although the long-term impact on learning needs to be further studied, the use of the MetMap represents a step toward open-reference exams that reflect "real-world" practice.
Access options
Buy single article
Instant access to the full article PDF.
USD 39.95
Price excludes VAT (USA)
Tax calculation will be finalised during checkout.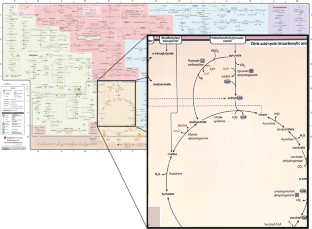 References
Fulton TB, Ronner P, Lindsley JE. Medical biochemistry in the era of competencies: is it time for the Krebs cycle to go? Med Sci Educ. 2012;22(1):29–32.

Schumann JH. Would doctors be better if they didn't have to memorize? Shots: Health news from NPR 2015; https://www.npr.org/sections/health-shots/2015/04/21/401254790/would-doctors-be-better-if-they-didnt-have-to-memorize. Accessed 19 June 2018.

Minasian-Batmanian LC, Lingard J, Prosser M. Differences in students' perceptions of learning compulsory foundation biochemistry in the health sciences professions. Adv Health Sci Educ Theory Pract. 2005;10(4):279–90.

Ling Y, Swanson DB, Km H, Bucak SD. Retention of basic science information by senior medical students. Acad Med. 2008;83(10):S82–5.

Young JQ, Van Merrienboer J, Durning S, Ten Cate O. Cognitive load theory: implications for medical education: AMEE guide no. 86. Med Teach. 2014;36(5):371–84.

Stull AT, Mayer RE. Learning by doing versus learning by viewing: three experimental comparisons of learner-generated versus author-provided graphic organizers. J Educ Psychol. 2007;99(4):808–20.

Kragten M, Admiraal W, Rijlaarsdam G. Diagrammatic literacy in secondary science education. Res Sci Educ. 2012;43(5):1785–800.

Offerdahl EG, Arneson JB, Byrne N. Lighten the load: scaffolding visual literacy in biochemistry and molecular biology. CBE Life Sci Educ. 2017;16(1):es1.

Bayardo TB. An advance organizer for the teaching of metabolism. Biochem Educ. 1993;21(4).

Moynahan KF. The current use of United States medical licensing examination step 1 scores: holistic admissions and student well-being are in the balance. Acad Med. 2018;93(7):963–5.

Durning SJ, Dong T, Ratcliffe T, Schuwirth L, Artino AR Jr, Boulet JR, et al. Comparing open-book and closed-book examinations: a systematic review. Acad Med. 2016;91(4):583–99.
Acknowledgements
The authors thank Steven Haist, MD, and Christy Bracken-Vasquez, MBA, at the National Board of Medical Examiners for hosting multiple meetings and discussions about the MetMap and licensing exams; Holly Nishimura, MPH, for help reviewing the literature; Arianne Teherani, PhD, Bridget O'Brien, PhD, and Judith Bowen, MD, FACP, for feedback about the conceptual framework and data analysis; and Justin Sewell, MD, MPH, and Patricia O'Sullivan, EdD, for critical review of the manuscript.
Funding
Research assistant supported by the UCSF Academy of Medical Educators Chair for Excellence in Foundational Teaching.
Ethics declarations
This study was determined to be exempt from full review by the institutional review boards of all three institutions.
Conflict of Interest
JEL, TMC, and TBF serve on the USMLE Metabolic Map Task Force. JEL and TBF have served on USMLE Item-Writing Committees and on USMLE Step 1 Interdisciplinary Review Committees.
About this article
Cite this article
Spicer, D.B., Thompson, K.H., Tong, M.S. et al. Medical Biochemistry Without Rote Memorization: Multi-Institution Implementation and Student Perceptions of a Nationally Standardized Metabolic Map for Learning and Assessment. Med.Sci.Educ. 29, 87–92 (2019). https://doi.org/10.1007/s40670-018-00631-y
Published:

Issue Date:

DOI: https://doi.org/10.1007/s40670-018-00631-y
Keywords