Abstract
Patients who are lesbian, gay, bisexual, transgender (LGBT), gender nonconforming (GNC), or born with differences of sex development (DSD) face significant health disparities. Many of these disparities originate from discrimination and systemic biases that decrease access to care and from inadequate provider knowledge that contributes to unmet medical needs. Provider training to deliver equitable care for these populations is thus critical, but such training is deficient at most medical institutions. The authors developed an integrated educational model, eQuality, that sought to drive educational and system innovation by teaching and assessing the acquisition of attitudes, knowledge, and skills needed to provide competent care for LGBT/GNC/DSD individuals. This paper outlines the process of its implementation for other programs to model. With input from an LGBT/GNC community advisory panel, eQuality incorporated new teaching sessions and revised existing content in 50.5 h of required curriculum. This curriculum involved 23 teaching faculty and included direct student-LGBT/GNC/DSD patient interactions for 320 students. The program was piloted in the first and second years of medical school and is being expanded into medical school years 3 and 4 with clinical assessments to ensure that curriculum translates into improved patient care. eQuality demonstrates that promoting healthcare equity for LGBT/GNC/DSD populations through medical education is feasible. Forthcoming baseline data will also enable future longitudinal comparisons as eQuality cultivates exceptional insight into the evolution of LGBT/GNC/DSD health knowledge and awareness among both students and faculty.
Access options
Buy single article
Instant access to the full article PDF.
USD 39.95
Price excludes VAT (USA)
Tax calculation will be finalised during checkout.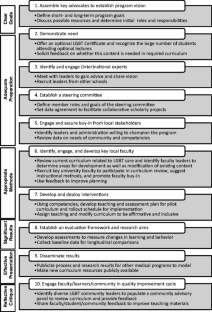 References
Institute of Medicine Committee on Lesbian, Gay Bisexual, and Transgender Health Issues and Research Gaps and Opportunities. The National Academies Collection: reports funded by National Institutes of Health. In: the health of lesbian, gay, bisexual, and transgender people: building a Foundation for Better Understanding. Washington DC: National Academies Press (US) National Academy of Sciences; 2011. doi:10.17226/13128.

The Joint Commission. Advancing effective communication, cultural competence, and patient and family centered care for the Lesbian, gay, bisexual, and transgender (LGBT) community: a field guide. Oak Brook, IL: Joint Commission; 2011.

The Joint Commission. Advancing effective communication, cultural competence, and patient and family centered care for the Lesbian, gay, bisexual, and transgender (LGBT) community: a field guide. Oak Brook, IL: Joint Commission; 2011.

Boehmer U, Miao XP, Ozonoff A. Cancer survivorship and sexual orientation. Cancer-Am Cancer Soc. 2011;117(16):3796–804. doi:10.1002/cncr.25950.

Quinn GP, Sanchez JA, Sutton SK, Vadaparampil ST, Nguyen GT, Green BL, Kanetsky PA, Schabath MB. Cancer and lesbian, gay, bisexual, transgender/transsexual, and queer/questioning (LGBTQ) populations. Ca-Cancer J Clin. 2015;65(5):384–400. doi:10.3322/caac.21288.

Marrazzo JM, Thomas KK, Fiedler TL, Ringwood K, Fredricks DN. Risks for acquisition of bacterial vaginosis among women who report sex with women: a cohort study. PLoS One. 2010;5(6) doi:10.1371/journal.pone.0011139.

Park IU, Palefsky JM. Evaluation and management of anal intraepithelial neoplasia in HIV-negative and HIVpositive men who have sex with men. Curr Infect Dis Rep. 2010;12(2):126–33. doi:10.1007/s11908-010-0090-7.

Roberts AL, Austin SB, Corliss HL, Vandermorris AK, Koenen KC. Pervasive trauma exposure among US sexual orientation minority adults and risk of posttraumatic stress disorder. Am J Public Health. 2010;100(12):2433–41. doi:10.2105/Ajph.2009.168971.

Bostwick WB, Boyd CJ, Hughes TL, McCabe SE. Dimensions of sexual orientation and the prevalence of mood and anxiety disorders in the United States. Am J Public Health. 2010;100(3):468–75. doi:10.2105/Ajph.2008.152942.

King M, Semlyen J, Tai SS, Killaspy H, Osborn D, Popelyuk D, Nazareth I. A systematic review of mental disorder, suicide, and deliberate self harm in lesbian, gay and bisexual people. BMC Psychiatry. 2008;8. doi: 10.1186/1471-244x-8-70.

Lewis NM. Mental health in sexual minorities: recent indicators, trends, and their relationships to place in North America and Europe. Health Place. 2009;15(4):1029–45. doi:10.1016/j.healthplace.2009.05.003.

Lee JGL, Blosnich JR, Melvin CL. Up in smoke: vanishing evidence of tobacco disparities in the Institute of Medicine's report on sexual and gender minority health. Am J Public Health. 2012;102(11):2041–3. doi:10.2105/Ajph.2012.300746.

Lee JGL, Griffin GK, Melvin CL. Tobacco use among sexual minorities, USA, 1987-2007 (may): a systematic review. Tob Control. 2009;18(4):275–82. doi:10.1136/tc.2008.028241.

Rhodes SD, McCoy T, Hergenrather KC, Omli MR, Durant RH. Exploring the health behavior disparities of gay men in the United States: comparing gay male university students to their heterosexual peers. J LGBT Health Res. 2007;3(1):15–23.

Obedin-Maliver J, Goldsmith ES, Stewart L, White W, Tran E, Brenman S, Wells M, Fetterman DM, Garcia G, Lunn MR. Lesbian, gay, bisexual, and transgender-related content in undergraduate medical education. JAMA. 2011;306(9):971–7. doi:10.1001/jama.2011.1255.

Baker K, Beagan B. Making assumptions, making space: an anthropological critique of cultural competency and its relevance to queer patients. Med Anthropol Q. 2014;28(4):578–98. doi:10.1111/maq.12129.

Fallin-Bennett K. Implicit bias against sexual minorities in medicine: cycles of professional influence and the role of the hidden curriculum. Acad Med. 2015;90(5):549–52. doi:10.1097/Acm.0000000000000662.

Marmot M. Social determinants of health inequalities. Lancet. 2005;365(9464):1099–104. doi:10.1016/s0140-6736(05)71146-6.

Makadon H, Mayer K, Potter J, Goldhammer H. Fenway guide to lesbian, gay, bisexual, and transgender health. Philadelphia: American College of Physicians; 2008.

Parent MC, DeBlaere C, Moradi B. Approaches to research on intersectionality: perspectives on gender, LGBT, and racial/ethnic identities. Sex Roles. 2013;68(11):639–45. doi:10.1007/s11199-013-0283-2.

Wallick MM, Cambre KM, Townsend MH. How the topic of homosexuality is taught at United States medical schools. Acad Med. 1992;67(9):601–3. doi:10.1097/00001888-199209000-00013.

Wittenberg A, Gerber J. Recommendations for improving sexual health curricula in medical schools: results from a two-arm study collecting data from patients and medical students. J Sex Med. 2009;6(2):362–8. doi:10.1111/j.1743-6109.2008.01046.x.

Parameshwaran V, Cockbain BC, Hillyard M, Price JR. Is the lack of specific lesbian, gay, bisexual, transgender and queer/questioning (LGBTQ) health care education in medical school a cause for concern? Evidence from a survey of knowledge and practice among UK medical students. J Homosex. 2016;64(3):367–81. doi:10.1080/00918369.2016.1190218.

White W, Brenman S, Paradis E, Goldsmith ES, Lunn MR, Obedin-Maliver J, Stewart L, Tran E, Wells M, Chamberlain LJ, Fetterman DM, Garcia G. Lesbian, gay, bisexual, and transgender patient care: medicalstudents' preparedness and comfort. Teach Learn Med. 2015;27(3):254–63. doi:10.1080/10401334.2015.1044656.

Tamas RL, Miller KH, Martin LJ, Greenberg RB. Addressing patient sexual orientation in the undergraduate medical education curriculum. Acad Psychiatr. 2010;34(5):342–5. doi:10.1176/appi.ap.34.5.342.

AAMC. Advisory Committee on Sexual Orientation, Gender Identity, and Sex Development. Implementing curricular and institutional climate changes to improve health care for Individuals who are LGBT, gender nonconforming, or born with DSD. Washington, DC: Association of American Medical Colleges; 2014.

Glassick CE, Huber MR, Maeroff GI. Scholarship assessed-evaluation of the professoriate. San Francisco, CA: JosseyBass; 1997.

Leonhardt D. The metro areas with the largest, and smallest, gay populations. The New York Times. 2015. http://nyti.ms/1B9wPtx. Accessed February 26 2016.

Sawning S, Steinbock S, Croley R, Combs R, Shaw A, Ganzel T. A first step in addressing medical education curriculum gaps in lesbian, gay, bisexual and transgender-related content: the University of Louisville LGBT health certificate program. Educ Health. 2017.

Neumann M, Edelhauser F, Tauschel D, Fischer MR, Wirtz M, Woopen C, Haramati A, Scheffer C. Empathy decline and its reasons: a systematic review of studies with medical students and residents. Acad Med. 2011;86(8):996–1009. doi:10.1097/ACM.0b013e318221e615.

Neff A, Kingery S. Complete Androgen Insensitivity Syndrome: A Problem-Based Learning Case. MedEdPORTAL Publications. 2016. 12. doi: 10.15766/mep_2374-8265.10522.

Kelley L, Chou C, Dibble S, Robertson P. A critical intervention in lesbian, gay, bisexual, and transgender health: knowledge and attitude outcomes among second-year medical students. Teach Learn Med. 2008;20(3):248–53. doi:10.1080/10401330802199567.

Eckstrand KL, Potter J, Bayer CR, Englander R. Giving context to the physician competency reference set: adapting to the needs of diverse populations. Acad Med. 2016;91(7):930–5.

Leslie K, Steinbock S, Simpson R, Jones VF, Sawning S. Interprofessional LGBT Health Equity Education for Early Learners. MedEdPORTAL. 2017.

Chester SD, Ehrenfeld JM, Eckstrand KL. Results of an institutional LGBT climate survey at an academic medical center. LGBT Health. 2014;1(4):327–30. doi:10.1089/lgbt.2013.0055.

Kirkpatrick DL. Evaluating training programs: the four levels. San Francisco, CA: Berrett-Koehler Publishers; 1994.

Ton H, Eidson-Ton WS, Iosif A-M, Sitkin N, Henderson S, Callahan EJ. Using a retreat to develop a 4-year sexual orientation and gender identity curriculum. Acad Psychiatr. 2016;40(5):796–801. doi:10.1007/s40596-015-0474-y.
Acknowledgements
The authors would like to thank Dean Toni Ganzel, whose continued support has made our work possible; Dr. Mordean Taylor-Archer, whose legacy of LGBT advocacy at the University has engendered a welcoming climate in which to do this work; the staff of the LGBT Center, whose tireless efforts support the strong community involvement in this project; many University of Louisville faculty who have contributed to the development and implementation of this work; and the UME Medical Education Research Unit staff for providing substantial research support.
Ethics declarations
Funding
This program has no external grants.
Conflict of Interest
The authors declare that they have no conflict of interest.
About this article
Cite this article
Holthouser, A., Sawning, S., Leslie, K.F. et al. eQuality: a Process Model to Develop an Integrated, Comprehensive Medical Education Curriculum for LGBT, Gender Nonconforming, and DSD Health. Med.Sci.Educ. 27, 371–383 (2017). https://doi.org/10.1007/s40670-017-0393-5
Published:

Issue Date:

DOI: https://doi.org/10.1007/s40670-017-0393-5
Keywords
Curriculum development

LGBT

Health disparities

Medical education

Barriers