Abstract
Background
In 2014, the Association of American Medical Colleges published 13 Core Entrustable Professional Activities (EPAs) that all medical school graduates should be able to perform on the first day of residency without direct supervision. We undertook a study to determine the confidence level of graduating students at one US medical school in performing the core EPAs and to compare the students' confidence levels with those of the same institution's residency program directors (PDs). Understanding differences between intern confidence and PD expectation will allow PDs to be better informed about the educational needs of their early trainees.
Methods
168 of 323 graduating medical students (52 %) in the classes of 2014 and 2015 completed surveys indicating their confidence in accomplishing each EPA using a five-point Likert scale. Twelve residency PDs who train interns completed similar surveys.
Results
Students were generally confident in their abilities. They were most confident in their ability to take a history and perform a physical examination and least confident in performing procedures. There was general agreement in confidence levels between students and PDs across most EPAs. An important difference was in the ability to perform handoffs, with student ratings lower than those of PDs.
Conclusions
Graduating medical students and residency PDs are generally confident that new interns can perform the 13 core EPAs without supervision, although levels of confidence vary by activity. These results can guide future studies on how to incorporate the EPAs into medical school and residency training, especially in areas with lower confidence.
This is a preview of subscription content,
to check access.
Access this article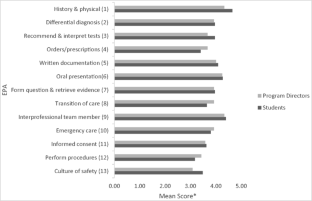 Similar content being viewed by others
References
AAMC drafting panel for core entrustable professional activities for entering residency core entrustable professional activities for entering residency curriculum developers' guide. 2014. Available from: https://members-aamc-org.proxy-hs.researchport.umd.edu/eweb/DynamicPage.aspx?Action=Add&ObjectKeyFrom=1A83491A-9853-4C87-86A4-F7D95601C2E2&WebCode=PubDetailAdd&DoNotSave=yes&ParentObject=CentralizedOrderEntry&ParentDataObject=Invoice%20Detail&ivd_formkey=69202792-63d7-4ba2-bf4e-a0da41270555&ivd_prc_prd_key=E3229B10-BFE7-4B35-89E7-512BBB01AE3B. Accessed 15 Sept 2015.

Ten Cate O. Entrustability of professional activities and competency-based training. Med Educ. 2005;39(12):1176–7.

Ten Cate O, Scheele F. Competency-based postgraduate training: can we bridge the gap between theory and clinical practice? Acad Med. 2007;82(6):542–7.

Ten Cate O. Nuts and bolts of entrustable professional activities. J Grad Med Educ. 2013;5(1):157–8.

Shaughnessy AF, Sparks J, Cohen-Osher M, Goodell KH, Sawin GL, Gravel Jr J. Entrustable professional activities in family medicine. J Grad Med Educ. 2013;5(1):112–8. doi:10.4300/JGME-D-12-00034.1.

Fessler HE, Addrizzo-Harris D, Beck JM, et al. Entrustable professional activities and curricular milestones for fellowship training in pulmonary and critical care medicine: executive summary from the Multi-Society Working Group. Crit Care Med. 2014;42(10):2290–1. doi:10.1097/CCM.0000000000000615.

Hauer KE, Boscardin C, Fulton TB, Lucey C, Oza S, Teherani A. Using a curricular vision to define entrustable professional activities for medical student assessment. J Gen Intern Med. 2015;30(9):1344–8. doi:10.1007/s11606-015-3264-z.

Choo KJ, Arora VM, Barach P, Johnson JK, Farnan JM. How do supervising physicians decide to entrust residents with unsupervised tasks? A qualitative analysis. J Hosp Med. 2014;9(3):169–75. doi:10.1002/jhm.2150.

Warm EJ, Mathis BR, Held JD, et al. Entrustment and mapping of observable practice activities for resident assessment. J Gen Intern Med. 2014;29(8):1177–82. doi:10.1007/s11606-014-2801-5.

Stewart J, O'Hallorhan C, Barton JR, Singleton SJ, Harrigan P, Spencer J. Clarifying the concepts of confidence and competence to produce appropriate self-evaluation measurement scales. Med Educ. 2000;34(11):903–9.

Dickson GM, Chesser AK, Woods NK, Krug NR, Kellerman RD. Family medicine residency program director expectations of procedural skills of medical school graduates. Fam Med. 2013;45(6):392–9.

Lindeman BM, Sacks BC, Lipsett PA. Graduating students' and surgery program directors' views of the Association of American Medical Colleges Core Entrustable Professional Activities for Entering Residency: where are the gaps? J Surg Educ. 2015;72(6):e184–92. doi:10.1016/j.jsurg.2015.07.005.

Sargeant J, Armson H, Chesluk B, et al. The processes and dimensions of informed self-assessment: a conceptual model. Acad Med. 2010;85(7):1212–20.

Barnsley L, Lyon PM, Ralston SJ, et al. Clinical skills in junior medical officers: a comparison of self-reported confidence and observed competence. Med Educ. 2004;38(4):358–67.

Fitzgerald JT, White CB, Gruppen LD. A longitudinal study of self-assessment accuracy. Med Educ. 2003;37(7):645–9.

Solet DJ, Morvell JM, Rutan GH, Frankel RM. Lost in translation: challenges and opportunities in physician-to-physician communication during handoffs. Acad Med. 2005;80(12):1094–9.
Acknowledgment
The manuscript was copyedited by Linda J. Kesselring, MS, ELS, the technical editor/writer in the Department of Emergency Medicine at the University of Maryland School of Medicine.
Ethics declarations
Competing Interests
The authors have no competing interests to disclose.
About this article
Cite this article
Frayha, N., Bontempo, L.J., Retener, N.F. et al. Core Entrustable Professional Activities: a Survey of the Confidence of Fourth-Year Medical Students and Residency Program Directors. Med.Sci.Educ. 26, 475–480 (2016). https://doi.org/10.1007/s40670-016-0264-5
Published:

Issue Date:

DOI: https://doi.org/10.1007/s40670-016-0264-5
Keywords