Abstract
The Case Western Reserve University School of Medicine medical education curriculum includes a series of supplemental online pharmacology modules ("PharmWeb") that run concurrently with the standard curriculum to introduce first-year students to fundamental principles of pharmacology. Although this voluntary online pharmacology curriculum correlated with higher test scores during the formal, required portion of pharmacology learning in the curriculum, the utilization among medical students of the PharmWeb resource was low. We hypothesized that improving the design and accessibility of the online curriculum using commercial design principles could promote adoption of this voluntary curriculum. The modules were redesigned with a cleaner interface, and convenience of access to each module was enhanced by adding links to relevant modules within required, formative weekly pharmacology multiple choice questions. We report here an increased use of this optional online introduction to pharmacological principles and increased satisfaction in learning pharmacology that correlates with the design intervention.
Access options
Buy single article
Instant access to the full article PDF.
US$ 39.95
Tax calculation will be finalised during checkout.
Subscribe to journal
Immediate online access to all issues from 2019. Subscription will auto renew annually.
US$ 79
Tax calculation will be finalised during checkout.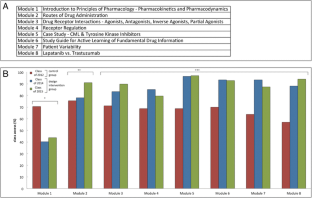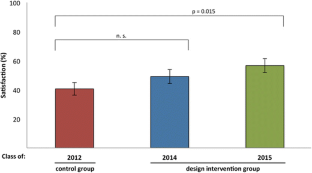 References
1.

Evaluation of evidence-based practices in online learning: a meta-analysis and review of online learning studies. Washington, DC: US Department of Education, Office of Planning, Evaluation, and Policy Development; 2010 (http://www2.ed.gov/rschstat/eval/tech/evidence-based-practices/finalreport.pdf).

2.

Prober CG, Heath C. Lecture halls without lectures—a proposal for medical education. N Engl J Med. 2012;366(18):1657–9.

3.

Barrows HS. Problem-based, self-directed learning. JAMA. 1983;250:3077–80.

4.

Michaelsen LK, Sweet M. Team-based learning. New Direct Teach Learn. 2011;128:41–51.

5.

Krug S. Don't make me think. Berkeley: New Riders Publishing; 2006. p. 123–9.

6.

Nielsen J, Norman D. Usability on the web isn't a luxury. Information week. 2000. Retrieved from http://www.informationweek.com/773/web.htm.

7.

Kleiner A. Corporate culture in Internet time. http://www.strategy-business.com/article/10374?gko=48515.

8.

Doubleday EG, O'Loughlin VD, Doubleday AF. The virtual anatomy laboratory: usability testing to improve an online learning resource for anatomy education. Anat Sci Educ. 2011;4(6):318–26.

9.

Tselios NK, Avouris NM, Dimitracopoulou A, Daskalaki S. Evaluation of distance-learning environments: impact of usability on student performance. Int J Educ Telecommun. 2001;7(4):355–78.

10.

Nielsen J. Usability engineering. Morgan Kaufmann Publishers; 1994. ISBN 0-12-518406-9.

11.

Brooke J. SUS: a quick and dirty usability scale. Usability evaluation in industry. London: Taylor & Francis; 1996. p. 189–94.

12.

Kim PY, Allbritton DW, Keri RA, Mieyal JJ, Wilson-Delfosse AL. Creation of an online curriculum to introduce and supplement the learning of pharmacology in a problem-based learning/lecture hybrid curriculum. J Int Assoc Med Sci Educ. 2010;20:98–106.

13.

Kim PY, Allbritton DW, Keri RA, Mieyal JJ, Wilson-Delfosse AL. Supplemental online pharmacology modules increase recognition and production memory in a hybrid problem-based learning (PBL) curriculum. Med Sci Educ. 2015. doi:10.1007/s40670-015-0134-6.

14.

Karpa KD, Vrana KE. Creating a virtual pharmacology curriculum in a problem-based learning environment: one medical school's experience. Acad Med. 2013;88(2):198–205.

15.

Conte T, Massollar J, Mendes E, Travassos GH. Usability evaluation based on web design perspectives. First International Symposium on Empirical Software Engineering and Measurement. 2007. 146–155. doi:10.1109/ESEM.2007.30.

16.

Chevalier A, Chevalier N. Influence of proficiency level and constraints on viewpoint switching: a study in web design. Appl Cogn Psychol. 2009;23(1):126–37. doi:10.1002/acp.
About this article
Cite this article
Butler, R., Kim, P., Nieman, M. et al. Implementing Web Design and Usability Principles in Online Medical Curricula is Associated with Improved Student Utilization and Satisfaction. Med.Sci.Educ. 25, 255–259 (2015). https://doi.org/10.1007/s40670-015-0151-5
Keywords
Web design

Usability

Pharmacology

E-learning