Abstract
Scientists are typically responsible for greater greenhouse gas emissions than the general population. These 'extra' emissions are largely due to frequent travel, often by airplane, to professional and academic meetings. In the following commentary, we explore how employing mixed modes of transportation, particularly by prioritizing train travel, can significantly reduce the environmental costs associated with attending conferences. Estimating travel distances for attendants to recent meetings, we demonstrate that the proposed strategy has the potential to decrease emissions, even when considering exotic, remote (and potentially enticing) locations. Our suggestions are easy to implement, can be combined with previous proposals for reducing emissions, and provide an opportunity for scientists to convey an important message to the general public. This message is not confined to our particular example and we hope that it will encourage ecologists, sociologists and other scientists, historians and philosophers to pursue additional creative behavioural solutions in order to reduce our impact on an increasingly stressed ecosphere.
This is a preview of subscription content, log in to check access.
Access options
Buy single article
Instant access to the full article PDF.
US$ 39.95
Price includes VAT for USA
Subscribe to journal
Immediate online access to all issues from 2019. Subscription will auto renew annually.
US$ 99
This is the net price. Taxes to be calculated in checkout.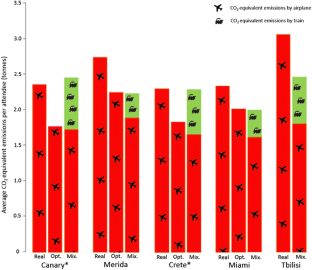 References
Bossdorf, O., Parepa, M., & Fisher, M. (2010). Climate-neutral ecology conferences: Just do it! Trends in Ecology & Evolution, 25(2), 61. doi:10.1016/j.tree.2009.09.006.

Burke, I. C. (2010). Travel trade-offs for scientists. Science, 330(6010), 1476. doi:10.1126/science.330.6010.1476-a.

Favaro, B. (2014). A carbon code of conduct for science. Science, 344(6191), 1461. doi:10.1126/science.344.6191.1461.

Fox, H. E., Kareiva, P., Silliman, B., Hitt, J., Lytle, D. A., Halpern, B. S., et al. (2009). Why do we fly? Ecologists' sins of emission. Frontiers in Ecology and the Environment, 7(6), 294–296. doi:10.1890/09.WB.019.

Macek, B. E., Scholz, C, Atzmueller, M., & Stumme, G. (2012). Anatomy of a conference. In Proceedings of 23rd ACM conference on hypertext and social media (pp. 245–254). doi:10.1145/2309996.2310038

Moss, R. H., Edmonds, J. A., Hibbard, K. A., Manning, M. R., Rose, S. K., Van Vuuren, D. P., et al. (2010). The next generation of scenarios for climate change research and assessment. Nature, 463(7282), 747–756. doi:10.1038/nature08823.

Penner, J. E. (1999). Aviation and the global atmosphere: A special report of IPCC Working Groups I and III in collaboration with the Scientific Assessment Panel to the Montreal Protocol on Substances that Deplete the Ozone Layer. Cambridge: Cambridge Univ. Press.

Spinellis, D., & Louridas, P. (2013). The carbon footprint of conference papers. PLoS ONE, 8(6), e66508. doi:10.1371/journal.pone.0066508.

Stroud, J. T., & Feeley, K. J. (2015). Responsible academia: Optimizing conference locations to minimize greenhouse gas emissions. Ecography, 38(4), 402–404.

Stuber, N., Forster, P., Rädel, G., & Shine, K. (2006). The importance of the diurnal and annual cycle of air traffic for contrail radiative forcing. Nature, 441(7095), 864–867. doi:10.1038/nature04877.

USEPA. (2008). Optional emissions from commuting, business travel and product transport. Retrieved from, http://www.epa.gov/climateleadership/documents/resources/commute_travel_product
About this article
Cite this article
Fois, M., Cuena-Lombraña, A., Fristoe, T. et al. Reconsidering alternative transportation systems to reach academic conferences and to convey an example to reduce greenhouse gas emissions. HPLS 38, 25 (2016). https://doi.org/10.1007/s40656-016-0126-x
Received:

Accepted:

Published:
Keywords
Academic conference planning

Researchers' behavioural change

GHG emissions

Transportation

Sustainability