Abstract
The term "Big Black Brain" was first coined in 1993 to describe cases of abusive head trauma associated with subdural hematoma(s), brain swelling, and uni- or bilateral hypo-density involving the entire supratentorial compartment on CT scan imaging. This constellation of findings was invariably followed by extensive cerebral parenchymal destruction and a dismal neurological outcome or death. We describe two such cases and review the pathophysiology and differential diagnosis of this entity.
This is a preview of subscription content, log in to check access.
Access options
Buy single article
Instant access to the full article PDF.
US$ 39.95
Price includes VAT for USA
Subscribe to journal
Immediate online access to all issues from 2019. Subscription will auto renew annually.
US$ 99
This is the net price. Taxes to be calculated in checkout.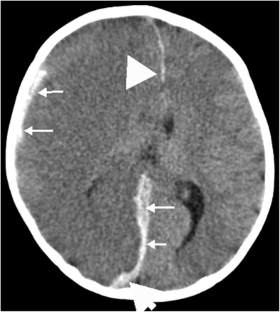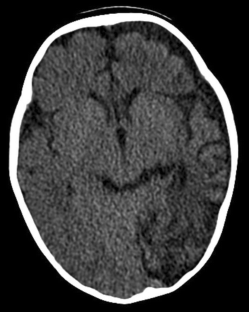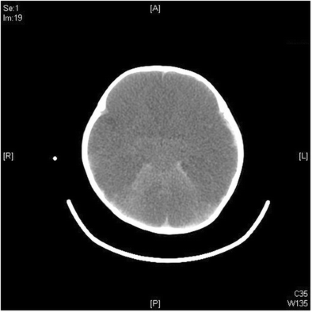 References
Adelson, P. D., Ragheb, J., Kanev, P., Brockmeyer, D., Beers, S. R., Brown, S. D., & Levin, H. (2005). Phase II clinical trial of moderate hypothermia after severe traumatic brain injury in children. Neurosurgery, 56(4), 740–754. discussion 740-754.

Barlow, K., Thompson, E., Johnson, D., & Minns, R. A. (2004). The neurological outcome of non-accidental head injury. Pediatric Rehabilitation, 7(3), 195–203. doi:10.1080/13638490410001715331.

Bird, C. R., McMahan, J. R., Gilles, F. H., Senac, M. O., & Apthorp, J. S. (1987). Strangulation in child abuse: CT diagnosis. Radiology, 163(2), 373–375. doi:10.1148/radiology.163.2.3562816.

Cantu, R. C. (2016). Dysautoregulation/Second impact syndrome with recurrent athletic head injury. World Neurosurgery. doi:10.1016/j.wneu.2016.04.056.

Cantu, R. C., & Gean, A. D. (2010). Second-impact syndrome and a small subdural hematoma: an uncommon catastrophic result of repetitive head injury with a characteristic imaging appearance. Journal of Neurotrauma, 27(9), 1557–1564. doi:10.1089/neu.2010.1334.

Carré, M. (2006). Neuroradiology. In K. Rauth-Farley, L. Frasier, R. Alexander, & R. Parrish (Eds.), Abusive head trauma in infants and children: A medical, legal, and forensic reference (pp. 73–98). St. Louis: GW Publishing.

Case, M. E. (2008). Inflicted traumatic brain injury in infants and young children. Brain Pathology, 18(4), 571–582. doi:10.1111/j.1750-3639.2008.00204.x.

Dias, M. S., Backstrom, J., Falk, M., & Li, V. (1998). Serial radiography in the infant shaken impact syndrome. Pediatric Neurosurgery, 29(2), 77–85.

Donkin, J. J., Nimmo, A. J., Cernak, I., Blumbergs, P. C., & Vink, R. (2009). Substance P is associated with the development of brain edema and functional deficits after traumatic brain injury. Journal of Cerebral Blood Flow and Metabolism, 29(8), 1388–1398. doi:10.1038/jcbfm.2009.63.

Duhaime, A. C., Bilaniuk, L., & Zimmerman, R. (1993). The "big black brain": radiographic changes after severe inflicted head injury in infancy. Journal of Neurotrauma, 10, S59.

Duhaime, A. C., & Durham, S. (2007). Traumatic brain injury in infants: the phenomenon of subdural hemorrhage with hemispheric hypodensity ("Big Black Brain"). Progress in Brain Research, 161, 293–302. doi:10.1016/S0079-6123(06)61020-0.

Figaji, A. A., Fieggen, A. G., Argent, A. C., Le Roux, P. D., & Peter, J. C. (2008). Intracranial pressure and cerebral oxygenation changes after decompressive craniectomy in children with severe traumatic brain injury. Acta Neurochirurgica Supplement, 102, 77–80.

Gilles, E. E., & Nelson, M. D., Jr. (1998). Cerebral complications of nonaccidental head injury in childhood. Pediatric Neurology, 19(2), 119–128.

Goldstein, J. L., Leonhardt, D., Kmytyuk, N., Kim, F., Wang, D., & Wainwright, M. S. (2011). Abnormal neuroimaging is associated with early in-hospital seizures in pediatric abusive head trauma. Neurocritical Care, 15(1), 63–69.

Grant, P. (2015). Abusive head trauma: parenchymal injury. In P. Kleinman (Ed.), Diagnostic imaging of child abuse. Cambridge UK: Cambridge University Press.

Graupman, P., & Winston, K. R. (2006). Nonaccidental head trauma as a cause of childhood death. Journal of Neurosurgery, 104(4 Suppl), 245–250.

Huh, J. W., & Raghupathi, R. (2009). New concepts in treatment of pediatric traumatic brain injury. Anesthesiology Clinics, 27(2), 213–240.

Ichord, R. N., Naim, M., Pollock, A. N., Nance, M. L., Margulies, S. S., & Christian, C. W. (2007). Hypoxic-ischemic injury complicates inflicted and accidental traumatic brain injury in young children: the role of diffusion-weighted imaging. Journal of Neurotrauma, 24(1), 106–118.

Kemp, A. M., Jaspan, T., Griffiths, J., Stoodley, N., Mann, M. K., Tempest, V., & Maguire, S. A. (2011). Neuroimaging: what neuroradiological features distinguish abusive from non-abusive head trauma? A systematic review. Archives of Disease in Childhood, 96(12), 1103–1112.

Kemp, A. M., Stoodley, N., Cobley, C., Coles, L., & Kemp, K. W. (2003). Apnoea and brain swelling in non-accidental head injury. Archives of Disease in Childhood, 88(6), 472–476. discussion 472-476.

Kuroda, Y., & Bullock, R. (1992). Local cerebral blood flow mapping before and after removal of acute subdural hematoma in the rat. Neurosurgery, 30(5), 687–691.

Liesemer, K., Bratton, S. L., Zebrack, C. M., Brockmeyer, D., & Statler, K. D. (2011). Early post-traumatic seizures in moderate to severe pediatric traumatic brain injury: rates, risk factors, and clinical features. Journal of Neurotrauma, 28(5), 755–762.

Maguire, S., Pickerd, N., Farewell, D., Mann, M., Tempest, V., & Kemp, A. M. (2009). Which clinical features distinguish inflicted from non-inflicted brain injury? A systematic review. Archives of Disease in Childhood, 94(11), 860–867. doi:10.1136/adc.2008.150110.

Marmarou, A. (2007). A review of progress in understanding the pathophysiology and treatment of brain edema. Neurosurgical Focus, 22(5), E1.

McKinney, A. M., Thompson, L. R., Truwit, C. L., Velders, S., Karagulle, A., & Kiragu, A. (2008). Unilateral hypoxic-ischemic injury in young children from abusive head trauma, lacking craniocervical vascular dissection or cord injury. Pediatric Radiology, 38(2), 164–174. doi:10.1007/s00247-007-0673-0.

McLendon, L. A., Kralik, S. F., Grayson, P. A., & Golomb, M. R. (2016). The controversial second impact syndrome: a review of the literature. Pediatric Neurology, 62, 9–17. doi:10.1016/j.pediatrneurol.2016.03.009.

Oehmichen, M., Schleiss, D., Pedal, I., Saternus, K. S., Gerling, I., & Meissner, C. (2008). Shaken baby syndrome: re-examination of diffuse axonal injury as cause of death. Acta Neuropathologica, 116(3), 317–329. doi:10.1007/s00401-008-0356-4.

Parizel, P. M., Ceulemans, B., Laridon, A., Ozsarlak, O., Van Goethem, J. W., & Jorens, P. G. (2003). Cortical hypoxic-ischemic brain damage in shaken-baby (shaken impact) syndrome: value of diffusion-weighted MRI. Pediatric Radiology, 33(12), 868–871. doi:10.1007/s00247-003-1025-3.

Peiniger, S., Nienaber, U., Lefering, R., Braun, M., & Trauma Registry of the Deutsche Gesellschaft fur Unfallchirurgie. (2012). Glasgow coma scale as a predictor for hemocoagulative disorders after blunt pediatric traumatic brain injury. Pediatr Crit Care Med, 13(4), 455–460. doi:10.1097/PCC.0b013e31823893c5.

Scholefield, B., Duncan, H., Davies, P., Gao Smith, F., Khan, K., Perkins, G. D., & Morris, K. (2013). Hypothermia for neuroprotection in children after cardiopulmonary arrest. Cochrane Database of Systematic Reviews, 2, CD009442. doi:10.1002/14651858.CD009442.pub2.

Squier, W., Mack, J., Green, A., & Aziz, T. (2012). The pathophysiology of brain swelling associated with subdural hemorrhage: the role of the trigeminovascular system. Childs Nervous System, 28(12), 2005–2015. doi:10.1007/s00381-012-1870-1.

Stam, A. H., Luijckx, G. J., Poll-The, B. T., Ginjaar, I. B., Frants, R. R., Haan, J., & van den Maagdenberg, A. M. (2009). Early seizures and cerebral oedema after trivial head trauma associated with the CACNA1A S218L mutation. Journal of Neurology, Neurosurgery, and Psychiatry, 80(10), 1125–1129. doi:10.1136/jnnp.2009.177279.

Tantsis, E. M., Gill, D., Griffiths, L., Gupta, S., Lawson, J., Maksemous, N., & Menezes, M. P. (2016). Eye movement disorders are an early manifestation of CACNA1A mutations in children. Developmental Medicine and Child Neurology, 58(6), 639–644. doi:10.1111/dmcn.13033.

Topal, N. B., Hakyemez, B., Erdogan, C., Bulut, M., Koksal, O., Akkose, S., & Korfali, E. (2008). MR imaging in the detection of diffuse axonal injury with mild traumatic brain injury. Neurological Research, 30(9), 974–978. doi:10.1179/016164108X323799.

Weinstein, E., Turner, M., Kuzma, B. B., & Feuer, H. (2013). Second impact syndrome in football: new imaging and insights into a rare and devastating condition. Journal of Neurosurgery Pediatrics, 11(3), 331–334. doi:10.3171/2012.11.PEDS12343.
Acknowledgements
The authors would like to thank Kara G. Gill, MD for contributing radiologic imaging to this manuscript.
Ethics declarations
Disclosure of Interest
Drs. Knox and Feldman both testify in civil and criminal trials. Monies earned are given to their respective institutions and to Dr. Feldman. Drs. Knox and Luyet are currently authoring a book on child torture as a form of child abuse.
Ethical Standards and Informed Consent
All procedures followed were in accordance with the ethical standards of the responsible committee on human experimentation [institutional and national] and with the Helsinki Declaration of 1975, as revised in 2000. This manuscript discusses two cases of children with big black brain presentations. Both the University of Wisconsin Health Sciences IRB and the University of Washington IRB did not require IRB approval for these case reports. Additionally, no informed consent of patients was required.
Additional information
Drs. Knox and Feldman both testify in civil and criminal trials. Monies are given to their respective institutions and to Dr. Feldman. Drs. Knox and Luyet are currently writing a book on child torture as a form of child abuse.
About this article
Cite this article
Luyet, F.M., Feldman, K.W. & Knox, B.L. The Big Black Brain: Subdural Hemorrhage with Hemispheric Swelling and Low Attenuation. Journ Child Adol Trauma 11, 241–247 (2018). https://doi.org/10.1007/s40653-017-0132-5
Keywords
Big black brain

Abusive head trauma

Cerebral edema

Cerebral hypodensity

Subdural hematoma

Brain damage