Abstract
Conducting semi-structured American Sign Language interviews with 17 Deaf trauma survivors, this pilot study explored Deaf individuals' trauma experiences and whether these experiences generally align with trauma in the hearing population. Most commonly reported traumas were physical assault, sudden unexpected deaths, and "other" very stressful events. Although some "other" events overlap with traumas in the general population, many are unique to Deaf people (e.g., corporal punishment at oral/aural school if caught using sign language, utter lack of communication with hearing parents). These findings suggest that Deaf individuals may experience developmental traumas distinct to being raised in a hearing world. Such traumas are not captured by available trauma assessments, nor are they considered in evidence-based trauma treatments.
Access options
Buy single article
Instant access to the full article PDF.
USD 39.95
Price excludes VAT (USA)
Tax calculation will be finalised during checkout.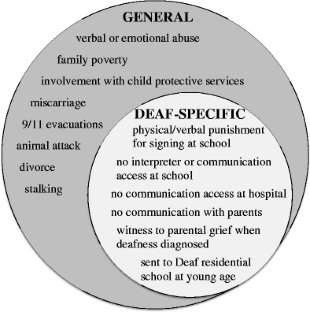 Notes
The U.S. Deaf community is a sociolinguistic minority group of approximately 500,000 persons who communicate primarily using American Sign Language. Members of this community are unique from other individuals with hearing loss in their identification as a cultural – not disability – group and are delineated by use of the capital "D" in "Deaf."

Data regarding age of hearing loss (i.e., congenital, acquired) was not collected as part of the current investigation. However, the majority of individuals who self-identify as Deaf or hard-of-hearing and claim American Sign Language as their primary communication mode are either born with hearing loss or experience hearing loss before the age of three years (Mitchell et al. 2006).
References
American Psychiatric Association. (2000). Diagnostic and statistical manual of mental disorders; 4th edition, text revision. Washington, DC: Author.

American Psychiatric Association. (2013). Diagnostic and statistical manual of mental disorders (5th ed.). Arlington, VA: American Psychiatric Publishing.

Anderson, M. L., & Leigh, I. W. (2011). Intimate partner violence against deaf female college students. Violence Against Women, 17(7), 822–834. doi:10.1177/1077801211412544.

Barber, S., Wills, D., & Smith, M. J. (2010). Deaf survivors of sexual assault. In I. W. Leigh (Ed.), Psychotherapy with deaf clients from diverse groups (2nd ed., pp. 320–340). Washington, DC: Gallaudet University Press.

Blake, D. D., Weathers, F. W., Nagy, L. M., Kaloupek, D. G., Gusman, F. D., Charney, D. S., & Keane, T. M. (1995). The development of a clinician-administered PTSD scale. Journal of Traumatic Stress, 8(1), 75–90. Retrieved from http://www.ncbi.nlm.nih.gov/pubmed/7712061 .

Brauer, B. A. (1993). Adequacy of a translation of the MMPI into American Sign Language for use with deaf individuals: linguistic equivalency issues. Rehabilitation Psychology, 38(4), 247–260. doi:10.1037/h0080302.

Brice, P. J., & Adams, E. B. (2011). Developing a concept of self and other: Risk and protective factors. In D. H. Zand & K. J. Pierce (Eds.), Resilience in deaf children: Adaptation through emerging adulthood (pp. 115–137). New York, NY: Springer.

Francavillo, G. S. R. (2009). Sexuality education, sexual communication, rape myth acceptance, and sexual assault experience among deaf and harf of hearing college students. (Unpublished doctoral dissertation), University of Maryland, College Park, MD.

Gray, M. J., Litz, B. T., Hsu, J. L., & Lombardo, T. W. (2004). Psychometric properties of the life events checklist. Assessment, 11(4), 330–341. doi:10.1177/1073191104269954.

Harrell, E. (2011). Crime against persons with disabilities, 2008–2010 - statistical tables. Retrieved from http://www.bjs.gov/index.cfm?ty=pbdetail&iid=2238.

Hembree, E. A., Foa, E. B., & Feeny, N. C. (2002). Manual for the administration and scoring of the PTSD Symptom Scale - Interview (PSS-I). Retrieved from https://www.istss.org/ISTSS_Main/media/Documents/PSSIManualPDF1.pdf.

Marshall-Berenz, E. C., Vujanovic, A. A., Bonn-Miller, M. O., Bernstein, A., & Zvolensky, M. J. (2010). Multimethod study of distress tolerance and PTSD symptom severity in a trauma-exposed community sample. Journal of Traumatic Stress, 23(5), 623–630. doi:10.1002/jts.20568.

Mitchell, R., Young, T., Bachleda, B., & Karchmer, M. (2006). How many people use ASL in the United States? Why estimates need updating. Sign Language Studies, 6, 306–335.

Nosek, M. A., Foley, C. C., Hughes, R. B., & Howland, C. A. (2001). Vulnerabilities for abuse among women with disabilities. Sexuality and Disability, 19, 177–189. doi:10.1023/A:1013152530758.

Pollard, R. Q., Sutter, E., & Cerulli, C. (2014). Intimate partner violence reported by two samples of deaf adults via a computerized American Sign Language survey. Journal of Interpersonal Violence, 29(5), 948–965. doi:10.1177/0886260513505703.

Ridgeway, S. M. (1993). Abuse and deaf children: some factors to consider. Child Abuse Review, 2, 166–173.

Schild, S., & Dalenberg, C. J. (2012). Trauma exposure and traumatic symptoms in deaf adults. Psychological Trauma: Theory, Research, Practice, and Policy, 4(1), 117–127.

Sebald, A. M. (2008). Child abuse and deafness: an overview. American Annals of the Deaf, 153(4), 376–383. Retrieved from http://www.ncbi.nlm.nih.gov/pubmed/19146074 .

Zelazny, K., & Simms, L. J. (2015). Confirmatory factor analyses of DSM-5 posttraumatic stress disorder symptoms in psychiatric samples differing in criterion a status. Journal of Anxiety Disorders, 34, 15–23. doi:10.1016/j.janxdis.2015.05.009.
Acknowledgments
We would like to acknowledge the members of the Deaf & Allied Clinicians Consult Group for their consultation and guidance on this project: Gloria Farr, LICSW; Susan Jones, LMHC; Lisa Mistler, MD; and Gregory Spera. We would also like to thank Robert Goldberg, PhD, for his feedback during the preparation of this manuscript.
Ethics declarations
Disclosure of Interest/Funding
This work was partially supported by the National Center for Research Resources and the National Center for Advancing Translational Sciences, National Institutes of Health, through Grant KL2TR000160. The content is solely the responsibility of the authors and does not necessarily represent the official views of the NIH.
Ethical Approval
All procedures followed were in accordance with the ethical standards of the responsible committee on human experimentation (institutional and national) and with the Helsinki Declaration of 1975, as revised in 2000.
Informed Consent
Informed consent was obtained from all individual participants for being included in the study.
About this article
Cite this article
Anderson, M.L., Wolf Craig, K.S., Hall, W.C. et al. A Pilot Study of Deaf Trauma Survivors' Experiences: Early Traumas Unique to Being Deaf in a Hearing World. Journ Child Adol Trauma 9, 353–358 (2016). https://doi.org/10.1007/s40653-016-0111-2
Published:

Issue Date:

DOI: https://doi.org/10.1007/s40653-016-0111-2
Keywords
Posttraumatic stress disorder

PTSD

Life Events Checklist

Deaf and hard-of-hearing community

Developmental trauma