Abstract
This paper takes a media archaeology look at the development of the Keyword-in-Context (KWIC) display by Peter Luhn and how the KWIC helped automate ways of disseminating information about information. The paper takes the development of the KWIC as an example of the development of a knowledge technology that frames knowledge in a certain way. The KWIC and other information technologies transform knowledge into information that can be quantified and processed. Developments like the KWIC are the beginning of language engineering—a new way of conceiving of text as information to be manipulated. Finally, the paper proposes a way of reflecting on developments like the KWIC by replicating these early technologies. Replications can take the form of demonstration devices or knowledge things that expose the processes in our infrastructure.
This is a preview of subscription content, log in to check access.
Access options
Buy single article
Instant access to the full article PDF.
US$ 39.95
Price includes VAT for USA
Subscribe to journal
Immediate online access to all issues from 2019. Subscription will auto renew annually.
US$ 99
This is the net price. Taxes to be calculated in checkout.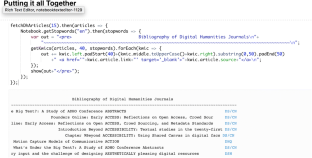 References
Azuma, H. 2009. Otaku, Japan's Database Animals. Minneapolis: University of Minnesota Press.

Baird, D. 2004. Thing Knowledge: A Philosophy of Scientific Instruments. Berkley: University of California Press.

Blair, A.M. 2010a. Too Much To Know: Managing Scholarly Information before the Modern Age. New Haven: Yale University Press.

Blair, A. 2010b. Information Overload, Then and Now. The Chronicle of Higher Education. Nov. 28, 2010. http://www.chronicle.com/article/Information-Overload-Then-and/125479/. Accessed 28 Jan 2018.

Busa, R. 1980. The Annals of Humanities Computing: The Index Thomisticus. Computers and the Humanities 14(2): 83–90.

Bush, V. 1945. As We May Think. The Atlantic Monthly. July 1945. 176. https://www.theatlantic.com/magazine/archive/1945/07/as-we-may-think/303881/. Accessed 28 Jan 2018.

Fischer, M. 1971. The KWIC Index Concept: A Retrospective View. In Key Papers in Information Science, ed. Arthur W. Elias, 121–134. Silver Spring: American Society for Information Science.

Hacking, I. 2002. Historical Ontology. Cambridge, MA: Harvard University Press.

Heidegger, M. 1966. Conversation on a Country Path About Thinking. In Discourse on Thinking, eds. J.M. Anderson and E.H. Freund, 58–90. New York: Harper Torchbooks.

Jones, S.E. 2016. Roberto Busa, S. J., and the Emergence of Humanities Computing: The Priest and the Punched Cards. Kindle Edition. New York: Routledge.

Knuth, D.E. 1984. Literate Programming. The Computer Journal 27(2): 97–111.

Luhn, H.P. 1958. The Automatic Creation of Literature Abstracts. IBM Journal of Research and Development 2(2): 159–165.

Luhn, H.P. 1966. Keyword-in-Context Index for Technical Literature (KWIC Index). In Readings in Automatic Language Processing, ed. D.G. Hays, 159–167. New York: American Elsevier Publishing.

Lyotard, J.-F. 1986. The Postmodern Condition: A Report on Knowledge (trans: Bennington, G. and Massumi, B.). Manchester: Manchester University Press.

McCarty, W. 1993. Handmade, Computer-Assisted, and Electronic Concordances of Chaucer. CCH Working Papers 3: 49–65.

Morozov, E. 2013. To Save Everything, Click Here: The Folly of Technological Solutionism. New York: Public Affairs.

Parikka, J. 2012. What is Media Archaeology?. Cambridge: Polity.

Rockwell, G. and S. Sinclair. 2016. Hermeneutica: Computer-Assisted Interpretation in the Humanities. Cambridge, MA: MIT Press.

Rouse, M.A. and R.H. Rouse (eds.). 1991. The Development of Research Tools in the Thirteenth Century. In Authentic Witnesses: Approaches to Medieval Texts and Manuscripts. Notre Dame, IN: University of Notre Dame Press.

Ryle, G. 1945–46. Knowing How and Knowing That: The Presidential Address. Proceedings of the Aristotelian Society 46: 1–16.

Shirky, Clay. 2008. It's Not Information Overload. It's Filter Failure. Web 2.0 Expo NY. https://www.youtube.com/watch?v=LabqeJEOQyI. Accessed 28 Jan 2018.

Tasman, P. 1957. Literary Data Processing. IBM Journal of Research and Development 1(3): 249–256.
About this article
Cite this article
Rockwell, G., Sinclair, S. Too Much Information and the KWIC. Fudan J. Hum. Soc. Sci. 11, 443–452 (2018). https://doi.org/10.1007/s40647-018-0230-2
Received:

Accepted:

Published:

Issue Date:
Keywords
KWIC

Keyword-in-Context

History of computing

Digital humanities

Peter luhn

Knowledge society