Abstract
Marcel Proust is an author of global significance and renown. Translations into Chinese and Korean of A la recherche du temps perdu are ongoing. The Gallica online library of France's Bibliothèque nationale makes the notebooks from which Proust's novel emerged between 1908 and 1922 digitally accessible anywhere in the world. It is well known that Proust has been adapted to graphic novel format, individual volumes of his novel have been adapted for cinema, inspired ballet and musical theatre and his characters' lives have fuelled works of fiction by contemporary creative writers. This paper considers a very recent instance of Proust's reception and adaptation: "Works in Fiber, Paper and Proust" created by the critic and theorist Eve Kosofsky Sedgwick (1950–2009) and first exhibited at Harvard University in 2005. These remarkable objects—including what Sedgwick calls an "accordion-book" and a "loom-book"—give a woven, layered physicality to Proust's words and remobilise them in ways that force us to reconfigure our understanding of the text–reader relation. Sedgwick's visual, textile artworks are the products of creative, adaptive practices undertaken as a sort of therapy that was instrumental in her coming to terms with the terminal cancer diagnosis she received in 1996. My paper explores Sedgwick's adaptive practice and interrogates the insights their challenging hybridity offers us into the ongoing transmission of Proust's work.
This is a preview of subscription content, log in to check access.
Access options
Buy single article
Instant access to the full article PDF.
US$ 39.95
Price includes VAT for USA
Subscribe to journal
Immediate online access to all issues from 2019. Subscription will auto renew annually.
US$ 99
This is the net price. Taxes to be calculated in checkout.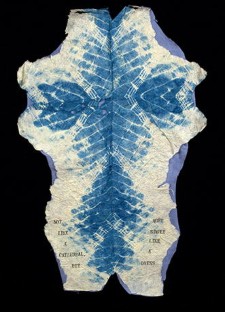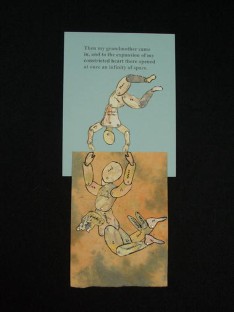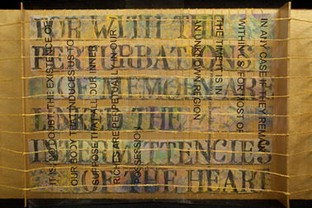 Notes
1.

2.

In my forthcoming conference paper, "Poetry as creative critique: notes from the desert of After-Proust (on Anne Carson and Catriona Strang)", twentieth- and twenty-first-century French and Francophone Studies International Colloquium, Louisiana State University, Baton Rouge, Indiana, USA, 27 February 2015.

3.

Reproductions of these works, beyond the illustrations used in the present article, can be found in the "Archive" section of the Eve Sedgwick website curated by Sarah McCarry and Hal Sedgwick: see http://evekosofskysedgwick.net/art/artworks/ (accessed 26 August 2014). I am immensely grateful to Hal Sedgwick for his permission to use the illustrations that follow and for our fascinating email exchange about the works in question.

4.

5.

6.

7.

8.

For an extended account of the senses, particularly touch, in relation to narrative (among other things) that predates Sedgwick's creative works discussed here, see Sedgwick (2003).

9.

The Proust manuscript holdings of the Bibliothèque nationale de France are digitized and freely accessible online via Gallica (http://gallica.bnf.fr, accessed 26 August 2014) and via the web pages of the Équipe Proust at the Institut des textes et des manuscrits modernes (ITEM) in Paris: see http://www.item.ens.fr/index.php?id=578147 (accessed 26 August 2014).

10.

For a concise and instructive account of how Proust's novel emerged from these papers, see Mauriac Dyer (2013).

11.

For an insightful reading of the sociopolitical significance of this passage in Proust's novel, see Hughes (2009), particularly pp. 117–19.

12.

See Proust (1987–89), ii, 28: "Alors ma grand'mère entra; et à l'expansion de mon cœur refoulé s'ouvrirent aussitôt des espaces infinis."

13.

Hal Sedgwick indicates (personal correspondence) that "part of what [Eve] was attempting here was to map the structure of language, as expressed in the traditional sentence diagram, onto the articulation of the human body."

14.

See Proust (1987–89), ii, 28: "N'ayant plus d'univers, plus de chambre, plus de corps que menacé par les ennemis qui m'entouraient, qu'envahi jusque dans les os par la fièvre, j'étais seul, j'avais envie de mourir."

15.

Reading is of course a process that constantly involves us in hypothesis and provisionality. For an extended consideration of these notions, see Watt (2009).

16.

This prehistory was being explored and new ground was being broken by Picasso at the time that Proust was completing the early parts of A la recherche du temps perdu. For an exquisitely illustrated account of Picasso's explorations of the stringed form of the guitar, see Umland (2011).

17.

The original French reads: "Car aux troubles de la mémoire sont liées les intermittences du coeur. C'est sans doute l'existence de notre corps, semblable pour nous à un vase où notre spiritualité serait enclose, qui nous induit à supposer que tous nos biens intérieurs, nos joies passées, toutes nos douleurs sont perpétuellement en notre possession. Peut-être est-il aussi inexact de croire qu'elles s'échappent ou reviennent. En tout cas, si elles restent en nous c'est, la plupart du temps, dans un domaine inconnu […] Mais si le cadre de sensations où elles sont conservées est ressaisi, elles ont à leur tour ce même pouvoir d'expulser tout ce qui leur est incompatible, d'installer seul en nous, le moi qui les vécut", Proust (1987–89, iii, 153–4).

18.

"In Proust, the disjointed [literally unstitched] is always also that which is in the process of being joined [stitched] up" (my translation), Richard (1974, p. 263).

19.

The accordion form, of course, is homologous with the great concertinaed additions to Proust's manuscripts and proofs, some of which measure well over one metre in length when unfolded.
References
Benjamin, Walter. 1999. The image of Proust. In Illuminations (trans: Harry Zohn), ed. Hannah Arendt, 197–210. London: Pimlico.

Bennett, Alan. 2004. 102 boulevard Haussmann. In A private function. London: Faber.

Beugnet, Martine, and Marion Schmid. 2004. Proust at the Movies. Aldershot: Ashgate.

Bryden, Mary, and Margaret Topping (eds.). 2009. Beckett's Proust/Deleuze's Proust. London: Palgrave-MacMillan.

Carson, Anne. 2014. The Albertine workout. New York: New Directions.

Cléder, Jean, and Jean-Pierre Montier (eds.). 2003. Proust et les images, peinture, photographie, cinéma, vidéo. Rennes: Presses Universitaires de Rennes.

Fraisse, Luc. 1990. L'Œuvre cathédrale: Proust et l'architecture médiévale. Paris: José Corti.

Goedendorp, Romana, and Sjef Houppermans. 2006. "Entretien avec le metteur en scène belge Guy Cassiers" in "Proust et le théâtre". Marcel Proust Aujourd'hui 4: 273–289.

Gray, Margaret E. 1992. Proust, narrative and ambivalence in Contemporary culture. In Postmodern Proust, 152–76. Philadelphia: University of Pennsylvania Press.

Haddad, Karen. (2010). Les eaux du Bosphore: Orhan Pamuk lecteur de Proust. In: Proust L'Etranger, CRIN, ed. Haddad, Karen, and Vincent Ferré, vol. 54, 147–62.

Heuet, Stéphane. 1998. A la recherche du temps perdu. 6 vols to date. Paris: Delcourt.

Hughes, Edward J. 2009. Hierarchies. In Le Temps retrouvé Eighty Years After/80 ans après: Critical Essays/essais critiques, ed. Adam Watt, 117–131. Oxford: Peter Lang.

Jephcott, E.F.N. 1972. Proust and Rilke: The literature of expanded consciousness. London: Chatto and Windus.

Kolb, Philip, ed. 1970–93. Correspondance de Marcel Proust, vol. 21. Paris: Plon.

Malcolm, Bowie. 2013. Death and the artistic vocation: Time regained (film). In Selected essays of Malcolm Bowie, vol. 2, ed. Alison Finch, 230–231. London: Legenda.

Marcel Proust Aujourd'hui, 6 "Proust dans la littérature contemporaine" (2008).

Nathalie, Mauriac Dyer. 2013. Composition and publication of A la recherche du temps perdu. In Marcel Proust in context, ed. Adam Watt, 231–240. Cambridge: Cambridge University Press.

Pinter, Harold. 2000. Remembrance of things past, adapted with Di Trevis. London: Faber.

Proust, Marcel. 1987–89. A la recherche du temps perdu. In Bibliothèque de la Pléiade, ed. Jean-Yves Tadié. Paris: Gallimard.

Richard, Jean-Pierre. 1974. Proust et le monde sensible. Paris: Seuil.

Rose, Jacqueline. 2001. Albertine. London: Chatto & Windus.

Schmid, Marion. 2013. Proust at the Ballet: Literature and dance in dialogue. French Studies 67: 184–198.

Sedgwick, Eve Kosofsky. 2011. The weather in Proust. Ed. Jonathan Goldberg. Durham, NC: Duke University Press.

Sedgwick, Eve Kosofsky. 2003. Touching feeling: Affect, pedagogy, performativity. Durham, NC: Duke University Press.

Sedgwick, Eve Kosofsky. 1990. Epistemology of the closet. Berkeley: University of California Press.

Tribout-Joseph, Sara. 2008. Proust and Joyce in dialogue. London: Legenda.

Umland, Ann (ed.). 2011. Picasso Guitars 1912–1914. New York: The Museum of Modern Art.

Watt, Adam. 2011. Proustian afterlives. The Cambridge introduction to Marcel Proust, 116–22. Cambridge: Cambridge University Press.

Watt, Adam. 2009. Reading in Proust's A la recherche: "le délire de la lecture". Oxford: Oxford University Press.
About this article
Cite this article
Watt, A. Proust Between Print Culture and Visual Art: Eve Kosofsky Sedgwick's "Works in Fiber, Paper and Proust". Fudan J. Hum. Soc. Sci. 8, 179–191 (2015). https://doi.org/10.1007/s40647-015-0071-1
Received:

Accepted:

Published:

Issue Date:
Keywords
Proust

Eve Sedgwick

A la recherche du temps perdu

"Works in Fiber, Paper and Proust"

Adaptation