Abstract
Background:
Only one case of occupational extrinsic allergic alveolitis due to mold inhaled during the sorting and transportation of onions and potatoes has been described in the literature to date. While having been exposed for one year the disease had healed up completely. Penicillium and Fusarium molds could be identified as cause of the extrinsic allergic alveolitis. We observed the second such patient albeit with more pronounced symptoms. We describe the patient's severe symptoms as well as his broader range of antibodies.
Methods:
Assessment of comprehensive documentation as part of the medical examination, interview of former attending physicians, and additional IgG antibody investigations by ELISA and CAP-FEIA technique in order to detect more than the thus far known antigens.
Results:
A 53-year-old male non-smoker of German descent, who had worked in the sorting and transportation business of onions and potatoes for more than 20 years was diagnosed with an occupational extrinsic allergic alveolitis. Possible triggers are the molds Penicillium chrysogenum, Aspergillus fumigatus, Fusarium proliferatum, and Cladosporium herbarum—against all of which IgG antibodies were detected in the patient's serum. After antigen avoidance symptoms improved. Interstitial lesions visible on X-ray, a significant diffusion impairment, and a pulmonary hypertension have persisted, though. The disease was accepted as a occupational disease.
Conclusions:
Sorting onions and potatos not only can elicit moderate symptoms of an allergic alveolitis that heal without consequences, but can also lead to irreversible lung fibrosis associated with pulmonary hypertension. According to our findings, in addition to Penicillium, Fusarium, and Aspergillus molds Cladosporium herbarum is a possible antigen, too. Thus, this type of extrinsic allergic alveolitis is a serious notifiable occupational disease.
This is a preview of subscription content, log in to check access.
Access options
Buy single article
Instant access to the full article PDF.
US$ 39.95
Price includes VAT for USA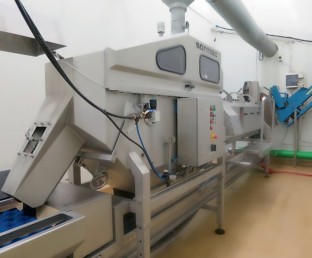 References
1.

Merget R, Sander I, Rozynek P, Raulf-Heimsoth M, Bruenig T. Occupational hypersensitivity pneumonitis due to molds in an onion and potato sorter. Am J Ind Med 2008;51:117–19

2.

Sennekamp J, Lehmann E, Joest M. Berufsbedingte exogen-allergische Alveolitis. ASU Arbeitsmed Sozialmed Umweltmed 2015;50:38–52

3.

Schulte W, Sennekamp J. Allergische Alveolitis durch Bacillus subtilis in einem biologischen Reinigungsmittel — Diagnostik und Krankheitsverlauf. Allergologie 2010;33:570–2

4.

Sennekamp J, Müller-Wening D, Amthor M et al. [Arbeitsgemeinschaft exogen-allergische Alveolitis]. Empfehlungen zur Diagnostik der exogen-allergischen Alveolitis. Pneumologie 2007;61:52–6

5.

Morell F, Currull V, Orriols R, De Garcia J. Skin tests in bird breeder's disease. Thorax 1986;41:538–41

6.

Sennekamp J. Extrinsic allergic alveolitis — hypersensitivity pneumonitis. Monographie. München — Orlando: Dustri 2004

7.

Brouwer J. Cross-reactivity between Aspergillus fumigatus and Penicillium. Int Arch Allergy Immunol 1996;110:166–73

8.

Watanuki Z, Okada S, Chiba S et al. Increased prevalence of high anti-Cladosporium antibody titers in interstitial lung diseases. Tohoku J Exp Med 2012;226:287–91

9.

Sennekamp J. ODTS — Toxische Alveolitis organischer Stäube. In: Letzel S, Nowak D, eds. Handbuch der Arbeitsmedizin. Landsberg: Ecomed 2008;D I-3.3.2: 1–18

10.

Baur X. Exogen-allergische Alveolitis als Berufskrankheit. Zbl Arbeitsmed 1996;46:438–42

11.

Koschel D. Prävention der exogen-allergischen Alveolitis. Atemwegs Lungenkrkh 2008;34:182–86
Additional information
Conflict of interests
The authors state that there are no conflicts of interest.
Cite this as
Sennekamp J, Juergens L-J, Sturm M, Juergens UR. Extrinsic allergic alveolitis due to inhaled molds in occupational onion and potato processing: onion- and potato-sorter alveolitis. Allergo J Int 2016;25:138–43 DOI: 10.1007/s40629-016-0120-6
About this article
Cite this article
Sennekamp, J., Juergens, L., Sturm, M. et al. Extrinsic allergic alveolitis due to inhaled molds in occupational onion and potato processing: onion- and potato-sorter alveolitis. Allergo J Int 25, 138–143 (2016). https://doi.org/10.1007/s40629-016-0125-1
Received:

Accepted:

Published:

Issue Date:
Key words
extrinsic allergic alveolitis

hypersensitivity pneumonitis

mold allergy

occupational disease

interstitial lung disease

pulmonary fibrosis

IgG antibodies