Abstract
In this article, we explore the use of the digital labour market set up by mobility platforms in Bengaluru, Karnataka, as a mechanism to cope with climate change-induced livelihood transition. Climatic hot spots within regions like the southern Indian state of Karnataka have caused a large volume of livelihood transition along the rural–urban continuum (Revi in Environ Urban 20(1):207–229, 2008. https://doi.org/10.1177/0956247808089157). Bengaluru is Karnataka's primate city, thus absorbing agrarians pushed out of unprofitable agriculture into its ever-growing informal service sector (Singh et al. in Clim Risk Manag 21(June):52–68, 2018. https://doi.org/10.1016/j.crm.2018.06.001). Climate-induced migration into urban centres creates intersecting forms of differential vulnerability. This vulnerability is structured by social discrimination embedded in informal economies, performed through respect, dignity, and humiliation in work encounters in relational economies (Simone in Public Cult 16(3):407–429, 2004). Mobility platforms like Uber and Ola cabs have added to work opportunities within Bengaluru's service sector by creating an alternative work opportunity—the digital labour market for taxi driving. The digital labour market set up by the mobility platforms offers migrants an alternative labour market to plug into without reliance on relational economies or incurring social debt. We find that the digital labour ecosystem attracts climate change-impacted migrants by offsetting 'access to work opportunities' in three key ways: (a) overcoming relational voids, (b) substituting network costs and circumventing social debts, (c) supplementing precarious agricultural work. This article uses evidence from qualitative data collected from in-depth semi-structured interviews with 113 Uber and Ola cab drivers in Bengaluru between 2015 and 2018 to explore the presence of the digital labour market as short-term adaptive strategy to create resilience against climate change-induced livelihood transitions into complex urban informal labour markets.
Access options
Buy single article
Instant access to the full article PDF.
USD 39.95
Price excludes VAT (USA)
Tax calculation will be finalised during checkout.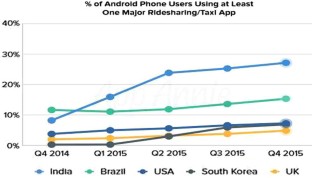 Notes
There are variations to the way work is measured on mobility platforms such as through long-distance, or multi-hour package deals, but the model itself is predicated on atomizing 'work' into units measurable by computational systems.
References
Agarwal R (2009) An economic sociology of informal work: the case of India. In: Economic sociology of work. Research in the sociology of work, vol 18. pp 315–342

Aguilar FV (2018) Ritual passage and the reconstruction of selfhood in international labour migration. Sojourn J Soc Issues Southeast Asia 33(S):S87–S130

Ash J, Kitchin R, Leszczynski A (2018) Digital labour. In: Digital geographies. London. https://ssrn.com/abstract=2991099

Ataulla N (2004) The importance of being Vokkaliga | Bengaluru News—Times of India. Times of India, 2004. https://timesofindia.indiatimes.com/city/bengaluru/The-importance-of-being-Vokkaliga/articleshow/535910.cms. Accessed 19 Feb 2019

Banerjee B (1983) Social networks in the migration process: empirical evidence on chain migration in India on JSTOR. J Dev Areas 17(2):185–196

Bantilan MCS, Anupama KV (2006) Vulnerability and adaptation in dryland agriculture in India's SAT: experiences from ICRISAT's village-level studies. SAT EJournal 2(1):1–14

Basu R, Bazaz A, Bazaz R (2016) Assessing climate change risks and contextual vulnerability in urban areas of semi-arid India. WP 3: 38

Benjamin S (2000) Governance, economic settings and poverty in Bangalore. Environ Urban 12(1):35–56

Bhattacharya P (1998) The informal sector and rural-to-urban migration: some indian evidence on JSTOR. Econ Polit Wkl 33(21):1255–1262

CBinsights (2018) Global tech hubs report. CB Insights. https://www.cbinsights.com/research/report/global-tech-hubs/?utm_source=CB+Insights+Newsletter&utm_campaign=f96f0dc2c5-Top_Research_Briefs_07_07_2018&utm_medium=email&utm_term=0_9dc0513989-f96f0dc2c5-88096205. Accessed 18 Sept 2018

Chandrashekar BK (n.d.) Karnataka climate change action plan an interim report submitted by to Government of Karnataka Submitted by Prof B K Chandrashekar BCCI-K Members

Chandrashekar N, Mehrotra N (2016) Doubling farmers' incomes by 2022. Econ Polit Wkl 51(18):10–13

Chengapa R (1983) Bangalore clocked to be the fastest growing metropolis in India. India Today, 1983. https://www.indiatoday.in/magazine/cover-story/story/19830415-bangalore-clocked-to-be-the-fastest-growing-metropolis-in-india-770617-2013-07-22. Accessed 19 Oct 2017

Cheung A (2017) The employment status of uber drivers a comparative report prepared for the social law project, University of the Western Cape October 2017 no. October

Choudary SP (2018) The architecture of digital labour platforms: policy recommendation on platform design for worker well-being. https://www.ilo.org/wcmsp5/groups/public/---dgreports/---cabinet/documents/publication/wcms_630603.pdf. Accessed 1 Feb 2019

Cutter SL, Finch C (2008) Temporal and spatial changes in social vulnerability to natural hazards. Proc Natl Acad Sci 105:2301–2306. https://doi.org/10.1073/pnas.0710375105

Dasgupta P, Morton JF, Dodman D, Karapinar B, Meza F, Rivera-Ferre MG, Toure Sarr A, Vincent KE (2014) Rural areas. In: Field CB, Barros VR, Dokken DJ, Mach KJ, Mastrandrea MD, Bilir TE, Chatterjee M, Ebi KL, Estrada YO, Genova RC, Girma B, Kissel ES, Levy AN, MacCracken S, Mastrandrea PR, White LL (eds) Climate change 2014: impacts, adaptation, and vulnerability. Part A: global and sectoral aspects. Contribution of working group II to the fifth assessment report of the intergovernmental panel on climate change. Cambridge University Press, Cambridge, pp 613–657

De Haas H (2007) Remittances, migration and social development: a conceptual review of literature. 34. Social Policy and Development 2000–2009. http://www.unrisd.org/80256B3C005BCCF9/search/8B7D005E37FFC77EC12573A600439846. Accessed 10 Jan 2019

Dell'era C, Altuna N, Magistretti S, Verganti R (2015) Discovering quiescent meanings in technologies: exploring the design management practices that support the development of technology epiphanies. Technol Anal Strat Manag 29(2):149–166

Dittrich C (2005) Bangalore: divided city under the impact of globalisation. Asian J Water Environ Pollut 2:23–30

Harriss-White B, Prakash A (2010) Social discrimination in India: a case for economic citizenship. Oxfam discussion paper, pp 1–27

Harris-White B (2004) India's socially regulated economy. Indian J Labour Econ 47(1):49–68

Heery E, Noon M (2008) A dictionary of human resource management. Oxford University Press, Oxford. https://doi.org/10.1093/acref/9780199298761.001.0001

IIHS (2014) Urban diagnostic for Bangalore. January, pp 1–45

India Today (2019) EPFO data shows 4.8 million additional jobs have been created, says NITI Aayog | as it happened—live updates, live news, live coverage, India Today live reporting. India Today, 2019. https://www.indiatoday.in/india/story/live-updates-niti-aayog-to-hold-briefing-on-nsso-job-survey-1443645-2019-01-31. Accessed 3 Mar 2019

Jhabwala R, Siddhartha M (2016) Siddhartha Mishra interviews Renana Jhabvala. Outlook India, 2016. https://www.outlookindia.com/magazine/story/renana-jhabvala/296707. Accessed 1 Sept 2018

Kamath L (2006) Achieving global competitiveness ASND local poverty reduction? Examining the public–private partnering model of governance in Bangalore, India. The State University of New Jersey, Rutgers

Kashyap S (2019) Hyperlocal finds favour with investors once more in H1 2018. YourStory. 2019. https://yourstory.com/2018/07/h1-2018-hyperlocal-funding-rebound. Accessed 27 Mar 2019

KSNDMC (n.d.) Drought in Karnataka

Mulas V, Michael M, Hallier A (2016) Boosting tech innovation: ecosystems in cities. Innovations 11(2):98–125

Nair J (2000) Singapore is not Bangalore's destiny. Econ Polit Wkl 35(18):1512–1514

Nair A (2017) Guess which indian city cornered the most startup funding in 2017 so far? Yourstory, 2017. https://yourstory.com/2017/07/startup-funding-cities-ncr-delh-bengaluru-deals/. Accessed 4 Mar 2019

NCEUS (2007) Report condition of workers and promotion of livelihood in unorganised sector. Sep 2007

Pai V (2016) Around 28% Indian android users have one ridesharing/taxi app: app annie report. Medianama, 2016. https://www.medianama.com/2016/01/223-app-annie-2015-retrospective-report/. Accessed 1 Feb 2018

Rani U, Oelz M, Ranjbar S (2013) Minimum wage coverage and compliance in developing countries. Int Labour Rev 152:381–410

Raval N, Dourish P (2016) Standing out from the crowd: emotional labour, body labour, and temporal labour in ridesharing. In: CSCW 2016. http://www.wtf.tw/ref/raval.pdf. Accessed 1 May 2017

Revi A (2008) Climate change risk: an adaptation and mitigation agenda for Indian cities. Environ Urban 20(1):207–229. https://doi.org/10.1177/0956247808089157

Revi A, Koduganti J, Anand S (2015) Cities as engines of inclusive growth. IIHS-RF Paper on the Indian Urban Economy. Bengaluru, India. http://iihs.co.in/knowledge-gateway/wp-content/uploads/2015/07/IIHS-RF_CitiesasEnginesofInclusiveDevelopment_Final_Reduced-size.pdf. Accessed 1 May 2018

Ries J (2011) The lean startup: How today's entrepreneurs use continuous innovation to create radically successful businesses. Crown Press, New York

Rochet J-C, Tirole J (2005) Two-sided markets: a progress report. IDEI working papers 275, Institut d'Économie Industrielle (IDEI), Toulouse

Simone A (2004) People as infrastructure: intersecting fragments in Johannesburg. Public Cult 16(3):407–429

Singh C (2017) Using life histories to understand temporal vulnerability to climate change in highly dynamic contexts. Sage Research Methods Cases. https://doi.org/10.4135/9781526440358

Singh C (2019) Migration as a driver of changing household structure: implications for local livelihoods and adaptation. Migr Dev. https://doi.org/10.1080/21632324.2019.1589073

Singh C, Michael K, Bazaz A, Srinivas A, Kaur H, Hoffman T (2017) Barriers and enablers to climate adaptation: evidence from rural and urban India. March 2017. www.ASSARadapt.org

Singh C, Rahman A, Srinivas A, Bazaz A (2018) Risks and responses in rural India: implications for local climate change adaptation action. Clim Risk Manag 21(June):52–68. https://doi.org/10.1016/j.crm.2018.06.001

Skeldon R (2003) Migration and migration policy in Asia: a synthesis of selected cases. In: Conference on migration, development and pro-poor policy choices in Asia

Srinivas S (2017) What can we learn from Place-Work—workplace entitlements about good, Case No 1

Surie A (2017) Tech in work organising informal work in India. Econ Polit Wkl 52(20):12–15

Surie A (2018) Are Ola and Uber drivers entrepreneurs or exploited workers. Econ Polit Wkl 53:1–7

Tucker J, Daoud M, Oates N, Few R, Conway D, Mtisi S, Matheson S (2015) Social vulnerability in three high-poverty climate change hot spots: what does the climate change literature tell us?" Reg Environ Change 15(5):783–800. https://doi.org/10.1007/s10113-014-0741-6

Tura N, Kutvonen A, Ritala P (2017) Platform design framework: conceptualisation and application. https://doi.org/10.1080/09537325.2017.1390220
Additional information
Publisher's Note
Springer Nature remains neutral with regard to jurisdictional claims in published maps and institutional affiliations.
About this article
Cite this article
Surie, A., Sharma, L.V. Climate change, Agrarian distress, and the role of digital labour markets: evidence from Bengaluru, Karnataka. Decision 46, 127–138 (2019). https://doi.org/10.1007/s40622-019-00213-w
Published:

Issue Date:

DOI: https://doi.org/10.1007/s40622-019-00213-w
Keywords
Digital labour market

Climate change

Adaptation

Gig economy

Agrarian distress

Bengaluru

App-based service providers