Abstract
Background
Hematuria is common in myeloperoxidase anti-neutrophil cytoplasmic antibody associated vasculitis (ANCA-MPO). Previous studies have mainly focused on urinary dysmorphic red blood cells and few have reported the clinical significance of isomorphic urinary red blood cells. Therefore, the main aim of this study was to assess the predictive yield  of urinary isomorphic red blood cells for disease severity and renal outcomes in patients with ANCA-MPO associated vasculitis.
Methods
A total of 191 patients with ANCA-MPO associated vasculitis with hematuria were retrospectively selected and were divided into two groups (with isomorphic red blood cells versus dysmorphic red blood cells) according to the percentage of isomorphic red blood cells on urinary sediment analysis. Clinical, biological and pathological data at diagnosis were compared. Patients were followed up for a median of 25 months and progression to end-stage kidney disease and death were regarded as main outcome events. Additionally, univariate and multivariate Cox regression models were used to estimate the risk factors for end-stage kidney disease.
Results
Out of 191 patients, 115 (60%) had ≥ 70% and 76 (40%) had < 30% urine isomorphic red blood cells. Compared with patients in the dysmorphic red blood cell group, patients in the isomorphic red blood cell group had a significantly lower estimated glomerular filtration rate (eGFR) [10.41 mL/min (IQR 5.84–17.06) versus 12.53 (6.81–29.26); P = 0.026], higher Birmingham Vasculitis Activity Score [16 (IQR 12–18) versus 14 (10–18); P = 0.005] and more often received plasma exchange [40.0% versus 23.7% (P = 0.019)] at diagnosis. Kidney biopsies revealed a higher proportion of patients with glomerular basement membrane fracture in the isomorphic red blood cell group [46.3% versus 22.9% (P = 0.033)]. Furthermore, patients with predominant urinary isomorphic red blood cells were more likely to progress to end-stage kidney disease [63.5% versus 47.4% (P = 0.028)] and had a higher risk of death [31.3% versus 19.7% (P = 0.077)]. The end-stage kidney disease-free survival was lower in patients in the isomorphic red blood cell group (P = 0.024). However, urine isomorphic red blood cells ≥ 70% could not predict the presence of end-stage kidney disease in multivariate Cox analysis.
Conclusion
Myeloperoxidase-anti-neutrophil cytoplasmic antibody associated vasculitis patients with predominant urinary isomorphic red blood cells at diagnosis had more severe clinical manifestations and a higher risk of poor renal outcomes. In this respect, urinary isomorphic red blood cells could be viewed as a promising biomarker of ANCA_MPO vasculitis severity and progression.
Graphical abstract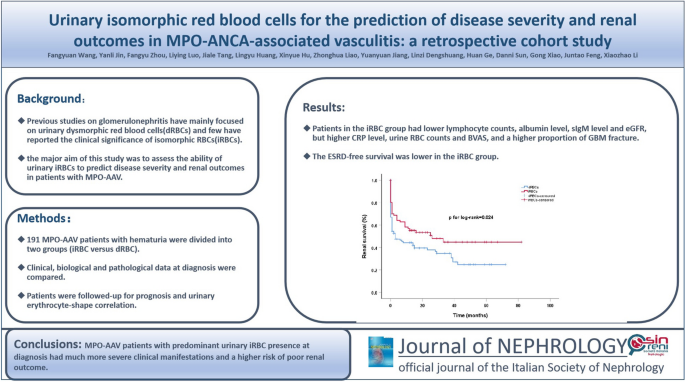 Access options
Buy single article
Instant access to the full article PDF.
USD 39.95
Price excludes VAT (USA)
Tax calculation will be finalised during checkout.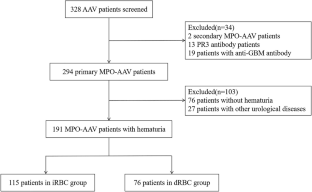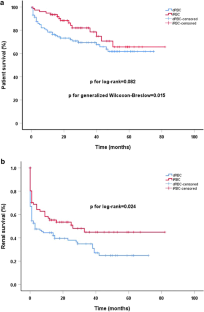 Data availability
The datasets used during the current study are available from the corresponding author on reasonable request.
Abbreviations
AAV:

Antineutrophil cytoplasmic antibody(ANCA)-associated vasculitis

MPO:

Myeloperoxidase

PR3:

Proteinase 3

iRBCs:

Isomorphic red blood cells

dRBCs:

Dysmorphic red blood cells

IF:

Immunofluorescence

ELISA:

Enzyme-linked immunosorbent assay

HPF:

High-power field

WBC:

White blood cell

RBC:

Red blood cell

HB:

Hemoglobin

sC3:

Serum C3 levels

sC4:

Serum C4 levels

sIgA:

Serum IgA levels

sIgG:

Serum IgG levels

sIgM:

Serum IgM levels

CRP:

C-reactive protein

ESR:

Erythrocyte sedimentation rate

UACR:

Urinary albumin to creatinine ratio

eGFR:

Estimated glomerular filtration rate

BVAS:

Birmingham vasculitis activity score

GBM:

Glomerular basement membrane

IC:

Immune-complex

PE:

Plasma exchange

ESRD:

End-stage renal disease

KRT:

Kidney replacement therapy
References
Cornec D, Cornec-Le Gall E, Fervenza FC, Specks U (2016) ANCA-associated vasculitis—clinical utility of using ANCA specificity to classify patients. Nat Rev Rheumatol 12(10):570–579

Kitching AR, Anders HJ, Basu N, Brouwer E, Gordon J, Jayne DR, Kullman J, Lyons PA, Merkel PA, Savage COS, Specks U, Kain R (2020) ANCA-associated vasculitis. Nat Rev Dis Primers 6(1):71

Geetha D, Jefferson JA (2020) ANCA-associated vasculitis: core curriculum 2020. Am J Kidney Dis 75(1):124–137

Van Daalen EE, Neeskens P, Zandbergen M, Harper L, Karras A, Vaglio A, de Zoysa J, Bruijn JA, Bajema IM (2019) Podocytes and proteinuria in ANCA-associated glomerulonephritis: a case-control study. Front Immunol 26(10):1405

Córdova-Sánchez BM, Mejía-Vilet JM, Morales-Buenrostro LE, Loyola-Rodríguez G, Uribe-Uribe NO, Correa-Rotter R (2016) Clinical presentation and outcome prediction of clinical, serological, and histopathological classification schemes in ANCA-associated vasculitis with renal involvement. Clin Rheumatol 35(7):1805–1816

Liang H, Xin M, Zhao L, Wang L, Sun M, Wang J (2017) Serum creatinine level and ESR values associated to clinical pathology types and prognosis of patients with renal injury caused by ANCA-associated vasculitis. Exp Ther Med 14(6):6059–6063

Rhee RL, Davis JC, Ding L, Fervenza FC, Hoffman GS, Kallenberg CGM, Langford CA, McCune WJ, Monach PA, Seo P, Spiera R, St Clair EW, Specks U, Stone JH, Merkel PA (2018) The utility of urinalysis in determining the risk of renal relapse in ANCA-associated vasculitis. Clin J Am Soc Nephrol 13(2):251–257

Chen TK, Murakami C, Manno RL, Geetha D (2014) Hematuria duration does not predict kidney function at 1 year in ANCA-associated glomerulonephritis. Semin Arthritis Rheum 44(2):198–201

Jalalah SM, Alzahrani IH, Furness PN (2002) Glomerular changes in microscopic haematuria, studied by quantitative immunoelectron microscopy and in situ zymography. Nephrol Dial Transplant 17(9):1586–1593

Collar JE, Ladva S, Cairns TD, Cattell V (2001) Red cell traverse through thin glomerular basement membranes. Kidney Int 59(6):2069–2072

Rogers PW, Kurtzman NA, Bunn SM Jr, White MG (1973) Familial benign essential hematuria. Arch Intern Med 131(2):257–262

Perry GJ, George CR, Field MJ, Collett PV, Kalowski S, Wyndham RN, Newland RC, Lin BP, Kneale KL, Lawrence JR (1989) Thin-membrane nephropathy—a common cause of glomerular haematuria. Med J Aust 151(11–12):638–42

Schifferli J, Rees AJ, Pearse E (1979) Haematuria: glomerular or non-glomerular? Lancet 2(8150):1014

Tesser Poloni JA, Bosan IB, Garigali G, Fogazzi GB (2012) Urinary red blood cells: not only glomerular or nonglomerular. Nephron Clin Pract 120(1):c36-41 (Discussion c41)

Van Iseghem P, Hauglustaine D, Bollens W, Michielsen P (1983) Urinary erythrocyte morphology in acute glomerulonephritis. Br Med J (Clin Res Ed) 287(6400):1183

Serra A, Torguet P, Romero R, Bonal J, Caralps A (1991) Normal urinary red blood cell morphology in segmental necrotizing glomerulonephritis. Nephron 59(2):351–352

Favaro S, Bonfante L, D'Angelo A, Giacomini A, Normanno M, Caló L, Bordin V, Vianello D, Meani A, Antonello A, Borsatti A (1997) Is the red cell morphology really useful to detect the source of hematuria? Am J Nephrol 17(2):172–175

Luqmani RA, Bacon PA, Moots RJ, Janssen BA, Pall A, Emery P, Savage C, Adu D (1994) Birmingham Vasculitis Activity Score (BVAS) in systemic necrotizing vasculitis. QJM 87(11):671–678

Mukhtyar C, Lee R, Brown D, Carruthers D, Dasgupta B, Dubey S, Flossmann O, Hall C, Hollywood J, Jayne D, Jones R, Lanyon P, Muir A, Scott D, Young L, Luqmani RA (2009) Modification and validation of the Birmingham vasculitis activity score (version 3). Ann Rheum Dis 68(12):1827–1832

Suppiah R, Mukhtyar C, Flossmann O, Alberici F, Baslund B, Batra R, Brown D, Holle J, Hruskova Z, Jayne DR, Judge A, Little MA, Palmisano A, Stegeman C, Tesar V, Vaglio A, Westman K, Luqmani R (2011) A cross-sectional study of the Birmingham Vasculitis Activity Score version 3 in systemic vasculitis. Rheumatology (Oxford) 50(5):899–905

Jennette JC, Falk RJ, Bacon PA, Basu N, Cid MC, Ferrario F, Flores-Suarez LF, Gross WL, Guillevin L, Hagen EC, Hoffman GS, Jayne DR, Kallenberg CG, Lamprecht P, Langford CA, Luqmani RA, Mahr AD, Matteson EL, Merkel PA, Ozen S, Pusey CD, Rasmussen N, Rees AJ, Scott DG, Specks U, Stone JH, Takahashi K, Watts RA (2013) 2012 revised International Chapel Hill Consensus Conference Nomenclature of Vasculitides. Arthritis Rheum 65(1):1–11

Hagen EC, Andrassy K, Chernok E, Daha MR, Gaskin G, Gross W, Lesavre P, Lüdemann J, Pusey CD, Rasmussen N et al (1993) The value of indirect immunofluorescence and solid phase techniques for ANCA detection. A report on the first phase of an international cooperative study on the standardization of ANCA assays. EEC/BCR Group for ANCA Assay Standardization. J Immunol Methods 159(12):1–16

Levey AS, Stevens LA, Schmid CH, Zhang YL, Castro AF 3rd, Feldman HI, Kusek JW, Eggers P, Van Lente F, Greene T, Coresh J (2009) CKD-EPI (Chronic Kidney Disease Epidemiology Collaboration). A new equation to estimate glomerular filtration rate. Ann Intern Med 150(9):604–12

Berden AE, Ferrario F, Hagen EC, Jayne DR, Jennette JC, Joh K, Neumann I, Noël LH, Pusey CD, Waldherr R, Bruijn JA, Bajema IM (2010) Histopathologic classification of ANCA-associated glomerulonephritis. J Am Soc Nephrol 21(10):1628–1636

Hamadah AM, Gharaibeh K, Mara KC, Thompson KA, Lieske JC, Said S, Nasr SH, Leung N (2018) Urinalysis for the diagnosis of glomerulonephritis: role of dysmorphic red blood cells. Nephrol Dial Transplant 33(8):1397–1403

Koo KC, Lee KS, Choi AR, Rha KH, Hong SJ, Chung BH (2016) Diagnostic impact of dysmorphic red blood cells on evaluating microscopic hematuria: the urologist's perspective. Int Urol Nephrol 48(7):1021–1027

Crop MJ, de Rijke YB, Verhagen PC, Cransberg K, Zietse R (2010) Diagnostic value of urinary dysmorphic erythrocytes in clinical practice. Nephron Clin Pract 115(3):c203–c212

Pollock C, Liu PL, Györy AZ, Grigg R, Gallery ED, Caterson R, Ibels L, Mahony J, Waugh D (1989) Dysmorphism of urinary red blood cells–value in diagnosis. Kidney Int 36(6):1045–1049

Yates M, Watts RA, Bajema IM, Cid MC, Crestani B, Hauser T, Hellmich B, Holle JU, Laudien M, Little MA, Luqmani RA, Mahr A, Merkel PA, Mills J, Mooney J, Segelmark M, Tesar V, Westman K, Vaglio A, Yalçındağ N, Jayne DR, Mukhtyar C (2016) EULAR/ERA-EDTA recommendations for the management of ANCA-associated vasculitis. Ann Rheum Dis 75(9):1583–1594

Ahn SS, Yoon T, Song JJ, Park YB, Lee SW (2022) Serum albumin, prealbumin, and ischemia-modified albumin levels in patients with ANCA-associated vasculitis: a prospective cohort study. PLoS One 17(7):e0271055

Zeng T, Tian Y, Tan L, Wu Y, Yu J, Huang J, Pei Z (2019) Inflammation level and renal function injury in antineutrophil cytoplasmic antibody-associated vasculitis: a correlation with low albumin and high-density lipoprotein. Biomark Med 13(7):557–565

Harper L, Savage CO (2005) ANCA-associated renal vasculitis at the end of the twentieth century—a disease of older patients. Rheumatology (Oxford) 44(4):495–501

Bakoush O, Segelmark M, Torffvit O, Ohlsson S, Tencer J (2006) Urine IgM excretion predicts outcome in ANCA-associated renal vasculitis. Nephrol Dial Transplant 21(5):1263–1269

Marchesi VT (1966) Mechanisms of cell migration and macromolecule transport across the walls of blood vessels. Gastroenterology 51(5):875–892

Ghim M, Alpresa P, Yang SW, Braakman ST, Gray SG, Sherwin SJ, van Reeuwijk M, Weinberg PD (2017) Visualization of three pathways for macromolecule transport across cultured endothelium and their modification by flow. Am J Physiol Heart Circ Physiol 313(5):H959–H973

Deen WM, Bohrer MP, Brenner BM (1979) Macromolecule transport across glomerular capillaries: application of pore theory. Kidney Int 16(3):353–365

Vuononvirta J, Marelli-Berg FM, Poobalasingam T (2021) Metabolic regulation of T lymphocyte motility and migration. Mol Aspects Med 77:100888

O'Sullivan KM, Lo CY, Summers SA, Elgass KD, McMillan PJ, Longano A, Ford SL, Gan PY, Kerr PG, Kitching AR, Holdsworth SR (2015) Renal participation of myeloperoxidase in antineutrophil cytoplasmic antibody (ANCA)-associated glomerulonephritis. Kidney Int 88(5):1030–1046

Aendekerk JP, Jiemy WF, Raveling-Eelsing E, Bijnens N, Abdul-Hamid MA, Strating IM, Dekkema GJ, Sanders JF, Stegeman CA, Damoiseaux JGMC, Little MA, Heeringa P, van Paassen P (2022) CD163 and CD206 expression define distinct macrophage subsets involved in active ANCA-associated glomerulonephritis. J Autoimmun 29(133):102914

Chen A, Lee K, Guan T, He JC, Schlondorff D (2020) Role of CD8+ T cells in crescentic glomerulonephritis. Nephrol Dial Transplant 35(4):564–572

Tofik R, Torffvit O, Rippe B, Bakoush O (2012) Urine IgM-excretion as a prognostic marker for progression of type 2 diabetic nephropathy. Diabetes Res Clin Pract 95(1):139–144

Fogazzi GB, Ferrari B, Garigali G, Simonini P, Consonni D (2012) Urinary sediment findings in acute interstitial nephritis. Am J Kidney Dis 60(2):330–332
Funding
This research was supported by the National Natural Science Foundation of China (81270786), Natural Science Foundation of Hunan Province (2020JJ4887), and Clinical Medical Technology Innovation Guidance Program of Hunan Province (2020SK53701).
Ethics declarations
Conflict of interest
The authors have no potential or apparent conflicts of interest with regard to this work.
Ethical approval
This study was approved by the medical ethics committee of Xiangya Hospital of Central South University (2019030598).
Human and animal rights
The paper involved human participants.
Informed consent
Informed written consent was obtained from all participants involved in the study for the use of their clinical data for research purposes.
Additional information
Publisher's Note
Springer Nature remains neutral with regard to jurisdictional claims in published maps and institutional affiliations.
Supplementary Information
Below is the link to the electronic supplementary material.
Rights and permissions
Springer Nature or its licensor (e.g. a society or other partner) holds exclusive rights to this article under a publishing agreement with the author(s) or other rightsholder(s); author self-archiving of the accepted manuscript version of this article is solely governed by the terms of such publishing agreement and applicable law.
About this article
Cite this article
Wang, F., Jin, Y., Zhou, F. et al. Urinary isomorphic red blood cells for the prediction of disease severity and renal outcomes in MPO-ANCA-associated vasculitis: a retrospective cohort study. J Nephrol 36, 2295–2304 (2023). https://doi.org/10.1007/s40620-023-01663-3
Received:

Accepted:

Published:

Issue Date:

DOI: https://doi.org/10.1007/s40620-023-01663-3
Keywords