Abstract
Background
Guidelines recommend referral for nephrology consultation for people with severe chronic kidney disease (CKD) to improve care and renal outcomes, yet the advocated benefits of nephrology referral on CKD progression in this patient population are unclear.
Methods
We linked laboratory and administrative data in Alberta, Canada to identify adults with stage 4 CKD between 2002 and 2014 (follow-up end on March 31, 2017). We studied the association between time-varying receipt of outpatient nephrology consultation and kidney failure (the earlier of renal replacement initiation or eGFR < 10 mL/min/1.73 m2 for more than 3 months), accounting for the competing risk of death.
Results
Of the 14,382 participants, 41% were ≥ 85 years old, 33% saw a nephrologist as an outpatient, 9% developed kidney failure, and 53% died over a median of 2.6 years. Compared with people who did not see a nephrologist before or at 7 months (median time to consultation), those who did were more likely to develop kidney failure [5-year risk (95% CI) 0.23 (0.21–0.24) vs 0.07 (0.065–0.075)]. With increasing age or higher eGFR, the 5-year risk of kidney failure became progressively smaller, from 0.24 (0.18–0.29) at age < 65 to 0.01 (0.006–0.015) at age ≥ 85 years and from 0.21 (0.18–0.23) at eGFR 15–19 to 0.066 (0.060–0.072) at eGFR 25–29 mL/min/1.73 m2; yet, the hazard ratio of kidney failure (1.6–4.3) increased following nephrology consultation in people who were older or had higher eGFR.
Conclusions
Adults with stage 4 CKD who see a nephrologist are more likely to develop kidney failure than those who don't, especially within lower absolute risk categories. Although selective referral may explain these findings, there is no evidence of an association between nephrology care and reduced risk of kidney failure in people with severe CKD. Studies are needed to assess the benefits of nephrology consultation in people with moderate CKD.
This is a preview of subscription content, log in to check access.
Access options
Buy single article
Instant access to the full article PDF.
US$ 39.95
Tax calculation will be finalised during checkout.
Subscribe to journal
Immediate online access to all issues from 2019. Subscription will auto renew annually.
US$ 99
Tax calculation will be finalised during checkout.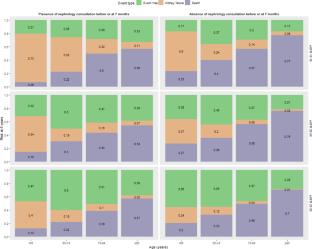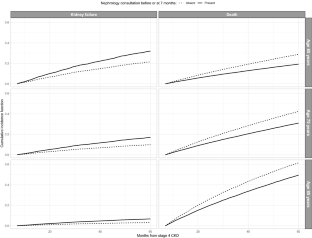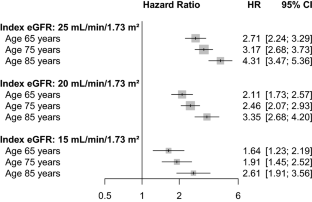 Availability of data and material
The datasets generated during and/or analysed during the current study are not publicly available due to ethical/legal restrictions.
References
1.

Mills KT, Xu Y, Zhang W et al (2015) A systematic analysis of worldwide population-based data on the global burden of chronic kidney disease in 2010. Kidney Int 88:950–957

2.

Gansevoort RT, Matsushita K, van der Velde M et al (2011) Lower estimated GFR and higher albuminuria are associated with adverse kidney outcomes. A collaborative meta-analysis of general and high-risk population cohorts. Kidney Int 80:93–104

3.

Chronic Kidney Disease Prognosis Consortium, Matsushita K, van der Velde M et al (2010) Association of estimated glomerular filtration rate and albuminuria with all-cause and cardiovascular mortality in general population cohorts: a collaborative meta-analysis. Lancet 375:2073–2081

4.

Kidney Disease: Improving Global Outcomes (KDIGO) CKD Work Group (2013) KDIGO 2012 clinical practice guideline for the evaluation and management of chronic kidney disease. Kidney Int Suppl 3:112–119

5.

Harris LE, Luft FC, Rudy DW, Kesterson JG, Tierney WM (1998) Effects of multidisciplinary case management in patients with chronic renal insufficiency. Am J Med 105:464–471

6.

Barrett BJ, Garg AX, Goeree R et al (2011) A nurse-coordinated model of care versus usual care for stage 3/4 chronic kidney disease in the community: a randomized controlled trial. Clin J Am Soc Nephrol 6:1241–1247

7.

Liu P, Quinn RR, Karim ME et al (2019) Nephrology consultation and mortality in people with stage 4 chronic kidney disease: a population-based study. CMAJ 191:E274–E282

8.

Smart NA, Dieberg G, Ladhani M, Titus T (2014) Early referral to specialist nephrology services for preventing the progression to end-stage kidney disease. Cochrane Database Syst Rev 6:CD007333

9.

Fung E, Chang TI, Chertow GM, Thomas IC, Asch SM, Kurella Tamura M (2017) Receipt of nephrology care and clinical outcomes among veterans with advanced CKD. Am J Kidney Dis 70:705–714

10.

Ricardo AC, Roy JA, Tao K et al (2016) Influence of nephrologist care on management and outcomes in adults with chronic kidney disease. J Gen Intern Med 31:22–29

11.

Hallan SI, Matsushita K, Sang Y et al (2012) Age and association of kidney measures with mortality and end-stage renal disease. JAMA 308:2349–2360

12.

O'Hare AM, Choi AI, Bertenthal D et al (2007) Age affects outcomes in chronic kidney disease. J Am Soc Nephrol 18:2758–2765

13.

Tonelli M, Wiebe N, James MT et al (2018) A population-based cohort study defines prognoses in severe chronic kidney disease. Kidney Int 93:1217–1226

14.

Austin PC, Lee DS, Fine JP (2016) Introduction to the analysis of survival data in the presence of competing risks. Circulation 133:601–609

15.

Hemmelgarn BR, Clement F, Manns BJ et al (2009) Overview of the Alberta kidney disease network. BMC Nephrol 10:30

16.

Cooper BA, Branley P, Bulfone L et al (2010) A randomized, controlled trial of early versus late initiation of dialysis. N Engl J Med 363:609–619

17.

Ishani A, Nelson D, Clothier B et al (2011) The magnitude of acute serum creatinine increase after cardiac surgery and the risk of chronic kidney disease, progression of kidney disease, and death. Arch Intern Med 171:226–233

18.

Rothman KJ, Greenland S, Lash TL (2008) Modern epidemiology, 3rd edn. Lippincott Williams & Wilkins, Philadelphia

19.

Cortese G, Andersen PK (2010) Competing risks and time-dependent covariates. Biom J 52:138–158

20.

Geskus RB (2015) Data analysis with competing risks and intermediate states. Chapman and Hall/CRC, Boca Raton

21.

Lunn M, McNeil D (1995) Applying Cox regression to competing risks. Biometrics 51:524–532

22.

Hemmelgarn BR, James MT, Manns BJ et al (2012) Rates of treated and untreated kidney failure in older vs younger adults. JAMA 307:2507–2515

23.

Tonelli M, Wiebe N, Straus S et al (2017) Multimorbidity, dementia and health care in older people: a population-based cohort study. CMAJ Open 5:E623–E631
Funding
Ping Liu was supported by post-doctoral fellowships from the Canadian Institutes of Health Research (Funding Reference Number MFE-152465), the Cumming School of Medicine of the University of Calgary, and the Libin Cardiovascular Institute of Alberta. The funding organizations had no role in the design and conduct of the study; in the collection, analysis, and interpretation of the data; or in the preparation, review, or approval of the manuscript.
Ethics declarations
Conflict of interest
The authors declare that they have no competing interest.
Ethics approval, consent to participate, and consent for publication
This study was approved by the Conjoint Health Research Ethics Board of the University of Calgary (REB16-1575), with a waiver of patient consent for participation and publication.
Code availability
Available upon reasonable request.
Additional information
Publisher's Note
Springer Nature remains neutral with regard to jurisdictional claims in published maps and institutional affiliations.
Disclaimer
This study is based in part by data provided by Alberta Health and Alberta Health Services. The interpretation and conclusions are those of the researchers and do not represent the views of the Government of Alberta. Neither the Government of Alberta nor Alberta Health express any opinion in relation to this study.
Electronic supplementary material
Below is the link to the electronic supplementary material.
About this article
Cite this article
Liu, P., Quinn, R.R., Cortese, G. et al. Nephrology consultation and kidney failure in people with stage 4 chronic kidney disease: a population-based cohort study. J Nephrol (2020). https://doi.org/10.1007/s40620-020-00892-0
Received:

Accepted:

Published:
Keywords
Nephrology consultation

Referral

Kidney failure

Mortality

Competing risks