Abstract
Background
Although sedentary behavior is a risk factor of cardiometabolic diseases and mortality, little information is available about a clinical impact of occupational sedentary behavior on chronic kidney disease (CKD).
Methods
The present retrospective cohort study included 10,212 workers of a national university in Japan who underwent annual health checkups between April 2006 and March 2013. Main exposure of interest was self-reported occupational sedentary behavior at the baseline visit. The outcome was the incidence of proteinuria defined as dipstick urinary protein of 1 + or more. The association between sedentary workers and the incidence of proteinuria was assessed using Cox proportional hazards models adjusting for clinically relevant factors, including television viewing time, the major home sedentary behavior.
Results
During median 4.8 years (interquartile range 2.1–7.9) of the observational period, the incidence of proteinuria was observed in 597 (12.0%) males and 697 (13.3%) females. In males, sedentary workers were identified as a significant predictor of proteinuria (multivariable-adjusted hazard ratio of non-sedentary and sedentary workers: 1.00 [reference] and 1.35 [1.11–1.63]), along with longer television viewing time (< 30 min, 30–60 min, 1–2 h, 2–3 h, and > 3 h/day: 1.15 [0.93–1.42], 1.00 [reference], 1.24 [1.00–1.53], 1.41 [1.03–1.93], and 1.77 [1.13–2.76]), whereas not daily exercise time. In females, neither sedentary workers nor television viewing time was associated with the incidence of proteinuria.
Conclusions
In conclusion, male sedentary workers were at high risk of proteinuria. Occupational sedentary behavior may be a potentially modifiable target for the prevention of CKD.
Access options
Buy single article
Instant access to the full article PDF.
USD 39.95
Price includes VAT (USA)
Tax calculation will be finalised during checkout.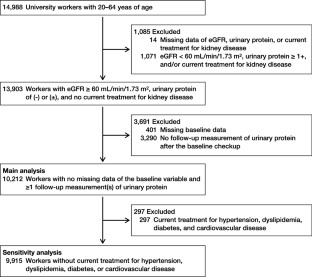 Ethics declarations
Conflict of interest
All the authors have declared no competing interest.
Ethics approval
All procedures performed in studies involving human participants were in accordance with the ethical standards of the institutional and/or national research committee and with the 1964 Helsinki Declaration and its later amendments or comparable ethical standards. The protocol for the present study was approved by the ethics committees of the Health Care Center, Osaka University (No. 13, 2018) and Osaka University Hospital (17009–2).
Consent to participate
The present study used an opt-out approach to informed consent, according to Japanese Ethical Guidelines for Medical and Health Research Involving Human Subjects.
Additional information
Publisher's Note
Springer Nature remains neutral with regard to jurisdictional claims in published maps and institutional affiliations.
Electronic supplementary material
Below is the link to the electronic supplementary material.
About this article
Cite this article
Fujii, Y., Yamamoto, R., Shinzawa, M. et al. Occupational sedentary behavior and prediction of proteinuria in young to middle-aged adults: a retrospective cohort study. J Nephrol 34, 719–728 (2021). https://doi.org/10.1007/s40620-020-00826-w
Received:

Accepted:

Published:

Issue Date:
Keywords
Proteinuria

Occupational sedentary behavior

Sitting time

Sex difference