Abstract
Due to the increasing occurrence of renal cell carcinoma (RCC) in the general population and the high prevalence of chronic kidney disease among cancer patients, many people with a previous RCC may eventually require renal replacement therapy including kidney transplantation. They should accordingly be evaluated to assess their life expectancy and the risk that the chronic immunosuppressive therapy needed after grafting might impair their long-term outcome. Current guidelines on listing patients for renal transplantation suggest that no delay is required for subjects with small or incidentally discovered RCC, while the recommendations for patients who have been treated for a symptomatic RCC or for those with large or invasive tumours are conflicting. The controversial results reported by even recent studies focusing on the cancer risk in kidney graft recipients with a prior history of malignancy do not help to clarify the doubts arising in everyday clinical practice. Several tools, including integrated scoring systems, are currently available to assess the prognosis of patients with a previous RCC and, although they have not been validated in subjects receiving long-term immunosuppressive drugs, they can be used to identify patients suitable to be listed for grafting. Among these, the Leibovich score is currently the most widely used as it has proved simple and reliable enough and helps categorize renal transplant candidates. According to this system, subjects with a score from 0 to 2 are at low risk and may be listed without delay, while those with a score of 6 or higher should be excluded from grafting. In addition, other factors have an established positive prognostic value, including chromophobe or clear cell papillary tumour, or G1 grade cancer; on the contrary, medullary or Bellini's duct carcinoma or those with sarcomatoid dedifferentiation at histological examination should be excluded. All other patients would be better submitted to careful individual evaluation by an Oncologist before being listed for renal transplantation, pending studies specifically focusing on cancer risk evaluation in people already treated for malignancy receiving long-term immunosuppressive therapy.
Access options
Buy single article
Instant access to the full article PDF.
US$ 39.95
Tax calculation will be finalised during checkout.
Subscribe to journal
Immediate online access to all issues from 2019. Subscription will auto renew annually.
US$ 79
Tax calculation will be finalised during checkout.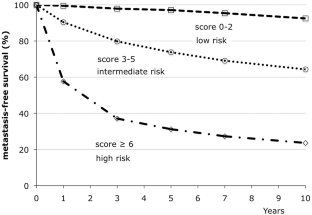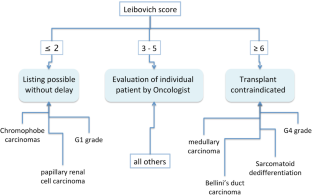 References
1.

Siegel RL, Miller KD, Jemal A (2018) Cancer statistics, 2018. CA Cancer J Clin 68:7–30. https://doi.org/10.3322/caac.21442

2.

Campbell SC, Novick AC, Belldegrun A et al (2009) Guideline for management of the clinical T1 renal mass. J Urol 182:1271–1279. https://doi.org/10.1016/j.juro.2009.07.004

3.

Ljungberg B, Bensalah K, Canfield S et al (2015) EAU guidelines on renal cell carcinoma: 2014 update. Eur Urol 67:913–924. https://doi.org/10.1016/j.eururo.2015.01.005

4.

Psutka SP, Feldman AS, McDougal WS et al (2013) Long-term oncologic outcomes after radiofrequency ablation for T1 renal cell carcinoma. Eur Urol 63:486–492. https://doi.org/10.1016/j.eururo.2012.08.062

5.

Launay-Vacher V (2016) Renal dysfunction has statistically and clinically significant deleterious effects on anticancer drug safety. J Clin Oncol 34:2428–2428. https://doi.org/10.1200/JCO.2015.65.1554

6.

Frascà GM, Sandrini S, Cosmai L et al (2015) Renal cancer in kidney transplanted patients. J Nephrol 28:659–668. https://doi.org/10.1007/s40620-015-0219-8

7.

Penn I (1997) Evaluation of transplant candidates with pre-existing malignancies. Ann Transpl 2:14–17

8.

Campbell S, Pilmore H, Gracey D et al (2013) KHA-CARI guideline: recipient assessment for transplantation. Nephrology (Carlton) 18:455–462. https://doi.org/10.1111/nep.12068

9.

Kasiske BL, Cangro CB, Hariharan S et al (2001) The evaluation of renal transplantation candidates: clinical practice guidelines. Am J Transpl 1(Suppl 2):3–95

10.

Bunnapradist S, Danovitch GM (2007) Evaluation of adult kidney transplant candidates. Am J Kidney Dis 50:890–898. https://doi.org/10.1053/j.ajkd.2007.08.010

11.

European Best Practice Guidelines for Renal Transplantation (2000) Evaluation, selection and preparation of the potential transplant recipient. Work-up for cancer and waiting time for pre-existing cancer. Nephrol Dial Transpl 15(supp 7):6. https://doi.org/10.1093/oxfordjournals.ndt.a027999

12.

Karam G, Kälble T, Alcaraz A et al (2014) Guidelines on renal transplantation of the European Association of Urology. https://uroweb.org/wp-content/uploads/EAU-Guidelines-Renal_Transplant-2013.pdf. Accessed 8 May 2018

13.

Knoll G, Cockfield S, Blydt-Hansen T et al (2005) Canadian Society of Transplantation consensus guidelines on eligibility for kidney transplantation. CMAJ 173:1181–1184. https://doi.org/10.1503/cmaj.051291

14.

Webster AC, Craig JC, Simpson JM et al (2007) Identifying high risk groups and quantifying absolute risk of cancer after kidney transplantation: a cohort study of 15,183 recipients. Am J Transpl 7:2140–2151. https://doi.org/10.1111/j.1600-6143.2007.01908.x

15.

Kauffman HM, Cherikh WS, McBride MA et al (2005) Transplant recipients with a history of a malignancy: risk of recurrent and de novo cancers. Transpl Rev 19:55–64. https://doi.org/10.1016/j.trre.2005.02.002

16.

Viecelli AK, Lim WH, Macaskill P et al (2015) Cancer-specific and all-cause mortality in kidney transplant recipients with and without previous cancer. Transplantation 99:2586–2592. https://doi.org/10.1097/TP.0000000000000760

17.

Brattström C, Granath F, Edgren G et al (2013) Overall and cause-specific mortality in transplant recipients with a pretransplantation cancer history. Transplantation 96:297–305. https://doi.org/10.1097/TP.0b013e31829854b7

18.

Farrugia D, Mahboob S, Cheshire J et al (2014) Malignancy-related mortality following kidney transplantation is common. Kidney Int 85:1395–1403. https://doi.org/10.1038/ki.2013.458

19.

Kiberd BA, Rose C, Gill JS (2009) Cancer mortality in kidney transplantation. Am J Transpl 9:1868–1875. https://doi.org/10.1111/j.1600-6143.2009.02728.x

20.

Dahle DO, Grotmol T, Leivestad T et al (2017) Association between pretransplant cancer and survival in kidney transplant recipients. Transplantation 101:2599–2605. https://doi.org/10.1097/TP.0000000000001659

21.

Nguyen KA, Syed JS, Luciano R et al (2017) Optimizing waiting duration for renal transplants in the setting of renal malignancy: is 2 years too long to wait? Nephrol Dial Transpl 32:1767–1773. https://doi.org/10.1093/ndt/gfx254

22.

Greene FL, Sobin LH (2009) A worldwide approach to the TNM staging system: collaborative efforts of the AJCC and UICC. J Surg Oncol 99:269–272. https://doi.org/10.1002/jso.21237

23.

Novara G, Ficarra V, Antonelli A et al (2011) Corrigendum to "Validation of the 2009 TNM version in a large multi-institutional cohort of patients treated for renal cell carcinoma: are further improvements needed?". Eur Urol 59:182. https://doi.org/10.1016/j.eururo.2010.10.017 (Eur Urol 58:588–595)

24.

Klatte T, Chung J, Leppert JT et al (2007) Prognostic relevance of capsular involvement and collecting system invasion in stage I and II renal cell carcinoma. BJU Int 99:821–824. https://doi.org/10.1111/j.1464-410X.2006.06729.x

25.

Cheville JC, Lohse CM, Zincke H et al (2003) Comparisons of outcome and prognostic features among histologic subtypes of renal cell carcinoma. Am J Surg Pathol 27:612–624

26.

Ficarra V, Martignoni G, Galfano A et al (2006) Prognostic role of the histologic subtypes of renal cell carcinoma after slide revision. Eur Urol 50:786–794. https://doi.org/10.1016/j.eururo.2006.04.009

27.

Gupta R, Billis A, Shah RB et al (2012) Carcinoma of the collecting ducts of bellini and renal medullary carcinoma. Am J Surg Pathol 36:1265–1278. https://doi.org/10.1097/PAS.0b013e3182635954

28.

Delahunt B, Cheville JC, Martignoni G et al (2013) The International Society of Urological Pathology (ISUP) grading system for renal cell carcinoma and other prognostic parameters. Am J Surg Pathol 37:1490–1504. https://doi.org/10.1097/PAS.0b013e318299f0fb

29.

Jones TD, Eble JN, Wang M et al (2005) Clonal divergence and genetic heterogeneity in clear cell renal cell carcinomas with sarcomatoid transformation. Cancer 104:1195–1203. https://doi.org/10.1002/cncr.21288

30.

Delahunt B (1999) Sarcomatoid renal carcinoma: the final common dedifferentiation pathway of renal epithelial malignancies. Pathology 31:185–190

31.

Lohse CM, Cheville JC (2005) A review of prognostic pathologic features and algorithms for patients treated surgically for renal cell carcinoma. Clin Lab Med 25:433–464. https://doi.org/10.1016/j.cll.2005.01.013

32.

Galfano A, Novara G, Iafrate M et al (2008) Mathematical models for prognostic prediction in patients with renal cell carcinoma. Urol Int 80:113–123. https://doi.org/10.1159/000112599

33.

Zisman A, Pantuck AJ, Figlin RA, Belldegrun AS (2001) Validation of the UCLA integrated staging system for patients with renal cell carcinoma. J Clin Oncol 19:3792–3793. https://doi.org/10.1200/JCO.2001.19.17.3792

34.

Leibovich BC, Blute ML, Cheville JC et al (2003) Prediction of progression after radical nephrectomy for patients with clear cell renal cell carcinoma. Cancer 97:1663–1671. https://doi.org/10.1002/cncr.11234

35.

Leibovich BC, Han K, Bui MHT et al (2003) Scoring algorithm to predict survival after nephrectomy and immunotherapy in patients with metastatic renal cell carcinoma. Cancer 98:2566–2575. https://doi.org/10.1002/cncr.11851

36.

Klatte T, Said JW, Seligson DB et al (2011) Pathological, immunohistochemical and cytogenetic features of papillary renal cell carcinoma with clear cell features. J Urol 185:30–36. https://doi.org/10.1016/j.juro.2010.09.013
Ethics declarations
Conflict of interest
The authors declare that they have no conflict of interest.
Informed consent
For this type of study formal consent is not required.
Human and animal participants right statement
This article does not contain any studies with human participants or animals performed by any of the authors.
About this article
Cite this article
Frascà, G.M., Brigante, F., Volpe, A. et al. Kidney transplantation in patients with previous renal cancer: a critical appraisal of current evidence and guidelines. J Nephrol 32, 57–64 (2019). https://doi.org/10.1007/s40620-018-0542-y
Received:

Accepted:

Published:

Issue Date:
Keywords
Kidney transplantation

Renal cancer

Onconephrology

Cancer risk