Abstract
Introduction
Peritoneal ultrafiltration (PUF) is proposed in the long-term treatment of congestive heart insufficiency. However, the data in literature available at present do not allow for conclusive meta-analysis.
Objective/materials and methods
A systematic review of the literature (MEDLINE–EMBASE, 01/01/2003–31/12/2013, studies with ≥4 patients, adults, non-ESRD) to highlight which patients PUF has been used in, how and with what results.
Results
Consideration was given to 14 papers for a total of 471 patients. (1) Characteristics of the patients. Average age 71.6 years; diabetes mellitus (DM) 47 %; New York Heart Association (NYHA) class III 38.9 %–class IV 59.8 %; ischemic cardiopathy 67.8 %; mean LVEF 35 %. (2) PUF modality. Only continuous ambulatory peritoneal dialysis (CAPD) in ten studies, only APD in two studies, both in two studies. Overall CAPD was used in 56.2 % of the pts. A single exchange of icodextrin was used to treat 51 % of patients on CAPD. The volume of ultrafiltration obtained varied between 390 and 1,180 ml/die. (3) Effects of PUF. Significant improvement in NYHA class and reduction in hospitalizations. Survival at 12 months varying between 47 and 95 %. Mortality seems to be associated with DM, higher basal glomerular filtration rate, less change in ejection fraction after PUF and less use of ICOs.
Limitation
The main limitation of the selected studies, mostly retrospective and with a limited number of patients, remains the lack of clarity and uniformity of the selection criteria used. For this reason extrapolations about survival require extreme caution and are not currently possible.
Conclusions
PUF improves symptomatology and reduces hospitalizations.
Access options
Buy single article
Instant access to the full article PDF.
USD 39.95
Price excludes VAT (USA)
Tax calculation will be finalised during checkout.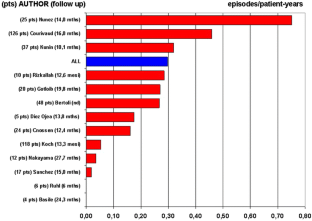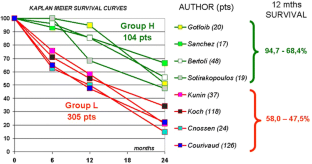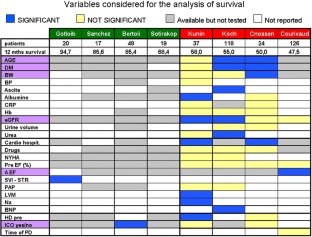 References
Wolfson M, Piraino B, Hamburger RJ et al (2002) A randomized controlled trial to evaluate the efficacy and safety of icodextrin in peritoneal dialysis. Am J Kidney Dis 40:1055–1065

Mistry CD, Gokal R, Peers E A randomized multicenter clinical trial comparing isosmolar icodextrin with hyperosmolar glucose solutions in CAPD. MIDAS Study Group (1994) Multicenter Investigation of Icodextrin in Ambulatory Peritoneal Dialysis. Kidney Int 46:496–503

Basile C, Chimienti D, Bruno A et al (2009) Efficacy of peritoneal dialysis with icodextrin in the long-term treatment of refractory congestive heart failure. Perit Dial Int 29:116–118

Bertoli SV, Musetti C, Ciurlino D et al (2014) Peritoneal ultrafiltration in refractory heart failure: a cohort study. Perit Dial Int 34:64–70

Cnossen TT, Kooman JP, Konings CJ et al (2010) Peritoneal dialysis in patients with primary cardiac failure complicated by renal failure. Blood Purif 30:146–152

Courivaud C, Kazory A, Crépin T et al (2014) Peritoneal dialysis reduces the number of hospitalization days in heart failure patients refractory to diuretics. Perit Dial Int 34:100–108

Díez Ojea B, Rodríguez Suárez C, Vidau P et al. (2007) Peritoneal dialysis role in heart failure treatment, experience in our center. Nefrologia 27(5):605–611

Gotloib L, Fudin R (2006) The impact of peritoneal dialysis upon quality of life and mortality of patients with end-stage congestive heart failure. Contrib Nephrol 150:247–253

Gotloib L, Fudin R, Yakubovich M, Vienken J (2005) Peritoneal dialysis in refractory end-stage congestive heart failure: a challenge facing a no-win situation. Nephrol Dial Transplant 20(suppl 7):vii32–vii36

Koch M, Haastert B, Kohnle M et al (2012) Peritoneal dialysis relieves clinical symptoms and is well tolerated in patients with refractory heart failure and chronic kidney disease. Eur J Heart Fail 14:530–539

Kunin M, Arad M, Dinour D et al (2013) Peritoneal dialysis in patients with refractory congestive heart failure: potential prognostic factors. Blood Purif 35:285–294

Nakayama M, Nakano H, Nakayama M (2010) Novel therapeutic option for refractory heart failure in elderly patients with chronic kidney disease by incremental peritoneal dialysis. J Cardiol 55:49–54

Núñez J, González M, Miñana G et al (2012) Continuous ambulatory peritoneal dialysis as a therapeutic alternative in patients with advanced congestive heart failure. Eur J Heart Fail 14:540–548

Rizkallah J, Sood MM, Reslerova M et al (2013) Reduced hospitalizations in severe, refractory congestive heart failure with peritoneal dialysis: a consecutive case series. Clin Nephrol 80:334–341

Ruhi Ç, Koçak H, Yavuz A et al (2012) Use of peritoneal ultrafiltration in the elderly refractory congestive heart failure patients. Int Urol Nephrol 44:963–969

Sánchez JE, Ortega T, Rodríguez C et al (2010) Efficacy of peritoneal ultrafiltration in the treatment of refractory congestive heart failure. Nephrol Dial Transplant 25:605–610

Sotirakopoulos NG, Kalogiannidou IM, Tersi ME, Mavromatidis KS (2011) Peritoneal dialysis for patients suffering from severe heart failure. Clin Nephrol 76:124–129

Marinangeli G, Cabiddu G, Neri L, Viglino G, Russo R, Teatini U (2012) Italian society of nephrology peritoneal dialysis study group. Old and new perspectives on peritoneal dialysis in Italy emerging from the peritoneal dialysis study group census. Perit Dial Int 32:558–565

Stevenson LW, Pagani FD, Young JB et al (2009) INTERMACS profiles of advanced heart failure: the current picture. J Heart Lung Transplant 28:535–541

Li PK, Szeto CC, Piraino B et al. (2010) Peritoneal dialysis-related infections recommendations: 2010 update. Perit Dial Int 30:393–423

Iadarola GM, Lusardi P, La Milia V, Amici G, Santarelli S et al (2013) Peritoneal ultrafiltration in patients with advanced decompensated heart failure. J Nephrol 26(Suppl 21):159–176
Conflict of interest
The authors declare that they have no conflict of interest.
About this article
Cite this article
Viglino, G., Neri, L. & Feola, M. Peritoneal ultrafiltration in congestive heart failure—findings reported from its application in clinical practice: a systematic review. J Nephrol 28, 29–38 (2015). https://doi.org/10.1007/s40620-014-0166-9
Received:

Accepted:

Published:

Issue Date:

DOI: https://doi.org/10.1007/s40620-014-0166-9
Keywords