Abstract
Context
Gender incongruence is defined as disharmony between assigned gender and gender identity. Several interventions are liable in this case including genital affirming surgery among other surgical interventions such as harmonization, and also the use of gonadotropin-releasing hormone agonists (GnRHa) for gonadal shielding. This aids in preventing the development of secondary sexual characteristics related to the genetic sex.
Objective
Systematically review the treatment of gender incongruity with GnRHa analogues.
Data sources
The data source of this research is from Pubmed-Medline and Embase.
Study selection
Articles published between 2009 and 2019 which studied transgender adolescents treated with GnRHa were carefully selected.
Data extraction
Were extracted: design, sample size, study context, targeted subjects of intervention, outcome measures, and results.
Results
Eleven studies were included. The use of GnRHa seems to be well tolerated by the studied population. When started in pubertal transition, it was associated with a more distinct resemblance to body shape than to the affirmed sex. In addition to preventing the irreversible phenotypic changes that occur in cross-hormonal therapy, the use of GnRHa can equally contribute to the mental health of these adolescents.
Limitation
There are few consistent studies on the use of GnRHa for gender incongruence.
Conclusion
As the population of transgender children and adolescents grows, they acquire knowledge and greater access to the various forms and stages of treatment for sex reassignment. The medical community needs to be adequately prepared to better serve this population and offer the safest resources available.
This is a preview of subscription content,
to check access.
Access this article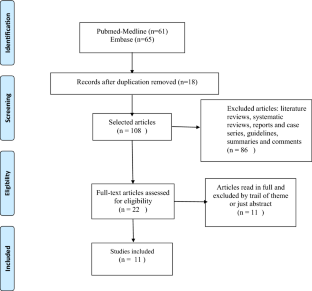 We're sorry, something doesn't seem to be working properly.
Please try refreshing the page. If that doesn't work, please contact support so we can address the problem.
Abbreviations
GnRHa:

Gonadotropin-releasing hormone agonists

BMD:

Bone mineral density

BMAD:

Apparent bone mineral density

LH:

Luteinizing hormone

FSH:

Follicle-stimulating hormone

FA:

Alkaline phosphatase

GT range:

Glutamyl transferase range

GI:

Gender incongruence
References
Aitken M, Steensma TD, Blanchard R et al (2015) Evidence for an altered sex ratio in clinic referred adolescents with gender dysphoria. J Sex Med 12:756–763

Schagen SE, Cohen-Kettenis PT, van de Waal Delemarre HA, Hannema SE (2016) Efficacy and safety of gonadotropin-releasing hormone agonist treatment to suppress puberty in gender dysphoric adolescents. J Sex Med 13(7):1125–1132

Hembree WC, Cohen-Kettenis PT, Gooren L, Hannema SE, Meyer WJ, Murad MH, Rosenthal SM, Safer JD, Tangpricha V, T'Sjoen GG (2017) Endocrine treatment of gender dysphoric/gender-incongruent persons: an Endocrine Society Clinical Practice Guideline. J Clin Endocrinol Metab 102(11):3869–3903

Lopez C, Solomon D, Boulware S et al (2018) Trends in the use of puberty blockers among transgender children in the United States. J Pediatr Endocrinol Metab 31(6):665–670. https://doi.org/10.1515/jpem-2018-0048

T'Sjoen G et al (2020) European Society for Sexual Medicine Position Statement "Assessment and hormonal management in adolescent and adult trans people, with attention for sexual function and satisfaction." J Sex Med 17:570

Fisher AD, Ristori J, Bandini E et al (2014) Medical treatment in gender dysphoric adolescents endorsed by SIAMS–SIE–SIEDP–ONIG. J Endocrinol Investig. https://doi.org/10.1007/s40618-014-0077-6

Fisher AD, Ristori J, Castellini G et al (2017) Psychological characteristics of Italian gender dysphoric adolescents: a case–control study. J Endocrinol Investig. https://doi.org/10.1007/s40618-017-0647-5

De Vries AL, Steensma TD, Doreleijers TA, Cohen-Kettenis PT (2011) Puberty suppression in adolescents with gender identity disorder: a prospective follow-up study. J Sex Med 8(8):2276–2283

De Vries ALC, McGuirre JK, Steensma TD, Wagenaar ECF, Doreleijers TAH, Cohen-Kettenis PT (2014) Young adult psychological outcome after puberty suppression and gender reassignment. Pediatrics 134(4):696–704. https://doi.org/10.1542/peds.2013-2958

Khatchadourian K, Amed S, Metzger DL (2014) Clinical management of youth with gender dysphoria in Vancouver. J Pediatr 164(4):906–911

Vrouenraets LJ, Fredriks AM, Hannema SE, Cohen-Kettenis PT, de Vries MC (2016) Perceptions of sex, gender, and puberty suppression: a qualitative analysis of transgender youth. Arch Sex Behav 45(7):1697–1703

van Coeverden SC, Netelenbos JC, Roos JC, de Ridder CM, van de Waal Delemarre HA (2001) Reference values for bone mass in Dutch white pubertal children and their relation to pubertal maturation characteristics. Ned Tijdschr Geneeskd 145(38):1851–1856

Cohen-Kettenis P, Van De Waal HD (2010) Bone mass development during GnRH analogue and cross-sex hormone treatment in adolescent transsexuals. Hormone Res Paediatr 74(Supp. 3):1–320

Klink D, Caris M, Van Trotsenburg M, Rotteveel J (2013) Bone mineral density in late adolescence of transsexuals treated with GnRH-analogues in their teens. Endocr Rev 34(Supp. 1):3

Klink D, Caris M, Heijboer A, van Trotsenburg M, Rotteveel J (2015) Bone mass in young adulthood following gonadotropin-releasing hormone analog treatment and cross-sex hormone treatment in adolescents with gender dysphoria. J Clin Endocrinol Metab 100(2):E270–E275

Vlot MC, Klink DT, den Heijer M, Blankenstein MA, Rotteveel J, Heijboer AC (2017) Effect of pubertal suppression and cross-sex hormone therapy on bone turnover markers and bone mineral apparent density (BMAD) in transgender adolescents. Bone 95:11–19

Klaver M et al (2018) Early hormonal treatment affects body composition and body shape in young transgender adolescents. J Sex Med 15(2):251–260

Giovanardi G, Morales P, Mirabella M, Fortunato A, Chianura L, Speranza A, Lingiardi V (2019) Transition memories: experiences of trans adult women with hormone therapy and their beliefs on the usage of hormone blockers to suppress puberty. J Endocrinol Investig 42(10):1231–1240

Costa R, Dunsford M, Skagerberg E, Holt V, Carmichael P, Colizzi M (2015) Psychological support, puberty suppression, and psychosocial functioning in adolescents with gender dysphoria. J Sex Med 12(11):2206–2214

Costa R, Carmichael P, Colizzi M (2016) To treat or not to treat: puberty suppression in childhood-onset gender dysphoria. Nat Rev Urol 13(8):456–462

De Vries ALC, Cohen-Kettenis PG (2012) Clinical management of gender dysphoria in children and adolescents: the Dutch approach. J Homosex 59:301–320

Rafferty J, Committee on Psychosocial Aspects of Child and Family Health, Committee on Adolescence, Section on Lesbian, Gay, Bisexual, and Transgender Health and Wellness (2018) Ensuring comprehensive care and support for transgender and gender-diverse children and adolescents. Pediatr 142(4):e20182162

Brik T, de Vrouenraets LJJJ, Vries MC et al (2020) Trajectories of adolescents treated with gonadotropin-releasing hormone analogues for gender dysphoria. Arch Sex Behav. https://doi.org/10.1007/s10508-020-01660-8

Sheldon KM, Kasser T (2001) Getting older, getting better? Personal strivings and psychological maturity across the life span. Dev Psychol 37(4):491–501. https://doi.org/10.1037//00121649.37.4.491
Funding
Any resources needed were provided by the researchers themselves. There was no other source of funding or ways of support for the systematic review.
Ethics declarations
Conflict of interest
The other authors have no conflicts of interest to disclose.
Ethical approval
There were no individual′s person data requiring consent for publication, nor the research directly involved human participants and/or animals.
Informed consent
Informed consent is not applicable because the study is a systematic review.
Additional information
Publisher's Note
Springer Nature remains neutral with regard to jurisdictional claims in published maps and institutional affiliations.
About this article
Cite this article
Ramos, G.G.F., Mengai, A.C.S., Daltro, C.A.T. et al. Systematic Review: Puberty suppression with GnRH analogues in adolescents with gender incongruity. J Endocrinol Invest 44, 1151–1158 (2021). https://doi.org/10.1007/s40618-020-01449-5
Received:

Accepted:

Published:

Issue Date:

DOI: https://doi.org/10.1007/s40618-020-01449-5
Keywords