Abstract
Context and purpose
Hypocalcemia and low parathyroid hormone levels have been commonly suggested as factors able to induce central nervous system disturbances. However, evidences on the occurrence of cognitive impairment are limited or underestimated. The aim of this review is, therefore, to systematically summarize the available evidence concerning the occurrence of cognitive impairment among subjects suffering from idiopathic or secondary hypoparathyroidism.
Methods
A systematic selection of the available literature was performed by searching the online databases PubMed, Scopus and Web of Knowledge.
Results
The present systematic review included sixteen case report articles and one cross-sectional controlled study. Case reports were the most representative literature sources and involved ten women and seven men. The presence of cognitive impairment was mostly discussed in association with idiopathic hypoparathyroidism (HPT); five articles described the occurrence of cognitive impairment following postsurgical HPT. The case-controlled study reported a significant presence of peculiar cognitive deficits (e.g. reduced inhibitory control, impairment in visuo-spatial functioning among, and psychomotor retardation) among HPT subjects compared to healthy controls, with serum total calcium and its product with phosphorus as independent predictors of neuropsychological dysfunctions.
Conclusion
Even though mostly based on single case reports, the presence of neuropsychological dysfunctions in the context of HPT appears to be a consistent core finding.
Access options
Buy single article
Instant access to the full article PDF.
US$ 39.95
Tax calculation will be finalised during checkout.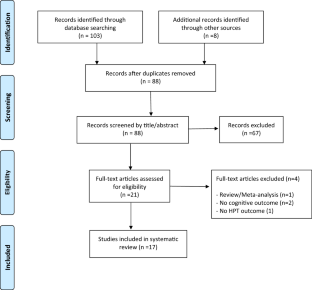 Abbreviations
SCD:

Subjective cognitive decline

MCI:

Mild cognitive impairment

PTH:

Parathyroid hormone

BBB:

Blood brain barrier

HPT:

Hypoparathyroidism

MMSE:

Mini Mental State Examination

MoCA:

Montreal Cognitive Assessment

WAIS:

Wechsler Adult Intelligence Scale

PTH2R:

PTH 2 receptor

GPCRs:

G protein-coupled receptors

TIP39:

Tuber infundibular peptide of 39 residues
References
1.

Fisher GG, Chaffee DS, Tetrick LE, Davalos DB, Potter GG (2017) Cognitive functioning, aging, and work: a review and recommendations for research and practice. J Occup Health Psychol 22(3):314–336. https://doi.org/10.1037/ocp0000086

2.

Mungas D, Beckett L, Harvey D et al (2010) Heterogeneity of cognitive trajectories in diverse older persons. Psychol Aging 25(3):606–619. https://doi.org/10.1037/a0019502

3.

Bezdicek O, Červenková M, Georgi H et al (2020) Long-term cognitive trajectory and activities of daily living in healthy aging. Clin Neuropsychol. https://doi.org/10.1080/13854046.2020.1745895

4.

Hartshorne JK, Germine LT (2015) When does cognitive functioning peak? The asynchronous rise and fall of different cognitive abilities across the life span. Psychol Sci 26(4):433–443. https://doi.org/10.1177/0956797614567339

5.

Ampadu J, Morley JE (2015) Heart failure and cognitive dysfunction. Int J Cardiol 178:12–23. https://doi.org/10.1016/j.ijcard.2014.10.087

6.

Morley JE (2016) The complexities of diabetes in older persons. J Am Med Dir Assoc 17(10):872–874. https://doi.org/10.1016/j.jamda.2016.07.022

7.

Lee S, Shimada H, Park H et al (2015) The association between kidney function and cognitive decline in community-dwelling, elderly Japanese people. J Am Med Dir Assoc 16(4):349.e1–349.e3495. https://doi.org/10.1016/j.jamda.2014.12.009

8.

Catalano A, Sardella A, Bellone F, Lasco CG, Martino G, Morabito N (2019) Executive functions predict fracture risk in postmenopausal women assessed for osteoporosis. Aging Clin Exp Res. https://doi.org/10.1007/s40520-019-01426-w.10.1007/s40520-019-01426-w

9.

Usdin TB, Gruber C, Bonner TI (1995) Identification and functional expression of a receptor selectively recognizing parathyroid hormone, the PTH2 receptor. J Biol Chem 270(26):15455–15458. https://doi.org/10.1074/jbc.270.26.15455

10.

Bühler G, Balabanova S, Milowski S et al (1997) Detection of immunoreactive parathyroid hormone-related protein in human cerebrospinal fluid. Exp Clin Endocrinol Diabetes 105(6):336–340. https://doi.org/10.1055/s-0029-1211775

11.

Lourida I, Thompson-Coon J, Dickens CM et al (2015) Parathyroid hormone, cognitive function and dementia: a systematic review. PLoS ONE 10(5):e0127574. https://doi.org/10.1371/journal.pone.0127574

12.

Powers J, Joy K, Ruscio A, Lagast H (2013) Prevalence and incidence of hypoparathyroidism in the United States using a large claims database. J Bone Miner Res 28(12):2570–2576. https://doi.org/10.1002/jbmr.2004

13.

Cianferotti L, Parri S, Gronchi G et al (2018) Prevalence of chronic hypoparathyroidism in a Mediterranean region as estimated by the analysis of anonymous healthcare database. Calcif Tissue Int 103(2):144–150. https://doi.org/10.1007/s00223-018-0405-5

14.

Cipriani C, Pepe J, Biamonte F et al (2017) The epidemiology of hypoparathyroidism in Italy: an 8-year register-based study. Calcif Tissue Int 100(3):278–285. https://doi.org/10.1007/s00223-016-0222-7

15.

Clarke BL, Brown EM, Collins MT et al (2016) Epidemiology and diagnosis of hypoparathyroidism. J Clin Endocrinol Metab 101(6):2284–2299. https://doi.org/10.1210/jc.2015-3908

16.

Bilezikian JP, Khan A, Potts JT Jr et al (2011) Hypoparathyroidism in the adult: epidemiology, diagnosis, pathophysiology, target-organ involvement, treatment, and challenges for future research. J Bone Miner Res 26(10):2317–2337. https://doi.org/10.1002/jbmr.483

17.

Bilezikian JP (2020) Hypoparathyroidism. J Clin Endocrinol Metab 105(6):1722–1736. https://doi.org/10.1210/clinem/dgaa113

18.

Pepe J, Colangelo L, Biamonte F et al (2020) Diagnosis and management of hypocalcemia. Endocrine. https://doi.org/10.1007/s12020-020-02324-2

19.

Kim SM, Zhao D, Schneider ALC et al (2017) Association of parathyroid hormone with 20-year cognitive decline: the ARIC study. Neurology 89(9):918–926. https://doi.org/10.1212/WNL.0000000000004290

20.

Lenzo V, Sardella A, Martino G, Quattropani MC (2020) A systematic review of metacognitive beliefs in chronic medical conditions. Front Psychol 10:2875. https://doi.org/10.3389/fpsyg.2019.02875

21.

Robinson KC, Kallberg MH, Crowley MF (1954) Idiopathic hypoparathyroidism presenting as dementia. Br Med J 2(4898):1203–1206. https://doi.org/10.1136/bmj.2.4898.1203

22.

Eraut D (1974) Idiopathic hypoparathyroidism presenting as dementia. Br Med J 1(5905):429–430. https://doi.org/10.1136/bmj.1.5905.429

23.

Mateo D, Giménez-Roldán S (1982) Dementia in Idiopathic hypoparathyroidism. Rapid efficacy of alfacalcidol. Arch Neurol 39(7):424–425. https://doi.org/10.1001/archneur.1982.00510190042013

24.

Lorusso S, Poli V, Casmiro M (1994) Cognitive improvement following treatment in a case of idiopathic hypoparathyroidism. Eur Neurol 34(5):292–294. https://doi.org/10.1159/000117061

25.

Nicolai A, Lazzarino LG (1994) Dementia syndrome in patients with postsurgical hypoparathyroidism and extensive brain calcifications. Eur Neurol 34(4):230–235. https://doi.org/10.1159/000117045

26.

Roca B, Mínguez C, Sáez-Royuela A, Simón E (1995) Dementia, myopathy, and idiopathic hypoparathyroidism. Postgrad Med J 71(841):702. https://doi.org/10.1136/pgmj.71.841.702-a

27.

Stuerenburg HJ, Hansen HC, Thie A, Kunze K (1996) Reversible dementia in idiopathic hypoparathyroidism associated with normocalcemia. Neurology 47(2):474–476. https://doi.org/10.1212/wnl.47.2.474

28.

Gálvez-Jiménez N, Hanson MR, Cabral J (2000) Dopa-resistant parkinsonism, oculomotor disturbances, chorea, mirror movements, dyspraxia, and dementia: the expanding clinical spectrum of hypoparathyroidism. A case report. Mov Disord 15(6):1273–1276. https://doi.org/10.1002/1531-8257(200011)15:6<1273:aid-mds1038>3.0.co;2-o

29.

Heckmann JG, Lang CJ, Neundörfer B (2000) Reversible dementia due to coexisting disease. Lancet 355(9220):2075. https://doi.org/10.1016/s0140-6736(05)73530-3

30.

Adorni A, Lussignoli G, Geroldi C, Zanetti O (2005) Extensive brain calcification and dementia in postsurgical hypoparathyroidism. Neurology 65(9):1501. https://doi.org/10.1212/01.wnl.0000182293.34015.a9

31.

Titlic M, Tonkic A, Jukic I, Filipovic-Grcic P, Kolic K (2008) Cognitive impairment and epilepsy seizure caused by hypoparathyroidism. Bratisl Lek Listy 109(2):79–81

32.

Katsidzira L, Machiridza T, Ndlovu A (2010) A potentially treatable cause of dementia. Cent Afr J Med 56(5–8):41–44

33.

Kumar G, Kaur D, Aggarwal P, Khurana T (2013) Hypoparathyroidism presenting as cognitive dysfunction. BMJ Case Rep 2013:bcr2013009220. https://doi.org/10.1136/bcr-2013-009220

34.

Moreno Ó, García PT, Sánchez D, Sancho T, Lecumberri B (2015) Cognitive impairment and severe hypocalcemia in a patient with hypoparathyroidism and systemic sclerosis. Report of a case. Endocrinol Nutr 62(7):356–358. https://doi.org/10.1016/j.endonu.2015.04.003

35.

Terada T, Kakimoto A, Yoshikawa E et al (2015) The possible link between GABAergic dysfunction and cognitive decline in a patient with idiopathic hypoparathyroidism. Intern Med 54(17):2245–2250. https://doi.org/10.2169/internalmedicine.54.4295

36.

Dos Santos VM, Da Mata AM, Ribeiro KR, Calvo IC (2016) Fahr's syndrome and secondary hypoparathyroidism. Rom J Intern Med 54(1):63–65. https://doi.org/10.1515/rjim-2016-0007

37.

Aggarwal S, Kailash S, Sagar R et al (2013) Neuropsychological dysfunction in idiopathic hypoparathyroidism and its relationship with intracranial calcification and serum total calcium. Eur J Endocrinol 168(6):895–903. https://doi.org/10.1530/EJE-12-0946

38.

Goswami R, Sharma R, Sreenivas V, Gupta N, Ganapathy A, Das S (2012) Prevalence and progression of basal ganglia calcification and its pathogenic mechanism in patients with idiopathic hypoparathyroidism. Clin Endocrinol (Oxf) 77(2):200–206. https://doi.org/10.1111/j.1365-2265.2012.04353.x

39.

Cusano NE, Bilezikian JP (2018) Signs and symptoms of hypoparathyroidism. Endocrinol Metab Clin N Am 47(4):759–770. https://doi.org/10.1016/j.ecl.2018.07.001

40.

Zavatta G, Clarke BL (2020) Basal ganglia calcification in hypoparathyroidism and pseudohypoparathyroidism: local and systemic metabolic mechanisms. J Endocrinol Investig. https://doi.org/10.1007/s40618-020-01355-w

41.

Ropper AH (2005) Abnormalities of movement and posture due to disease of the Basal Ganglia. In: Ropper AH, Brown RH (eds) Adams and Victor's principles of neurology. Mc Graw Hill, New York, pp 55–71

42.

Hoare SR, Bonner TI, Usdin TB (1999) Comparison of rat and human parathyroid hormone 2 (PTH2) receptor activation: PTH is a low potency partial agonist at the rat PTH2 receptor. Endocrinology 140(10):4419–4425. https://doi.org/10.1210/endo.140.10.7040

43.

Bagó AG, Dimitrov E, Saunders R et al (2009) Parathyroid hormone 2 receptor and its endogenous ligand tuberoinfundibular peptide of 39 residues are concentrated in endocrine, viscerosensory and auditory brain regions in macaque and human. Neuroscience 162(1):128–147. https://doi.org/10.1016/j.neuroscience.2009.04.054

44.

Usdin TB, Hoare SR, Wang T, Mezey E, Kowalak JA (1999) TIP39: a new neuropeptide and PTH2-receptor agonist from hypothalamus. Nat Neurosci 2(11):941–943. https://doi.org/10.1038/14724

45.

Dobolyi A, Palkovits M, Usdin TB (2010) The TIP39-PTH2 receptor system: unique peptidergic cell groups in the brainstem and their interactions with central regulatory mechanisms. Prog Neurobiol 90(1):29–59. https://doi.org/10.1016/j.pneurobio.2009.10.017

46.

Coutellier L, Logemann A, Kuo J, Rusnak M, Usdin TB (2011) TIP39 modulates effects of novelty-induced arousal on memory. Genes Brain Behav 10(1):90–99. https://doi.org/10.1111/j.1601-183X.2010.00643.x

47.

Meola A, Vignali E, Matrone A, Cetani F, Marcocci C (2018) Efficacy and safety of long-term management of patients with chronic post-surgical hypoparathyroidism. J Endocrinol Investig 41(10):1221–1226. https://doi.org/10.1007/s40618-018-0857-5

48.

Bollerslev J, Schalin-Jäntti C, Rejnmark L et al (2019) MANAGEMENT OF ENDOCRINE DISEASE: unmet therapeutic, educational and scientific needs in parathyroid disorders. Eur J Endocrinol 181(3):P1–P19. https://doi.org/10.1530/EJE-19-0316

49.

Cusano NE, Rubin MR, Irani D, Sliney J Jr, Bilezikian JP (2013) Use of parathyroid hormone in hypoparathyroidism. J Endocrinol Investig 36(11):1121–1127. https://doi.org/10.1007/BF03346763

50.

Brandi ML (2011) Genetics of hypoparathyroidism and pseudohypoparathyroidism. J Endocrinol Investig 34(7 Suppl):27–34

51.

Sardella A, Catalano A, Lenzo V, Bellone F, Corica F, Quattropani MC, Basile G (2020) The association between cognitive reserve dimensions and frailty among elderly: a structured narrative review. Geriatr Gerontol Int. https://doi.org/10.1111/ggi.14040
Ethics declarations
Conflict of interest
The authors declare that they have no conflict of interest.
Ethical approval
This article does not involve any human subjects or animal work.
Informed consent.
None.
Additional information
Publisher's Note
Springer Nature remains neutral with regard to jurisdictional claims in published maps and institutional affiliations.
Electronic supplementary material
Below is the link to the electronic supplementary material.
About this article
Cite this article
Sardella, A., Bellone, F., Morabito, N. et al. The association between hypoparathyroidism and cognitive impairment: a systematic review. J Endocrinol Invest 44, 905–919 (2021). https://doi.org/10.1007/s40618-020-01423-1
Received:

Accepted:

Published:

Issue Date:
Keywords
Hypoparathyroidism

Parathyroid

Hypocalcaemia

Cognitive functions

Cognitive impairment