Abstract
Purpose
Conventional treatment of chronic hypoparathyroidism consists of oral calcium supplements and active vitamin D analogs; however, some patients are unable to meet treatment goals despite the high dosage of oral calcium supplementation. We aimed to investigate the effectiveness of alternate-day oral calcium intake in patients with uncontrolled chronic hypoparathyroidism.
Methods
In this retrospective cohort study, we evaluated 66 patients with chronic hypoparathyroidism who were admitted to our hospital between January 2017 and January 2019. Fourteen patients receiving ≥ 2000 mg/day oral elemental calcium and who were admitted to emergency department or our outpatient clinic at least once in the last 3 months for hypocalcemia requiring intravenous calcium replacement were switched to the alternate-day dosing regimen in which patients took calcium orally every other day. We collected and analyzed patients' medical history information, serum and urinary parameters over a 3-month period prior to and following the treatment.
Results
Before alternate-day dosing regimen, median oral calcium intake was 3750 mg/day, oral calcitriol intake was 0.88 mcg/day, serum calcium levels were 7.71 mg/dL, serum phosphate levels were 5.35 mg/dL, and 24-h urine calcium levels were 165 mg/day. Following alternate-day dosing regimen, median oral calcium intake was 1500 mg/day, oral calcitriol intake was 0.88 mcg/day, serum calcium levels were 8.25 mg/dL, serum phosphate levels were 5 mg/dL, and 24-h urine calcium levels were 210.5 mg/day. After alternate-day dosing regimen, oral calcium intake decreased and serum calcium levels increased. The number of emergency visits dropped from 21 to 3 after alternate-day dosing regimen.
Conclusion
Patients with uncontrolled chronic hypoparathyroidism could be controlled more effectively with alternate-day dosing regimen.
Access options
Buy single article
Instant access to the full article PDF.
US$ 39.95
Tax calculation will be finalised during checkout.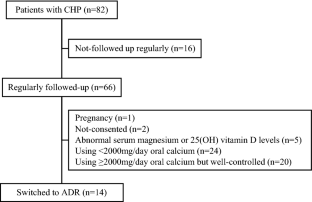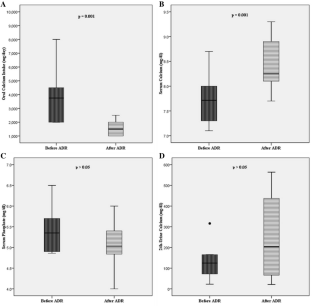 References
1.

Lopes MP, Kliemann BS, Bini IB, Kulchetscki R, Borsani V, Savi L, Borba VZC, Moreira CA (2016) Hypoparathyroidism and pseudohypoparathyroidism: etiology, laboratory features and complications. Arch Endocrinol Metab 60:532–536. https://doi.org/10.1590/2359-3997000000221

2.

Bollerslev J, Rejnmark L, Marcocci C, Shoback DM, Sitges-Serra A, Van Biesen W, Dekkers OM (2015) European Society of Endocrinology clinical guideline: treatment of chronic hypoparathyroidism in adults. Eur J Endocrinol 173:G1–G20. https://doi.org/10.1530/EJE-15-0628

3.

Marcucci G, Brandi ML (2019) Conventional treatment of hypoparathyroidism. Front Horm Res 51:160–164. https://doi.org/10.1159/000491046

4.

Rubin MR, Cusano NE, Bilezikian JP, Brandi ML, Potts JT Jr, Mannstadt M, Rejnmark L, Rizzoli R, Winer KK, Liberman UA (2016) Management of hypoparathyroidism: present and future. J Clin Endocrinol Metab 101:2313–2324. https://doi.org/10.1210/jc.2015-3910

5.

Winer KK, Yanovski JA, Sarani B, Cutler GB (1998) A randomized, cross-over trial of once-daily versus twice-daily parathyroid hormone 1–34 in treatment of hypoparathyroidism. J Clin Endocrinol Metab 83:3480–3486. https://doi.org/10.1210/jc.83.10.3480

6.

Mannstadt M, Clarke BL, Vokes T, Brandi ML, Ranganath L, Fraser WD, Lakatos P, Bajnok L, Garceau R, Mosekilde L, Lagast H, Shoback D, Bilezikian JP (2013) Efficacy and safety of recombinant human parathyroid hormone (1–84) in hypoparathyroidism (REPLACE): a double-blind, placebo-controlled, randomised, phase 3 study. Lancet Diabetes Endocrinol 1:275–283. https://doi.org/10.1016/S2213-8587(13)70106-2

7.

Hoenderop JGJ, Nilius B, Bindels RJM (2005) Calcium absorption across epithelia. Physiol Rev 85:373–422. https://doi.org/10.1152/physrev.00003.2004

8.

Nilius B, Prenen J, Vennekens R, Hoenderop JGJ, Bindels RJM, Droogmans G (2001) Modulation of the epithelial calcium channel, ECaC, by intracellular Ca2+. Cell Calcium 29:417–428. https://doi.org/10.1054/ceca.2001.0201

9.

Saha S, Goswami R (2019) Auditing the efficacy and safety of alfacalcidol and calcium therapy in idiopathic hypoparathyroidism. J Clin Endocrinol Metab. https://doi.org/10.1210/jc.2018-02228

10.

Al-Sharefi A, Glenister E, Morris M, Quinton R (2019) Is calcium supplementation always needed in patients with hypoparathyroidism? Clin Endocrinol (Oxf). https://doi.org/10.1111/cen.13955

11.

Bianco SD, Peng J-B, Takanaga H, Suzuki Y, Crescenzi A, Kos CH, Zhuang L, Freeman MR, Gouveia CH, Wu J, Luo H, Mauro T, Brown EM, Hediger MA (2006) Marked disturbance of calcium homeostasis in mice with targeted disruption of the Trpv6 calcium channel gene. J Bone Miner Res 22:274–285. https://doi.org/10.1359/jbmr.061110

12.

Benn BS, Ajibade D, Porta A, Dhawan P, Hediger M, Peng J-B, Jiang Y, Oh GT, Jeung E-B, Lieben L, Bouillon R, Carmeliet G, Christakos S (2008) Active intestinal calcium transport in the absence of transient receptor potential vanilloid type 6 and calbindin-D9k. Endocrinology 149:3196–3205. https://doi.org/10.1210/en.2007-1655

13.

Peng J-B, Suzuki Y, Gyimesi G, Hediger MA (2018) TRPV5 and TRPV6 calcium-selective channels. In: Kozak JA, Putney JW Jr (eds) Calcium entry channels in non-excitable cells. CRC Press/Taylor & Francis, Boca Raton, pp 241–274
Ethics declarations
Conflict of interest
On behalf of all authors, the corresponding author states that there is no conflict of interest.
Ethics approval
All procedures performed in studies involving human participants were in accordance with the ethical standards of the institutional and/or national research committee and with the 1964 Helsinki Declaration and its later amendments or comparable ethical standards. The study was approved by Kecioren Clinical Research Ethics Committee (2012-KAEK-15/1811).
Informed consent
Informed consent was obtained from all individual participants included in the study.
Additional information
Publisher's Note
Springer Nature remains neutral with regard to jurisdictional claims in published maps and institutional affiliations.
About this article
Cite this article
Akkan, T., Dagdeviren, M., Koca, A.O. et al. Alternate-day calcium dosing may be an effective treatment option for chronic hypoparathyroidism. J Endocrinol Invest 43, 853–858 (2020). https://doi.org/10.1007/s40618-019-01173-9
Received:

Accepted:

Published:

Issue Date:
Keywords
Alternate-day dosing

Chronic hypoparathyroidism

Calcium

Emergency visits