Abstract
Purpose
Both glucagon-like peptide-1 (GLP-1) and glucagon (GCG) belong to the incretin family. This study aimed to investigate the pharmacokinetics and pharmacodynamics of DR10601, a fully recombinant hybrid peptide with dual GLP-1/GCG receptor agonistic activity.
Methods
The agonistic ability of DR10601 was indirectly assessed by inducing cAMP accumulation in Chinese hamster ovary cells transfected with GLP-1R or GCGR in vitro. Following s.c. administration, the plasma pharmacokinetics of DR10601 were analysed in male Sprague-Dawley rats. The antiobesity effects and improved glycaemic control of DR10601 in vivo were evaluated by administering DR10601 to high-fat DIO mice and ICR mice as a single dose or repeated s.c. doses once every 4 days for 24 days.
Results
DR10601 exhibits dual agonistic activity on GLP-1 and glucagon receptors. The plasma half-life of DR10601 in Sprague-Dawley rats following s.c. administration was 51.9 ± 12.2 h. In an IPGTT, a single s.c. dose of DR10601 (30 nmol/kg) produced similar glycaemic control effects and a longer duration of action compared to dulaglutide (10 nmol/kg). Compared with that achieved with liraglutide (40 nmol/kg) s.c. administered daily, DR10601 administered s.c. once every 4 days at 90 nmol/kg exerted a nearly equivalent effect on food intake and significantly reduced the body weights of high-fat DIO mice at 24 days.
Conclusions
Repeated administration of DR1060 provides potent and sustained glycemic control and body weight loss effect in high-fat DIO mice. DR10601 is a promising long-acting agent deserving further investigation for the treatment of type 2 diabetes and obesity.
This is a preview of subscription content, log in to check access.
Access options
Buy single article
Instant unlimited access to the full article PDF.
US$ 39.95
Price includes VAT for USA
Subscribe to journal
Immediate online access to all issues from 2019. Subscription will auto renew annually.
US$ 99
This is the net price. Taxes to be calculated in checkout.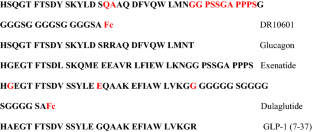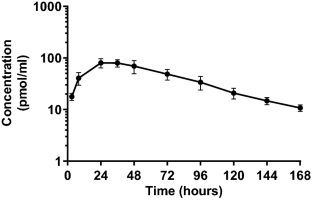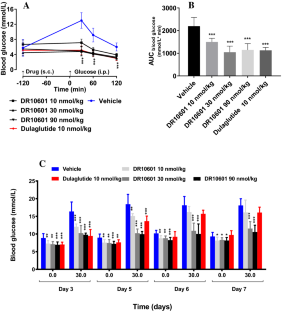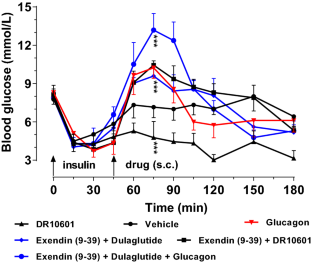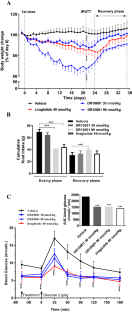 Abbreviations
AST:

Aspartate aminotransferase

ALT:

Alanine aminotransferase

DIO:

Diet-induced obese

FDA:

Food and Drug Administration

GCGR:

Glucagon receptor

GIP:

Glucose-dependent insulinotropic polypeptide

GLP-1:

Glucagon-like peptide-1

GLP1R:

GLP-1 receptor

HRP:

Horseradish peroxidase

OXY:

Oxyntomodulin

PYY:

Peptide YY

TMB:

3,3′5,5′-Tetramethylbenzidine

SD rats:

Sprague-Dawley rats

CHO cells:

Chinese hamster ovary cells
References
1.

Holvoet P (2012) Stress in obesity and associated metabolic and cardiovascular disorders. Scientifica 2012:205027. https://doi.org/10.6064/2012/205027

2.

Sinclair EM, Drucker DJ (2005) Proglucagon-derived peptides: mechanisms of action and therapeutic potential. Physiology 20:357–365. https://doi.org/10.1152/physiol.00030.2005

3.

Scheen AJ (2016) Liragutide at a dose of 3.0 Mg (Saxenda): new indication for the treatment of obesity. Rev Med de Liege 71(5):256–261

4.

Dar S, Tahrani AA, Piya MK (2015) The role of GLP-1 receptor agonists as weight loss agents in patients with and without type 2 diabetes. Pract Diabetes 32(8):297–300b

5.

Day JW, Ottaway N, Patterson JT, Gelfanov V, Smiley D, Gidda J, Findeisen H, Bruemmer D, Drucker DJ, Chaudhary N, Holland J, Hembree J, Abplanalp W, Grant E, Ruehl J, Wilson H, Kirchner H, Lockie SH, Hofmann S, Woods SC, Nogueiras R, Pfluger PT, Perez-Tilve D, DiMarchi R, Tschop MH (2009) A new glucagon and GLP-1 co-agonist eliminates obesity in rodents. Nat Chem Biol 5(10):749–757. https://doi.org/10.1038/nchembio.209

6.

Finan B, Ma T, Ottaway N, Muller TD, Habegger KM, Heppner KM, Kirchner H, Holland J, Hembree J, Raver C, Lockie SH, Smiley DL, Gelfanov V, Yang B, Hofmann S, Bruemmer D, Drucker DJ, Pfluger PT, Perez-Tilve D, Gidda J, Vignati L, Zhang L, Hauptman JB, Lau M, Brecheisen M, Uhles S, Riboulet W, Hainaut E, Sebokova E, Conde-Knape K, Konkar A, DiMarchi RD, Tschop MH (2013) Unimolecular dual incretins maximize metabolic benefits in rodents, monkeys, and humans. Sci Transl Med 5(209):209ra151. https://doi.org/10.1126/scitranslmed.3007218

7.

Finan B, Yang B, Ottaway N, Smiley DL, Ma T, Clemmensen C, Chabenne J, Zhang L, Habegger KM, Fischer K, Campbell JE, Sandoval D, Seeley RJ, Bleicher K, Uhles S, Riboulet W, Funk J, Hertel C, Belli S, Sebokova E, Conde-Knape K, Konkar A, Drucker DJ, Gelfanov V, Pfluger PT, Muller TD, Perez-Tilve D, DiMarchi RD, Tschop MH (2015) A rationally designed monomeric peptide triagonist corrects obesity and diabetes in rodents. Nat Med 21(1):27–36. https://doi.org/10.1038/nm.3761

8.

Henderson SJ, Konkar A, Hornigold DC, Trevaskis JL, Jackson R, Fritsch Fredin M, Jansson-Lofmark R, Naylor J, Rossi A, Bednarek MA, Bhagroo N, Salari H, Will S, Oldham S, Hansen G, Feigh M, Klein T, Grimsby J, Maguire S, Jermutus L, Rondinone CM, Coghlan MP (2016) Robust anti-obesity and metabolic effects of a dual GLP-1/glucagon receptor peptide agonist in rodents and non-human primates. Diabetes Obes Metab 18(12):1176–1190. https://doi.org/10.1111/dom.12735

9.

Filippatos TD, Panagiotopoulou TV, Elisaf MS (2014) Adverse effects of GLP-1 receptor agonists. Rev Diabet Stud RDS 11(3–4):202–230. https://doi.org/10.1900/RDS.2014.11.202

10.

Harikumar KG, Morfis MM, Sexton PM, Miller LJ (2008) Pattern of intra-family hetero-oligomerization involving the G-protein-coupled secretin receptor. J Mol Neurosci 36(1–3):279–285. https://doi.org/10.1007/s12031-008-9060-z

11.

Nakane A, Gotoh Y, Ichihara J, Nagata H (2015) New screening strategy and analysis for identification of allosteric modulators for glucagon-like peptide-1 receptor using GLP-1 (9-36) amide. Anal Biochem 491:23–30. https://doi.org/10.1016/j.ab.2015.08.026

12.

van Bloemendaal L, Ten Kulve JS, la Fleur SE, Ijzerman RG, Diamant M (2014) Effects of glucagon-like peptide 1 on appetite and body weight: focus on the CNS. J Endocrinol 221(1):T1–T16. https://doi.org/10.1530/JOE-13-0414

13.

Will S, Hornigold DC, Baker DJ, Coghlan MP, Mesquita M, Trevaskis JL, Naylor J (2017) Gut check on diabesity: leveraging gut mechanisms for the treatment of type 2 diabetes and obesity. Curr Opin Pharmacol 37:10–15. https://doi.org/10.1016/j.coph.2017.07.010

14.

Salem V, Izzi-Engbeaya C, Coello C, Thomas DB, Chambers ES, Comninos AN, Buckley A, Win Z, Al-Nahhas A, Rabiner EA, Gunn RN, Budge H, Symonds ME, Bloom SR, Tan TM, Dhillo WS (2016) Glucagon increases energy expenditure independently of brown adipose tissue activation in humans. Diabetes Obes Metab 18(1):72–81. https://doi.org/10.1111/dom.12585

15.

Kosinski JR, Hubert J, Carrington PE, Chicchi GG, Mu J, Miller C, Cao J, Bianchi E, Pessi A, Sinharoy R, Marsh DJ, Pocai A (2012) The glucagon receptor is involved in mediating the body weight-lowering effects of oxyntomodulin. Obesity 20(8):1566–1571. https://doi.org/10.1038/oby.2012.67

16.

Soni H (2016) Peptide-based GLP-1/glucagon co-agonists: a double-edged sword to combat diabesity. Med Hypotheses 95:5–9. https://doi.org/10.1016/j.mehy.2016.08.005

17.

Pocai A (2014) Action and therapeutic potential of oxyntomodulin. Mol Metab 3(3):241–251. https://doi.org/10.1016/j.molmet.2013.12.001

18.

Chabenne JR, DiMarchi MA, Gelfanov VM, DiMarchi RD (2010) Optimization of the native glucagon sequence for medicinal purposes. J Diabet Sci Technol 4(6):1322–1331. https://doi.org/10.1177/193229681000400605

19.

Pospisilik JA, Hinke SA, Pederson RA, Hoffmann T, Rosche F, Schlenzig D, Glund K, Heiser U, McIntosh CH, Demuth H (2001) Metabolism of glucagon by dipeptidyl peptidase IV (CD26). Regul Pept 96(3):133–141

20.

Prothiwa M, Syed I, Huising MO, van der Meulen T, Donaldson CJ, Trauger SA, Kahn BB, Saghatelian A (2014) Data-driven synthesis of proteolysis-resistant peptide hormones. J Am Chem Soc 136(51):17710–17713. https://doi.org/10.1021/ja5065735

21.

Hjorth SA, Adelhorst K, Pedersen BB, Kirk O, Schwartz TW (1994) Glucagon and glucagon-like peptide 1: selective receptor recognition via distinct peptide epitopes. J Biol Chem 269(48):30121–30124

22.

Simonsen L, Holst JJ, Madsen K, Deacon CF (2013) The C-terminal extension of exendin-4 provides additional metabolic stability when added to GLP-1, while there is minimal effect of truncating exendin-4 in anaesthetized pigs. Regul Pept 181:17–21. https://doi.org/10.1016/j.regpep.2012.12.012

23.

Kim HY, Hwang JI, Moon MJ, Seong JY (2014) A novel long-acting glucagon-like peptide-1 agonist with improved efficacy in insulin secretion and beta-cell growth. Endocrinol Metab 29(3):320–327. https://doi.org/10.3803/EnM.2014.29.3.320

24.

Glaesner W, Vick AM, Millican R, Ellis B, Tschang SH, Tian Y, Bokvist K, Brenner M, Koester A, Porksen N, Etgen G, Bumol T (2010) Engineering and characterization of the long-acting glucagon-like peptide-1 analogue LY2189265, an Fc fusion protein. Diabet Metab Res Rev 26(4):287–296. https://doi.org/10.1002/dmrr.1080

25.

Wewer Albrechtsen NJ, Kuhre RE, Pedersen J, Knop FK, Holst JJ (2016) The biology of glucagon and the consequences of hyperglucagonemia. Biomark Med 10(11):1141–1151. https://doi.org/10.2217/bmm-2016-0090

26.

Galsgaard KD, Pedersen J, Knop FK, Holst JJ, Wewer Albrechtsen NJ (2019) Glucagon receptor signaling and lipid metabolism. Front Physiol 10:413. https://doi.org/10.3389/fphys.2019.00413
Ethics declarations
Conflict of interests
The authors have no conflicts of interest to declare.
Ethical approval
The experimental animals used in this paper were purchased from the animal experiment center of the Zhejiang Academy of Medical Sciences, All experiments were performed according to the guidelines of the administration for the administration of affairs concerning experimental animals of PR China. The mouse experiments were Approved by the Zhejiang Academy of Medical Sciences Animal Ethics Committee (no. 201786-89).
Informed consent
For this type of study, formal consent is not required.
Additional information
Publisher's Note
Springer Nature remains neutral with regard to jurisdictional claims in published maps and institutional affiliations.
Electronic supplementary material
Below is the link to the electronic supplementary material.
About this article
Cite this article
Wang, W., Wen, X., Duan, W. et al. DR10601, a novel recombinant long-acting dual glucagon-like peptide-1 and glucagon receptor agonist for the treatment of obesity and type 2 diabetes mellitus. J Endocrinol Invest (2019) doi:10.1007/s40618-019-01153-z
Received:

Accepted:

Published:
Keywords
Body weight

Glucagon-like peptide-1

Obesity

Type 2 diabetes