Abstract
Purpose
Female Sexual Dysfunction (FSD) is a still poorly studied and underdiagnosed condition. The aim of the study was to produce an improved version of FSFI-6 (6-Item Version of the Female Sexual Function Index), entitled Female Sexual Dysfunction Index-6 (FSDI-6), and to estimate its accuracy as a screening instrument for FSD.
Methods
In the new version, an item related to the personal interest in having a satisfying sex life was added, while the item rating the entity of sexual arousal was removed. We administered FSDI-6 in a consecutive series of female adult patients not consulting for sexual problems (n = 120, Cohort 1), and in another series of patients specifically consulting for sexual problems, which were considered as the control group (n = 160, Cohort 2).
Results
FSDI-6 score was significantly higher in patients in Cohort 2 (p < 0.0001). Cronbach's alpha for FSDI-6 was 0.784, indicating a high level of reliability. The estimated area under the ROC curve for FSDI-6 was 0.657 (p < 0.0001, 95 % CI 0.584–0.730). The proportion of subjects with a pathological FSDI-6 score (≥16.5) was 29.9 (n = 32) and 59.4 % (n = 95) in Cohort 1 and 2, respectively (p < 0.0001). Among subjects with a pathological FSDI-6 (score ≥16.5), those consulting for FSD had been postmenopausal for fewer years, had a higher level of education, a lower BMI and a lower prevalence of chronic diseases than those not consulting for FSD (p < 0.05).
Conclusions
Although a lower educational level, overweight/obesity, menopause and chronic diseases are risk factors for FSD, they are often associated with the failure in medical consultation for FSD. We propose that FSDI-6 should be performed by health care providers in non-specialist settings to detect potential FSD, which otherwise could remain under-diagnosed.
Access options
Buy single article
Instant access to the full article PDF.
US$ 39.95
Tax calculation will be finalised during checkout.
Subscribe to journal
Immediate online access to all issues from 2019. Subscription will auto renew annually.
US$ 79
Tax calculation will be finalised during checkout.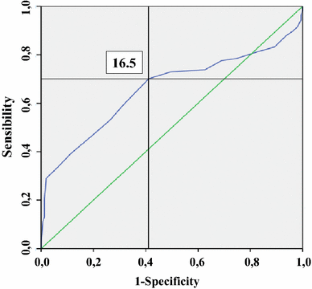 References
1.

Gülmezoglu M, Souza JP, Khanna J, Carroli G, Hofmeyr J, Wolomby-Molondo JJ, Mittal S, Lumbiganon P, Cheng L (2013) The WHO Reproductive Health Library: a Cochrane window on sexual and reproductive health. Cochrane Database Syst Rev 10:ED000070. doi:10.1002/14651858

2.

Laumann EO, Paik A, Rosen RC (1999) Sexual dysfunction in the United States: prevalence and predictors. JAMA 281:537–544

3.

Fugl-Meyer AR, Sjogren Fugl-Meyer K (1999) Sexual disabilities, problems and satisfaction in 18–74 years old Swedes. Scand J Sexol 2:79–105

4.

Fugl-Meyer KS, Lewis RW, Corona G, Hayes RD, Laumann EO, Moreira ED, Rellini AH, Segraves T (2010) Definitions, classification, and epidemiology of sexual dysfunction. In: Montorsi F, Basson R, Adaikan G, Becher E, Clayton A, Giuliano F, Khoury S, Sharlip F (eds) Sexual medicine: sexual dysfunctions in men and women. Health Publications, Paris, pp 41–117

5.

Shifren JL, Monz BU, Russo PA, Segreti A, Johannes CB (2008) Sexual problems and distress in United States Women: prevalence and correlates. Obstet Gynecol 112:970–978. doi:10.1097/AOG.0b013e3181898cdb

6.

Lindau ST, Schumm LP, Laumann EO, Levinson W, O'iMuircheartaigh CA, Waite LJ (2007) A study of sexuality and health among older adults in the United States. N Engl J Med 357:762–774

7.

Palacios S, Castaño R, Grazziottin A (2009) Epidemiology of female sexual dysfunction. Maturitas 63:119–123. doi:10.1016/j.maturitas.2009.04.002

8.

Laumann EO, Nicolos A, Glasser DB, Paik A, Gingell C, Moreira E, Wang T, GSSAB Investigators' Group (2005) Sexual problems among women and men aged 40–80 y: prevalence and correlates identified in the Global Study of Sexual Attitudes and Behaviors. Int J Impot Res 17:39–57

9.

Dennerstein L, Koochaki P, Barton I, Graziottin A (2006) Hypoactive sexual desire disorder in menopausal women: a survey of Western European women. J Sex Med 3:212–222

10.

Nappi RE, Albani F, Vaccaro P, Gardella B, Salonia A, Chiovato L, Spinillo A, Polatti F (2008) Use of the Italian translation of the Female Sexual Function Index (FSFI) in routine gynecological practice. Gynecol Endocrinol 24:214–219. doi:10.1080/09513590801925596

11.

American College of Obstetricians and Gynecologists Committee on Practice Bulletins-Gynecology (2011) ACOG Practice Bulletin No. 119: Female sexual dysfunction. Obstet Gynecol 117:996–1007. doi:10.1097/AOG.0b013e31821921ce

12.

Rosen R, Brown C, Heiman J, Leiblum S, Meston C, Shabsigh R, Ferguson D, D'Agostino R (2000) The Female Sexual Function Index (FSFI): a multidimensional self-report instrument for the assessment of female sexual function. J Sex Marital Ther 26:191–208

13.

Isidori AM, Pozza C, Esposito K, Giugliano D, Morano S, Vignozzi L, Corona G, Lenzi A, Jannini EA (2010) Development and validation of a 6-item version of the female sexual function index (FSFI) as a diagnostic tool for female sexual dysfunction. J Sex Med 7:1139–1146. doi:10.1111/j.1743-6109.2009.01635.x

14.

Stephenson KR, Meston CM (2015) Why is impaired sexual function distressing to women? The primacy of pleasure in female sexual dysfunction. J Sex Med 12:728–737. doi:10.1111/jsm.12804

15.

American Psychiatric Association (2013) DSM-5: Diagnostic and Statistical Manual for Mental Disorders, 5th edn. American Psychiatric Press, USA

16.

Graham CA (2010) The DSM diagnostic criteria for female sexual arousal disorder. Arch Sex Behav 39:240–255. doi:10.1007/s10508-009-9535-1

17.

Clayton AH, DeRogatis LR, Rosen RC, Pyke R (2012) Intended or unintended consequences? The likely implications of raising the bar for sexual dysfunction diagnosis in the proposed DSM-V revisions: 1. For women with incomplete loss of desire or sexual receptivity. J Sex Med 9:2027–2039. doi:10.1111/j.1743-6109.2012.02850.x

18.

Crown S, Crisp AH (1966) A short clinical diagnostic self-rating scale for psychoneurotic patients. The Middlesex Hospital Questionnaire (M.H.Q.). Br J Psychiatry 112:917–923

19.

Castellini G, Fioravanti G, Ravaldi C, Masetti S, Vannacci A, Mannucci E, Faravelli C, Ricca V (2013) The Eating Disorders Well Being Questionnaire (EDwell): a new measure of quality of life in eating disorders. Eat Weight Disord 18:11–22. doi:10.1007/s40519-013-0002-6

20.

Benagiani G, Farris M, Bastianelli C (2007) Il ritardo scientifico nell'indagare la sessualità femminile. In: Jannini EA, Lenzi A, Maggi M (eds) Sessuologia medica. Trattato di psicosessuologia e medicina della sessualità, Elsevier Masson S.r.l., pp 348–350

21.

Ponholzer A, Roehlich M, Racz U, Temml C, Madersbacher S (2005) Female sexual dysfunction in a healthy Austrian Cohort: prevalence and risk factors. Eur Urol 47:366–374 (discussion 374–375)

22.

Bhavsar V, Bhugra D (2013) Cultural factors and sexual dysfunction in clinical practice. Adv Psychiatr Treat 19:144–152

23.

Bond DS, Vithiananthan S, Leahey TM, Thomas JG, Sax HC, Pohl D, Ryder BA, Roye GD, Giovanni J, Wing RR (2009) Prevalence and degree of sexual dysfunction in a sample of women seeking bariatric surgery. Surg Obes Relat Dis 5:698–704. doi:10.1016/j.soard.2009.07.004

24.

Kadioglu P, Yetkin DO, Sanli O, Yalin AS, Onem K, Kadioglu A (2010) Obesity might not be a risk factor for female sexual dysfunction. BJU Int 106:1357–1361. doi:10.1111/j.1464-410X.2010.09348.x

25.

Mozafari M, Khajavikhan J, Jaafarpour M, Khani A, Direkvand-Moghadam A, Najafi F (2015) Association of body weight and female sexual dysfunction: a case control study. Iran Red Crescent Med J 17:e24685. doi:10.5812/ircmj.24685

26.

Esposito K, Giugliano F, Ciotola M, De Sio M, D'Armiento M, Giugliano D (2008) Obesity and sexual dysfunction, male and female. Int J Impot Res 20:358–365. doi:10.1038/ijir.2008.9

27.

Grandjean C, Moran B (2007) The impact of diabetes mellitus on female sexual well-being. Nurs Clin N Am 42:581–592

28.

Maiorino MI, Bellastella G, Esposito K (2014) Diabetes and sexual dysfunction: current perspectives. Diabetes Metab Syndr Obes 7:95–105. doi:10.2147/DMSO.S36455

29.

Chervenak JL (2010) Reproductive aging, sexuality and symptoms. Semin Reprod Med 28:380–387. doi:10.1055/s-0030-1262897

30.

Salonia A, Briganti A, Dehò F, Zanni G, Rigatti P, Montorsi F (2006) Women's sexual dysfunction: a review of the "surgical landscape". Eur Urol 50:44–52

31.

Topatan S, Yıldız H (2012) Symptoms experienced by women who enter into natural and surgical menopause and their relation to sexual functions. Health Care Women Int 33:525–539. doi:10.1080/07399332.2011.646374

32.

Abdo CHN, Oliveira WM, Moreira ED Jr, Fittipaldi JAS (2004) Prevalence of sexual dysfunctions and correlated conditions in a sample of Brazilian women—results of the Brazilian study on sexual behavior (BSSB). Int J Impot Res 16:160–166

33.

Safarinejad MR (2006) Female sexual dysfunction in a population-based study in Iran: prevalence and associated risk factors. Int J Impot Res 18:382–395

34.

La Torre A, Giupponi G, Duffy D, Conca A (2013) Sexual dysfunction related to psychotropic drugs: a critical review—part I: antidepressants. Pharmacopsychiatry 46:191–199. doi:10.1055/s-0033-1345205

35.

La Torre A, Conca A, Duffy D, Giupponi G, Pompili M, Grözinger M (2013) Sexual dysfunction related to psychotropic drugs: a critical review part II: antipsychotics. Pharmacopsychiatry 46:201–208. doi:10.1055/s-0033-1347177

36.

La Torre A, Giupponi G, Duffy DM, Pompili M, Grözinger M, Kapfhammer HP, Conca A (2014) Sexual dysfunction related to psychotropic drugs: a critical review. Part III: mood stabilizers and anxiolytic drugs. Pharmacopsychiatry 47:1–6. doi:10.1055/s-0033-1358683

37.

Bandini E, Corona G, Ricca V, Fisher AD, Lotti F, Sforza A, Faravelli C, Forti G, Mannucci E, Maggi M (2009) Hysterical traits are not from the uterus but from the testis: a study in men with sexual dysfunction. J Sex Med 6:2321–2331. doi:10.1111/j.1743-6109.2009.01322.x

38.

Pasquali D, Maiorino MI, Renzullo A, Bellastella G, Accardo G, Esposito D, Barbato F, Esposito K (2013) Female sexual dysfunction in women with thyroid disorders. J Endocrinol Invest 36:729–773. doi:10.3275/8933
Ethics declarations
Conflict of interest
The authors declare that they have no conflict of interest.
Ethical approval
All procedures performed in studies involving human participants were in accordance with the ethical standards of the institutional research committee and with the 1964 Helsinki declaration and its later amendments or comparable ethical standards.
Informed consent
Informed consent was obtained from all individual participants included in the study.
Additional information
E. Maseroli and E. Fanni equally contributed to this article.
Appendix
Appendix
See Table 4.
About this article
Cite this article
Maseroli, E., Fanni, E., Fambrini, M. et al. Bringing the body of the iceberg to the surface: the Female Sexual Dysfunction Index-6 (FSDI-6) in the screening of female sexual dysfunction. J Endocrinol Invest 39, 401–409 (2016). https://doi.org/10.1007/s40618-015-0378-4
Received:

Accepted:

Published:

Issue Date:
Keywords
Screening

Questionnaire

Female sexual dysfunction

Referral