Abstract
Purpose
Insulin resistance and compensatory hyperinsulinism are the predominant metabolic defects in polycystic ovary syndrome (PCOS). However, hyperinsulinism, as well as being compensatory, can also express a condition of reduced insulin clearance. Our aim was to evaluate the differences in insulin action and metabolism between women with PCOS (with normal glucose tolerance) and age- and BMI-matched women with prediabetes (without hyperandrogenism and ovulatory disorders).
Methods
22 women with PCOS and 21 age/BMI-matched women with prediabetes were subjected to a Hyperinsulinemic-euglycemic clamp and an Oral Glucose tolerance Test (OGTT). Insulin sensitivity was assessed by the glucose infusion rate during clamp (M value); insulin secretion by Insulinogenic index, Oral Disposition Index (DIo) and AUC2h-insulin during OGTT; and insulin clearance by the metabolic clearance rate of insulin (MCRI) during clamp.
Results
Women with PCOS showed significantly higher levels of AUC2h-insulin (p < 0.011), Insulinogenic Index (p < 0.001), DIo (p = 0.002) and significantly lower levels of AUC2h-glucose (p = 0.001). No difference was found between the two groups regarding insulin sensitivity (M value). Lower levels of MCRI were found in women with PCOS [420 (IQR 227–588) vs. 743 (IQR 597–888) ml m−2 min−1: p < 0.001]. Furthermore, in the PCOS group, a strong independent inverse correlation was only observed between MCRI and AUC2h-insulin (PCOS: β:−0.878; p < 0.001; Prediabetes: β:−0.501; p = 0.019).
Conclusions
Our study suggests that in normoglycemic women with PCOS there is peripheral insulin sensitivity similar to that of women with prediabetes. What sets PCOS apart is the hyperinsulinism, today still simplistically defined "compensatory"; actually this is mainly related to decreased insulin clearance whose specific causes and dynamics have yet to be clarified.
Access options
Buy single article
Instant access to the full article PDF.
USD 39.95
Price excludes VAT (USA)
Tax calculation will be finalised during checkout.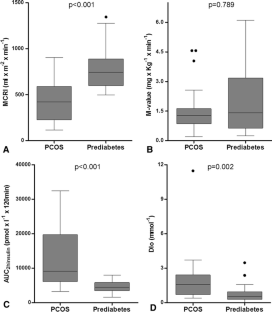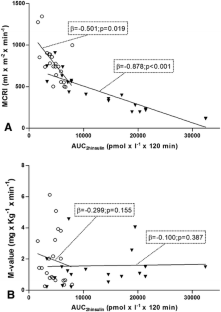 References
Pasquali R, Gambineri A (2013) Glucose intolerance states in women with the polycystic ovary syndrome. J Endocrinol Invest 36(8):648–653

Stepto NK, Cassar S, Joham AE, Hutchison SK, Harrison CL, Goldstein RF, Teede HJ (2013) Women with polycystic ovary syndrome have intrinsic insulin resistance on euglycaemic-hyperinsulaemic clamp. Hum Reprod 28:777–784

Diamanti-Kandarakis E, Dunaif A (2012) Insulin resistance and the polycystic ovary syndrome revisited an update on mechanisms and implications. Endocr Rev 33:981–1030

Galluzzo A, Amato MC, Giordano C (2008) Insulin resistance and polycystic ovary syndrome. Nutr Metab Cardiovasc Dis 18:511–518

Ciampelli M, Fulghesu AM, Cucinelli F, Pavone V, Caruso A, Mancuso S, Lanzone A (1997) Heterogeneity in beta cell activity, hepatic insulin clearance and peripheral insulin sensitivity in women with polycystic ovary syndrome. Hum Reprod 12:1897–1901

Reaven GM (1988) Role of insulin resistance in human disease. Diabetes 37:1495–1607

De Fronzo RA, Ferrannini E (1991) Insulin resistance. A multifaceted syndrome responsible for NIDDM, obesity, hypertension, dyslipidemia, and atherosclerotic cardiovascular disease. Diabetes Care 14:173–194

Kahn SE, Prigeon RL, McCulloch DK, Boyko EJ, Bergman RN, Schwartz MW, Neifing JL, Ward WK, Beard JC, Palmer JP (1993) Quantification of the relationship between insulin sensitivity and β-cell function in human subjects. Evidence for a hyperbolic function. Diabetes 42:1663–1672

Bergman RN, Phillips LS, Cobelli C (1981) Physiologic evaluation of factors controlling glucose tolerance in man: measurement of insulin sensitivity and β-cell glucose sensitivity from the response to intravenous glucose. J Clin Invest 68:1456–1467

Watanabe RM, Valle T, Hauser ER, Ghosh S, Eriksson J, Kohtamäki K, Ehnholm C, Tuomilehto J, Collins FS, Bergman RN, Boehnke M (1999) Familiality of quantitative metabolic traits in Finnish families with non-insulin-dependent diabetes mellitus. Finland-United States investigation of NIDDM Genetics (FUSION) Study investigators. Hum Hered 49:159–168

Lyssenko V, Jonsson A, Almgren P, Pulizzi N, Isomaa B, Tuomi T, Berglund G, Altshuler D, Nilsson P, Groop L (2008) Clinical risk factors, DNA variants, and the development of type 2 diabetes. N Engl J Med 359:2220–2232

Boesgaard TW, Grarup N, Jørgensen T, Borch-Johnsen K, Hansen T, Pedersen O (2010) Variants at DGKB/TMEM195, ADRA2A, GLIS3 and C2CD4B loci are associated with reduced glucose-stimulated β cell function in middle-aged Danish people. Diabetologia 53:1647–1655

Lorenzo C, Wagenknecht LE, Rewers MJ, Karter AJ, Bergman RN, Hanley AJ, Haffner SM (2010) Disposition index, glucose effectiveness, and conversion to type 2 diabetes. Diabetes Care 33:2098–2103

Weyer C, Bogardus C, Mott DM, Pratley RE (1999) The natural history of insulin secretory dysfunction and insulin resistance in the pathogenesis of type 2 diabetes mellitus. J Clin Invest 104:787–794

Jaspan J, Polonsky K (1982) Glucose ingestion in dogs alters the hepatic extraction of insulin. In vivo evidence for a relationship between biologic action and extraction of insulin. J Clin Invest 69:516–525

Honey RN, Price S (1979) The determinants of insulin extraction in the isolated perfused rat liver. Horm Metab Res 11:111–117

Rubenstein AH, Pottenger LA, Mako M, Getz GS, Steiner DF (1972) The metabolism of proinsulin and insulin by the liver. J Clin Invest 51:912–921

Harding PE, Bloom G, Field JB (1975) Effect of infusion of insulin into portal vein on hepatic extraction of insulin in anesthetized dogs. Am J Physiol 228:1580–1588

Rotterdam ESHRE/ASRM-Sponsored PCOS consensus workshop group (2004) Revised 2003 consensus on diagnostic criteria and long-term health risks related to polycystic ovary syndrome (PCOS). Hum Reprod 19:41–47

Ferriman D, Gallwey JD (1961) Clinical assessment of body hair growth in women. J Clin Endocrinol Metab 21:1440–1447

Vermeulen A, Verdonck L, Kaufman JM (1999) A critical evaluation of simple methods for the estimation of free testosterone in serum. J Clin Endocrinol Metab 84:3666–3672

Amato MC, Verghi M, Galluzzo A, Giordano C (2011) The oligomenorrhoic phenotypes of polycystic ovary syndrome are characterized by a high visceral adiposity index: a likely condition of cardiometabolic risk. Hum Reprod 26:1486–1494

Christensen JT, Boldsen J, Westergaard JG (1997) Ovarian volume in gynecologically healthy women using no contraception, or using IUD or oral contraception. Acta Obstet Gynecol Scand 76:784–789

Expert Panel on Detection, Evaluation, and Treatment of High Blood Cholesterol in Adults (2001) Executive summary of the third report of the National Cholesterol Education Program (NCEP) 2001 expert panel on detection, evaluation, and treatment of high blood cholesterol in adults (adult treatment panel III). JAMA 285:2486–2497

American Diabetes Association (2014) Standards of medical care in diabetes-2014. Diabetes Care 37(Suppl 1):S14–S80

De Fronzo RA, Tobin JD, Andres R (1979) Glucose clamp technique: a method for quantifying insulin secretion and resistance. Am J Physiol 237:E214–E223

Seltzer HS, Allen EW, Herron AL Jr, Brennan MT (1967) Insulin secretion in response to glycemic stimulus: relation of delayed initial release to carbohydrate intolerance in mild diabetes mellitus. J Clin Invest 46:323–335

Utzschneider KM, Prigeon RL, Faulenbach MV, Tong J, Carr DB, Boyko EJ, Leonetti DL, McNeely MJ, Fujimoto WY, Kahn SE (2009) Oral disposition index predicts the development of future diabetes above and beyond fasting and 2-h glucose levels. Diabetes Care 32:335–341

Amato MC, Giordano C (2014) Visceral adiposity index: an indicator of adipose tissue dysfunction. Int J Endocrinol 2014:730827

Ciresi A, Amato MC, Pizzolanti G, Giordano Galluzzo C (2012) Visceral adiposity index is associated with insulin sensitivity and adipocytokine levels in newly diagnosed acromegalic patients. J Clin Endocrinol Metab 97(8):2907–2915

Ciresi A, Amato MC, Guarnotta V, Lo Castro F, Giordano C (2013) Higher doses of cabergoline further improve metabolic parameters in patients with prolactinoma regardless of the degree of reduction in prolactin levels. Clin Endocrinol (Oxf) 79(6):845–852

Amato MC, Giordano C, Galia M, Criscimanna A, Vitabile S, Midiri M, Galluzzo A, AlkaMeSy Study Group (2010) Visceral adiposity index: a reliable indicator of visceral fat function associated with cardiometabolic risk. Diabetes Care 33:920–922

Tam CS, Xie W, Johnson WD, Cefalu WT, Redman LM, Ravussin E (2012) Defining insulin resistance from hyperinsulinemic-euglycemic clamps. Diabetes Care 35:1605–1610

Dunaif A, Segal KR, Futterweit W, Dobrjansky A (1989) Profound peripheral insulin resistance, independent of obesity, in polycystic ovary syndrome. Diabetes 38:1165–1174

Ovalle F, Azziz R (2002) Insulin resistance, polycystic ovary syndrome, and type 2 diabetes mellitus. Fertil Steril 77:1095–1105

Corbould A, Kim Y-B, Youngren JF, Pender C, Kahn BB, Lee A, Dunaif A (2005) Insulin resistance in the skeletal muscle of women with PCOS involves intrinsic and acquired defects in insulin signaling. Am J Physiol Endocrinol Metab 288:E1047–E1054

Corbould A, Zhao H, Mirzoeva S, Aird F, Dunaif A (2006) Enhanced mitogenic signaling in skeletal muscle of women with polycystic ovary syndrome. Diabetes 55:751–759

Diamanti-Kandarakis E, Papavassiliou AG (2006) Molecular mechanisms of insulin resistance in polycystic ovary syndrome. Trends Mol Med 12:324–332

Hücking K, Watanabe RM, Stefanovski D, Bergman RN (2008) OGTT-derived measures of insulin sensitivity are confounded by factors other than insulin sensitivity itself. Obesity 16:1931–1938

Flier JS, Minaker KL, Landsberg L, Young JB, Pallotta J, Rowe JW (1982) Impaired in vivo insulin clearance in patients with severe target-cell resistance to insulin. Diabetes 31:132–135

Marshall S (1985) Kinetics of insulin receptor internalization and recycling in adipocytes. Shunting of receptors to a degradative pathway by inhibitors of recycling. J Biol Chem 260:4136–4144

Dunaif A, Sorbara L, Delson R, Green G (1993) Ethnicity and polycystic ovary syndrome are associated with independent and additive decreases in insulin action in Caribbean-Hispanic women. Diabetes 42:1462–1468

Pasquali R, Venturoli S, Paradisi R, Capelli M, Parenti M, Melchionda N (1982) Insulin and C-peptide levels in obese patients with polycystic ovaries. Horm Metab Res 14:284–287

Mahabeer S, Jialal I, Norman RJ, Naidoo C, Reddi K, Joubert SM (1989) Insulin and C-peptide secretion in nonobese patients with polycystic ovarian disease. Horm Metab Res 21:502–506

Polonsky KS, Rubenstein AH (1984) C-peptide as a measure of the secretion and hepatic extraction of insulin. Pitfalls and limitations. Diabetes 33:486–494
Ethics declarations
Conflict of interest
The authors declare that they have no conflict of interest.
Disclosure statement
The authors have nothing to disclose.
Ethical approval
All procedures performed in studies involving human participants were in accordance with the ethical standards of the institutional and/or national research committee and with the 1964 Helsinki declaration and its later amendments or comparable ethical standards.
Informed consent
Informed consent was obtained from all individual participants included in the study.
About this article
Cite this article
Amato, M.C., Vesco, R., Vigneri, E. et al. Hyperinsulinism and polycystic ovary syndrome (PCOS): role of insulin clearance. J Endocrinol Invest 38, 1319–1326 (2015). https://doi.org/10.1007/s40618-015-0372-x
Received:

Accepted:

Published:

Issue Date:

DOI: https://doi.org/10.1007/s40618-015-0372-x
Keywords
PCOS

Insulin clearance

Clamp

Hyperinsulinism

Insulin resistance