Abstract
Aims
This study aimed at assessing the effects of chamomile tea consumption on glycemic control and serum lipid profile in patients with type 2 diabetes mellitus (T2DM).
Methods
This single-blind randomized controlled clinical trial was conducted on 64 individuals with T2DM (males and females) aged between 30 and 60 years. The intervention group (n = 32) consumed chamomile tea (3 g/150 mL hot water) three times per day immediately after meals for 8 weeks. The control group (n = 32) followed a water regimen for the same intervention period. Fasting blood samples, anthropometric measurements, and 3-day, 24-h dietary recalls were collected at the baseline and at the end of the trial. Data were analyzed by independent t test, paired t test, Pearson correlation test, and analysis of covariance.
Results
Chamomile tea significantly decreased concentration of HbA1C (p = 0.03), serum insulin levels (p < 0.001), homeostatic model assessment for insulin resistance (p < 0.001), total cholesterol (p = 0.001), triglyceride (p < 0.001), and low-density lipoprotein cholesterol (p = 0.05) compared with control group. No significant changes were shown in serum high-density lipoprotein cholesterol levels in both groups.
Conclusion
Chamomile tea has some beneficial effects on glycemic control and serum lipid profile in T2DM patients.
This is a preview of subscription content, log in to check access.
Access options
Buy single article
Instant access to the full article PDF.
US$ 39.95
Tax calculation will be finalised during checkout.
Subscribe to journal
Immediate online access to all issues from 2019. Subscription will auto renew annually.
US$ 79
Tax calculation will be finalised during checkout.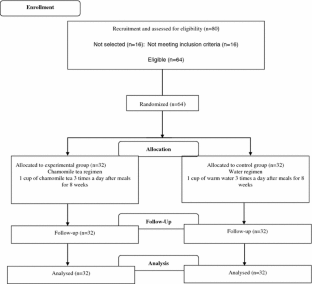 References
1.

IDF (2009) Diabetes and impaired glucose tolerance. Global burden: prevalence and projections 2010 and 2030. http://www.idf.org/diabetesatlas/diabetes-and-impaired-glucose-tolerance

2.

IDF (2011) Diabetes atlas, 5th edn. 2011 International Diabetes Federation. www.idf.org/diabetesatlas/papers

3.

Nolte MS, Karam JH (2004) Pancreatic hormones and antidiabetic drugs. Basic Clin Pharmacol 9:693–715

4.

Holman RR, Turner RC (1991) Oral agent and insulin in the treatment of NIDDM. In: Pickup J, Williams G (eds) Textbook of diabetes. Blackwell Publication, Oxford, pp 467–469

5.

Jouad H, Haloui M, Rhiouani H, Elhilaly J, Eddouks M (2001) Ethnopharmacological survey of medicinal plants used or the treatment of diabetes, cardiac and renal diseases in the North centre region of Morocco. J Ethnopharmacol 77:175–182

6.

Li WL, Zheng HC, Bukuru J, De Kimpe N (2004) Natural medicines used in the traditional Chinese medical system for therapy of diabetes mellitus. J Ethnopharmacol 92:1–21

7.

Franke R, Schilcher H (2005) Chamomile: industrial profiles (medicinal and aromatic plants). CRC Press, Boca Raton

8.

McKay DL, Blumberg JB (2006) A review of the bioactivity and potential health benefits of chamomile tea (Matricaria recutita L.). Phytother Res 20:519–530

9.

Srivastava JK, Gupta S (2007) Antiproliferative and apoptotic effects of chamomile extract in various human cancer cells. J Agric Food Chem 55:9470–9478

10.

Wazaify M, Afifi UF, El-Khateeb M, Ajlouni K (2011) Complementary and alternative medicine use among Jordanian patients with diabetes. Complement Ther Clin Pract 17:71–75

11.

Azzi R, Djaziri R, Lahfa F, Sekkal FZ, Benmehdi H, Belkacem N (2012) Ethnopharmacological survey of medicinal plants used in the traditional treatment of diabetes mellitus in the North Western and South Western Algeria. J Med Plants Res 6:2041–2050

12.

Kato A, Minoshima Y, Yamamoto J, Adachi I, Watson AA, Nash RJ (2008) Protective effects of dietary chamomile tea on diabetic complications. J Agric Food Chem 56:8206–8211

13.

Eddouks M, Lemhadri A, Zeggwagh NA, Michel JB (2005) Potent hypoglycaemic activity of the aqueous extract of Chamaemelum nobile in normal and streptozotocin-induced diabetic rats. Diabetes Res Clin Pract 67:189–195

14.

Ramadan KS, Emam MA (2012) Biochemical evaluation of antihyperglycemic and antioxidative effects of matricaria chamomilla leave extract studied in streptozotocin-induced diabetic rats. Int J Res Manag Technol 2:298–302

15.

Ganzera M, Schneider P, Stuppner H (2006) Inhibitory effects of the essential oil of chamomile (Matricaria recutita) and its major constituents on human cytochrome P450 enzymes. Life Sci 78:856–861

16.

Baser KH, Demirci B, Iscan G, Hashimoto T, Demirci F, Noma Y, Asakawa Y (2006) The essential oil constituents and antimicrobial activity of Anthemis aciphylla BOISS. var. discoidea BOISS. Chem Pharm Bull 54:222–225

17.

Panda S, Kar A (2007) Apigenin (4′,5,7-trihydroxyflavone) regulates hyperglycaemia, thyroid dysfunction and lipid peroxidation in alloxan induced diabetic mice. J Pharm Pharmacol 59:1543–1548

18.

Cemek M, Kaga S, Simsek N, Buyukokuroglu ME, Konuk M (2008) Antihyperglycemic and antioxidative potential of Matricaria chamomilla L. in streptozotocin-induced diabetic rats. J Nat Med 62:284–293

19.

Darvishpadok A, Azemi M, Namjoyan F, Khodayar M, Ahmadpour F, Panahi M (2012) Effect of Matricaria chamomilla L. on blood glucose and glycosylated hemoglobin in female fertile diabetic rats. Res Pharm Sci 7:19

20.

De Lima VLAG, Melo ED, Lima DES (2004) Total phenolic content in Brazilian teas. Brazil J Food Technol 7(2):187–190

21.

Matthews DR, Hosker JP, Rudenski AS, Naylor BA, Treacher DF, Turner RC (1985) Homeostasis model assessment: insulin resistance and beta-cell function from fasting plasma glucose and insulin concentrations in man. Diabetologia 28:412–419

22.

Ozkaya M, Cakal E, Ustun Y, Engin-Ustan Y (2010) Effect of metformin on serum visfatin levels in patients with polycystic ovary syndrome. Fertil Steril 93:880–884

23.

Najla OA, Olfat AK, Kholoud SR, Enas ND, I Hanan SA (2012) Hypoglycemic and biochemical effects of Matricaria Chamomilla leave extract in streptozotocin-induced diabetic rats. J Health Sci 2:42–48

24.

Weidner C, Wowro SJ, Rousseau M, Freiwald A, Kodelja V, Abdel-Aziz H, Sauer S (2013) Antidiabetic effects of chamomile flowers extract in obese mice through transcriptional stimulation of nutrient sensors of the peroxisome proliferator-activated receptor (PPAR) family. PLoS One 8:1–16

25.

Berger J, Moller DE (2002) The mechanisms of action of PPARs. Ann Rev Med 53:409–435

26.

Michalik L, Auwerx J, Berger JP, Chatterjee VK, Glass CK (2006) International Union of Pharmacology. LXI. Peroxisome proliferator activated receptors. Pharmacol Rev 58:726–741

27.

Lehrke M, Lazar MA (2005) The many faces of PPARgamma. Cell 123:993–999

28.

Spiegelman BM (1998) PPAR-gamma: adipogenic regulator and thiazolidinedione receptor. Diabetes 47:507–514

29.

Kim J, Jobin C (2005) The flavonoid luteolin prevents lipopolysaccharide-induced NFkappaB signalling and gene expression by blocking IkappaB kinase activity in intestinal epithelial cells and bone-marrow derived dendritic cells. Immunology 115:375–387

30.

Ding L, Daozhong J, Xiaoli C (2010) Luteolin enhances insulin sensitivity via activation of PPARγ transcriptional activity in adipocytes. J Nutr Biochem 21:941–947

31.

Xita N, Tsatsoulis A (2012) Adiponectin in diabetes mellitus. Curr Med Chem 19:5451–5458

32.

Lihn A, Pedersen SB, Richelsen B (2005) Adiponectin: action, regulation and association to insulin sensitivity. Obes Rev 6:13–21

33.

Al-Jubouri HHF, Al-Jalil BH, Farid I, Jasim F, Wehbi S (1990) The effect of chamomile on hyperlipidemias in rats. J Fac Med Baghdad 32:5–11

34.

Mather KJ, Helmut OS, Alain D (2013) Insulin resistance in the vasculature. J Clin Invest 123:1003–1004

35.

Zavaroni I, Dall'Aglio E, Alpi O, Bruschi F, Bonora E, Pezzarossa A, Butturini U (1985) Evidence for an independent relationship between plasma insulin and concentration of high density lipoprotein cholesterol and triglyceride. Atherosclerosis 55:259–266

36.

Orchard TJ, Becker DJ, Bates M, Kuller LH, Drash AL (1983) Plasma insulin and lipoprotein concentrations: an atherogenic association? Am J Epidemiol 118:326–337

37.

Haffner SM, Fong D, Hazuda HP, Pugh JA, Patterson JK (1988) Hyperinsulinemia, upper body adiposity, and cardiovascular risk factors in non-diabetics. Metabolism 37:338–345

38.

Kalra A, Sreekumaran N, Lavanya R (2006) Association of obesity and insulin resistance with dyslipidemia in Indian women with polycystic ovarian syndrome. Indian J Med Sci 60:11

39.

Reaven GM, Lerner RL, Stern MP, Farquhar JW (1967) Role of insulin in endogenous hypertriglyceridemia. J Clin Invest 46:1756–1767

40.

Laws A, Reaven GM (1992) Evidence for an independent relationship between insulin resistance and fasting plasma HDL-cholesterol, triglyceride and insulin concentrations. J Intern Med 231:25–30

41.

Goldberg IJ (1996) Lipoprotein lipase and lipolysis: central roles in lipoprotein metabolism and atherogenesis. J Lipid Res 37:693–707

42.

Fruchart JC, Staels B, Duriez P (2001) The role of fibric acids in atherosclerosis. Curr Atheroscler Rep 3:83–92

43.

Harrington WW, Britt SC, Wilson JG, Milliken NO, Binz JG, Lobe DC, Oliver WR, Lewis MC, Oliver WR, Ignar DM (2007) The effect of PPARα, PPARδ, PPARγ, and PPARpan agonists on bodyweight, bodymass, and serum lipid profiles in diet-induced obese AKR/J mice. PPAR Res: 1–13
Acknowledgments
We thank The Research Vice-Chancellor and Nutrition Research Center of Tabriz University of Medical Sciences, Tabriz, Iran for the financial support, and patients who participated in the study. We would like to thank all of the investigators, coordinators, and patients who took part in this study.
Conflict of interest
The authors declare no conflict of interest.
About this article
Cite this article
Rafraf, M., Zemestani, M. & Asghari-Jafarabadi, M. Effectiveness of chamomile tea on glycemic control and serum lipid profile in patients with type 2 diabetes. J Endocrinol Invest 38, 163–170 (2015). https://doi.org/10.1007/s40618-014-0170-x
Received:

Accepted:

Published:

Issue Date:
Keywords
Type 2 diabetes mellitus

Chamomile

Glycemic control

Serum lipids