Abstract
Providers of applied behavior analysis (ABA) services often deliver therapeutic interventions within their clients' homes. Although the home environment offers numerous advantages for consumers, it can also pose unique threats to provider health and safety. When an unsecured firearm is discovered in the home of a client, service providers and agencies may not have the necessary knowledge to respond immediately to the situation nor how to ensure a safe therapeutic environment prior to the reinstatement of ABA services. This article aims to discuss strategies that agencies and service providers can use to reestablish a safe environment when they discover an unsecured firearm in the home. The authors will review federal guidelines, the Behavior Analyst Certification Board's Ethics Code for Behavior Analysts, offer suggestions for company policies, and discuss areas for skill building with caregivers and clients.
This is a preview of subscription content,
to check access.
Access this article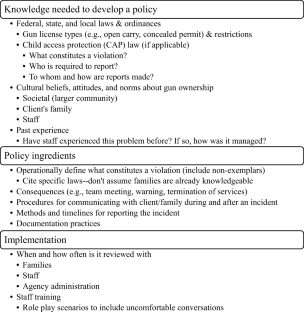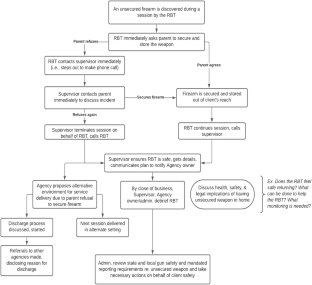 Similar content being viewed by others
References
Azrael, D., Cohen, J., Salhi, C., & Miller, M. (2018). Firearm storage in gun-owning households with children: Results of a 2015 national survey. Journal of Urban Health, 95, 295–304.

Behavior Analyst Certification Board (BACB). (2020). Ethics code for behavior analysts. https://www.bacb.com/wp-content/uploads/2020/11/Ethics-Code-for-Behavior-Analysts-2102010.pdf

Belle, S. H., Burgio, L. D., Burns, R., Coon, D., Czaja, S. J., Gallagher-Thompson, D., Gitlin, L. N., Klinger, J., Koepke, K. M., Lee, C. C., Martindale-Adams, J., Nichols, L., Schulz, R., Stahl, S., Stevens, A., Winter, L., & Zhang, S. (2006). Enhancing the quality of life of dementia caregivers from different ethnic or racial groups: A randomized controlled trial. Annals of Internal Medicine, 145, 727–738.

Bridges, M., Cohen, S. R., Scott, L., Fuller, B., Anguiano, R., Figueroa, A. M., & Livas-Dlott, A. (2015). Home activities of Mexican American children: Structuring early socialization and cognitive engagement. Cultural Diversity & Ethnic Minority Psychology, 21, 181–190.

Brown, S., Gray, D., McHardy, J., & Taylor, K. (2015). Employee trust and workplace performance. Journal of Economic Behavior & Organization, 116, 361–378.

Cautilli, J., & Clarke, K. (1999). What does Organizational Behavior Management have to offer social service organizations? An OBM primer for ABA'ers. Behavior Analyst Today, 1, 5–13.

Cox, D. J., Plavnick, J. B., & Brodhead, M. T. (2020). A proposed process for risk mitigation during the COVID-19 pandemic. Behavior Analysis in Practice. 13, 299–305. https://doi.org/10.1007/s40617-020-00430-1.

Crifasi, C. K., Doucette, M. L., McGinty, E. E., Webster, D. W., & Barry, C. L. (2018). Storage practices of U.S. gun owners in 2016. American Journal of Public Health, 10, 532–537.

Fowler, K. A., Dahlberg, L. L., Haileyesus, T., Gutierrez, C., & Bacon, S. (2017). Childhood firearm injuries in the United States. Pediatrics, 140, 1–12.

Gershon, R. R. M., Pogorzelda, M., Qureshi, K. A., Stone, P. W., Canton, A. N., Samar, S. M., Westra, L. J., Damsky, M. R., & Sherman, M. (2008). Home health care patients and safety hazards in the home: Preliminary findings. In K. Henriksen, J. Battles, M. Keyes, & M. Grady (Eds.), Advances in patient safety: New directions and alternative approaches: Vol. 1, Assessment. Agency for Health Care Research & Quality, 1–16.

Hamilton, E., Miller, C., Cox, C., Lally, K., & Austin, M. (2018). Variability of child access prevention laws and pediatric firearm injuries. Journal of Trauma & Acute Care Surgery, 84, 613–619.

Hanratty, L. A., Miltenberger, R. G., & Florentino, S. R. (2016). Evaluating the effectiveness of a teaching package utilizing behavioral skills training and in situ training to teach gun safety skills in a preschool classroom. Journal of Behavioral Education, 25, 310–323.

Hastings, R. P. (2003). Behavioral adjustment of siblings of children with autism engaged in ABA early intervention programs: The moderating role of social support. Journal of Autism & Developmental Disorders, 33, 141–150.

Himle, M. B., Miltenberger, R. G., Flessner, C., & Gatheridge, B. (2004). Teaching safety skills to children to prevent gun play. Journal of Applied Behavior Analysis, 37, 1–9.

Laderman, K. M., & Mate, K. (2016). Community health workers for patients with medical and behavioral health needs: Challenges and opportunities. Healthcare, 4, 145–147.

Miltenberger, R. G. (2015). Behavior modification: Principles and procedures (6th ed.). Cengage Learning.

Miltenberger, R. G., Fogel, V. A., Beck, K. V., Koehler, S., Shayne, R., Noah, J., McFee, K., Perdomo, A., Chan, P., Simmons, D., & Godish, D. (2013). Efficacy of the stranger safety abduction-prevention program and parent-conducted in situ training. Journal of Applied Behavior Analysis, 46, 817–820.

National Conference of State Legislatures. (2018, August). Autism and insurance coverage: State laws. www.ncsl.org/research/health/autism-and-insurance-coverage-state-laws.aspx

National Rifle Association. (2020). NRA gun safety rules. https://gunsafetyrules.nra.org

Occupational Safety & Health Administration (OSHA). (1970). Occupational safety and health standards: Occupational health and environmental control (Public Law 91-596). https://www.osha.gov/laws-regs/oshact/completeoshact

Occupational Safety & Health Administration (OSHA). (2016). Guidelines for preventing workplace violence for healthcare and social service workers. U.S. Department of Labor.

Pinholt, E. M., Mitchell, J. D., Butler, J. H., & Kumar, H. (2014). "Is there a gun in the home?" Assessing the risks of gun ownership in older adults. Journal of the American Geriatrics Society, 62, 1142–1146.

RAND Corporation. (2020, April 22). The effects of child-access prevention laws [Research review]. https://www.rand.org/research/gun-policy/analysis/child-access-prevention.html

Reagon, K. A., & Higbee, T. S. (2009). Parent-implemented script fading to promote play-based verbal initiations in children with autism. Journal of Applied Behavior Analysis, 42, 659–664.

Rosenberg, N. E., & Schwartz, I. S. (2019). Guidance or compliance: What makes an ethical behavior analyst? Behavior Analysis in Practice, 12, 473–482.

Schlichenmeyer, K. J., Dube, W. V., & Vargas, I. M. (2015). Stimulus fading and response elaboration in differential reinforcement for alternative behavior. Behavioral Interventions, 30, 51–64.

Span, P. (2018, May 25). In elderly hands, firearms can be even deadlier. New York Times.   https://www.nytimes.com/2018/05/25/health/elderly-guns-suicide-dementia.html.

Stark, D. E., & Shah, N. H. (2017). Funding and publication of research on gun violence and other leading causes of death. JAMA, 317, 84–85.

Stokes, T. F., & Baer, D. M. (1977). An implicit technology of generalization. Journal of Applied Behavior Analysis, 10, 349–367.

Summers, J., Tarbox, J., Findel-Pyles, R. S., Wilke, A. E., Bergstrom, R., & Williams, W. L. (2011). Teaching two household safety skills to children with autism. Research in Autism Spectrum Disorders, 5, 629–632.

Van Houten, R., Axelrod, S., Bailey, J. S., Favell, J. E., Foxx, R. M., Iwata, B. A., & Lovaas, O. I. (1988). The right to effective behavioral treatment. Journal of Applied Behavior Analysis, 21, 381–384.

Wichnick, G. A. M., Vener, S. M., & Poulson, C. L. (2019). Script fading for children with autism: Generalization of social initiation skills from school to home. Journal of Applied Behavior Analysis, 52, 451–466.
Ethics declarations
Conflicts of interest
There were no potential conflicts of interest involved in this research.
Human and animal rights and inform consent
This research did not involve animals or human participants, so no informed consent was required.
Additional information
Publisher's Note
Springer Nature remains neutral with regard to jurisdictional claims in published maps and institutional affiliations.
About this article
Cite this article
Chan, P.E., Kirby, M.S. Firearms and Home-Based ABA Services: Considerations for Safe Practice. Behav Analysis Practice 15, 553–561 (2022). https://doi.org/10.1007/s40617-021-00609-0
Accepted:

Published:

Issue Date:

DOI: https://doi.org/10.1007/s40617-021-00609-0
Keywords