Abstract
The advisory board's makeup tends to consist of professionals with domains of expertise relevant to the organization they serve. Organizations invite advisory board members to guide the organization's efforts over an extended period. Still, they do not have fiduciary, operational, or decision-making responsibilities for the organization in the way that a board of directors does. This article provides a framework for a behavior-analytic organization to (a) identify whether an advisory board would be feasible and beneficial, (b) establish an advisory board, and (c) engage and manage an advisory board to best leverage the unique skills and interests of the members. The article includes 2 examples of advisory boards to illustrate the suggested framework and recommendations.
Access options
Buy single article
Instant access to the full article PDF.
USD 39.95
Price excludes VAT (USA)
Tax calculation will be finalised during checkout.
References
Behavior Analyst Certification Board. (2014). Professional and ethical compliance code for behavior analysts. Littleton, CO: Author.

Brown, W., & Engle, M. (n.d.). Building better association boards: Advancing performance through nomination, recruitment, and selection processes. Retrieved from https://www.asaecenter.org/publications/108395-governance-research-package-transformational-governance-and-what-makes-highperforming-boards

Browning, P. C., & Sparks, W. L. (2016). The director's manual: A framework for board governance. Hoboken, NJ: Wiley.

Charan, R. (2005). Boards that deliver: Advancing corporate governance from compliance to competitive advantage. San Francisco, CA: Jossey Bass.

Gazley, B., & Kissman, K. (2015). Transformational governance: How boards achieve extraordinary change. Hoboken, NJ: John Wiley & Sons.

Ghosha, R., & Reio Jr., T. G. (2013). Career benefits associated with mentoring for mentors: A meta-analysis. Journal of Vocational Behavior, 83(1), 106–116. https://doi.org/10.1016/j.jvb.2013.03.011.

Korngold, A. (2008). 5 reasons to serve on a nonprofit board: Especially now. Fast Company. Retrieved from http://www.fastcompany.com/1013002/5-reasons-serve-nonprofit-board-especially-now/

LeBlanc, L. A., & Nosik, M. R. (2019). Planning and leading effective meetings. Behavior Analysis in Practice, 12(3), 696–708. https://doi.org/10.1007/s40617-019-00330-z.

Lester, D. L., Parnell, J. A., & Carraher, S. (2003). Organizational life cycle: A five-stage empirical model. International Journal of Organizational Analysis, 11(4), 339–354. https://doi.org/10.1108/eb028979.

Liket, K., & Maas, K. (2015). Nonprofit organizational effectiveness analysis of best practices. Nonprofit and Voluntary Sector Quarterly, 44, 268–296.

Nagai, J., & Nehls, K. (2014). Non-alumni advisory board volunteers. Innovative Higher Education, 39(1), 3–16. https://doi.org/10.1007/s10755-013-9257-0.

Quinn, R. E., & Cameron, K. (1983). Organizational life cycles and shifting criteria of effectiveness: Some preliminary evidence. Management Science, 29(1), 1–33. https://doi.org/10.1287/mnsc.29.1.33.

Saidel, J. R. (1998). Expanding the governance construct: Functions and contributions of nonprofit advisory groups. Nonprofit and Voluntary Sector Quarterly, 27(4), 421–436. https://doi.org/10.1177/0899764098274003.
Ethics declarations
Conflict of Interest
The authors do not have a financial interest or any other conflicts of interest related to the article.
Ethical Approval
The article does not include research involving human participants and/or animals.
Additional information
Publisher's Note
Springer Nature remains neutral with regard to jurisdictional claims in published maps and institutional affiliations.
Appendices
Appendix 1
Organizational Example: LittleStar ABA Therapy
LittleStar is a nonprofit human services organization with a BOD. The LittleStar organization created an AB in 2013 to add an extra layer of expertise to the clinical department and to help with organizational matters as the company grew. Three of the original five AB members are still serving, and two newer members later joined. The AB candidates were approached directly by Mary Rosswurm (third author) through letters and phone calls describing the opportunity (see Appendix 1). The leadership team at LittleStar identified potential AB members with strengths in leadership, organizational development, clinical systems, staff training, and deceleration and acceleration programming to provide guidance and recommendations as to best practices.
The AB members did not know each other well initially, but per interviews with AB members, they described establishing relationships with other AB members as a pleasant surprise. AB members wanted to give back to the field and also felt passionate about mentoring the next generation of BCBAs and leaders. Serving on an AB, especially an active one, allowed them to continue to shape the field and protect the industry standards that they had helped establish throughout their careers. The LittleStar leadership team referenced numerous benefits of working with an AB. The leadership team described AB members as having a positive impact, both professionally and personally, on staff at various levels of the organization.
When LittleStar convenes an AB visit, the executive director of LittleStar feels it is her responsibility to ensure their safety and comfort. The executive director interviews every AB member to identify preferences for travel, lodging, and meals. The information gained during these interviews provides vital information for making decisions about each AB visit. LittleStar also arranges group dinners at a variety of restaurants during the AB meetings. These meals feed the AB well, enhance the social experience, and provide an opportunity for various employees and board members to get to know AB members in a more social setting.
Organizational Example: DataFinch Technologies
DataFinch Technologies is a for-profit technology company that develops software to support ABA providers and organizations. In particular, DataFinch's first product, Catalyst—initially created in 2011—is a data collection and management tool that allows users to collect typical behavior-analytic data on a mobile device, such as a tablet, laptop, or mobile phone. Those data are automatically synced to a cloud-based management tool where users can store and access their data, as well as create a variety of charts and/or reports to display and share their data. Additionally, DataFinch has a variety of practice management tools for scheduling and billing, as well as Pinnacle, a performance management tool for tracking provider performance.
The DataFinch organization itself has historically been relatively small (i.e., about 50 employees), composed primarily of development staff (e.g., software engineers, quality assurance professionals, and other personnel directly supportive of the development teams) and customer support staff, with a small group of administrators, a sales team, marketing, and other support resources.
At the time of the AB's establishment, DataFinch Technologies® (DataFinch) was privately owned and had no BOD. DataFinch created an AB to serve as a group of subject matter experts and science advisors to provide specific product feedback and suggestions. DataFinch has an AB consisting of a chair and six other members with experience and expertise in the areas of ABA, education, software development, and leadership. Consequently, they could provide specific and detailed advice on people, products, and processes. The AB for DataFinch was recruited based on first- and second-degree connections of the person who was appointed as the chair and first member of the AB (Dr. LeBlanc, fourth author). The people who were invited knew little to nothing about the product at the outset but were willing to explore participation because of their professional and personal connections to Dr. LeBlanc and her prior associates and because they found the convergence of ABA and technology to be exciting and unique. Thus, the first member of the AB was crucial and served as the connector to other board members and altered the probability that other members would accept.
The DataFinch AB meetings generally included an annual 2-day, on-site visit with a variety of whole-group discussions with the key members of the DataFinch leadership and development and support teams, as well as smaller, focused, "breakout" sessions with precise objectives tailored to specific AB members. The dynamic created by having different combinations of AB members in breakout sessions was a critical determinant of the value derived by the DataFinch team members.
DataFinch has benefited significantly from the direction, prioritization, and vision the AB members have provided regarding product features and services that would be most useful to behavior analysts. One local member of the AB with a technology background has also provided frequent support related to designing software development processes, providing deliverables at scale, and managing team dynamics. The AB was also able to extend the product road map of future features by anticipating the needs of behavior analysts and ABA organizations more generally. DataFinch also benefited greatly from the connections of the members of the AB and their ability to recruit specific expertise and resources as needed.
The key consideration for establishing, maintaining, and leveraging the DataFinch AB was the selection of the chair, who recruited the other members and oversaw the organization of all activities and interactions with the AB. This chair had the advantages of (a) being well connected in the field, (b) being organized and effective at planning and leading meetings and events, (c) following up with action items, and (d) having fun with the AB and DataFinch.
Sample Invitation Letter
June 27, 2021
Dr. Potential Advisor
[Invitee's Organization]
1300 Flanagan Blvd.
Any Town, NY 12345
Dear Dr. Potential Advisor,
I am writing to you as the executive director of [Organization Name], an intensive day program for children and young adults with autism. I would like to invite you to be a member of our newly formed board of advisors. Let me take this opportunity to explain our center and the duties and responsibilities of being an advisor.
[Organization Name] is a not-for-profit organization founded in 2020 to serve the needs of individuals and families affected by autism. [Add your mission and vision here, as well as any awards or items of interest in this section.]
[Talk about your company history in this section.]
Today, [Organization Name] has over 50 employees working toward the success of its learners and is continuing to grow to meet the needs of even more individuals. [Talk about where you are today and what services you offer, if you have a BOD, etc.]
[In this section, talk about what other organizations you are involved with.]
[Organization Name] is creating a board of advisors composed of renowned professionals with a variety of expertise in the field of behavior analysis—in particular, its application to individuals with autism, in order to [What is your goal for the AB to help you with? Talk about that in this section.].
[Write about what some of their duties will be in this section.]
The board of advisors will meet in [city, state, or by phone, Skype, etc.] X times per year. Tentative dates are [dates], with our initial meeting taking place in October 2021. Each advisor will attend at least X meetings per year. Each visit will consist of [Talk about the agenda here and what a visit will look like and what they will be doing.]. There may also be some follow-up questions/discussions via e-mail and/or telephone throughout the year.
Advisors will serve for X years and [Explain how many terms they may serve and how additional terms are agreed upon.]. Due to the nature of the matters discussed, advisors are required to sign a confidentiality and noncompete agreement that [Explain what the agreements entail, and if advisors will be used in marketing material, press releases, etc. Will advisors be allowed to consult with your competitors in the same city or state?].
[In this section, discuss expenses incurred and how they will be paid and if there is any payment for serving on the AB or an honorarium or if the position is strictly volunteer.]
A proposed schedule is below; however, prior to each meeting a more detailed agenda outlining topics will be distributed.
[Insert the proposed rough agenda here.]
We are inviting other nationally known behavior analysts, many of whom you know through the behavioral world.
[Share something with invitees that is personal to each one—that is, why you are inviting them to be on your AB. How have they inspired you? Why are they right for this board?]
Being a member of our board of advisors will [Explain here what they can gain by serving on the AB.].
Thank you for taking the time to look over this proposal. I truly appreciate your consideration of being a part of our board of advisors. Please contact me with any questions at [your contact e-mail or phone number] and expect a follow-up call from me within the next few weeks.
Sincerely,
Mary Director
Executive Director
[Organization Name]
Appendix 2
Sample AB Meeting Schedule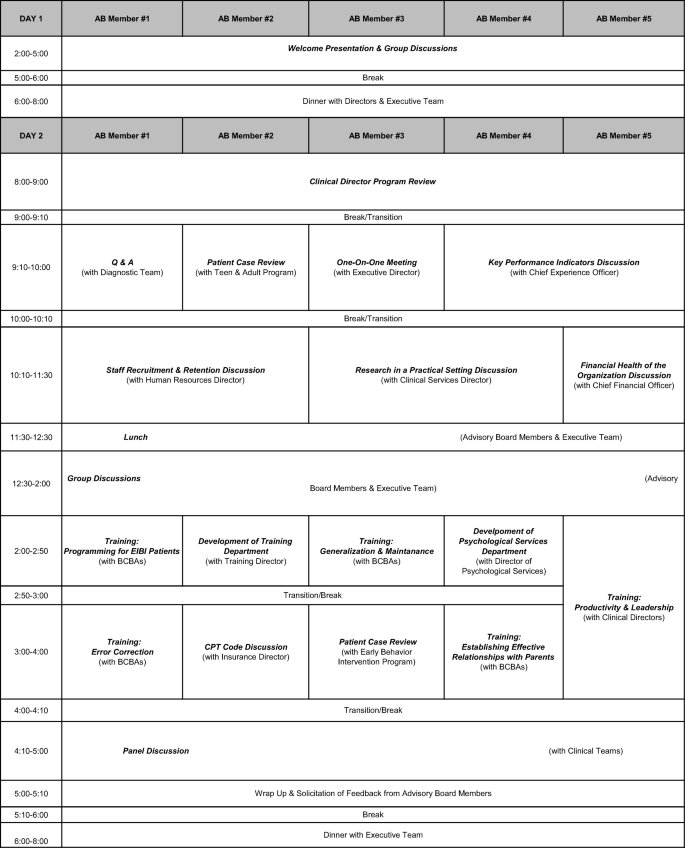 About this article
Cite this article
Courtney, W.T., Hartley, B.K., Rosswurm, M. et al. Establishing and Leveraging the Expertise of Advisory Boards. Behav Analysis Practice 14, 253–263 (2021). https://doi.org/10.1007/s40617-020-00503-1
Accepted:

Published:

Issue Date:

DOI: https://doi.org/10.1007/s40617-020-00503-1
Keywords
Advisory board

Expertise

Influence

Leadership

Management

Mentoring

Organization