Abstract
This article describes the development of a system, the Ethics Network, designed to promote discussion of ethical issues in a human services organization. The system includes several core components, including people (e.g., leaders, ambassadors), tools (e.g., hotline, training modules), and resources (e.g., monthly talking points). Data from 6 years of hotline submissions were analyzed to identify the most common concerns, and the data were compared to the pattern of violation notices submitted to the Behavior Analyst Certification Board. Recommendations are provided for creating similar systems in other organizations.
Access options
Buy single article
Instant access to the full article PDF.
US$ 39.95
Tax calculation will be finalised during checkout.
Subscribe to journal
Immediate online access to all issues from 2019. Subscription will auto renew annually.
US$ 79
Tax calculation will be finalised during checkout.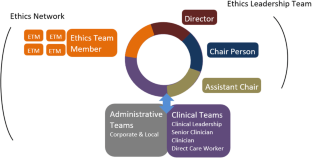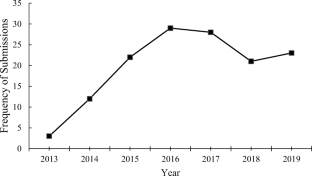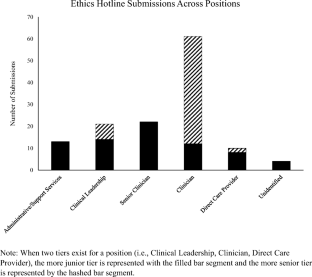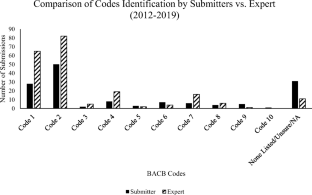 References
Arya, K., Margaryan, A., & Collis, B. (2003). Culturally sensitive problem solving activities for multi-national corporations. TechTrends, 47, 40–49. https://doi.org/10.1007/BF02763283.

Bailey, J. S., & Burch, M. R. (2016). Ethics for behavior analysts (3rd ed.). New York, NY: Routledge.

Behavior Analyst Certification Board. (2014). Professional and ethical compliance code for behavior analysts. Littleton, CO: Author.

Behavior Analyst Certification Board. (2018). A summary of ethics violations and code-enforcement activities: 2016–2017. Littleton, CO: Author.

Brodhead, M. T., & Higbee, T. S. (2012). Teaching and maintaining ethical behavior in a professional organization. Behavior Analysis in Practice, 5(2), 82–88. https://doi.org/10.1007/BF03391827.

Brodhead, M. T., Quigley, S. P., & Cox, D. J. (2018). How to identify ethical practices in organizations prior to employment. Behavior Analysis in Practice, 11(2), 165–173. https://doi.org/10.1007/s40617-018-0235-y.

Glago, K., Mastropieri, M. A., & Scruggs, T. E. (2009). Improving problem solving of elementary students with mild disabilities. Remedial and Special Education, 30(6), 372–380. https://doi.org/10.1177/0741932508324394.

LeBlanc, L. A., Sellers, T. P., & Alai, S. (2020). Building and sustaining meaningful and effective relationships as a supervisor and mentor. Cornwall on Hudson, NY: Sloan Publishing.

O'Leary, P. N., Miller, M. M., Olive, M. L., & Kelly, A. N. (2015). Blurred lines: ethical implications of social media for behavior analysts. Behavior Analysis in Practice, 10(1), 45–51. https://doi.org/10.1007/s40617-014-0033-0

Rosenberg, N. E., & Schwartz, I. S. (2019). Guidance or compliance: What makes an ethical behavior analyst? Behavior Analysis in Practice, 12(2), 473–482. https://doi.org/10.1007/s40617-018-00287-5.

Smith, C. M. (2005). Origin and uses of primum non nocere—above all, do no harm! Journal of Clinical Pharmacology, 45(4), 371–377. https://doi.org/10.1177/0091270004273680.

Smith, S. W., Lochman, J. E., & Daunic, A. P. (2005). Managing aggression using cognitive-behavioral interventions: State of the practice and future. Behavioral Disorders, 30(3), 227–240. https://doi.org/10.1177/019874290503000307.

Zur, O. (2007). Boundaries in psychotherapy: Ethical and clinical explorations. Washington, DC: American Psychological Association.
Author Note
The Ethics Network was developed as part of the Clinical Standards Initiative at Trumpet Behavioral Health. The authors thank Allie Kane, Heather Loeb, Jessie Mitchell, Kirstin Powers, Sarah Kristiansen, and Michael Wright, who each served as assistant chair, chair, or director of the Ethics Network.
Funding
No funding was associated with the current study.
Ethics declarations
Conflict of Interest
The authors of this manuscript declare no conflict of interest regarding this manuscript.
Ethical Approval
All procedures were performed in accordance with the ethical standards of the institutional review committee and with the 1964 Helsinki declaration and its later amendments.
Additional information
Publisher's Note
Springer Nature remains neutral with regard to jurisdictional claims in published maps and institutional affiliations.
Editor's Note
Although some agencies are busy changing the format of their service delivery and supervision of staff, we know that other agencies are not currently providing services and that leaders in these agencies now have unexpected time to reflect on how to improve quality of care when they return to the workplace. We have two outstanding peer-reviewed articles that we believe can support leaders who seek to improve ethical care in their agencies. The article by David Cox provides a detailed description of how agencies can develop an ethics committee. The article by Linda LeBlanc and colleagues provides a demonstration of an ethics committee and shares data on the most frequently occurring ethical concerns reported by their staff. Leaders working in agencies that do not currently have an ethics coordinator or an ethics committee can initiate dialogue with their staff about the value and process of developing an ethics committee to be responsive to staff, parent, and client concerns. Together, these articles can support the development of ethics committees to increase adherence to ethical codes and to promote ethical behavior in the workplace.
Appendix
Appendix
Information Completed by Submitters on the Ethics Hotline Submission Form
TBH Ethics Hotline Submission Form Components
A. What is your position/role?
B. Have you notified your supervisor about this issue?
C. Is this urgent?
D. Which of the following BACB Guidelines for Responsible Conduct or American Psychological Association Ethics Codes are relevant to your dilemma?
E. Tell us about your role, job title, credentials, and any other pertinent information at the time of the dilemma.
F. Setting: In which setting did the dilemma occur? If other setting: Please explain, client(s) or others involved.
G. Dilemma: Describe what happened or is happening to you that you think is an ethical problem.
H. Describe the actions considered and pros/cons of actions, actions taken, and review of outcomes.
I. Other: Is there any other information you would like to share about the dilemma?
About this article
Cite this article
LeBlanc, L.A., Onofrio, O.M., Valentino, A.L. et al. Promoting Ethical Discussions and Decision Making in a Human Service Agency. Behav Analysis Practice 13, 905–913 (2020). https://doi.org/10.1007/s40617-020-00454-7
Keywords
Behavior Analyst Certification Board

Clinical standards

Compliance code

Ethics

Organizational system

Reporting