Abstract
Children diagnosed with autism spectrum disorder (ASD) often engage in low levels of peer social interactions; therefore, we often need to explicitly teach these skills. In the current study, we implemented a combined tactile and textual prompt, delivered via a text message sent to an Apple Watch®, to prompt social initiations from children with ASD to peers during free play. Results showed that the text message prompts increased the frequency of independent social initiations for both participants. Furthermore, 1 participant continued to emit high levels of independent social initiations during a 1-month follow-up with no prompts.
Access options
Buy single article
Instant access to the full article PDF.
US$ 39.95
Tax calculation will be finalised during checkout.
Subscribe to journal
Immediate online access to all issues from 2019. Subscription will auto renew annually.
US$ 79
Tax calculation will be finalised during checkout.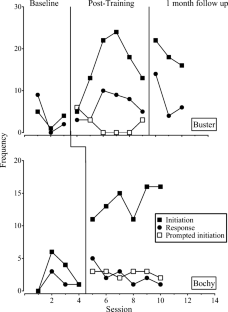 Acknowledgements
This project was completed in partial fulfillment of the master's degree from California State University, Stanislaus, by the first author. This study was supported in part by a Student Engagement in Research, Scholarship, and Creative Activity Mini-grant from California State University, Stanislaus. We thank Haide Rocha and Cecilia Schaffner for their assistance in collecting data.
Ethics declarations
Conflict of Interest
The authors declare that they have no conflict of interest.
Ethical Approval
All procedures performed in studies involving human participants were in accordance with the ethical standards of the institutional committee (Psychology Institutional Review Board, CSU Stanislaus, P-F17-72) and with the 1964 Helsinki declaration and its later amendments or comparable ethical standards.
Informed Consent
Informed consent was obtained from all individual participants included in the study.
Additional information
Publisher's Note
Springer Nature remains neutral with regard to jurisdictional claims in published maps and institutional affiliations.
Research Highlights
• Clinicians can teach children to respond to text-message prompts during brief, individual sessions.
• Utilizing technology (e.g., cell phones and smart watches) may allow clinicians to deliver less intrusive prompts in play contexts.
• Text-message prompts permit clinicians to deliver specific, contextually appropriate prompts.
• Smart watches are common, socially acceptable stimuli that may be ideal mechanisms to deliver prompts naturalistically.
About this article
Cite this article
Lopez, A.R., Wiskow, K.M. Teaching Children With Autism to Initiate Social Interactions Using Textual Prompts Delivered via Apple Watches®. Behav Analysis Practice 13, 641–647 (2020). https://doi.org/10.1007/s40617-019-00385-y
Keywords
Autism

Prompting

Social interactions

technology

Text message