Abstract
We trained three typically developing children to implement a script-fading procedure with their younger siblings with autism. The number of contextually appropriate statements made by the children with autism increased once treatment was initiated. Participants continued to emit higher levels of contextually appropriate statements after the scripts were completely faded and at a 4- or 11-week follow-up. The typically developing siblings were able to implement the script-fading procedure with high levels of fidelity.
Access options
Buy single article
Instant access to the full article PDF.
US$ 39.95
Tax calculation will be finalised during checkout.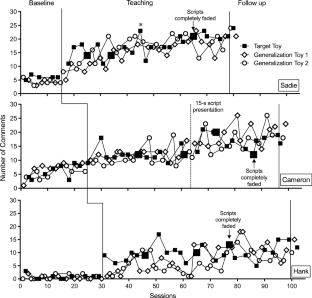 References
Akers, J. S., Pyle, N., Higbee, T. S., Pyle, D., & Gerencser, K. R. (2016). A synthesis of script fading effects with individuals with autism spectrum disorder: A 20-year review. Review Journal of Autism and Developmental Disorders, 3, 1–17. https://doi.org/10.1007/s40489-015-0062-9.

American Psychiatric Association. (2013). Diagnostic and statistical manual of mental disorders (5th ed.). Arlington, VA: American Psychiatric Publishing.

Carr, J. E., Nicolson, A. C., & Higbee, T. S. (2000). Evaluation of a brief multiple-stimulus preference assessment in a naturalistic context. Journal of Applied Behavior Analysis, 33(3), 353–357. https://doi.org/10.1901/jaba.200.33-353.

Krantz, P. J., & McClannahan, L. E. (1993). Teaching children with autism to initiate to peers: Effects of a script-fading procedure. Journal of Applied Behavior Analysis, 26(1), 121–132. https://doi.org/10.1901/jaba.1993.26-121.

Reagon, K. A., & Higbee, T. S. (2009). Parent-implemented script fading to promote play-based verbal initiations in children with autism. Journal of Applied Behavior Analysis, 42, 659–664. https://doi.org/10.1901/jaba.2009.42-659.
Ethics declarations
Conflict of Interest
The authors declare that they have no conflict of interest.
Ethical Approval
All procedures performed in this study were in accordance with the ethical standards of the institutional committee and with the 1964 Helsinki Declaration and its latter amendments or comparable ethical standards.
Informed Consent
Informed consent was obtained from the parents of the children included in the study.
Additional information
Implications for practice
• Young children with ASD often do not emit appropriate play statements while playing with toys.
• Script fading is an effective intervention for teaching children with ASD to emit play-based statements.
• Typically developing siblings can implement script fading with fidelity.
About this article
Cite this article
Akers, J.S., Higbee, T.S., Pollard, J.S. et al. Sibling-Implemented Script Fading to Promote Play-Based Statements of Children with Autism. Behav Analysis Practice 11, 395–399 (2018). https://doi.org/10.1007/s40617-018-0257-5
Keywords
Script fading

Autism

Sibling

Play

Language