Access options
Buy single article
Instant access to the full article PDF.
US$ 39.95
Tax calculation will be finalised during checkout.
Subscribe to journal
Immediate online access to all issues from 2019. Subscription will auto renew annually.
US$ 79
Tax calculation will be finalised during checkout.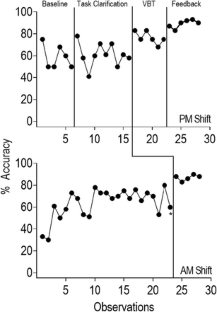 References
Austin, J. (2000). Performance analysis and performance diagnostics. In J. Austin & J. E. Carr (Eds.), Handbook of applied behavior analysis (pp. 321–349). Reno, NV: Context Press.

Carr, J. E., Wilder, D. A., Majdalany, L., Mathisen, D., & Strain, L. A. (2013). An assessment-based solution to a human-service employee performance problem. An initial evaluation of the Performance Diagnostic Checklist-Human Services. Behavior Analysis in Practice, 6, 16–32.

Endsley, R. C., & Minish, P. A. (1991). Parent-staff communication in day care centers during morning and afternoon transitions. Early Childhood Research Quarterly, 6, 119–135.

Fiese, B., Eckert, T., & Spagnola, M. (2006). Family context in early childhood: a look at practices and beliefs that promote learning. In B. Spodek & O. Saracho (Eds.), Handbook of research on the education of young children (2nd ed., pp. 393–409). Mahwah, NJ: Erlbaum.

Ingvarsson, E. T., & Hanley, G. P. (2006). An evaluation of computer-based programmed instruction for promoting teachers' greetings of parents by name. Journal of Applied Behavior Analysis, 39, 203–214. doi:10.1901/jaba.2006.18-05.

Martens, B. K., Witt, J. C., Elliot, S. N., & Darveaux, D. X. (1985). Teacher judgments concerning the acceptability of school-based interventions. Professional Psychology: Research & Practice, 16, 191–198.

Perlman, M., & Fletcher, B. A. (2012). Hellos and how are yous: predictors and correlates of communication between staff and families during morning drop-off in child care centers. Early Education and Development, 23, 539–557. doi:10.1080/10409289.2010.548766.

Winkelstein, E. (1981). Day care/family interaction and parental satisfaction. Child Care Quarterly, 10, 334–340.
About this article
Cite this article
Berc, H., Doucette, J.L., DiGennaro Reed, F.D. et al. Improving the Quality of Parent-Teacher Interactions in an Early Childhood Classroom. Behav Analysis Practice 7, 47–50 (2014). https://doi.org/10.1007/s40617-014-0012-5
Keywords
Task Analysis

Early Childhood Setting

Early Childhood Classroom

Morning Shift

Child Development Center