Abstract
Purpose
Physical activity (PA) has many health benefits for cancer survivors, but little research has examined patterns and correlates in African American women, who have a higher burden of comorbidities and obesity. We examined PA types and patterns overall and by obesity and comorbidities among long-term (> 5 years) breast cancer survivors.
Methods
This cross-sectional study included 323 women who were previous participants of a case-only study in three southeastern states. Women completed a survivorship-focused questionnaire using validated measures to collect data on cancer treatment, PA (recreational, household, transportation) and other lifestyle factors, and comorbidities. Logistic regression models estimated adjusted ORs and 95% CIs for total PA (all three types, categorized as tertiles) and meeting PA guidelines (> 150 min/week of exercise).
Results
The mean age of women was 59.1 years (range 27.9–79.5). The most frequent PA types (≥ 1/month) included routine household cleaning (92.9%), shopping (94.7%), walking slowly (42.1%), and walking briskly (40.6%). Less than 40% met PA guidelines. Women with more total comorbidities, arthritis, and obesity had lower levels of total PA (minutes/week) and/or recreational PA. In adjusted models, BMI ≥ 35 kg/m2 was associated with reduced odds of total PA (OR = 0.33, 95% CI 0.12–0.88, highest tertile). Arthritis was associated with reduced odds of meeting PA guidelines (OR = 0.61, 95% CI 36–1.05).
Conclusions
Close to 60% of African American breast cancer survivors did not meet PA guidelines based on recreational PA participation. Household PA was an important source of PA. Comorbidities and obesity were associated with both reduced total PA and not meeting PA guidelines.
Access options
Buy single article
Instant access to the full article PDF.
USD 39.95
Price excludes VAT (USA)
Tax calculation will be finalised during checkout.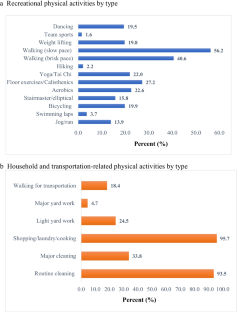 Data Availability
The data used for this research study are not available to external researchers at this time.
Abbreviations
AABL:

African American Breast Cancer Long-Term Survivorship Study

ACS:

American Cancer Society

BMI:

Body mass index

CI:

Confidence interval

ER:

Estrogen receptor status

IRB:

Institutional Review Boards

MI:

Myocardial infarction

OR:

Odds ratio

PA:

Physical activity

PR:

Progesterone receptor status

SERMs:

Selective-estrogen receptor modulators

T:

Tertiles

TNM:

Tumor node metastasis
References
National Cancer Intitute. National Institutes of Health, Female Breast Cancer - Cancer Stat Facts, Available: https://seer.cancer.gov/statfacts/html/breast.html. Accessed 08–10–2022.

Siegel RL, Miller KD, Jemal A. Cancer statistics, 2018. CA Cancer J Clin. 2018;68(1):7–30.

Coughlin SS, Yoo W, Whitehead MS, et al. Advancing breast cancer survivorship among African-American women. Breast Cancer Res Treat. 2015;153(2):253–61.

McCarthy AM, Yang J, Armstrong K. Increasing disparities in breast cancer mortality from 1979 to 2010 for US black women aged 20 to 49 years. Am J Public Health. 2015;105(Suppl 3):S446–8.

Akinyemiju T, Moore JX, Ojesina AI, et al. Racial disparities in individual breast cancer outcomes by hormone-receptor subtype, area-level socio-economic status and healthcare resources. Breast Cancer Res Treat. 2016;157(3):575–86.

Fryar CD, Hirsch R, Eberhardt MS, et al. Hypertension, high serum total cholesterol, and diabetes: racial and ethnic prevalence differences in U.S. adults, 1999–2006. NCHS Data Brief. 2010;(36):1–8.

Thompson CL, Owusu C, Nock NL, et al. Race, age, and obesity disparities in adult physical activity levels in breast cancer patients and controls. Front Public Health. 2014;2:150.

Fedewa SA, Sauer AG, Siegel RL, et al. Prevalence of major risk factors and use of screening tests for cancer in the United States. Cancer Epidemiol Biomark Prev. 2015;24(4):637–52.

Farmer BJ, Smith ED. Breast cancer survivorship: are African American women considered? A concept analysis Oncol Nurs Forum. 2002;29(5):779–87.

Sheppard VB, Llanos AA, Hurtado-de-Mendoza A, et al. Correlates of depressive symptomatology in African-American breast cancer patients. J Cancer Surviv. 2013;7(3):292–9.

Nicks SE, Wray RJ, Peavler O, et al. Examining peer support and survivorship for African American women with breast cancer. Psychooncology. 2019;28(2):358–64.

Lu Y, John EM, Sullivan-Halley J, et al. History of recreational physical activity and survival after breast cancer: The California Breast Cancer Survivorship Consortium. Am J Epidemiol. 2015;181(12):944–55.

Ceballos RM, Hohl SD, Molina Y, et al. Oncology provider and African-American breast cancer survivor perceptions of the emotional experience of transitioning to survivorship. J Psychosoc Oncol. 2021;39(1):35–53.

Alfano CM, Smith AW, Irwin ML, et al. Physical activity, long-term symptoms, and physical health-related quality of life among breast cancer survivors: a prospective analysis. J Cancer Surviv. 2007;1(2):116–28.

Rock CL, Thomson CA, Sullivan KR, et al. American Cancer Society nutrition and physical activity guideline for cancer survivors. CA Cancer J Clin. 2022;72(3):230–62.

Schmitz KH, Courneya KS, Matthews C, et al. American College of Sports Medicine roundtable on exercise guidelines for cancer survivors. Med Sci Sports Exerc. 2010;42(7):1409–26.

Holmes MD, Chen WY, Feskanich D, et al. Physical activity and survival after breast cancer diagnosis. JAMA. 2005;293(20):2479–86.

Paxton RJ, Garner W, Dean LT, et al. Health behaviors and lifestyle interventions in African American breast cancer survivors: a review. Front Oncol. 2019;9:3.

Berglund A, Wigertz A, Adolfsson J, et al. Impact of comorbidity on management and mortality in women diagnosed with breast cancer. Breast Cancer Res Treat. 2012;135(1):281–9.

Braithwaite D, Moore DH, Satariano WA, et al. Prognostic impact of comorbidity among long-term breast cancer survivors: results from the LACE study. Cancer Epidemiol Biomarkers Prev. 2012;21(7):1115–25.

Land LH, Dalton SO, Jorgensen TL, et al. Comorbidity and survival after early breast cancer. A review Crit Rev Oncol Hematol. 2012;81(2):196–205.

Tammemagi CM, Nerenz D, Neslund-Dudas C, et al. Comorbidity and survival disparities among black and white patients with breast cancer. Jama-Jo Am Med Assoc. 2005;294(14):1765–72.

Ashing K, Rosales M, Lai L, et al. Occurrence of comorbidities among African-American and Latina breast cancer survivors. J Cancer Surviv. 2014;8(2):312–8.

Santorelli ML, Hirshfield KM, Steinberg MB, et al. Racial differences in the effects of comorbidity on breast cancer-specific survival. Cancer Causes Control. 2017;28(8):809–17.

Paxton RJ, Taylor WC, Chang S, et al. Lifestyle behaviors of African American breast cancer survivors: a Sisters Network. Inc study PLoS One. 2013;8(4):e61854.

George SM, Irwin ML, Matthews CE, et al. Beyond recreational physical activity: examining occupational and household activity, transportation activity, and sedentary behavior in relation to postmenopausal breast cancer risk. Am J Public Health. 2010;100(11):2288–95.

Nechuta SJ, Caan BJ, Chen WY, et al. The After Breast Cancer Pooling Project: rationale, methodology, and breast cancer survivor characteristics. Cancer Causes Control. 2011;22(9):1319–31.

Bandera EV, Maskarinec G, Romieu I, et al. Racial and ethnic disparities in the impact of obesity on breast cancer risk and survival: a global perspective. Adv Nutr. 2015;6(6):803–19.

McTiernan A, Friedenreich CM, Katzmarzyk PT, et al. Physical activity in cancer prevention and survival: a systematic review. Med Sci Sports Exerc. 2019;51(6):1252–61.

Caan B, Sternfeld B, Gunderson E, et al. Life After Cancer Epidemiology (LACE) study: a cohort of early stage breast cancer survivors (United states). Cancer Causes Control. 2005;16(5):545–56.

United States Department of Health and Human Services. Physical Activity Guidelines for Americans. 2nd edition. Washington, DC: United States Department of Health and Human Services, 2018. https://health.gov/sites/default/files/2019-09/Physical_Activity_Guidelines_2nd_edition.pdf. Accessed 09-05-22.

Sanderson M, Pal T, Beeghly-Fadiel A, et al. A pooled case-only analysis of reproductive risk factors and breast cancer subtype among black women in the Southeastern United States. Cancer Epidemiol Biomarkers Prev. 2021;30(7):1416–23.

Harris PA, Taylor R, Thielke R, et al. Research electronic data capture (REDCap)—a metadata-driven methodology and workflow process for providing translational research informatics support. J Biomed Inform. 2009;42(2):377–81.

Kwan M, Ambrosone C, Lee M, et al. The Pathways Study: a prospective study of breast cancer survivorship within Kaiser Permanente Northern California. Cancer Causes Control. 2008;19(10):1065–76.

Sternfeld B, Weltzien E, Quesenberry CP Jr, et al. Physical activity and risk of recurrence and mortality in breast cancer survivors: findings from the LACE study. Cancer Epidemiol Biomarkers Prev. 2009;18(1):87–95.

Kwan ML, Sternfeld B, Ergas IJ, et al. Change in physical activity during active treatment in a prospective study of breast cancer survivors. Breast Cancer Res Treat. 2012;131(2):679–90.

Beasley JM, Kwan ML, Chen WY, et al. Meeting the physical activity guidelines and survival after breast cancer: findings from the after breast cancer pooling project. Breast Cancer Res Treat. 2012;131(2):637–43.

Centers for Disease Control and Prevention, Body Mass Index (BMI) | Healthy Weight | CDC. Available: https://www.cdc.gov/healthyweight/assessing/bmi/index.html. Accessed 08–10–22.

Beltran-Sanchez H, Harhay MO, Harhay MM, et al. Prevalence and trends of metabolic syndrome in the adult U.S. population, 1999–2010. J Am Coll Cardiol 2013;62(8):697–703.

Paxton RJ, Phillips KL, Jones LA, et al. Associations among physical activity, body mass index, and health-related quality of life by race/ethnicity in a diverse sample of breast cancer survivors. Cancer. 2012;118(16):4024–31.

Fontaine KR, Heo M, Bathon J. Are US adults with arthritis meeting public health recommendations for physical activity? Arthritis Rheum. 2004;50(2):624–8.

Heesch KC, Miller YD, Brown WJ. Relationship between physical activity and stiff or painful joints in mid-aged women and older women: a 3-year prospective study. Arthritis Res Ther. 2007;9(2):R34.

Conn VS, Hafdahl AR, Minor MA, et al. Physical activity interventions among adults with arthritis: meta-analysis of outcomes. Semin Arthritis Rheum. 2008;37(5):307–16.

Achttien R, van Lieshout J, Wensing M, et al. Symptoms of depression are associated with physical inactivity but not modified by gender or the presence of a cardiovascular disease; a cross-sectional study. BMC Cardiovasc Disord. 2019;19(1):95.

Heinrich KM, Becker C, Carlisle T, et al. High-intensity functional training improves functional movement and body composition among cancer survivors: a pilot study. Eur J Cancer Care (Engl). 2015;24(6):812–7.

Paxton RJ, Nayak P, Taylor WC, et al. African-American breast cancer survivors' preferences for various types of physical activity interventions: a Sisters Network Inc. web-based survey. J Cancer Surviv. 2014;8(1):31–8.

Beebe-Dimmer JL, Ruterbusch JJ, Harper FWK, et al. Physical activity and quality of life in African American cancer survivors: The Detroit Research on Cancer Survivors study. Cancer. 2020;126(9):1987–94.

Cozier YC, Barbhaiya M, Castro-Webb N, et al. A prospective study of obesity and risk of systemic lupus erythematosus (SLE) among Black women. Semin Arthritis Rheum. 2019;48(6):1030–4.

Signorello LB, Hargreaves MK, Blot WJ. The Southern Community Cohort Study: investigating health disparities. J Health Care Poor Underserved. 2010;21(1 Suppl):26–37.

Carter-Nolan PL, Adams-Campbell LL, Makambi K, et al. Validation of physical activity instruments: Black Women's Health Study. Ethn Dis. 2006;16(4):943–7.

Kauh TJ, Read JG, Scheitler AJ. The critical role of racial/ethnic data disaggregation for health equity. Popul Res Policy Rev. 2021;40(1):1–7.

Russell KM, Von Ah DM, Giesler RB, et al. Quality of life of African American breast cancer survivors: how much do we know? Cancer Nurs. 2008;31(6):E36-45.

Silber JH, Rosenbaum PR, Clark AS, et al. Characteristics associated with differences in survival among black and white women with breast cancer. JAMA. 2013;310(4):389–97.

Demark-Wahnefried W, Campbell KL, Hayes SC. Weight management and its role in breast cancer rehabilitation. Cancer. 2012;118(8 Suppl):2277–87.

Williams DR, Jackson PB. Social sources of racial disparities in health. Health Aff (Millwood). 2005;24(2):325–34.

Braveman P, Parker DT. Abandon, "race." Focus on racism Front Public Health. 2021;9:689462.

Tucker-Seeley RD. Social determinants of health and disparities in cancer care for black people in the United States. JCO Oncol Pract. 2021;17(5):261–3.

Klein WMP, O'Connell ME, Bloch MH, et al. Behavioral research in cancer prevention and control: emerging challenges and opportunities. J Natl Cancer Inst. 2022;114(2):179–86.

Alcaraz KI, Wiedt TL, Daniels EC, et al. Understanding and addressing social determinants to advance cancer health equity in the United States: a blueprint for practice, research, and policy. CA Cancer J Clin. 2020;70(1):31–46.

Neri EM, Ballman MR, Lu H, et al. Academic-health department collaborative relationships are reciprocal and strengthen public health practice: results from a study of academic research centers. J Public Health Manag Pract. 2014;20(3):342–8.

Sayani A, Maybee A, Manthorne J, et al. Equity-mobilizing partnerships in community (EMPaCT): co-designing patient engagement to promote health equity. Healthc Q. 2022;24:86–92.

Leyva B, Allen JD, Ospino H, et al. Enhancing capacity among faith-based organizations to implement evidence-based cancer control programs: a community-engaged approach. Transl Behav Med. 2017;7(3):517–28.

McNeill LH, Wu IHC, Cho D, et al. Community outreach and engagement strategies to address breast cancer disparities. Current Breast Cancer Reports. 2020;12(4):209–15.

Gordon-Larsen P, Nelson MC, Page P, et al. Inequality in the built environment underlies key health disparities in physical activity and obesity. Pediatrics. 2006;117(2):417–24.

Marquet O, Hipp JA, Alberico C, et al. Short-term associations between objective crime, park-use, and park-based physical activity in low-income neighborhoods. Prev Med. 2019;126:105735.

Zhang Y, van Dijk T, Wagenaar C. How the built environment promotes residents' physical activity: the importance of a holistic people-centered perspective. Int J Environ Res Public Health. 2022;19(9):5595. https://doi.org/10.3390/ijerph19095595.

Greaney ML, Askew S, Foley P, et al. Linking patients with community resources: use of a free YMCA membership among low-income black women. Transl Behav Med. 2017;7(2):341–8.

Cleland V, Ball K. What might work? Exploring the perceived feasibility of strategies to promote physical activity among women living in socioeconomically disadvantaged neighbourhoods. Health Educ Res. 2013;28(2):205–19.

Shankar A, McMunn A, Banks J, et al. Loneliness, social isolation, and behavioral and biological health indicators in older adults. Health Psychol. 2011;30(4):377–85.

Grenier A, Burke E, Currie G, et al. Social isolation in later life: the importance of place, disadvantage and diversity. J Aging Soc Policy. 2022;34(3):471–95.

Forsythe LP, Parry C, Alfano CM, et al. Use of survivorship care plans in the United States: associations with survivorship care. J Natl Cancer Inst. 2013;105(20):1579–87.

Garg A, Boynton-Jarrett R, Dworkin PH. Avoiding the unintended consequences of screening for social determinants of health. JAMA. 2016;316(8):813–4.
Acknowledgements
We thank participants of the AABL Survivorship Study. We thank Mary Kay Fadden for her guidance and help with the data collection and questionnaire methods. We thank Shantel Moore for collecting all telephone interview data and day-to-day recruitment and coordination of the AABL study.
Funding
The original parent case-only study was funded by National Cancer Institute grants U54CA163069, U54CA163072, and R03CA192214. Allison D. Banks was supported by U54CA163069. The AABL study was supported by grant K07CA184257 from the National Cancer Institute.
Ethics declarations
Ethics Approval
Institutional Review Board (IRB) approval for the AABL study was obtained from Vanderbilt University Medical Center and Meharry Medical College, and all study participants provided written informed consent.
Conflict of Interest
The authors declare no competing interests.
Additional information
Publisher's Note
Springer Nature remains neutral with regard to jurisdictional claims in published maps and institutional affiliations.
Supplementary Information
Below is the link to the electronic supplementary material.
Rights and permissions
Springer Nature or its licensor holds exclusive rights to this article under a publishing agreement with the author(s) or other rightsholder(s); author self-archiving of the accepted manuscript version of this article is solely governed by the terms of such publishing agreement and applicable law.
About this article
Cite this article
Busen, K., Sanderson, M., Banks, A.D. et al. Patterns of Physical Activity and the Role of Obesity and Comorbidities Among Long-term African American Breast Cancer Survivors. J. Racial and Ethnic Health Disparities (2022). https://doi.org/10.1007/s40615-022-01405-4
Received:

Revised:

Accepted:

Published:

DOI: https://doi.org/10.1007/s40615-022-01405-4
Keywords
Breast cancer

Cancer survivorship

Minority health

Physical activity

African American