Abstract
Background
Visit no-shows (NS) reduce clinic efficiency and effective resource allocation. Inadequate follow-up among patients with chronic eye disease increases risk of disease progression. Our study identifies demographic, medical, and socioeconomic characteristics that increase odds of NS among patients with chronic eye conditions at high risk of vision-threatening complications.
Methods
This is a retrospective case–control study of data abstracted over a 5-year period (January 2013–December 2018) in an urban academic ophthalmology practice. Follow-up appointments of patients ≥ 18 years of age with a diagnosis of glaucoma, diabetic retinopathy, or age-related macular degeneration were included. Age, sex, race, ethnicity, language preference, zip code, and relevant medical history were recorded. A multivariate mixed logistic regression model was utilized to determine any association between demographic factors and visit NS.
Results
A total of 106,652 visits for 4,598 unique patients were included in this study. Of these, 13,240 (12.4%) visits were NS. Patient characteristics that increased the odds of NS included Hispanic ethnicity (p < 0.0001), Black race (p < 0.0001), and a history of mental illness (p < 0.0001). Socioeconomic factors that increased the odds of NS included median household income < $40,000 (p = 0.002), Medicare insurance (p < 0.0001), and Medicaid insurance (p < 0.0001).
Conclusions
Our results highlight the influence of ethnic, racial, medical, and socioeconomic characteristics on appointment NS among patients with chronic eye disease. Future interventions aimed at reducing appointment NS could channel resources to the at-risk populations identified in this analysis to improve access to care for those who need it most.
Access options
Buy single article
Instant access to the full article PDF.
USD 39.95
Price excludes VAT (USA)
Tax calculation will be finalised during checkout.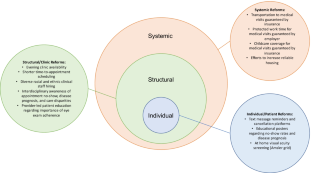 References
McMullen MJ, Netland PA. Lead time for appointment and the no-show rate in an ophthalmology clinic. Clin Ophthalmol. 2015;9:513–6.

Paterson BL, Charlton P, Richard S. Non-attendance in chronic disease clinics: a matter of non-compliance? J Nurs Healthc Chronic Illn. 2010;2(1):63–74.

Virk R, et al. How is the risk of being diagnosed with referable diabetic retinopathy affected by failure to attend diabetes eye screening appointments? Eye (Lond). 2021;35(2):477–83.

Kiruparan P, Kiruparan N, Debnath D. Impact of pre-appointment contact and short message service alerts in reducing "Did Not Attend" (DNA) rate on rapid access new patient breast clinics: a DGH perspective. BMC Health Serv Res. 2020;20(1):757.

Lin H, et al. Effectiveness of a short message reminder in increasing compliance with pediatric cataract treatment: a randomized trial. Ophthalmology. 2012;119(12):2463–70.

Chiam M, Kunselman AR, Chen MC. Characteristics associated with new patient appointment no-shows at an academic ophthalmology department in the United States. Am J Ophthalmol. 2021;229:210–9.

U.S. Census Bureau QuickFacts: Connecticut; United States. Available from: https://www.census.gov/quickfacts/fact/table/CT,US/INC110219. Accessed 19 May 2021.

Eppley SE, et al. Characteristics associated with adherence to annual dilated eye examinations among US patients with diagnosed diabetes. Ophthalmology. 2019;126(11):1492–9.

Chen EM, et al. Ophthalmic emergency department visits: factors associated with loss to follow-up. Am J Ophthalmol. 2020;222:126–36.

Green M, Tien T, Ness S. Predictors of lost to follow-up in patients being treated for proliferative diabetic retinopathy. Am J Ophthalmol. 2020;216:18–27.

Jansen ME, et al. Appointment compliance in patients with diabetic macular edema and exudative macular degeneration. Ophthalmic Surg Lasers Imaging Retina. 2018;49(3):186–90.

Briggs M, et al. Predictive factors for patients' failure to show for initial outpatient physical therapist evaluation. Phys Ther. 2021;101(5). https://doi.org/10.1093/PTJ/PZAB047.

Miller AJ, et al. Predictors of repeated "no-showing" to clinic appointments. Am J Otolaryngol. 2015;36(3):411–4.

Cohen AD, et al. Nonattendance of adult otolaryngology patients for scheduled appointments. J Laryngol Otol. 2007;121(3):258–61.

Kaplan-Lewis E, Percac-Lima S. No-show to primary care appointments: why patients do not come. J Prim Care Community Health. 2013;4(4):251–5.

Hamilton W, Round A, Sharp D. Patient, hospital, and general practitioner characteristics associated with non-attendance: a cohort study. Br J Gen Pract. 2002;52(477):317–9.

Rutledge MS, et al. What explains the widening gap in retirement ages by education. Center for Retirement Research Issue Brief, 2018: p. 18–10.

Ayanian JZ, et al. Unmet health needs of uninsured adults in the United States. JAMA. 2000;284(16):2061–9.

Murakami Y, et al. Racial and ethnic disparities in adherence to glaucoma follow-up visits in a county hospital population. Arch Ophthalmol. 2011;129(7):872–8.

Bertakis KD, et al. Gender differences in the utilization of health care services. J Fam Pract. 2000;49(2):147–52.

Bertakis KD. The influence of gender on the doctor-patient interaction. Patient Educ Couns. 2009;76(3):356–60.

Fathy C, et al. Disparities in adherence to screening guidelines for diabetic retinopathy in the United States: a comprehensive review and guide for future directions. Semin Ophthalmol. 2016;31(4):364–77.

Shi Q, et al. Racial disparity of eye examinations among the U.S. working-age population with diabetes: 2002–2009. Diabetes Care. 2014;37(5):1321–8.

Lu Y, et al. Disparities in diabetic retinopathy screening rates within minority populations: differences in reported screening rates among African American and Hispanic patients. Diabetes Care. 2016;39(3):e31–2.

Baker RS, et al. Access to vision care in an urban low-income multiethnic population. Ophthalmic Epidemiol. 2005;12(1):1–12.

Fairless E, Nwanyanwu K. Barriers to and facilitators of diabetic retinopathy screening utilization in a high-risk population. J Racial Ethn Health Disparities. 2019;6(6):1244–9.

Odonkor CA, et al. Factors associated with missed appointments at an academic pain treatment center: a prospective year-long longitudinal study. Anesth Analg. 2017;125(2):562–70.

Suresh R, et al. Loss to follow-up among patients with proliferative diabetic retinopathy in clinical practice. Am J Ophthalmol. 2020;215:66–71.

Curry EJ, et al. An Evaluation of risk factors for patient "no shows" at an urban joint arthroplasty clinic. J Am Acad Orthop Surg. 2020;28(22):e1006–13.

Policy, A.C.o.M.a.C. Racial and ethnic disparities in Medicaid: an annotated bibliography. 2021, MACPAC.

College, C.f.R.R.a.B. Average retirement age for men and women, 1962–2016. 2017.

Yusuf R, et al. Risk Factors for underutilization of eye care in the evaluation of diabetic retinopathy. Investig Ophthalmol Vis Sci. 2019;60(9):1080–1080.

Navabi S, et al. Influences and impact of anxiety and depression in the setting of inflammatory bowel disease. Inflamm Bowel Dis. 2018;24(11):2303–8.

Cradock-O'Leary J, et al. Use of general medical services by VA patients with psychiatric disorders. Psychiatr Serv. 2002;53(7):874–8.

Goldman LS. Medical illness in patients with schizophrenia. J Clin Psychiatry. 1999;60(Suppl 21):10–5.

Lieberman AA, Coburn AF. The health of the chronically mentally ill: a review of the literature. Community Ment Health J. 1986;22(2):104–16.

Massad PM, West AN, Friedman MJ. Relationship between utilization of mental health and medical services in a VA hospital. Am J Psychiatry. 1990;147(4):465–9.

Feng PW, et al. National trends in the United States eye care workforce from 1995 to 2017. Am J Ophthalmol. 2020;218:128–35.

Eades C, Alexander H. A mixed-methods exploration of non-attendance at diabetes appointments using peer researchers. Health Expect. 2019;22(6):1260–71.

Margham T, et al. Reducing missed appointments in general practice: evaluation of a quality improvement programme in East London. Br J Gen Pract. 2021;71(702):e31–8.

Andreae MH, et al. The effect of initiatives to overcome language barriers and improve attendance: a cross-sectional analysis of adherence in an inner city chronic pain clinic. Pain Med. 2017;18(2):265–74.

Atkinson-Briggs S, et al. Integrating diabetic retinopathy screening within diabetes education services in Australia's diabetes and indigenous primary care clinics. Intern Med J. 2019;49(6):797–800.

Chaiyachati KH, Moore K, Adelberg M. Too early to cut transportation benefits from medicaid enrollees. Health Services Insights. 2018;11:1178632918804817.
Funding
This publication was made possible by Grant Number 1 K23 EY030530-01 from the National Eye Institute, Yale Diabetes Center Grant P30 DK045735, and the Doris Duke Fund to Retain Clinical Scientists. This work has been supported in part by an unrestricted/challenge award to Yale Eye Center from the Research to Prevent Blindness (RPB), Inc., as well as the Yale School of Medicine Medical Student Research Fellowship.
Ethics declarations
Ethics Approval
This study was approved by Yale University's institutional review board and was carried out in accordance with the Declaration of Helsinki and the Health Insurance Portability and Accountability Act.
Consent to Participate
Given the retrospective, chart review nature of this study the Yale University institutional review board found that informed consent could be waived for this study under federal regulation 45 CFR 46.116(d). This part of the regulations states that (1) this research involves no more than minimal risk to the subjects, (2) the waiver or alteration will not adversely affect the rights and welfare of the subjects, (3) the research could not practicably be carried out without the waiver, and (4) whenever appropriate, the subjects will be provided with additional pertinent information after participation.
Consent to Publish
Our manuscript does not contain any individual person's data in any form and therefore consent for publication was not obtained.
Competing Interests
The authors declare no competing interests.
Disclaimer
Its contents are solely the responsibility of the authors and do not necessarily represent the official view of NIH.
Additional information
Publisher's Note
Springer Nature remains neutral with regard to jurisdictional claims in published maps and institutional affiliations.
About this article
Cite this article
Greig, E.C., Gonzalez-Colaso, R. & Nwanyanwu, K. Racial, Ethnic, and Socioeconomic Disparities Drive Appointment No-Show in Patients with Chronic Eye Disease. J. Racial and Ethnic Health Disparities 10, 1790–1797 (2023). https://doi.org/10.1007/s40615-022-01363-x
Received:

Revised:

Accepted:

Published:

Issue Date:

DOI: https://doi.org/10.1007/s40615-022-01363-x
Keywords