Abstract 
Background/Objectives
Benzodiazepines are commonly used to treat anxiety and panic disorders. White patients are more likely to receive a benzodiazepine prescription than non-White patients in different medical settings. Racial-ethnic disparities have also been found in prescription of opioids from the emergency room. It is not known whether racial disparities in benzodiazepine prescriptions exist at the emergency department level. This study aims to analyze the relationship between benzodiazepine prescriptions for anxiety in an emergency department setting.
Design
Data for this cross-sectional study was obtained from the National Hospital Ambulatory Medical Care Survey (NHAMCS) Years 2009–2018. Patients ≥ 18 years of age presenting to the emergency department with anxiety were identified. Adjusted survey logistic regression was conducted to evaluate the patient characteristics and receipt of benzodiazepines.
Results
This study analyzed 1,174,556,119 emergency department (ED) visits out of which 2.8% had a diagnosis of anxiety disorder. Prevalence of anxiety was higher in the following groups: females, younger age range (18–34 years old), and non-Hispanic (NH) White. Rates of benzodiazepine prescription for patients with anxiety were higher for NH-White and Hispanic patients at 29% and 28% respectively than for NH-Black and NH-Other (24% and 21% respectively). Compared to NH-White patients, NH-Black patients were 36% less likely to be prescribed a benzodiazepine (prevalence ratio (PR) = 0.64; 95% confidence interval (CI) = 0.54–0.76) and Hispanic patients were 19% less likely to be prescribed a benzodiazepine (PR = 0.81; 95% CI = 0.68–0.96). Age, sex, or type of insurance did not show a statistically significant influence in the prescription of benzodiazepines.
Conclusions
These findings reveal that NH-Black and Hispanic patients with anxiety are significantly less likely to be prescribed benzodiazepines than their NH-White counterparts in the ED. Further studies are needed to determine the root causes of these health disparities and strategies to combat them.
Access options
Buy single article
Instant access to the full article PDF.
USD 39.95
Price excludes VAT (USA)
Tax calculation will be finalised during checkout.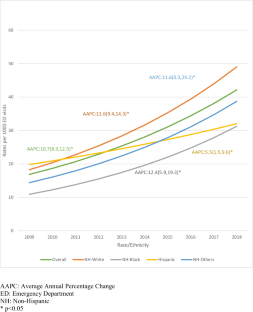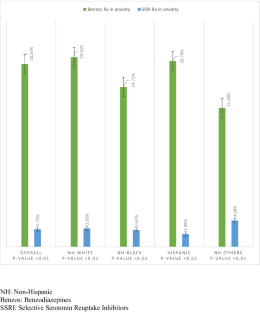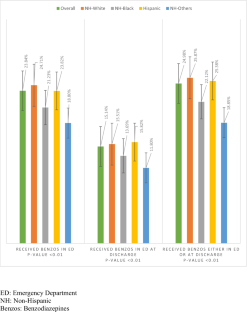 References
Ashton H. Guidelines for the rational use of benzodiazepines: when and what to use. Drugs. 1994;48(1):25–40.

Griffin C III, Kaye A, Bueno FR, Kaye A. Benzodiazepine pharmacology and central nervous system-mediated effects. Ochsner J. 2013;13(2):214–23.

Bachhuber MA, Hennessy S, Cunningham CO, et al. Increasing benzodiazepine prescriptions and overdose mortality in the United States, 1996–2013. Am J Public Health. 2016;106:686–8.

Maust DT, Lin LA, Blow FC. Benzodiazepine use and misuse among adults in the United States. Psychiatr Serv. 2019;70(2):97–106.

Peters SM, Knauf KQ, Derbidge CM, Kimmel R, Vannoy S. Demographic and clinical factors associated with benzodiazepine prescription at discharge from psychiatric inpatient treatment. Gen Hosp Psychiatry. 2015;37(6):595–600.

Jessell L, Stanhope V, Manuel JI, Mateu-Gelabert P. Factors associated with benzodiazepine prescribing in community mental health settings. J Subst Abuse Treat. 2020;109:56–60.

Singhal A, Tien Y, Hsia R. Racial-ethnic disparities in opioid prescriptions at emergency department visits for conditions commonly associated with prescription drug abuse. PLoS One. 2016;11(8).

Pletcher MJ, Kertesz SG, Kohn MA, Gonzales R. Trends in opioid prescribing by race/ethnicity for patients seeking care in US emergency departments. JAMA. 2008;299(1):70–8.

Craske MG, Stein MB. Anxiety. Lancet. 2016;388(10063):3048–59.

Center for Disease Control and Prevention. Ambulatory health care data: Centers for Disease Control and Prevention. http://www.cdc.gov/nchs/ahcd.htm. Accessed June 25, 2021.

Institute for Health Metrics and Evaluation (IHME). GBD Compare. Seattle, WA: IHME, University of Washington, 2015. Available from http://vizhub.healthdata.org/gbd-compare. (Accessed November 19, 2021).

American Psychiatric Association. Diagnostic and statistical manual of mental disorders. 5th ed. Washington D.C.: 2013.

Schmitz A. Benzodiazepine use, misuse, and abuse: a review. Ment Health Clin. 2016;6(3):120–6.

Cook B, Creedon T, Wang Y, et al. Examining racial/ethnic differences in patterns of benzodiazepine prescription and misuse. Drug Alcohol Depend. 2018;187:29–34.

Substance Abuse and Mental Health Services Administration (SAMHSA). 2019 National Survey on Drug Use and Health: mental health detailed tables. Table 8.17B. https://www.samhsa.gov/data/report/2019-nsduh-detailed-tables. Accessed June 25, 2021.

American Psychiatric Association. Mental health disparities: Hispanics and Latinos. https://www.psychiatry.org/File%20Library/Psychiatrists/Cultural-Competency/Mental-Health-Disparities/Mental-Health-Facts-for-Hispanic-Latino.pdf. Accessed June 25, 2021.

Hall WJ, Chapman MV, Lee KM, et al. Implicit racial/ethnic bias among health care professionals and its influence on health care outcomes: a systematic review. Am J Public Health. 2015;105(12):60–76.

Mende-Siedlecki P, Qu-Lee J, Backer R, Van Bavel JJ. Perceptual contributions to racial bias in pain recognition. J Exp Psychol: Gen. 2019;148(5):863–89.

Green CR, Anderson KO, Baker TA, et al. The unequal burden of pain: confronting racial and ethnic disparities in pain. Pain Med. 2003;4(3):277–94.

Tamayo-Sarver JH, Hinze SW, Cydulka RK, Baker DW. Racial and ethnic disparities in emergency department analgesic prescription. Am J Public Health. 2003;93(12):2067–73.

Baetzel A, Brown DJ, Koppera P, Rentz A, Thompson A, Christensen R. Adultification of black children in pediatric anesthesia. Anesth Analg. 2019;129(4):1118–23.

Doescher MP, Saver BG, Fiscella K, Franks P. Racial/ethnic inequities in continuity and site of care: location, location, location. Health Serv Res. 2001;36(6 Pt 2):78–89.

O'Connor RE, Haley L. Disparities in emergency department health care: systems and administration. Acad Emerg Med. 2003;10(11):1193–8.

Conner KO, Koeske G, Brown C. Racial differences in attitudes toward professional mental health treatment: the mediating effect of stigma. J Gerontol Soc Work. 2009;52(7):695–712.

Ward EC, Wiltshire JC, Detry MA, Brown RL. African American men and women's attitude toward mental illness, perceptions of stigma, and preferred coping behaviors. Nurs Res. 2013;62(3):185–94.

Zito JM, Pennap D, Safer DJ. Antidepressant use in Medicaid-insured youth: trends, covariates, and future research needs. Front Psychiatry. 2020;11(113).
Funding
Research funding support was provided by the U.S. Department of Health and Human Services and the Health Resources and Services Administration for Baylor College of Medicine Center of Excellence in Health Equity, Training, and Research (Grant No.: D34HP31024).
Ethics declarations
Conflict of Interest
The authors declare no competing interests.
Additional information
Publisher's Note
Springer Nature remains neutral with regard to jurisdictional claims in published maps and institutional affiliations.
Supplementary Information
Below is the link to the electronic supplementary material.
About this article
Cite this article
Ribas Roca, J., Everett, T., Dongarwar, D. et al. Racial-Ethnic Disparities in Benzodiazepine Prescriptions for Anxiety in US Emergency Departments. J. Racial and Ethnic Health Disparities 10, 334–342 (2023). https://doi.org/10.1007/s40615-021-01224-z
Received:

Revised:

Accepted:

Published:

Issue Date:

DOI: https://doi.org/10.1007/s40615-021-01224-z
Keywords