Abstract
Prior to embarking on a large descriptive evaluation of genetic/racial variations in symptom phenotype, we sought foundational information to determine racial differences in (1) feasibility (consent) and acceptability of collecting genomic samples, (2) genetic literacy, and (3) concerns of genomic research during breast cancer (BC) chemotherapy. Women with early-stage BC undergoing chemotherapy were recruited from an academic, urban breast care center. Information was collected for consent to participate, genetic literacy, and concerns about genetic testing in Black and White women with BC. Fifty-six women were eligible, and 48 were consented (24 Black, 24 White). All participants consented to blood testing. This highly educated sample's mean age was 52.5 + 12.05 (years). Education (years) and genetic knowledge were positively correlated (p = .038). Genetic scores were high, and only one question significantly differed by race. On interview, most participants thought conducting genetic research helped to better understand hereditary disease and/or identify genes that cause disease and stated that they participated in the research to help other people. The majority of participants responded that friends/family would participate in genetic research without concerns, though three Black participants cited mistrust as a possible concern. Overall, there were high levels of genetic knowledge, slightly different between Black and White women. There were no high levels of personal concern regarding genetic testing. Black women reported more concern than White women that friends/family would have hesitations about participating in genetic research. There was general acceptability of blood collection for genetic testing among women with early-stage BC without racial difference.
We're sorry, something doesn't seem to be working properly.
Please try refreshing the page. If that doesn't work, please contact support so we can address the problem.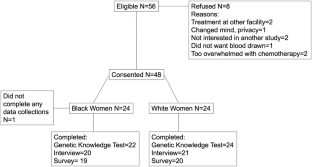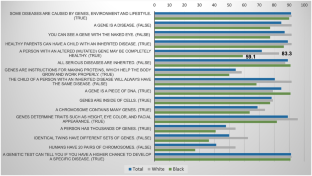 Data Availability
The data from this study are retained at University of Pittsburgh. The datasets used and/or analyzed during the current study are available from the corresponding author on reasonable request.
References
1.

Siegel RL, Miller KD, Jemal A. Cancer statistics, 2019. CA Cancer J Clin. 2019;69(1):7–34. https://doi.org/10.3322/caac.21551.

2.

DeSantis CE, Ma J, Goding Sauer A, Newman LA, Jemal A. Breast cancer statistics, 2017, racial disparity in mortality by state. CA Cancer J Clin. 2017;67(6):439–48. https://doi.org/10.3322/caac.21412.

3.

Rosenzweig M, Connolly M. Total dose of chemotherapy received in cohort of African American women with breast cancer. Oncol Nurs Forum. 2016;43:133.

4.

Yee MK, Sereika SM, Bender CM, Brufsky AM, Connolly MC, Rosenzweig MQ. Symptom incidence, distress, cancer-related distress, and adherence to chemotherapy among African American women with breast cancer. Cancer. 2017;123(11):2061–9. https://doi.org/10.1002/cncr.30575.

5.

Jiang Y, Sereika SM, Bender CM, Brufsky AM, Rosenzweig MQ. Beliefs in chemotherapy and knowledge of cancer and treatment among African American women with newly diagnosed breast cancer. Oncol Nurs Forum. 2016;43(2):180–9. https://doi.org/10.1188/16.ONF.180-189.

6.

Rosenzweig M, Brufsky A, Rastogi P, Puhalla S, Simon J, Underwood S. The attitudes, communication, treatment, and support intervention to reduce breast cancer treatment disparity. Oncol Nurs Forum. 2011;38(1):85–9. https://doi.org/10.1188/11.onf.85-89.

7.

Rosenzweig MQ, Wiehagen T, Brufsky A, Arnold R. Challenges of illness in metastatic breast cancer: a low-income African American perspective. Palliat Support Care. 2009;7(2):143–52. https://doi.org/10.1017/S1478951509000194.

8.

Yoon J, Malin JL, Tisnado DM, Tao ML, Adams JL, Timmer MJ, et al. Symptom management after breast cancer treatment: is it influenced by patient characteristics? Breast Cancer Res Treat. 2008;108(1):69–77. https://doi.org/10.1007/s10549-007-9580-1.

9.

Haggstrom DA, Quale C, Smith-Bindman R. Differences in the quality of breast cancer care among vulnerable populations. Cancer. 2005;104(11):2347–58. https://doi.org/10.1002/cncr.21443.

10.

Eversley R, Estrin D, Dibble S, Wardlaw L, Pedrosa M, Favila-Penney W. Post-treatment symptoms among ethnic minority breast cancer survivors. Oncol Nurs Forum. 2005;32(2):250–6. https://doi.org/10.1188/05.ONF.250-256.

11.

Powe BD, Hamilton J, Hancock N, Johnson N, Finnie R, Ko J, et al. Quality of life of African American cancer survivors. A review of the literature. Cancer. 2007;109(2 Suppl):435–45. https://doi.org/10.1002/cncr.22358.

12.

Richardson LC, Wang W, Hartzema AG, Wagner S. The role of health-related quality of life in early discontinuation of chemotherapy for breast cancer. Breast J. 2007;13(6):581–7. https://doi.org/10.1111/j.1524-4741.2007.00512.x.

13.

von Friederichs-Fitzwater MM, Denyse RT. The unmet needs of African American women with breast cancer. Adv Breast Cancer Res. 2012;2012:1–6.

14.

Popejoy AB, Fullerton SM. Genomics is failing on diversity. Nature. 2016;538(7624):161–4. https://doi.org/10.1038/538161a.

15.

Sirugo G, Williams SM, Tishkoff SA. The missing diversity in human genetic studies. Cell. 2019;177(1):26–31. https://doi.org/10.1016/j.cell.2019.02.048.

16.

Bentley AR, Callier S, Rotimi CN. Diversity and inclusion in genomic research: why the uneven progress? J Commun Genet. 2017;8(4):255–66. https://doi.org/10.1007/s12687-017-0316-6.

17.

Landry LG, Ali N, Williams DR, Rehm HL, Bonham VL. Lack of diversity in genomic databases is a barrier to translating precision medicine research into practice. Health Affairs (Project Hope). 2018;37(5):780–5. https://doi.org/10.1377/hlthaff.2017.1595.

18.

Schneider BP, Li L, Radovich M, Shen F, Miller KD, Flockhart DA, et al. Genome-wide association studies for taxane-induced peripheral neuropathy in ECOG-5103 and ECOG-1199. Clin Cancer Res. 2015;21:5082–91. https://doi.org/10.1158/1078-0432.Ccr-15-0586.

19.

Newman WG, Flockhart D. Breast cancer pharmacogenomics: where we are going. Pharmacogenomics. 2012;13:629–31. https://doi.org/10.2217/pgs.12.37.

20.

O'Donnell PH, Dolan ME. Cancer pharmacoethnicity: ethnic differences in susceptibility to the effects of chemotherapy. Clin Cancer Res. 2009;15(15):4806–14. https://doi.org/10.1158/1078-0432.CCR-09-0344.

21.

Foster MW, Sharp RR. Race, ethnicity, and genomics: social classifications as proxies of biological heterogeneity. Genome Res. 2002;12(6):844–50. https://doi.org/10.1101/gr.99202.

22.

Schneider BP, Lai D, Shen F, Jiang G, Radovich M, Li L, et al. Charcot-Marie-Tooth gene, SBF2, associated with taxane-induced peripheral neuropathy in African Americans. Oncotarget. 2016;7(50):82244–53. https://doi.org/10.18632/oncotarget.12545.

23.

Nugent BD, McCall MK, Connolly M, Mazanec SR, Sereika SM, Bender CM et al. Protocol for Symptom Experience, Management, Outcomes and Adherence according to Race and Social Determinants of health (SEMOARS). Nursing Research. 2020;submitted, revisions pending.

24.

Troidl H, Vestweber KH, Sommer H, Tepner S. Modern technics of tube feeding. Leber Magen Darm. 1984;14(2):58–63. https://doi.org/10.1080/14636779908656892.

25.

Fitzgerald-Butt SM, Bodine A, Fry KM, Ash J, Zaidi AN, Garg V, et al. Measuring genetic knowledge: a brief survey instrument for adolescents and adults. Clin Genet. 2016;89(2):235–43. https://doi.org/10.1111/cge.12618.

26.

Qualitative research practice: a guide for social science students and researchers. Second ed. SAGE Publications Ltd.; 2014.

27.

Morren M, Rijken M, Baanders AN, Bensing J. Perceived genetic knowledge, attitudes towards genetic testing, and the relationship between these among patients with a chronic disease. Patient Educ Couns. 2007;65(2):197–204.

28.

Horowitz CR, Ferryman K, Negron R, Sabin T, Rodriguez M, Zinberg RF, et al. Race, genomics and chronic disease: what patients with African ancestry have to say. J Health Care Poor Underserved. 2017;28(1):248–60. https://doi.org/10.1353/hpu.2017.0020.

29.

Towncharts.com - United States data powerfully illustrated and interactive. 2019. https://www.towncharts.com/Pennsylvania/Education/Pittsburgh-city-PA-Education-data.html. Accessed Apr 8 2020.

30.

Christensen KD, Jayaratne TE, Roberts JS, Kardia SL, Petty EM. Understandings of basic genetics in the United States: results from a national survey of black and white men and women. Public Health Genomics. 2010;13(7–8):467–76. https://doi.org/10.1159/000293287.

31.

Haga SB, Barry WT, Mills R, Ginsburg GS, Svetkey L, Sullivan J, et al. Public knowledge of and attitudes toward genetics and genetic testing. Genet Test Mol Biomarkers. 2013;17(4):327–35. https://doi.org/10.1089/gtmb.2012.0350.

32.

Key NS, Connes P, Derebail VK. Negative health implications of sickle cell trait in high income countries: from the football field to the laboratory. Br J Haematol. 2015;170(1):5–14. https://doi.org/10.1111/bjh.13363.

33.

Vassy JL, O'Brien KE, Waxler JL, Park ER, Delahanty LM, Florez JC, et al. Impact of literacy and numeracy on motivation for behavior change after diabetes genetic risk testing. Med Decis Making. 2012;32(4):606–15. https://doi.org/10.1177/0272989X11431608.

34.

Ratzan SC, Parker RM. Introduction. In: Selden CR, Zorn M, Ratzan SC, Parker RM, editors. National Library of Medicine current bibliographies in medicine: health literacy. Bethesda: National Institutes of Health U.S. Department of Health and Human Services; 2000.

35.

Kutner M, Greenberg E, Jin Y, Paulsen C. The health literacy of America's adults: results from the 2003 National Assessment of Adult Literacy (NCES 2006–483). Washington, DC: U.S. Department of Education; 2006.

36.

Sparano JA, Gray RJ, Makower DF, Pritchard KI, Albain KS, Hayes DF, et al. Prospective validation of a 21-gene expression assay in breast cancer. N Engl J Med. 2015;373(21):2005–14. https://doi.org/10.1056/NEJMoa1510764.

37.

Cavallari LH, Lee CR, Beitelshees AL, Cooper-DeHoff RM, Duarte JD, Voora D, et al. Multisite investigation of outcomes with implementation of CYP2C19 genotype-guided antiplatelet therapy after percutaneous coronary intervention. J Am Coll Cardiol Intv. 2018;11:181–91. https://doi.org/10.1016/j.jcin.2017.07.022.

38.

Haga SB, Mills R, Bosworth H. Striking a balance in communicating pharmacogenetic test results: promoting comprehension and minimizing adverse psychological and behavioral response. Patient Educ Couns. 2014;97(1):10–5. https://doi.org/10.1016/j.pec.2014.06.007.

39.

The Tuskegee Timeline. In: U.S. Public Health Service Syphilis Study at Tuskegee. Centers for Disease Control and Prevention, Atlanta, GA. n.d. https://www.cdc.gov/tuskegee/timeline.htm. Accessed Mar 12 2020.

40.

The immortal life of Henrietta Lacks. In: The legacy of Henrietta Lacks. The Johns Hopkins University, The Johns Hopkins Hospital, and Johns Hopkins Health System,, Baltimore, MD. n.d. https://www.hopkinsmedicine.org/henriettalacks/immortal-life-of-henrietta-lacks.html. Accessed Mar 12 2020.

41.

Dye T, Li D, Demment M, Groth S, Fernandez D, Dozier A, et al. Sociocultural variation in attitudes toward use of genetic information and participation in genetic research by race in the United States: implications for precision medicine. J Am Med Inform Assoc. 2016;23(4):782–6. https://doi.org/10.1093/jamia/ocv214.

42.

Millon Underwood S, Buseh AG, Kelber ST, Stevens PE, Townsend L. Enhancing the participation of African Americans in health-related genetic research: findings of a collaborative academic and community-based research study. Nurs Res Pract. 2013;2013:749563–9. https://doi.org/10.1155/2013/749563.
Acknowledgments
The authors wish to thank the women who participated in the study.
Funding
This study was funded by the Clinical and Translational Science Institute University of Pittsburgh (5UL1TR001857; PI: Reis) Symptom Experience and Management outcomes According to Race + Genetics (SEMOARS + G) Feasibility study. Parent study funding Symptom Experience and Management Outcomes According to Race (R01-MD-012245; PI: Rosenzweig). M. McCall was supported by a Doctoral Degree Scholarship in Cancer Nursing (DSCN-19-049-01) from the American Cancer Society, the Rockefeller University Heilbrunn Family Center for Research Nursing through the generosity of the Heilbrunn Family, and by a Research Doctoral Scholarship from the Oncology Nursing Foundation.
Ethics declarations
Competing Interests
The authors declare that they have no competing interests.
Ethics Approval
The study was performed in line with the principles of the Declaration of Helsinki, its later amendments, or comparable ethical standards and was approved by the University of Pittsburgh Institutional Review Board (STUDY18100026).
Research Involving Human Participants
All procedures followed were in accordance with the ethical standards of the responsible committee on human experimentation (institutional and national) and with the Helsinki Declaration of 1975, as revised in 2000 (5).
Informed Consent
Informed consent was obtained from all participants for being included in the study.
Consent to Participate
All research participants voluntarily provided their informed consent prior to any research activity.
Consent for Publication
Not applicable.
Coding Availability
Not applicable.
Additional information
Publisher's Note
Springer Nature remains neutral with regard to jurisdictional claims in published maps and institutional affiliations.
About this article
Cite this article
McCall, M.K., Ibikunle, S., Murphy, Y. et al. Knowledge and Attitudes About Genetic Testing Among Black and White Women with Breast Cancer. J. Racial and Ethnic Health Disparities (2020). https://doi.org/10.1007/s40615-020-00878-5
Received:

Revised:

Accepted:

Published:
Keywords
Genetic testing

Health knowledge

Attitudes

Practice

African-American

Breast neoplasms