Abstract
Hypertension is a chronic condition that disproportionately affects African Americans. Managing high blood pressure (HBP) requires adherence to daily medication. However, many patients with hypertension take their HBP medication inconsistently, putting them at heightened risk of heart disease. Researchers have shown that these health risks are greater for African Americans than for Caucasians. In this article, we examine barriers and facilitators of medication adherence among urban African Americans with hypertension. We interviewed 24 African Americans with hypertension (58.5% women, average age 59.5 years) and conducted a comprehensive thematic analysis. Twenty-two barriers and 32 facilitators to medication adherence emerged. Barriers included side effects and forgetting while facilitators included reminders, routines, and social support. Using this data, we developed a diagram of theme connectedness of factors that affect medication adherence. This diagram can guide multi-level HBP intervention research that targets African Americans to promote medication adherence, prevent heart disease, and reduce ethnic and racial health disparities.
Access options
Buy single article
Instant access to the full article PDF.
USD 39.95
Price excludes VAT (USA)
Tax calculation will be finalised during checkout.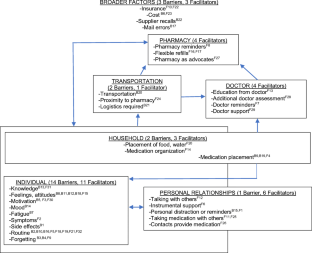 References
Heron M. Deaths: leading causes for 2016. Natl Vital Stat Rep. 2018;67(6):1–77.

Whelton PK, Carey RM, Aronow WS, Casey DE, Collins KJ, Dennison Himmelfarb C, et al. Guideline for the prevention, detection, evaluation, and management of high blood pressure in adults: a report of the American College of Cardiology/American Heart Association Task Force on Clinical Practice Guidelines. Circulation. 2018;138:e484–594. https://doi.org/10.1161/cir.0000000000000596.

U.S. Department of Health & Human Services. High blood pressure. 2019; https://www.cdc.gov/bloodpressure/index.htm. Accessed 29 Apr 2020.

Roberts CK, Barnard RJ. Effects of exercise and diet on chronic disease. J Appl Physiol. 2005;98:3–30. https://doi.org/10.1152/japplphysiol.00852.2004.

Wu J, Kraja AT, Oberman A, Lewis CE, Ellison RC, Arnett DK, et al. A summary of the effects of antihypertensive medications on measured blood pressure. Am J Hypertens. 2005. https://doi.org/10.1016/j.amjhyper.2005.01.011.

Vrijens B, De Geest S, Hughes DA, Przemyslaw K, Demonceau J, Ruppar T, et al. A new taxonomy for describing and defining adherence to medications. Br J Clin Pharmacol. 2012. https://doi.org/10.1111/j.1365-2125.2012.04167.x.

Osterberg L, Blaschke T. Adherence to medication. N Engl J Med. 2005;353:487–97. https://doi.org/10.1056/NEJMra050100.

Kim MT, Han HR, Hill MN, Rose L, Roary M. Depression, substance use, adherence behaviors, and blood pressure in urban hypertensive black men. Ann Behav Med. 2003. https://doi.org/10.1207/s15324796abm2601_04.

Schoenthaler A, Ogedegbe G, Allegrante JP. Self-efficacy mediates the relationship between depressive symptoms and medication adherence among hypertensive African Americans. Health Educ Behav. 2009. https://doi.org/10.1177/1090198107309459.

Viswanathan H, Lambert BL. An inquiry into medication meanings, illness, medication use, and the transformative potential of chronic illness among African Americans with hypertension. Res Soc Adm Pharm. 2005;1:21–39. https://doi.org/10.1016/j.sapharm.2004.12.007.

Young JH, Ng D, Ibe C, Weeks K, Brotman DJ, Dy SM, et al. Access to care, treatment ambivalence, medication nonadherence, and long-term mortality among severely hypertensive African Americans: a prospective cohort study. J Clin Hypertens. 2015;17:614–21. https://doi.org/10.1111/jch.12562.

Solomon A, Schoenthaler A, Seixas A, Ogedegbe G, Jean-Louis G, Lai D. Medication routines and adherence among hypertensive African Americans. J Clin Hypertens. 2015;17:668–72. https://doi.org/10.1111/jch.12566.

Flynn SJ, Ameling JM, Hill-Briggs F, Wolff JL, Bone LR, Levine DM, et al. Facilitators and barriers to hypertension self-management in urban African Americans: perspectives of patients and family members. Patient Prefer Adherence. 2013. https://doi.org/10.2147/ppa.S46517.

Ferdinand KC, Yadav K, Nasser SA, Clayton-Jeter HD, Lewin J, Cryer DR, et al. Disparities in hypertension and cardiovascular disease in blacks: the critical role of medication adherence. J Clin Hypertens. 2017;19:1015–24. https://doi.org/10.1111/jch.13089.

Go AS, Bauman MA, Coleman King SM, Fonarow GC, Lawrence W, Williams KA, et al. An effective approach to high blood pressure control: a science advisory from the American Heart Association, the American College of Cardiology, and the Centers for Disease Control and Prevention. J Am Coll Cardiol. 2014;63:1230–8. https://doi.org/10.1016/j.jacc.2013.11.007.

Abel WM, Efird JT. The association between trust in health care providers and medication adherence among black women with hypertension. Front Public Health. 2013. https://doi.org/10.3389/fpubh.2013.00066.

Centers for Disease Control and Prevention. Racial/ethnic disparities in the awareness, treatment, and control of hypertension - United States, 2003–2010. Morb Mortal Wkly Rep. 2013;62(18):351–5.

Yoon SS, Carroll MD, Fryar CD. Hypertension prevalence and control among adults: United States, 2011-2014. NCHS Data Brief. 2015;220:1–8.

Wong MD, Shapiro MF, Boscardin WJ, Ettner SL. Contribution of major diseases to disparities in mortality. N Engl J Med. 2002. https://doi.org/10.1056/NEJMsa012979.

Lackland DT. Racial differences in hypertension: implications for high blood pressure management. Am J Med Sci. 2014;348:135–8. https://doi.org/10.1097/maj.0000000000000308.

Hong JC, Padula WV, Hollin IL, Hussain T, Dietz KB, Halbert JP, et al. Care management to reduce disparities and control hypertension in primary care: a cost-effectiveness analysis. Med Care. 2018;56:179–85. https://doi.org/10.1097/mlr.0000000000000852.

White HL. Promoting self-management of hypertension in the African-American church. J Natl Black Nurses Assoc. 2018;29(1):6–12.

Victor RG, Lynch K, Li N, Blyler C, Muhammad E, Handler J, et al. A cluster-randomized trial of blood-pressure reduction in black barbershops. N Engl J Med. 2018;378:1291–301. https://doi.org/10.1056/NEJMoa1717250.

Kling HE, D'Agostino EM, Booth JV, Patel H, Hansen E, Mathew MS, et al. The effect of a park-based physical activity program on cardiovascular, strength, and mobility outcomes among a sample of racially/ethnically diverse adults aged 55 or older. Prev Chronic Dis. 2018;15. https://doi.org/10.5888/pcd15.180326.

Whelton PK, Einhorn PT, Muntner P, Appel LJ, Cushman WC, Diez Roux AV, et al. Research needs to improve hypertension treatment and control in African Americans. Hypertension. 2016. https://doi.org/10.1161/hypertensionaha.116.07905.

Braun V, Clark V. Using thematic analysis in psychology. Qual Res Psychol. 2006;3:77–101.

Nowell LS, Norris JM, White DE, Moules NJ. Thematic analysis: striving to meet the trustworthiness criteria. Int J Qual Methods. 2017;16:1–13.

Lynch EB, Williams J, Avery E, Crane MM, Lange-Maia B, Tangney C, et al. Partnering with churches to conduct a wide-scale health screening of an urban, segregated community. J Community Health. 2019. https://doi.org/10.1007/s10900-019-00715-9.

Horne R, Weinman J. Patients' beliefs about prescribed medicines and their role in adherence to treatment in chronic physical illness. J Psychosom Res. 1999;47:555–67. https://doi.org/10.1016/s0022-3999(99)00057-4.

Maxwell JA. Using numbers in qualitative research. Qual Inq. 2010;16(6):475–82.

Sandelowski M, Voils CI, Knafl G. On quantitizing. J Mixed Methods Res. 2009;3(3):208–22.

Tolley EE, Ulin PR, Mack N, Robinson ET, Succop SM. Qualitative methods in public health: a field guide for applied research. San Francisco: Wiley; 2016.

U.S. Department of Health and Human Services. Social determinants of health. 2020. https://www.healthypeople.gov/2020/topics-objectives/topic/social-determinants-of-health. Accessed 29 Apr 2020.

Berchick ER, Hood E, Barnett JC. Health insurance coverage in the United States: 2017. United States Census Bureau 2018. https://www.census.gov/content/dam/Census/library/publications/2018/demo/p60-264.pdf. Accessed 29 Apr 2020.

Boulware LE, Cooper LA, Ratner LE, LaVeist TA, Powe NR. Race and trust in the health care system. Public Health Rep. 2003. https://doi.org/10.1093/phr/118.4.358.

Hammond WP. Psychosocial correlates of medical mistrust among African American men. Am J Community Psychol. 2010;45:87–106. https://doi.org/10.1007/s10464-009-9280-6.

LaVeist TA, Nickerson KJ, Bowie JV. Attitudes about racism, medical mistrust, and satisfaction with care among African American and white cardiac patients. Med Care Res Rev. 2000;57:146–61. https://doi.org/10.1177/1077558700057001s07.

Hekler EB, Lambert J, Leventhal E, Leventhal H, Jahn E, Contrada RJ. Commonsense illness beliefs, adherence behaviors, and hypertension control among African Americans. J Behav Med. 2008;31:391–400. https://doi.org/10.1007/s10865-008-9165-4.

Lewis LM. Factors associated with medication adherence in hypertensive blacks: a review of the literature. J Cardiovasc Nurs. 2012;27:208–19. https://doi.org/10.1097/JCN.0b013e318215bb8f.
Funding
This project was funded by the Irwin W. Steans Center's Community–based Research Faculty Fellowship at DePaul University.
Ethics declarations
University institutional review boards (at Rush University Medical Center and DePaul University) reviewed and approved all study procedures. Participants provided written consent prior to the study.
Conflict of Interest
The authors declared no potential conflicts of interest with respect to the research, authorship, and/or publication of this article. Dr. Ruppar has served as a consultant for Becton Dickinson and The Medicines Company/Novartis.
Additional information
Publisher's Note
Springer Nature remains neutral with regard to jurisdictional claims in published maps and institutional affiliations.
About this article
Cite this article
Schober, D.J., Tate, M., Rodriguez, D. et al. High Blood Pressure Medication Adherence Among Urban, African Americans in the Midwest United States. J. Racial and Ethnic Health Disparities 8, 607–617 (2021). https://doi.org/10.1007/s40615-020-00819-2
Received:

Revised:

Accepted:

Published:

Issue Date:

DOI: https://doi.org/10.1007/s40615-020-00819-2
Keywords
Hypertension

Medication adherence

African Americans

Minority health

Health status disparities