Abstract
Objective
To determine whether racial or sex bias or the number of officers influences the chances of reported injury or hospital evaluation after the use of less than lethal force by law enforcement.
Methods
Retrospective cohort study of 12,326 incidents of less than lethal force in Indianapolis, Indiana (2014–2018), and Wichita, Kansas (2008–2018).
Results
Injuries to non-White persons are under-reported (Indianapolis Pr ≤ 0.003; Wichita Pr ≤ 0.000) and non-White persons are less likely to be referred for hospital evaluation after the use of force (Indianapolis OR 0.57, CI 0.45–0.72, Wichita OR 0.66, CI 0.48–0.92). In Indianapolis, the presence of more than one officer significantly reduced the odds of hospitalization after both injury and serious injury (OR 0.48, CI 0.36–0.64 for injury, OR 0.22, CI 0.12–0.39 for serious injury). For both cities, an estimated 25% more non-White persons who were subject to the use of force should have been evaluated in a hospital than actually were.
Conclusions
Significant racial disparities exist in the reporting of injuries and in the access to care after the use of force by law enforcement.
Implications
Policies, procedures, and training need to be amended to correct the disparities in access to care after the use of force. Access to sequestered law enforcement data is imperative to assess the extent of these disparities nationwide.
Access options
Buy single article
Instant access to the full article PDF.
US$ 39.95
Tax calculation will be finalised during checkout.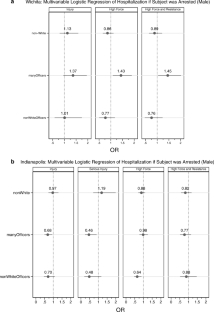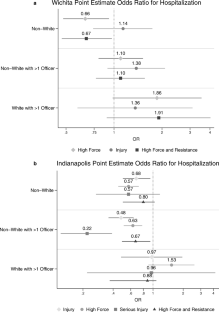 References
1.

Cooper H, Fullilove M. Editorial: Excessive police violence as a public health issue. J Urban Health. 2016;93(Suppl 1):51–7.

2.

Bozeman WP, Stopyra JP, Klinger DA, et al. Injuries associated with police use of force. J Trauma Acute Care Surg. 2017;84(3):466–72.

3.

Strote J, Verzemnieks E, Walsh M, Hutson RH. Use of force by law enforcement: an evaluation of safety and injury. J Trauma. 2010;69(5):1288–93.

4.

Davis E, Whyde A, Langton L. Contacts between the police and public, 2015. Special Report: Bureau of Justice Statistics NCJ251145. 2018; https://www.bjs.gov/content/pub/pdf/cpp15.pdf

5.

Hyland S, Langton L, Davis E. Police use of nonfatal force, 2002–11. Special Report: Bureau of Justice Statistics NCJ249216. 2015.

6.

Fridell LA. Explaining the disparity in results across studies assessing racial disparity in police use of force: a research note. Am J Crim Justice. 2017;42:502. https://doi.org/10.1007/s12103-016-9378-y.

7.

Jetelina KK, Jennings WG, Bishopp SA, Piquero AR, et al. Dissecting the complexities of the relationship between police officer–civilian race/ethnicity dyads and less-than-lethal use of force. Am J Public Health. 2017;107:1164–70.

8.

Miller TR, Lawrence BA, Carlson NN, et al. Perils of police action: a cautionary tale from US data set. Inj Prev. 23:27–32.

9.

Mooney AC, McConville S, Rappaport AJ, Hsia RY. Association of legal intervention injuries with race and ethnicity among patients treated in emergency departments in California. JAMA Netw Open. 2018;1(5):e182150. https://doi.org/10.1001/jamanetworkopen.2018.2150.

10.

Mitchell O. Understanding police use of force via hospital administrative data prospects and problems. JAMA Netw Open. 2018;1(5):e182231. https://doi.org/10.1001/jamanetworkopen.2018.2231.

11.

Institute of Medicine. Unequal treatment: confronting racial and ethnic disparities in health care (with CD). Washington, DC: The National Academies Press; 2003. https://doi.org/10.17226/12875.

12.

Hoffman KM, Trawalter S, Axt JR, Oliver MN. Racial bias in pain assessment and treatment recommendations, and false beliefs about biological differences between blacks and whites. PNAS. 2016;116(16):4296–301 www.pnas.org/cgi/doi/10.1073/pnas.1516047113.

13.

Mitchell R, Lewis S. Intention is not method, belief is not evidence, rank is not proof: ethical policing needs evidence-based decision making. Int J Emerg Serv. 2017;6(3):188–99. https://doi.org/10.1108/IJES-04-2017-0018.
Ethics declarations
Conflict of Interest
The authors declare that they have no conflict of interest.
Ethical Approval
This article does not contain any studies with human participants or animals performed by any of the authors.
Additional information
Publisher's Note
Springer Nature remains neutral with regard to jurisdictional claims in published maps and institutional affiliations.
Electronic Supplementary Material
About this article
Cite this article
Lewis, S., Bueno de Mesquita, B. Racial Differences in Hospital Evaluation After the Use of Force by Police: a Tale of Two Cities. J. Racial and Ethnic Health Disparities 7, 1178–1187 (2020). https://doi.org/10.1007/s40615-020-00742-6
Received:

Revised:

Accepted:

Published:

Issue Date:
Keywords
Use of force

Policing

Health disparities

Access to care