Abstract
The Hispanic/Latino population is the largest minority group in the USA. Research has documented health disadvantages of undocumented Latinos/Hispanics compared to their documented counterparts. The economic and social conditions that influence immigrant health may operate differently for undocumented immigrants compared to their documented counterparts. Access to healthcare, access to health-protective resources (social, economic, and political contributors), and immigration enforcement actions are three mechanisms that affect immigrants and contribute to the social and health inequities within the Latino/Hispanic population. We argue that social factors within these three mechanisms distinctly affect undocumented immigrants. We discuss these factors by synthesizing the existing literature on documentation status and health. In doing so, we highlight opportunities for future research and provide recommendations for policies and interventions that can ease the taxing effects of documentation status on health among Latinos/Hispanics.
Access options
Buy single article
Instant access to the full article PDF.
US$ 39.95
Tax calculation will be finalised during checkout.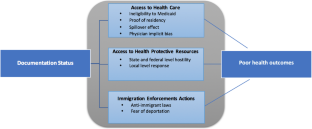 References
1.

Passel JS, Cohn D. Chapter 2: Birthplaces of U.S. Unauthorized Immigrants. In: Passel JS, Cohn, D. Unauthorized Immigrant Totals Rise in 7 States, Fall in 14: Decline in Those From Mexico Fuels Most State Decreases. 2014.

2.

Young MT, Pebley AR. Legal status, time in the USA, and the well-being of Latinos in Los Angeles. J Urban Health. 2017;94(6):764–75. https://doi.org/10.1007/s11524-017-0197-3.

3.

Sullivan MM, Rehm R. Mental health of undocumented Mexican immigrants. Adv Nurs Sci. 2005;28(3):240–51. https://doi.org/10.1097/00012272-200507000-00006.

4.

Martinez O, Wu E, Sandfort T, Dodge B, Carballo-Dieguez A, Pinto R, et al. Evaluating the impact of immigration policies on health status among undocumented immigrants: a systematic review. J Immigr Minor Health. 2013;17(3):947–70. https://doi.org/10.1007/s10903-013-9968-4.

5.

Arbona C, Olvera N, Rodriguez N, Hagan J, Linares A, Wiesner M. Acculturative stress among documented and undocumented Latino immigrants in the United States. Hisp J Behav Sci. 2010;32(3):362–84. https://doi.org/10.1177/0739986310373210.

6.

Castro-Echeverry E, Kao LS, Robinson EK, Silberfein EJ, Ko TC, Wray CJ. Relationship between documentation status and survival for medically underserved Hispanic breast cancer patients. J Surg Res. 2013;180(2):284–9. https://doi.org/10.1016/j.jss.2012.04.072.

7.

Poon KK, Dang BN, Davila JA, Hartman C, Giordano TP. Treatment outcomes in undocumented Hispanic immigrants with HIV Infection. PLoS One. 2013;8(3):e60022. https://doi.org/10.1371/journal.pone.0060022.

8.

Kelaher M, Jessop DJ. Differences in low-birthweight among documented and undocumented foreign-born and US-born Latinas. Soc Sci Med. 2002;55(12):2171–5. https://doi.org/10.1016/s0277-9536(01)00360-4.

9.

Ortega AN, Mckenna RM, Pintor JK, et al. Health care access and physical and behavioral health among undocumented Latinos in California. Med Care. 2018;56(11):919–26. https://doi.org/10.1097/mlr.0000000000000985.

10.

Castañeda H, Holmes SM, Madrigal DS, Young M-ED, Beyeler N, Quesada J. Immigration as a social determinant of health. Annu Rev Public Health. 2015;36(1):375–92. https://doi.org/10.1146/annurev-publhealth-032013-182419.

11.

Bustamante AV, Fang H, Garza J, et al. Variations in healthcare access and utilization among Mexican immigrants: the role of documentation status. J Immigr Minor Health. 2010;14(1):146–55. https://doi.org/10.1007/s10903-010-9406-9.

12.

Zhen-Duan J, Jacquez F, Vaughn L. Demographic characteristics associated with barriers to health care among Mexican and Guatemalan immigrants in a nontraditional destination area. Family & Community Health. 2017;40(2):101–11. https://doi.org/10.1097/fch.0000000000000141.

13.

Mallet ML, Calvo R, Waters MC. "I Don't belong anymore": undocumented Latino immigrants encounter social services in the United States. Hisp J Behav Sci. 2017;39(3):267–82. https://doi.org/10.1177/0739986317718530.

14.

Committee Opinion No. 627. Obstetrics & Gynecology. 2015;125(3):755–759. doi:https://doi.org/10.1097/01.aog.0000461771.63747.37.

15.

The Henry J. Kaiser Family Foundation. Focus on health reform immigrants' health coverage and health reform: key questions and answers. https://kaiserfamilyfoundation.files.wordpress.com/2013/01/7982.pdf. December 2009. Accessed January 22, 2019.

16.

Goldman DP, Smith JP, Sood N. Immigrants and the cost of medical care. Health Aff. 2006;25(6):1700–11. https://doi.org/10.1377/hlthaff.25.6.1700.

17.

Samra S, Taira B, Pinheiro E, Trotzky-Sirr R, Schneberk T. Undocumented patients in the emergency department: challenges and opportunities. West J Emerg Med. 2019;20(5):791–8. https://doi.org/10.5811/westjem.2019.7.41489.

18.

Marshall KJ, Urrutia-Rojas X, Mas FS, Coggin C. Health status and access to health care of documented and undocumented immigrant Latino women. Health Care for Women Int. 2005;26(10):916–36. https://doi.org/10.1080/07399330500301846.

19.

Calvo R, Jablonska-Bayro J, Waters MC. Obamacare in action: how access to the health care system contributes to immigrants' sense of belonging. J Ethn Migr Stud. 2017;43(12):2020–36.

20.

Santillan M, De Maria F. Access to healthcare, barriers, experiences and disease perceptions of the Latino undocumented-diabetes mellitus population in Philadelphia. Graduate Ann. 2014;2(1):13.

21.

Cavazos-Rehg PA, Zayas LH, Spitznagel EL. Legal status, emotional well-being and subjective health status of Latino immigrants. J Natl Med Assoc. 2007;99(10):1126–31.

22.

Oropesa RS, Landale NS, Hillemeier MM. Legal status and health care: Mexican-origin children in California, 2001–2014. Popul Res Policy Rev. 2016;35(5):651–84. https://doi.org/10.1007/s11113-016-9400-6.

23.

Flores G, Abreu M, Olivar MA, Kastner B. Access barriers to health care for Latino children. Arch Pediatr Adolesc Med. 1998;152(11):1119–25. https://doi.org/10.1001/archpedi.152.11.1119.

24.

Fiscella K, Sanders MR. Racial and ethnic disparities in the quality of health care. Annu Rev Public Health. 2016;37(1):375–94. https://doi.org/10.1146/annurev-publhealth-032315-021439.

25.

Blair IV, Steiner JF, Fairclough DL, Hanratty R, Price DW, Hirsh HK, et al. Clinicians implicit ethnic/racial bias and perceptions of care among black and Latino patients. The Annals of Family Medicine. 2013;11(1):43–52. https://doi.org/10.1370/afm.1442.

26.

Hall WJ, Chapman MV, Lee KM, et al. Implicit racial/ethnic bias among health care professionals and its influence on health care outcomes: a systematic review. Am J Public Health. 2015;105(12):e60–76. https://doi.org/10.2105/ajph.2015.302903.

27.

Matthew DB. Toward a structural theory of implicit racial and ethnic bias in health care. Health Matrix: The Journal of Law-Medicine. 2015;25(1):61–86.

28.

Reny T, Manzano S. The negative effects of mass media stereotypes of Latinos and immigrants. Media and Minorities. 2016 195–212. doi:https://doi.org/10.13109/9783666300882.195.

29.

Flores RD, Schachter A. Who are the "illegals"? The social construction of illegality in the United States. Am Sociol Rev. 2018;83(5):839–68. https://doi.org/10.1177/0003122418794635.

30.

Philbin MM, Flake M, Hatzenbuehler ML, Hirsch JS. State-level immigration and immigrant-focused policies as drivers of Latino health disparities in the United States. Soc Sci Med. 2017. https://doi.org/10.1016/j.socscimed.2017.04.007.

31.

Rhodes SD, Mann L, Simán FM, Song E, Alonzo J, Downs M, et al. The impact of local immigration enforcement policies on the health of immigrant Hispanics/Latinos in the United States. Am J Public Health. 2015;105(2):329–37. https://doi.org/10.2105/ajph.2014.302218.

32.

Iten AE, Jacobs EA, Lahiff M, Fernández A. Undocumented immigration status and diabetes care among Mexican immigrants in two immigration "sanctuary" areas. J Immigr Minor Health. 2012;16(2):229–38. https://doi.org/10.1007/s10903-012-9741-0.

33.

Martínez AD, Ruelas L, Granger DA. Household fear of deportation in relation to chronic stressors and salivary proinflammatory cytokines in Mexican-origin families post-SB 1070. SSM-population health. 2018;5:188–200.

34.

Torres JM, Deardorff J, Holland N, Harley KG, Kogut K, Long K, et al. Deportation worry, cardiovascular disease risk factor trajectories, and incident hypertension: a community-based cohort study. J Am Heart Assoc. 2019;8(23):e013086.

35.

Dow HD. An overview of stressors faced by immigrants and refugees: a guide for mental health practitioners. Home Health Care Manag Pract. 2011;23(3):210–7. https://doi.org/10.1177/1084822310390878.

36.

Toomey RB, Umaña-Taylor AJ, Williams DR, Harvey-Mendoza E, Jahromi LB, Updegraff KA. Impact of Arizona's SB 1070 immigration law on utilization of health care and public assistance among Mexican-origin adolescent mothers and their mother figures. Am J Public Health. 2014;104(S1):S28–34. https://doi.org/10.2105/ajph.2013.301655.

37.

Anderson KF, Finch JK. Racially charged legislation and Latino health disparities: the case of Arizonas S.B. 1070. Sociol Spectr. 2014;34(6):526–48. https://doi.org/10.1080/02732173.2014.947452.

38.

Torche F, Sirois C. Restrictive immigration law and birth outcomes of immigrant women. Am J Epidemiol. 2018;188(1):24–33. https://doi.org/10.1093/aje/kwy218.

39.

Miranda J, Siddique J, Der-Martirosian C, Belin TR. Depression among Latina immigrant mothers separated from their children. Psychiatr Serv. 2005;56(6):717–20. https://doi.org/10.1176/appi.ps.56.6.717.

40.

Mersky J, Topitzes J, Reynolds A. Impacts of adverse childhood experiences on health, mental health, and substance use in early adulthood: a cohort study of an urban, minority sample in the U.S. Child Abuse Negl. 2013;37(11):917–25. https://doi.org/10.1016/j.chiabu.2013.07.011.

41.

Mersky JP, Janczewski CE, Topitzes J. Rethinking the measurement of adversity. Child Maltreatment. 2017;22(1):58–68. https://doi.org/10.1177/1077559516679513.

42.

Teicher MH. Childhood trauma and the enduring consequences of forcibly separating children from parents at the United States border. BMC Med. 2018;16(1):146. https://doi.org/10.1186/s12916-018-1147-y.

43.

Vargas ED, Ybarra VD. U.S. citizen children of undocumented parents: the link between state immigration policy and the health of Latino children. J Immigr Minor Health. 2016;19(4):913–20. https://doi.org/10.1007/s10903-016-0463-6.

44.

Vargas ED. Immigration enforcement and mixed-status families: the effects of risk of deportation on Medicaid use. Child Youth Serv Rev. 2015;57:83–9. https://doi.org/10.1016/j.childyouth.2015.07.009.

45.

Derose KP, Escarce JJ, Lurie N. Immigrants and health care: sources of vulnerability. Health Aff. 2007;26(5):1258–68. https://doi.org/10.1377/hlthaff.26.5.1258.
Additional information
Publisher's Note
Springer Nature remains neutral with regard to jurisdictional claims in published maps and institutional affiliations.
About this article
Cite this article
Cabral, J., Cuevas, A.G. Health Inequities Among Latinos/Hispanics: Documentation Status as a Determinant of Health. J. Racial and Ethnic Health Disparities 7, 874–879 (2020). https://doi.org/10.1007/s40615-020-00710-0
Received:

Revised:

Accepted:

Published:

Issue Date:
Keywords
Documentation status

Immigrants

Hispanics/Latinos

Health