Abstract
Introduction
Adverse childhood experiences (ACEs) are common in the USA and associated with multiple health sequelae. Physical intimate partner violence (IPV) is a type of revictimization that some adults with ACEs may be more prone to. Positive and supportive childhood environments may buffer the effects of ACEs, but little is known about the differential associations between physical IPV and ACEs and supportive childhood environments. We sought to illustrate racial/ethnic and gender differences in the adjusted predicted probability of physical IPV across multiple ACE and supportive childhood scores.
Methods
We used multivariate linear regression to model the predicted probability of experiencing physical IPV across ACE (physical, psychological, sexual, household environment, mother's abuse) and supportive childhood scores in a national sample (National Epidemiologic Survey on Alcohol and Related Conditions-III, 2012–2013, n = 35,614). Data analyses were conducted in 2019.
Results
American Indian/Alaska Native (AI/AN) women demonstrated the highest proportion of experiencing physical IPV (21%). AI/AN men had the highest mean physical ACE score (1.6/4), while AI/AN women had the highest mean scores for all other ACE typologies. ACE scores were positively associated with predicted physical IPV among women, and among AI/AN women in particular. Supportive childhood scores were negatively associated with predicted physical IPV primarily among women.
Conclusion
Physical IPV and ACEs are exceedingly high among AI/AN women. A better understanding of differential associations between childhood experiences and IPV is needed to more effectively tailor childhood and family-based health promotion strategies among multiple diverse communities.
Access options
Buy single article
Instant access to the full article PDF.
USD 39.95
Price excludes VAT (USA)
Tax calculation will be finalised during checkout.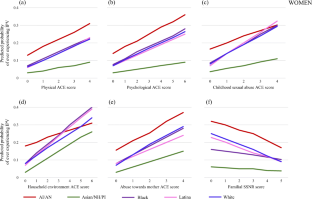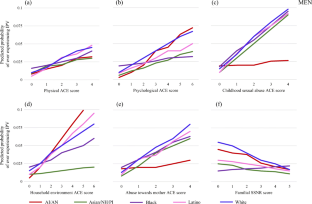 References
Breiding M, Chen J, Black M. Intimate partner violence in the United States - 2010. Atlanta: The National Center for Injury Prevention and Control and The Centers for Disease Control and Prevention; 2014.

Breiding M, Smith S, Basile K, Walters M, Chen J, Merrick M. Prevalence and characteristics of sexual violence, stalking, and intimate partner violence victimization - National Intimate Partner and Sexual Violence Survey, United States, 2011. Morb Mortal Wkly Rep. 2014;63(SS08):1–18.

Catalano S. Intimate partner violence in the United States. Washington, D.C.: U.S. Department of Justice, Office of Justice Programs, Bureau of Justice Statistics; 2006.

Catalano S. Intimate partner violence, 1993-2010. Washington, D.C.: U.S. Department of Justice, Office of Justice Programs, Bureau of Justice Statistics. NCJ 239203, 2015.

Centers for Disease Control and Prevention. About adverse childhood experiences. Atlanta: US Centers for Disease Control and Prevention; 2019.

McKinney C, Caetano R, Ramisetty-Mikler S, Nelson S. Childhood family violence and perpetration and victimization of intimate partner violence: findings from a national population-based study of couples. Ann Epidemiol. 2009;19(1):25–32.

Bensley L, Van Eenwyk J, Simmons K. Childhood family violence history and women's risk for intimate partner violence and poor health. Ameriacn Journal of Preventive Medicine. 2003;25(1):38–44.

Felitti V, Anda R, Nordenberg D, Williamson D, Spitz A, Edwards V, et al. Relationship of childhood abuse and household dysfunction to many of the leading causes of death in adults: the Adverse Childhood Experiences (ACE) study. Am J Prev Med. 1998;14(4):245–58.

Bethell C, Davis M. Issue brief: A national and across state profile on adverse childhood experiences among children and possibilities to heal and thrive. Baltimore: Johns Hopkins Bloomberg School of Public Health, 2017.

Lee R, Chen J. Adverse childhood experiences, mental health, and excessive alcohol use: examination of race/ethnicity and sex differences. Child Abuse Negl. 2017;69:40–8.

Umberson D, Williams K, Thomas P, Liu H, Thomeer M. Race, gender, and chains of disadvantage: childhood adversity, social relationships, and health. J Health Soc Behav. 2014;55(1):20–38.

Roxburgh S, MacArthur K. Childhood adversity and adult depression among the incarcerated: differential exposure and vulnerability by race/ethnicity and gender. Child Abuse Negl. 2014;38(8):1409–20.

Rikhye K, Tyrka A, Kelly M, Gagne G, Mello A, Mello M, et al. Interplay between childhood maltreatment, parental bonding, and gender effects: impact on quality of life. Child Abuse Negl. 2008;32(1):19–34.

Fenton M, Geier T, Keyes K, Skodol A. Combined role of childhood maltreatment, family history, and gender in the risk for alcohol dependence. Psychol Med. 2013;43(5):1045–57.

Fisher H, Morgan C, Dazzan P, Craig T, Morgan K, Hutchinson G, et al. Gender differences in the association between childhood abuse and psychosis. Br J Psychiatry. 2009;194(4):319–25.

Greenfield E. Child abuse as a life-course social determinant of adult health. Maturitas. 2010;66(1):51–5.

Whitfield C, Anda R, Dube S, Felitti V. Violent childhood experiences and the risk of intimate partner violence in adults: assessment in a large health maintenance organization. J Interpers Violence. 2003;18(2):166–85.

Desai S, Arias I, Thompson M, Basile K. Childhood victimization and subsequent adult revictimization assessed in a nationally representative sample of women and men. Violence and Victims. 2002;17(6).

National Center for Injury Prevention and Control. Essentials for childhood: steps to create safe, stable, and nurturing relationships and environments. Atlanta, GA: National Center for Injury Prevention and Control at the US Centers for Disease Control and Prevention, 2013.

Turner H, Merrick M, Finkelhor D, Hamby S, Shattuck A, Henly M. The prevalence of safe, stable, nurturing relationships among children and adolescents. Washington, D.C.: Office of Juvenille Justice and Delinquency Prevention. NCJ 249197; 2017.

Kosterman R, Mason W, Haggerty K, Hawkins J, Spoth R, Redmond C. Positive childhood experiences and positive adult functioning: prosocial continuity and the role of adolescent substance use. J Adolesc Health. 2011;49(2):180–6.

Black K, Schutte E. Recollections of being loved: implications of childhood experiences with parents for young adults' romantic relationships. J Fam Issues. 2006;27(10):1459–80.

Thornberry T, Henry K, Smith C, Ireland T, Greenman S, Lee R. Breaking the cycle of maltreatment: the role of safe, stable, and nurturing relationships. J Adolesc Health. 2013;53(4):S25–31.

Herrenkohl T, Jung H, Klika J, Mason WA, Brown E, Leeb R, et al. Mediating and moderating effects of social support in the study of child abuse and adult physical and mental health. Am J Orthopsychiatry. 2016;86(5):573–83.

Werner E. Resilience and recovery: findings from the Kauai Longitudinal Study. Res Policy Pract Child Ment Health. 2005;19(1):11–4.

Werner E. Risk, resilience, and recovery: perspectives from the Kauai Longitudinal Study. Dev Psychopathol. 1993;5(4):503–15.

Schofield T, Conger R, Gonzales J, Merrick M. Harsh parenting, physical health, and the protective role of positive parent-adolescent relationships. Soc Sci Med. 2016;157:18–26.

Murthi M, Espelage D. Childhood sexual abuse, social support, and psychological outcomes: a loss framework. Child Abuse Negl. 2005;29(11):1215–31.

Bethell C, Jones J, Gombojav N, Linkenbach J, Sege R. Positive childhood experiences and adult mental and relational health in a statewide sample: associations across adverse childhood experience levels. JAMA Pediatrics. 2019;E-publication ahead of print - September 09, 2019.

Grant B, Chu A, Sigman R, Amsbary M, Kali J, Sugawara Y, et al. Source and accuracy statement: National Epidemiologic Survey on Alcohol and Related Conditions-III (NESARC-III). Bethesda: National Institute on Alcohol Abuse and Alcoholism; 2014.

Ford-Gilboe M, Wathen C, Varcoe C, MacMillan H, Scott-Storey K, Mantler T, et al. Development of a brief measure of intimate partner violence experiences: the composite abuse scale (revised) - short form (CASr-SF). BMJ Open. 2016;6(12):1–13.

Follingstad D, Bush H. Measurement of intimate partner violence: a model for developing the gold standard. Psychol Violence. 2014;4(4):369–83.

Follingstad D, Rogers J. Validity concerns in the measurement of women's and men's report of intimate partner violence. Sex Roles J Res. 2013;69(3–4):149–67.

Bernstein D, Stein J, Newcomb M, Walker E, Pogge D, Ahluvalia T, et al. Development and validation of a brief screening version of the childhood trauma questionnaire. Child Abuse Negl. 2003;27(2):169–90.

SAS Institute Inc. Cary, NC: SAS Institute Inc., 2013, Cary, NC.

Fergusson D, Boden J, Horwood L. Developmental antecedents of interpartner violence in a New Zealand birth cohort. J Fam Violence. 2008;23(8):737–53.

Wildeman C. Parental incarceration on children's physically aggressive behaviors: evidence from the fragile families and child wellbeing study. Soc Forces. 2010;89(1):285–309.

Nesmith A, Ruhland E. Children of incarcerated parents: challenges and resiliency, in their own words. Child Youth Serv Rev. 2008;30(10):1119–30.

Minton T, Brumbaugh S, Rohloff H. American Indian and Alaska Natives in local jails, 1999–2014. US Department of Justice Office of Justice Programs. 2017; Bureau of Justice Programs (September 2017, NCJ 250562).

Ward J, Gartner D, Keyes K, Fliss M, McClure E, Robinson W. How do we assess racial disparity in health? Distribution, interaction, and interpretation in epidemiological studies. Ann Epidemiol. 2019;29:1–7.

Sarche M, Spicer P. Poverty and health disparities for American Indian and Alaska Native children: current knowledge and future prospects. Ann N Y Acad Sci. 2008;1136:126–36.

Evans-Campbell T, Lindhorst T, Huang B, Walters K. Interpersonal violence in the lives of urban American Indian and Alaska Native women: implications for health, mental health, and help-seeking. Am J Public Health. 2006;96(8):1416–22.

Zuckerman S, Haley J, Roubideaux Y, Lillie-Blanton M. Health services access, use, and insurance coverage among American Indians/Alaska Natives and Whites: what role does the Indian Health Service play? Am J Public Health. 2004;94(1):53–9.

Abramsky T, Watts C, Garcia-Moreno C, Devries K, Kiss L, Ellsberg M, et al. What factors are associated with recent intimate partner violence? Findings from the WHO multi-country study on women's health and domestic violence. BMC Public Health. 2011;11(109):1–17.

Yakubovich A, Stockl H, Murray J, Melendez-Torres G, Steinert J, Glavin C, et al. Risk and protective factors for intimate partner violence against women: systematic review and meta-analyses of prospective-longitudinal studies. Am J Public Health. 2018;108(7):e1–e11.

Beals J, Manson S, Mitchell C, Spicer P, Team A-S. Cultural specificity and comparison in psychiatric epidemiology: walking the tightrope in American Indian research. Cult Med Psychiatry. 2003;27(3):259–89.

Ard K, Makadon H. Addressing intimate partner violence in lesbian, gay, bisexual, and transgender patients. J Gen Intern Med. 2011;26(8):930–3.

Calton J, Cattaneo L, Gebhard K. Barriers to help seeking for lesbian, bay, bisexual, transgender, and queer survivors of intimate partner violence. Trauma Violence Abuse. 2015;17(5):585–600.

Gracia E. Unreported cases of domestic violence against women: towards an epidemiology of social science, tolerance, and inhibition. J Epidemiol Community Health. 2004;58:536–7.

Melton H, Belknap J. He hits, she hits: assessing gender differences and similarities in officially reported intimate partner violence. Crim Justice Behav. 2003;30(3):328–48.

Hardt J, Rutter M. Validity of adult retrospective reports of adverse childhood experiences: review of the evidence. J Child Psychol Psychiatry. 2004;45:260–73.
Funding
Research reported in this publication was supported by the National Institute on Minority Health and Health Disparities under Award Number U54MD012388.
Ethics declarations
The content is solely the responsibility of the authors and does not necessarily represent the official views of the National Institutes of Health. All authors have no conflicts of interest to report. This article does not contain any studies with human participants performed by any of the authors.
Additional information
Publisher's Note
Springer Nature remains neutral with regard to jurisdictional claims in published maps and institutional affiliations.
About this article
Cite this article
Pro, G., Camplain, R., de Heer, B. et al. A National Epidemiologic Profile of Physical Intimate Partner Violence, Adverse Childhood Experiences, and Supportive Childhood Relationships: Group Differences in Predicted Trends and Associations. J. Racial and Ethnic Health Disparities 7, 660–670 (2020). https://doi.org/10.1007/s40615-019-00696-4
Received:

Revised:

Accepted:

Published:

Issue Date:

DOI: https://doi.org/10.1007/s40615-019-00696-4
Keywords
Adverse childhood experiences

Positive childhood experiences

Physical intimate partner violence

Health disparities