Abstract
Introduction
Minority children are disproportionately affected by obesity and little is known about how race/ethnicity impacts outcomes in pediatric weight-loss treatment. This study aimed to evaluate whether race/ethnicity affected weight-loss outcomes in a pediatric obesity intervention. Secondary aims included evaluating whether race/ethnicity was associated with energy intake, exercise, program adherence, acceptability, and attendance.
Methods
One hundred fifty parent/child dyads (age 8–12 years, BMI% 85–99.9; 32% Hispanic, 24% Non-Hispanic, Non-White, 44% Non-Hispanic White) participated in a randomized control trial evaluating weight loss in family-based behavioral treatment with (FBT) or without child participation (i.e., Parent-Based Treatment, PBT). Assessments occurred at baseline, mid-treatment (month 3), post-treatment (month 6), and follow-up (months 12 and 24). Analyses included linear mixed effect models, linear models, and a negative binomial model.
Results
Weight loss in Hispanic, Non-Hispanic White, and Non-Hispanic, Non-White children was not significantly different by race/ethnicity at months 6, 12, and 24 (p = 0.259) and was similar across both treatments (FBT = − 0.16 BMIz; PBT = − 0.21 BMIz; p = 0.61). There were no differences in energy intake, physical activity, acceptability ratings, or adherence to treatment (as measured by a post-treatment survey) (p's > 0.123). However, Hispanic families attended fewer treatment visits than Non-Hispanic White families (p = 0.017).
Conclusion
On average, children lost weight participating in our pediatric obesity treatment and there was no statistical difference in weight loss between groups. Future research evaluating whether culturally adapted treatments would be more effective for racial/ethnic minorities or whether the personalization inherent in family-based behavioral treatment may be sufficient is needed.
This is a preview of subscription content, log in to check access.
Access options
Buy single article
Instant access to the full article PDF.
US$ 39.95
Price includes VAT for USA
Subscribe to journal
Immediate online access to all issues from 2019. Subscription will auto renew annually.
US$ 99
This is the net price. Taxes to be calculated in checkout.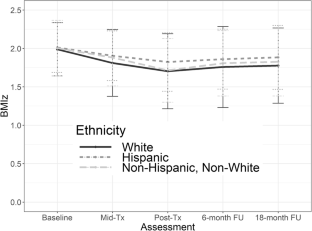 References
1.

Ogden CL, Carroll MD, Kit BK, Flegal KM. Prevalence of childhood and adult obesity in the United States, 2011–2012. JAMA. 2014;311(8):806–14. https://doi.org/10.1001/jama.2014.732.

2.

Hazuda HP, Mitchell BD, Haffner SM, Stern MP. Obesity in Mexican American subgroups: findings from the San Antonio Heart Study. Am J Clin Nutr. 1991;53(6):1529S–34S.

3.

Winkleby MA, Gardner CD, Taylor CB. The influence of gender and socioeconomic factors on Hispanic/White differences in body mass index. Prev Med. 1996;25(2):203–11. https://doi.org/10.1006/pmed.1996.0047.

4.

Hales CM, Carroll MD, Fryer CD, Ogden CL (2017) Prevalence of obesity among adults and youth: United States, 2015–2016, vol NCHS data brief, no 288. National Center for Health Statistics, Hyattsville, MD

5.

Skinner A, Skelton JA. Prevalence and trends in obesity and severe obesity among children in the United States, 1999-2012. JAMA Pediatr. 2014;168(6):561–6. https://doi.org/10.1001/jamapediatrics.2014.21.

6.

Colby SL, Ortman JM (2014) Projections of the size and composition of the U.S. population 2014 to 2060. Washington, DC

7.

Skinner AC, Perrin EM, Moss LA, Skelton JA. Cardiometabolic risks and severity of obesity in children and young adults. N Engl J Med. 2015;373(14):1307–17. https://doi.org/10.1056/NEJMoa1502821.

8.

Pulgarón ER. Childhood obesity: a review of increased risk for physical and psychological comorbidities. Clin Ther. 2013;35(1):A18–32. https://doi.org/10.1016/j.clinthera.2012.12.014.

9.

Yancey AK, Ortega AN, Kumanyika SK. Effective recruitment and retention of minority research participants. Annu Rev Public Health. 2006;27(1):1–28. https://doi.org/10.1146/annurev.publhealth.27.021405.102113.

10.

Rosenbaum DL, Piers AD, Schumacher LM, Kase CA, Butryn ML. Racial and ethnic minority enrollment in randomized clinical trials of behavioural weight loss utilizing technology: a systematic review. Obes Rev. 2017;18(7):808–17. https://doi.org/10.1111/obr.12545.

11.

Diabetes Prevention Program Research Group. Achieving weight and activity goals among diabetes prevention program lifestyle participants. Obes Res. 2004;12(9):1426–34. https://doi.org/10.1038/oby.2004.179.

12.

Diabetes Prevention Program Research Group. Reduction in the incidence of type 2 diabetes with lifestyle intervention or metformin. N Engl J Med. 2002;346(6):393–403. https://doi.org/10.1056/NEJMoa012512.

13.

West DS, Prewitt TE, Bursac Z, Felix HC. Weight loss of Black, White, and Hispanic men and women in the diabetes prevention program. Obesity. 2008;16(6):1413–20. https://doi.org/10.1038/oby.2008.224.

14.

Barr-Anderson DJ, Singleton C, Cotwright CJ, Floyd MF, Affuso O. Outside-of-school time obesity prevention and treatment interventions in African American youth. Obes Rev. 2014;15(S4):26–45. https://doi.org/10.1111/obr.12204.

15.

Barr-Anderson DJ, Adams-Wynn AW, DiSantis KI, Kumanyika S. Family-focused physical activity, diet and obesity interventions in African–American girls: a systematic review. Obes Rev. 2013;14(1):29–51. https://doi.org/10.1111/j.1467-789X.2012.01043.x.

16.

Seo D-C, Sa J. A meta-analysis of obesity interventions among U.S. minority children. J Adolesc Health. 2010;46(4):309–23. https://doi.org/10.1016/j.jadohealth.2009.11.202.

17.

Holub CK, Lobelo F, Mehta SM, Sánchez Romero LM, Arredondo EM, Elder JP. School-wide programs aimed at obesity among Latino youth in the United States: a review of the evidence. J Sch Health. 2014;84(4):239–46. https://doi.org/10.1111/josh.12144.

18.

Kumanyika S. The sociocultural context for obesity prevention and treatment in children and adolescents: influences of ethnicity and gender. In: Freemark MS, editor. Pediatric obesity: etiology, pathogenesis and treatment. Cham: Springer International Publishing; 2018. p. 695–713. https://doi.org/10.1007/978-3-319-68192-4_40.

19.

U.S. Preventive Services Task Force. Screening for obesity in children and adolescents: US preventive services task force recommendation statement. JAMA. 2017;317(23):2417–26. https://doi.org/10.1001/jama.2017.6803.

20.

Boutelle KN, Rhee KE, Liang J, Braden A, Douglas JM, Strong D, et al. Effect of attendance of the child on body weight, energy intake, and physical activity in childhood obesity treatment: a randomized clinical trial. JAMA Pediatr. 2017;171(7):622–8. https://doi.org/10.1001/jamapediatrics.2017.0651.

21.

Kuczmarski RJ, Ogden CL, Grummer-Strawn LM, Flegal KM, Guo SS, Wei R, Johnson CL (2000) CDC growth charts: United States. Advance data from vital and health statistics, vol 314. National Center for Health Statistics, Hyattsville, Maryland

22.

United States Cenus Bureau 2012–2016 American Community Survey 5-Year Estimates. https://factfinder.census.gov/faces/nav/jsf/pages/community_facts.xhtml?src=bkmk. Accessed 12/20/2017.

23.

Marek RJ, Coulon SM, Brown JD, Lydecker JA, Marek S, Malcolm R, et al. Characteristics of weight loss trajectories in a comprehensive lifestyle intervention. Obesity. 2017;25(12):2062–7. https://doi.org/10.1002/oby.21942.

24.

Williams NA, Coday M, Somes G, Tylavsky FA, Richey PA, Hare M. Risk factors for poor attendance in a family-based pediatric obesity intervention program for young children. J Dev Behav Pediatr. 2010;31(9):705-12. https://doi.org/10.1097/DBP.0b013e3181f17b1c.
Acknowledgments
The authors would like to thank the families who participated in this research as well as the UCSD CHEAR staff members who made this all possible. Data will be made available summarized in this publication may be available in a deidentified format to investigators for research purposes following approval from the principal investigators.
Funding
This study was supported by the National Institutes of Health under grants: R01DK075861, K23DK114480, and K02HL112042. The content is solely the responsibility of the authors and does not necessarily represent the official views of the National Institutes of Health.
Ethics declarations
Conflict of Interest
The authors declare that they have no conflict of interest.
Ethical Approval
All procedures performed in studies involving human participants were in accordance with the ethical standards of the institutional review boards at University of California San Diego and Rady Children's Hospital, San Diego and with the 1964 Helsinki declaration and its later amendments or comparable ethical standards.
Informed Consent
Informed consent was obtained from all individual parents included in the study and individual assent was obtained from all individual children.
Additional information
Publisher's Note
Springer Nature remains neutral with regard to jurisdictional claims in published maps and institutional affiliations.
About this article
Cite this article
Eichen, D.M., Rhee, K.E., Strong, D.R. et al. Impact of Race and Ethnicity on Weight-Loss Outcomes in Pediatric Family-Based Obesity Treatment. J. Racial and Ethnic Health Disparities (2020). https://doi.org/10.1007/s40615-019-00694-6
Received:

Revised:

Accepted:

Published:
Keywords
Childhood obesity

Family-based interventions

Ethnic minorities

Family-based treatment

Parent-only treatment

Hispanic

Behavioral weight loss